Former Brave Gattis comfortable in new home, role in Houston
Published
Feb. 27, 2015 12:04 a.m. ET

KISSIMMEE, Fla. -- The phone call came in at 8 a.m. It was mid-January, a month away from spring training, and by 10 a.m. Evan Gattis was boarding a plane bound for Houston, back to his home state and, eventually, to a new franchise. The 28-year-old passed his physical and in the span of 13 hours became an Astro. The Atlanta Braves' final offseason blockbuster was complete, their 2014 lineup transfigured.
"Pretty cool day," Gattis recalled from Astros spring training camp on Thursday. "I was kinda surprised. ... I didn't think I would get traded."
With the deal coming late in the offseason process -- the team traded standout outfielders Jason Heyward and Justin Upton before the calendar turned to 2015 -- Gattis was still prepping to defend his starting spot behind the plate in Atlanta. He never truly believed the rumors until the call came. When it finally materialized, his quick rise through the Braves farm system and his iconic status in the city officially in his rearview, it took a day or two to sink in. But, as he said the day after the swap, he is home.
The Texas native now enters spring training healthy, happy and comfortable with his place on one of the up-and-coming teams in baseball.
Walking into the Astros clubhouse, it's immediately evident how Gattis fits into the team vision. It's a room full of size, youth, athleticism and more size. Manager A.J. Hinch runs a loose and occasionally goofy ship. The Astros are a young group with plenty to prove, but at this get-to-know-everyone stage it's a scene where large snakes make locker room visits, top prospect Mark Appel is tasked with taking selfies with members of the organization who have no idea what that term even means and players can browse a boot-store selection in the clubhouse lobby. At one point, when asked about the ideal landing spot in a trade, Gattis looked around the hourglass-designed locker setup and said, "It really couldn't get better."
Talent, particularly offensive talent, surrounds the former Braves standout.
Houston finished fourth in baseball with 163 home runs last season, thanks in part to Minute Maid Park, one of the most hitter-friendly venues in the game, and it's clear the front office has built around this foundation. Gattis was a significant and costly building block, requiring two high-level prospects, right-hander Mike Foltynewicz and third baseman Rio Ruiz, and an intriguing arm (Andrew Thurman) to seal the deal, but he immediately becomes a part of the team's general makeup and long-term plans.
Gattis doesn't necessarily stand out in the crowd at Osceola County Stadium. The fan favorite, built like a tank, finds himself bordered by trees (and other tanks). Eighteen players on the 40-man roster stand 6-foot-3 or taller, not including 6-foot-4 elite shortstop prospect Carlos Correa. Chris Carter, who led the team with 37 homers, is a 6-foot-4, 250-pound force. Second-year outfield phenom George Springer is coming off a year in which he hit 20 home runs in 78 games and has now added more muscle to his 6-foot-3 frame.
Overall, the Astros franchise added a large dose of power and run production with Gattis, Luis Valbuena (Cubs), Colby Rasmus (Blue Jays) and Jed Lowrie (Athletics) -- the team's active roster would have led the majors in homers in 2015 by a wide margin.
"We have a few guys in our lineup that when (they) come up, the opposing dugout is gonna take notice," said Hinch, whose team is aiming to improve its offensive balance and improve its 23.8 percent strikeout rate. "And that's a good thing, and hopefully that leads to more mistakes. More mistakes leads to more home runs or doubles, so it's something, it's a presence in the lineup that's very important. ... This has a chance to be a dangerous lineup once we get it all together."
When healthy and in the lineup, Gattis is a potent middle-of-the-lineup bat. He produces at well above the major-league average (117 career weighted runs created) and his .487 slugging percentage ranks 24th-best in baseball over the past two years. He's knocked 43 pitches out of the park in 783 plate appearances over that stretch -- for comparison's sake, another former Braves catcher, Brian McCann, also has 43 home runs since the start of the 2013 season but it took him 940 tries. There's a reason Braves president of baseball operations John Hart referenced Gattis as the most difficult trade of his brief Braves tenure.
"The Evan Gattis trade, I've said it many times that it breaks my heart. I'm an American League guy. I see 40 homers in that bat. I love the player, I couldn't get the at-bats. It was hard for me to find 600 at-bats for Evan," Hart said earlier in spring training. "When you move those three big guys (Heyward, Upton, Gattis) like that, there were reasons why."
Added Gattis on Hart's comments: "It does (mean something to me), it does. I appreciate it. It just makes me appreciate that they liked the job I did. They gave me the opportunity to be in the big leagues. I came up with them. They gave me every opportunity possible, so there's no kind of ill will or anything like that going on. It's just me being really happy (where I'm at)."
Defensive positioning remains an open-ended topic, and this is not news to the catcher/infielder/outfielder/DH. Gattis has heard the criticism. He's not too high on it. However, the Houston franchise is not blinking when it comes to finding him a defensive role -- aided by the AL fallback of the designated hitter if, for some reason, nothing else suffices.
"As offense is declining around the league, that type of impact offense is very valuable to our team and to our run scoring," Hinch said. "There's different ways that Evan can contribute. I don't want to lump him in only as an offense-oriented guy. We know that's his strength and he's being asked to do some things that he's not used to. But we love his presence on our team."
While his defensive shortcomings have been a bit exaggerated, the Braves' offseason theme helped dictate moving Freddie Freeman's last-remaining surefire protection in the lineup to bring in a young rotation candidate in Foltynewicz, a favorite of former Astros manager and new third-base coach Bo Porter, and perhaps the third baseman of the future in Ruiz. It also created room for long-time top catcher prospect Christian Bethancourt to take the reins. That move may prove beneficial in the long run.
However, it also sets Atlanta up to be projected as one of the least powerful and least productive lineups in 2015 -- the current active roster accounted for only 79 home runs and a .305 on-base percentage last season -- while Gattis settles into a young core that could develop into a high-scoring juggernaut. As with most trades, time will tell.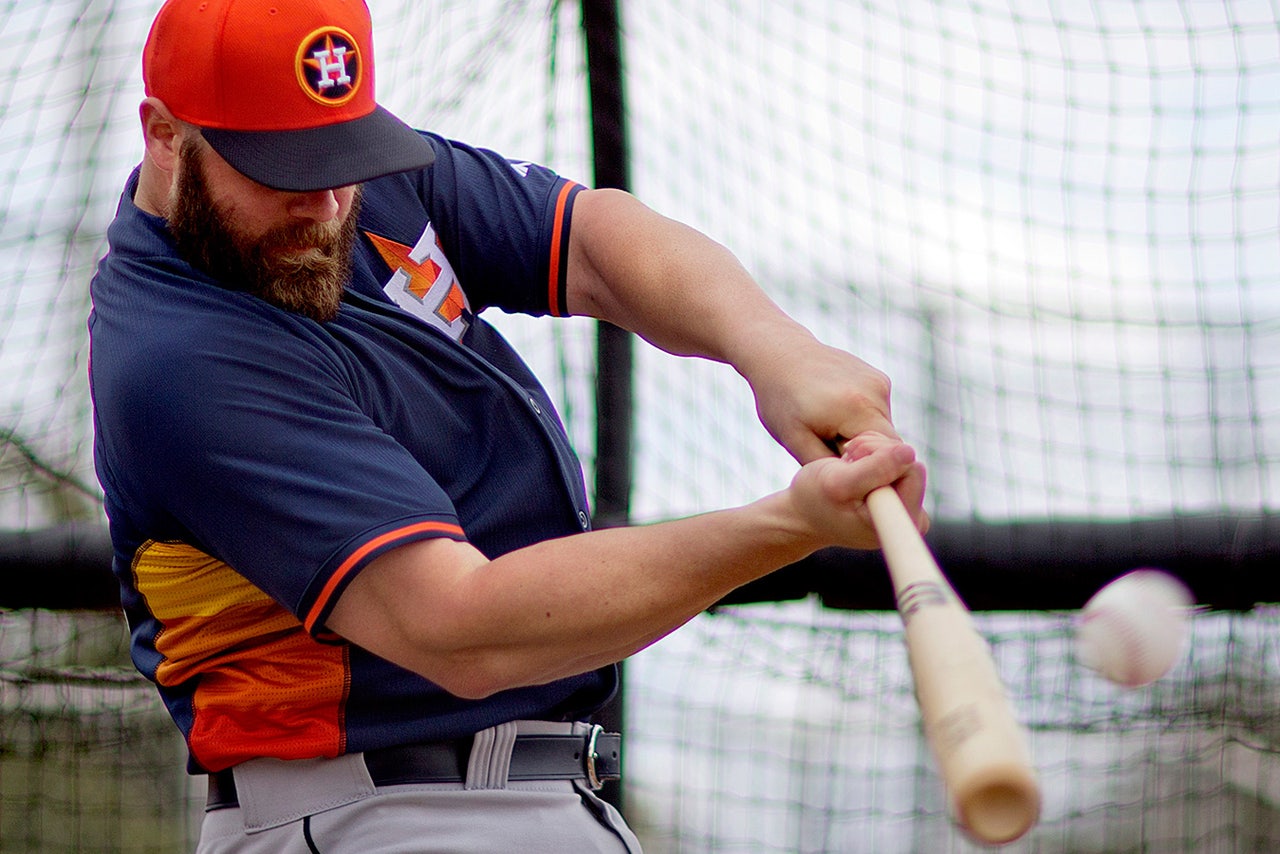 Astros newcomer Evan Gattis has hit 43 home runs in his first 213 major-league games.
Gattis is going to see time in the field in Houston, if only because Houston already has DH options that are worse with the glove. Left field appears to be the first line of business.
"I think that's where I need the most work, so that's good," said Gattis, who said he worked to improve his speed and mobility in preparation for outfield work. "We'll see what happens -- we've got however many weeks so you never know. Strange things happen in spring.
" ... I think I'll always be more comfortable at catcher, but I'll be prepared to play anywhere. I just want to play."
As long as he can replicate his .263/.317/.493 slash line from a year ago, he'll play somewhere. When asked earlier this month what his new slugger's best position was, Hinch deadpanned, "right-handed batter's box." It was an appropriate four-word quip on the Astros' stance on the deal. Make no mistake: If he were still on the Braves roster, Hart & Co. would have found 600-plus plate appearances for him, every single day he was healthy. They would have little to no choice.
The Astros pushed significant pieces of a deep farm system into the pot, betting that the bat pays off and outweighs any flaw, real or perceived, with the glove. Gattis arrived in Kissimmee ready to prove them right.
"What I've learned about Evan is that he doesn't limp his way into any drill or any activity. He's locked in for a three-hour workout or an entire at-bat," Hinch said. "There's a real presence in the right-handed batter's box and we know that. He knows that."
---