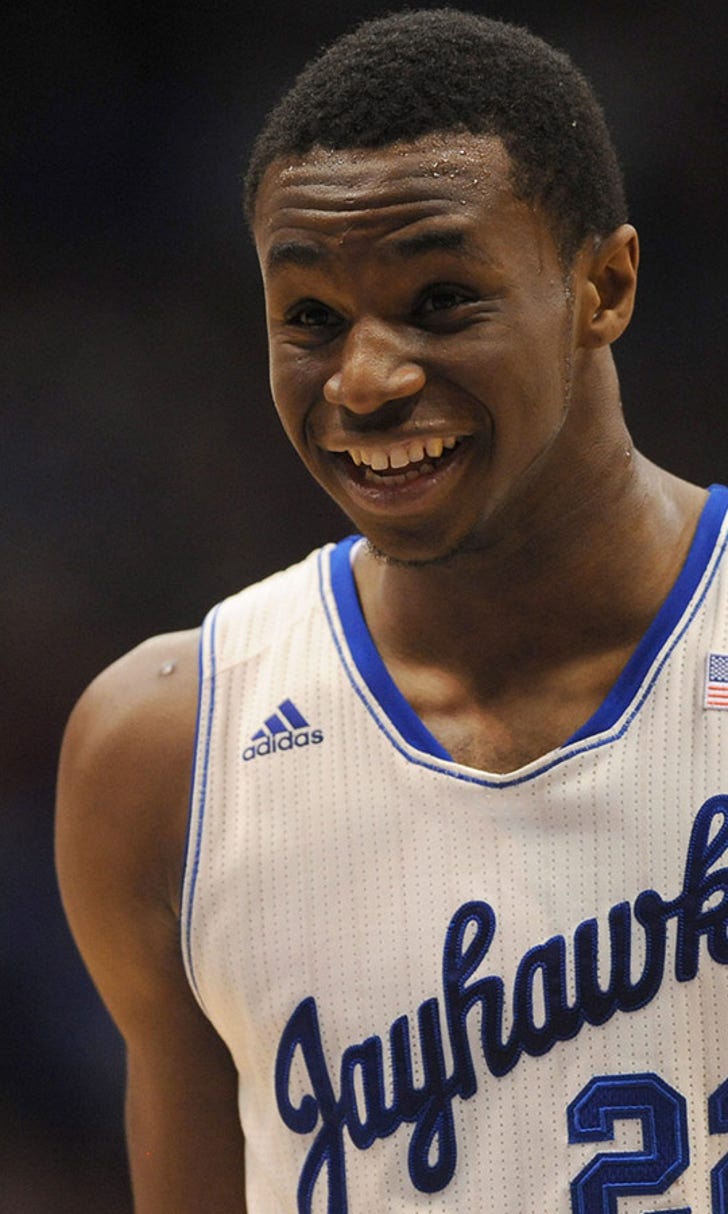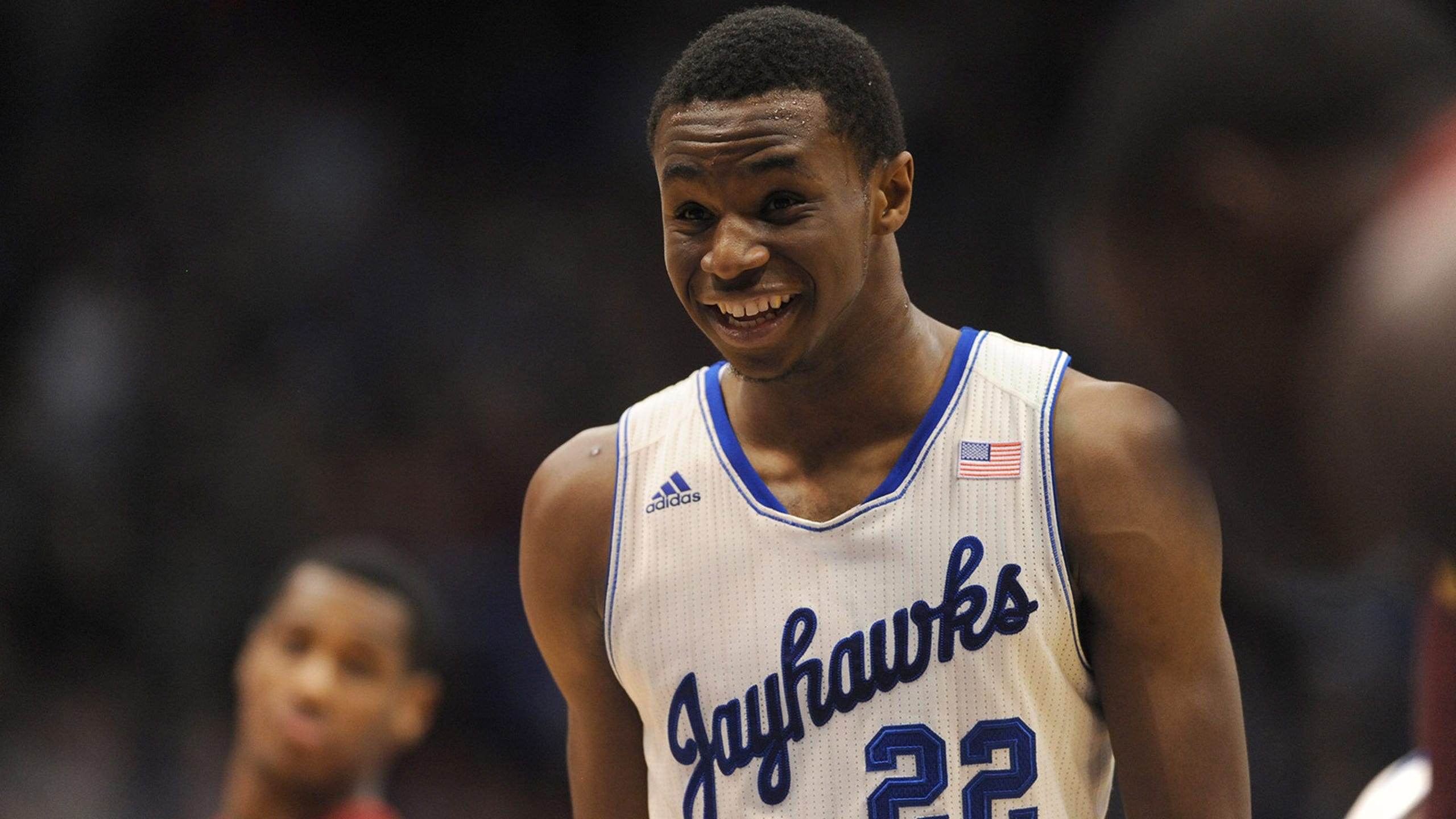 For the love of Phog, just STOP with the snap judgments on Andrew Wiggins already
BY foxsports • January 30, 2014
LAWRENCE, Kan. -- Andrew Wiggins couldn't guard Jim Cantore!
Andrew Wiggins can move mountains with his mind!
Andrew Wiggins sucks!
Andrew Wiggins rocks!
Andrew Wiggins sucks again!
Andrew Wiggins rocks harder than ever!
Stop. Please.
For the love of Phog.
Just. Stop.
Thanks to Twitter and Facebook and texts and God knows what else, we live in a world of snap judgments, swimming incessantly in the tide of now. Now, now, now, now, now, now.
For centuries, it was he who laughs last, laughs longest. Well, the joke's on you, sucker. Now the Earth belongs to he who laughs first, then gets retweeted 57 times, LOL and SMH.
Wiggins drops nine at Oklahoma. Boom! Over-rated.
Wiggins drops 22 on Kansas State. Boom! No. 1 pick again.
Wiggins drops three against Oklahoma State. Boom! Expletive the bandwagon-jumpers!
Wiggins drops 29 on Iowa State Wednesday night. Boom! Double-expletive the bandwagon haters!
AAAAAAAAAAAAAIIIIIIIIIIIEEEEEEEEEEEEEEEEEEEEEEEEEEEEEEEEEEEEEEE!
Stop. Please.
Just. Stop.
"He's been pretty good," Kansas coach Bill Self said after Wiggins' season-high night powered his No. 6 Jayhawks (16-4, 7-0 Big 12) to a 92-81 victory over No. 16 Iowa State. "I don't care what anybody says: He's been good all year.
"He just hasn't lived up to the hype. Which is not fair to him, because there's no way he could have. And I've said all along, his numbers are going to go up as he gets more comfortable and he just (appears) to be more comfortable."
Over his last three tilts, the 6-foot-8 wing has averaged 24.3 points per game. Over his last six tilts, the averages are 19.2 points. In the five games before THAT, he'd averaged 13.2 points.
Up, down, up, down, up again. It's the cycle, the bane, of just about every freshman thrown into the major college game feet first.
Even Wiggins. Even the second coming.
The truth is probably in the middle there, somewhere. The trouble is, it's hard to find it, sometimes, beneath all the hyperbole, the shouting and the lack of a happy medium between the love and the hate, the Oklahoma State no-shows and the Iowa State jaw-droppers.
"He's so aggressive right now," offered Cyclones coach Fred Hoiberg, a former NBA executive who knows pro talent when he sees it. "You can tell he's oozing with confidence. That's scary.
"With that athleticism, that length and that speed, the kid's got it all. When he's knocking down shots (there's) not too many better."
Maybe it's an Iowa thing. In Wiggins' two meetings with the Cyclones -- presumably their only two regular-season meetings ever, as Wiggins has said he expects to make the NBA jump in a few months -- the Canadian has averaged 26 points and 13 boards while shooting 53.1 percent from the floor.
"He's just going out there and just playing basketball," said Jayhawks point guard Naadir Tharpe, who netted 12 points and dished out 12 assists.
"I feel like at the beginning (of the season) -- and I talk to him about this a lot -- he was just going out there, trying to think and trying to make everybody else happy. That's not what he needs to do. He needs to go out there and play for himself, play for his team. Once he goes out there and just plays loose and plays live, you see what happens."
Some oohs, some ahs, and a little, um, hand-wringing. Wiggins wasn't just the best player on the floor at Allen Fieldhouse; he also was in the middle of the game's most controversial moment-slash-turning point.
With 3:27 left and the Jayhawks leading 75-72, the KU guard got out in front of a breakaway and went up with the ball. In mid-air, he got tangled with Iowa State forward Dustin Hogue, who appeared to slap at the ball and/or Wiggins' wrists. The zebras called it as intentional, sending Wiggins to the line for two foul shots and giving the hosts the ball back.
Air Andrew turned that judgment into his own personal 6-0 run, draining the two free throws, then tipping in a Joel Embiid miss, then racing ahead on another KU run-out and throwing down a monster slam. In a span of roughly 42 seconds, the lead ballooned from three to nine.
Hoiberg: "It (was) a big play. I'm not going to say anything bad. I thought Dustin was trying to make a good play on the ball."
Self: "Didn't have any idea. I didn't see the play or anything like that. So I don't know."
Wiggins: "Yeah, I did (think it was intentional). Just the way I felt after. It hurt."
The scribes chuckled a little at that last one. Wiggins responded with a grin. He's learning how to play the room, too, a little better each week.
"So I thought something was wrong," he continued. "(It didn't feel) like a normal foul."
Then again, this wasn't your normal tilt. The first 20 minutes were bizarre-world crazy: KU went on a 15-5 run to open up a 26-11 lead early. Wiggins sat, and the Cyclones responded with a 23-11 run of their own. At the break, Iowa State had connected on 16 of 30 shots from the floor and six of its first 12 3-point attempts. KU's advantage in length made sure the Cyclones weren't going to get many second looks. But they sure hit a lot of their first ones. Iowa State actually bested the Jayhawks on points in the paint, 38-34, and on fast-break points, 8-4.
But they also never led. Ever. Wiggins made sure of that.
"There really wasn't any trash-talking," the kid said, grinning again. "I know a lot of them, so it was more like friendly chit-chat."
Meantime, the debate continued on Twitter, raging in the ether. Don't worry: In June, one way or another, Wiggins is going to get the last laugh. On all of us.
You can follow Sean Keeler on Twitter @seankeeler or email him at seanmkeeler@gmail.com.
---