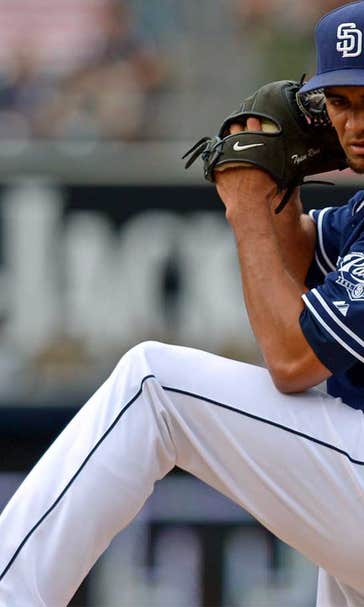 For Padres' Tyson Ross, sky is the limit
September 3, 2014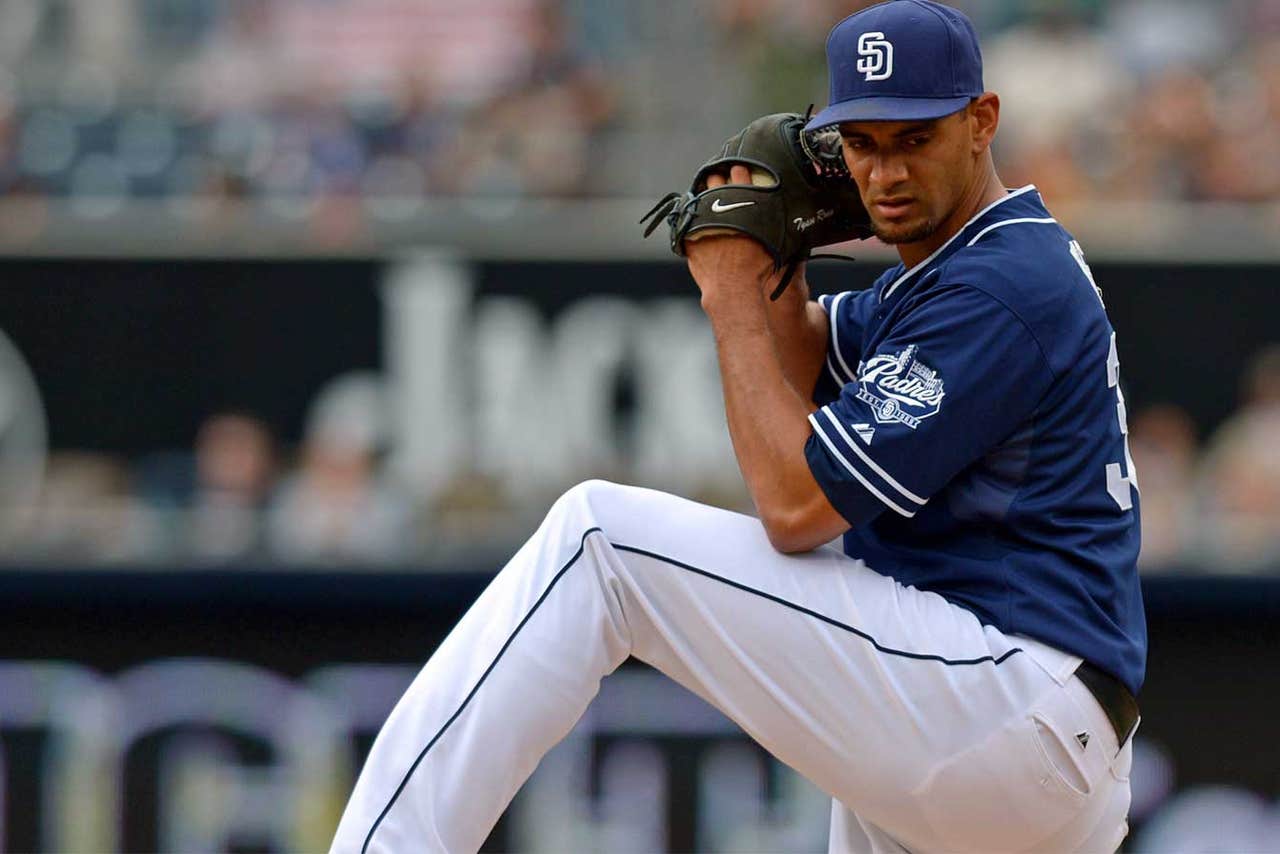 He has become Mr. Consistent, suddenly as dependable as Labor Day in September. And admit it: When the season started, no way you would have tabbed Tyson Ross - excuse me, All-Star Tyson Ross - as the ace of the Padres' staff.
But here he is, every fifth day, regular as a bank statement, six innings or more, steady as a mailman.
In a Padres season marked by disabled list visits, Ross has not missed a start all summer.
During a Padres summer marred by underachievement, Ross has only gotten better and better.
"We're seeing him grow as a pitcher," manager Bud Black marveled after Ross' latest gem, Monday's 3-1 bite out of the Diamondbacks. "We've said that repeatedly all year."
Repeatedly, that right there is the key word in describing Ross. Because a pitcher must be able to repeat his pitches, his mechanics and, ultimately, his success.
The big right-hander long ago surpassed the previous Padres' club record of 11 consecutive, which was held jointly by Andrew Cashner (Aug. 14, 2013, to April 16, 2014), Ed Whitson (July 25-Sept. 18, 1990), Dennis Rasmussen (Aug. 6, 1988, to April 7, 1989), Gaylord Perry (Sept. 4, 1978, to April 27, 1979), Joe McIntosh (Sept. 15, 1974, to May 21, 1975) and Dave Roberts (July 3 to Aug. 21, 1971).
What's impressive here, more than simply the results, is that Ross is doing this in his first full season as a starter in the majors. Remember, last year, Ross spent much of his time in the bullpen: That 3-8 record with a 3.17 ERA came in 35 appearances, only 16 of which were starts.
Not only has Ross repeated his success every five days and stayed healthy, indications are that his ceiling is higher still.
Take Monday afternoon against the Snakes. Padres clinging to a 3-1 lead, first and third with nobody out and Labor Day threatening to blow to smithereens on Ross.
At that point, it's a hot afternoon and Ross already is at 99 pitches.
Or, as Black said, "Pitch count building, and he has to make pitches. Another great test for a guy at the front of our rotation to get through that inning."
Two things about this situation.
One, learning experience for Ross.
Two, a chance for Black to force the issue, put Ross through another test, maybe help Ross discover a few more things about himself.
See, this is another of those moments in which the manager of a third-place club that is 11 games out of first with less than 40 games to play has a choice: Manage by taking the long vision and work on developing a player, or make short-term decisions to grab a win today that really doesn't mean all that much.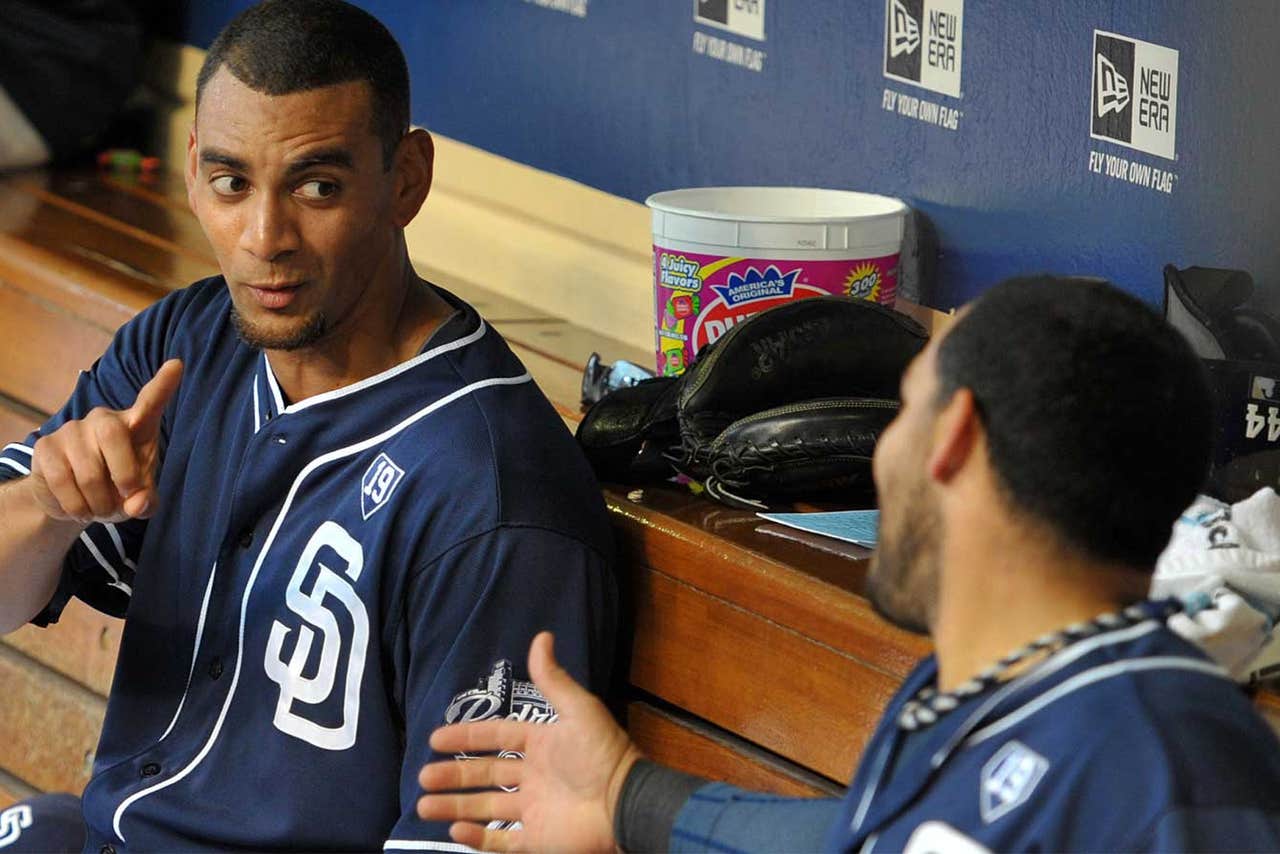 Jul 19, 2014; San Diego, CA, USA; San Diego Padres starting pitcher Tyson Ross (left) talks with catcher Rene Rivera (44) during the sixth inning against the New York Mets at Petco Park.  
Guaranteed, the way this moment played out might have a larger effect on the 2015 Padres than on this year's bunch.
So, back to the action: Ross struck out rookie Jake Lamb, schooling him with sliders for strikes two and three. He went back to his filthy slider to two more called strikes to whiff Nolan Reimold. And he fanned Didi Gregorius on, yes, sliders to end the inning.
"Not only was this a great learning experience for him, how to get out of a tough inning when his pitch count's high," Black said. "But I felt at that point he was our best pitcher and his stuff was still good."
That part is important because Ross now is up to a career-high 187 innings, well beyond the 125 he worked last summer. Another definition of a true staff ace is workhorse: Can he not only crack the 200 innings pitched mark, but can he do it season after season?
This is all stuff we're about to learn with Ross, who at least has a running start in that direction.
It was former general manager Josh Byrnes who acquired him - stole him, really - from Oakland in November, 2012, along with infielder A.J. Kirby-Jones. The Padres sent lefty Andrew Werner and infielder Andy Parrino to Oakland in the deal.
It's been crack Padres' pitching coach Darren Balsley who has been Ross' own personal Mr. Goodwrench. At 6-feet-5, Ross is total high maintenance: For a tall guy, he's got an incredibly unique short stride. He's worked hard, under Balsley's microscope, to keep his upper body straight, but not too straight, and maybe lengthen his stride just a tick.
Especially before his April 13 start against Detroit, after he walked a combined nine batters in his first two starts.
He really started rolling on June 21, which is when this streak of 14 consecutive quality starts started.
There are times when the "quality start" stat really can be overrated, but Ross also now has allowed six or fewer hits in each of his 14 consecutive quality starts while producing a sparkling 1.93 ERA (and a pedestrian 7-6 record, thanks a lot, paltry Padres offense).
Going back to 1914, only one pitcher other than Ross has produced a longer streak of quality starts while allowing six or fewer hits in each: The Astros' Mike Scott, who did it over 17 games from May 21 to Aug. 8, 1986.
What will be interesting to see as Ross continues to grow is whether he winds up developing a third pitch, as most starters do. One scout I talked with the other day had nothing but praise for Ross, remarking in particular about how he only throws two pitches – slider and fastball – but has been dominant nonetheless.
Ross has thrown his slider roughly 41 percent of the time this season, according to FanGraphs.com, and his fastball roughly 55 percent of the time. Very infrequently, he throws a changeup.
So far, it's worked beautifully. Of course, as Black says, Ross is still a growing pitcher. Right now there are no limits, and that's a pretty good thing to take from a season.
---
Longtime national baseball columnist Scott Miller is a weekly contributor to FOXSportsSanDiego.com. Follow him on Twitter @ScottMillerBbl.  
---