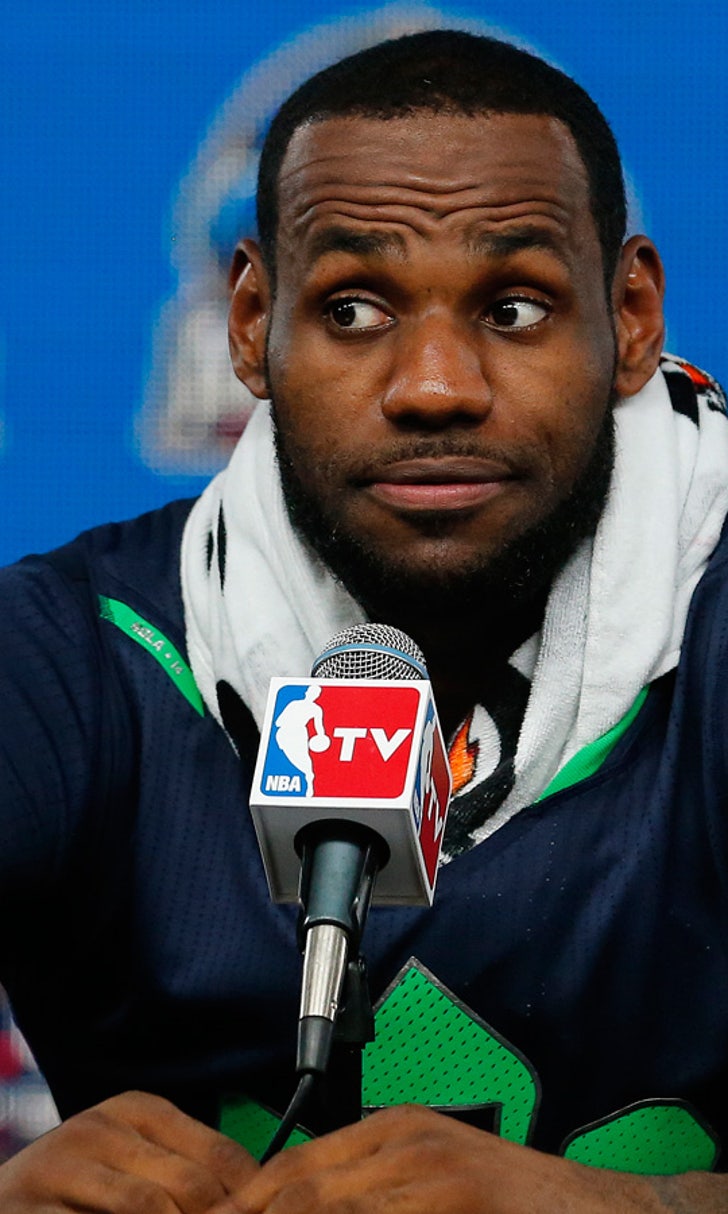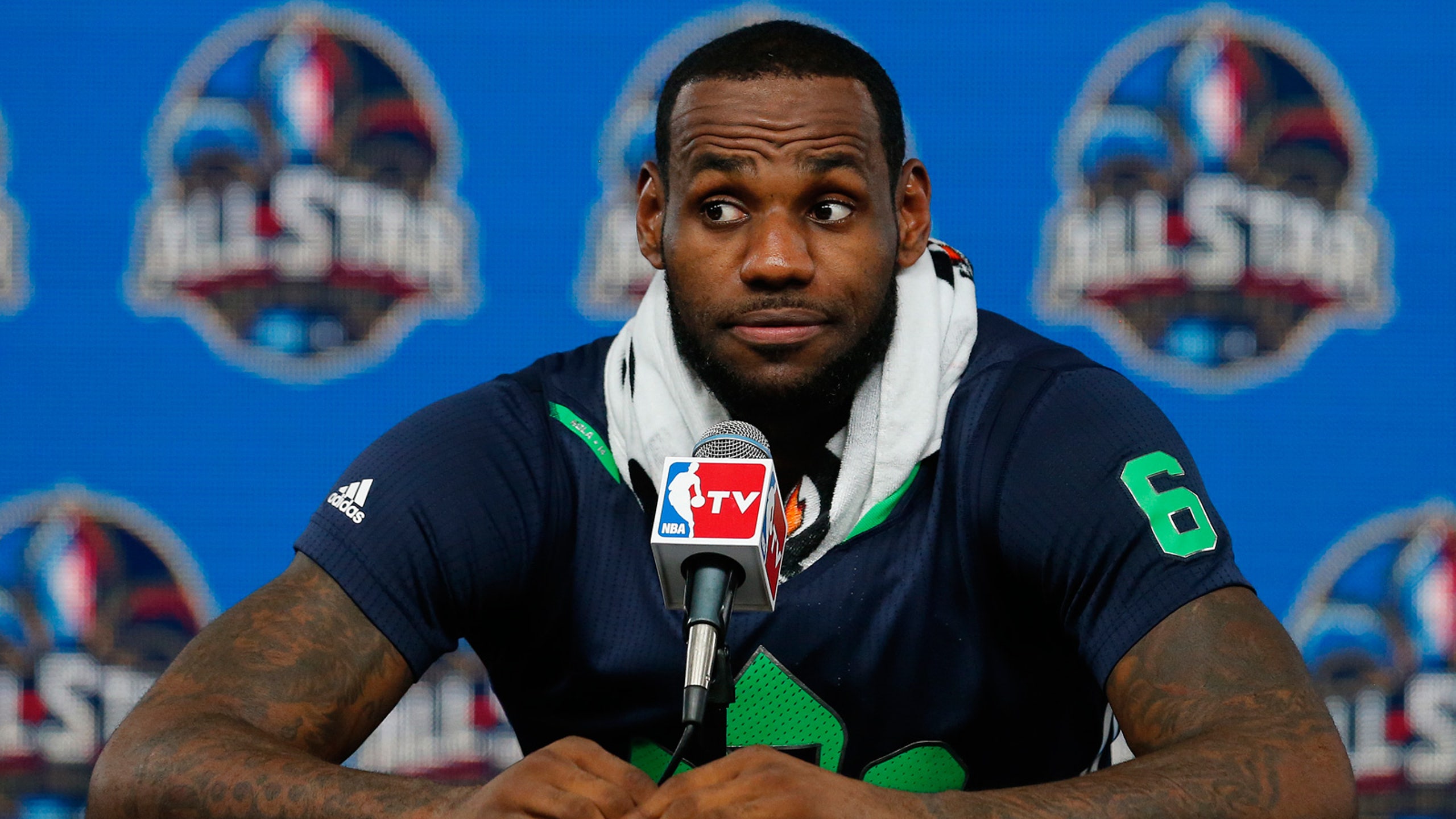 For now at least, LeBron can't see playing anywhere but Miami
BY foxsports • February 17, 2014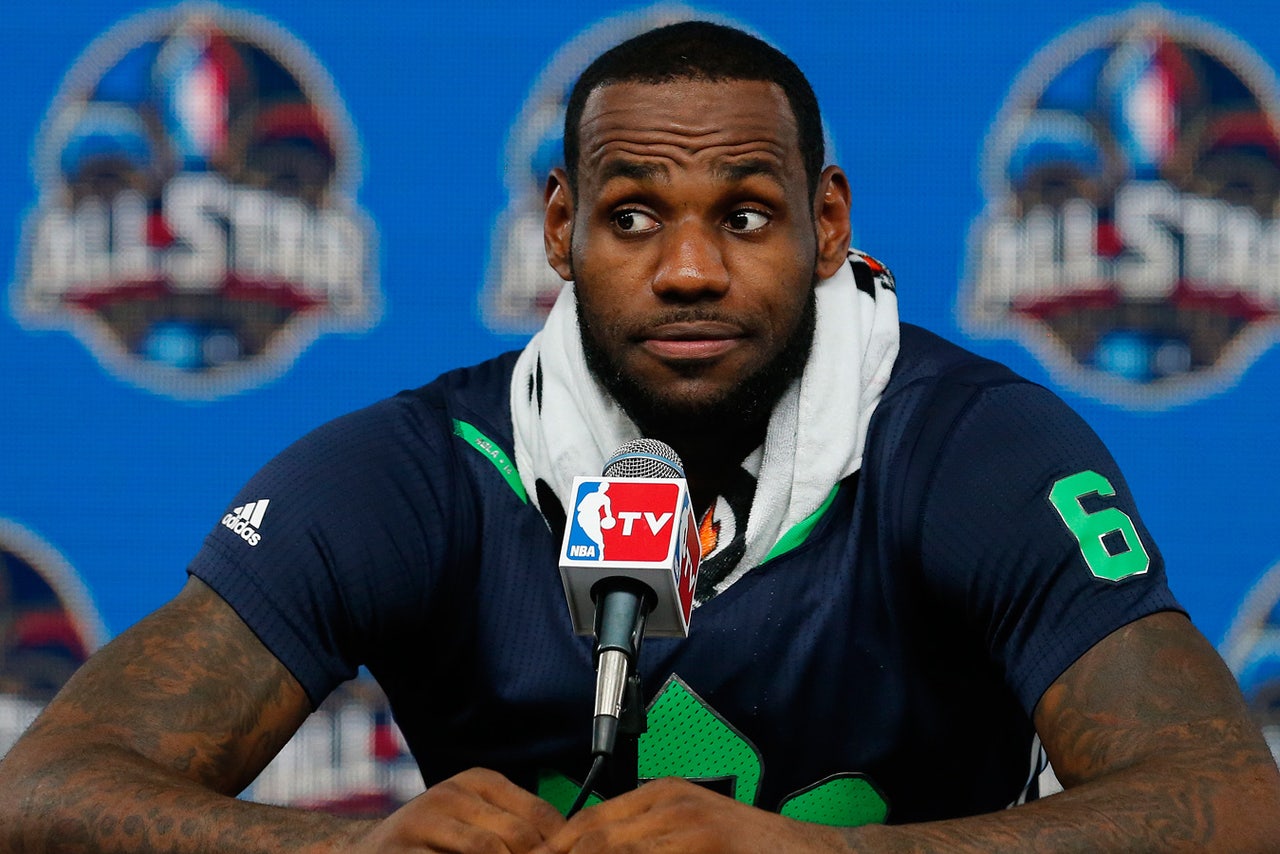 LeBron James admitted he can't see himself playing anywhere except Miami -- at least right now.
"At this point, I can't," said James, who can opt out of his Heat contract following the season. "We don't know what could happen from now to July. You know, so, what I've been able to do this whole season to this point is just worry about what's at hand, and that's winning a championship.
"And hopefully at the end of the year, I can put myself in position where I can hold that Larry O'Brien Trophy up once again and I'll assess what I have to do with my future after that."
James spoke to former NBA star Steve Smith during an hour-long show televised on NBA TV on Monday night. The interview was the foundation of a special that touched on many aspects of the King's life and career.
Smith asked James if there was a player who motivated him.
"Kevin Durant," said James, who explained why he chose the Oklahoma City Thunder star. "I feel like he's next in line. I love the way he plays the game.
"The way he plays the game every single night, man, is very inspiring. It's motivating. This is a guy who goes out every single night and gives it his all. He's going to be one of the greatest scorers ever to play this game with the way he plays -- just so joyous and happy. He's like a kid back in Maryland. And I feel like when I'm on the floor, I'm a kid back in Akron where I just want to play this game."
James called the Indiana Pacers "one of the top teams" this season because "they're motivated."
"They look just like how we looked when we lost to Dallas in the Finals," James said. "Obviously, they didn't lose in the Finals but when they played us in (last year's Eastern Conference Finals) Game 7 ... I read all their clips ... they said, 'If that Game 7 was on our floor we feel like could have won.' "
James, 29 and in his 11th NBA season, was asked how long he plans to play.
"The body is going to tell you how much you've got in the tank," he said. "My mind is strong. So as long as my mind and my body are in tune with one another ... it's like a chain. Once one breaks off I got to start thinking about what's next."
The NBA TV show included video of James playing in high school, his 2003 NBA debut for Cleveland at Sacramento's ARCO Arena and leading the Cavaliers to the 2007 NBA Finals. Topics also included James being raised by his mom, childhood friends who remain close, and being a father himself.
James said he realized he was becoming bigger than "just a hometown hero" one night when playing for the Cavs.
"Somebody followed me from my home, all the way to Cleveland to the arena and back and waited for me  after just to get an autograph," James said, "I was like, 'Wow. This person really enjoys the way I play the game and I knew it was something special."
The NBA TV broadcast had been promoted last week with James' comments about the Mount Rushmore of NBA great players.
"I'm going to be one of the top four that's ever played this game, for sure," James said. "And if they don't want me to have one of those top four spots, they'd better find another spot on that mountain. Somebody's gotta get bumped, but that's not for me to decide. That's for the architects."
James discussed being the NBA's villain during his first year with Miami after leaving Cleveland and signing with the Heat as a free agent.
"My mind the whole year, I was not ... that was not the guy who fell in love with the game of basketball," he said. "It wasn't. I could feel it every single game I just felt like it was so heavy on me. All the games on the road, being booed, the aura around us was just so bad."
During Monday night's viewing, James said he and Wade teaming up was like "two alpha males going at it."
"It's easy when you're sitting around in the summertime and say, 'Let's team up,' That's the easy part," he said. "The hard part is when you actually get on the floor and you see how similar you guys are and how both guys are used to having the ball in their hands.
"Just imagine you're watching the Discovery Channel and you see two alpha male lions trying to eat at the same time. They're going to clash."
James admitted that a poor start raised questions about joining Wade and Chris Bosh to form the Big Three.
"Absolutely. At one point of the season we were 9-8, we weren't playing good basketball," he said. "We were out of sync. Me and D-Wade were looking at each other and saying, 'Did we make the right choice? Is this was me really wanted?'"
The Heat's loss to Dallas in the 2011 NBA Finals caused Lebron to go into a brief seclusion.
"It took so much out of me," he said. "So after the season, I took like two weeks Smitty man where I didn't leave my room. I told the story where I looked like Tom Hanks on Castaway when they find him."
James said his funk ended on a trip with Wade to the Bahamas, where the guard offered to defer on court.
"D-Wade came to me and said, 'Man, in order for us to be great, you have to be the guy. Then I'll take a step back,' " said James, who also spoke about what it is to be a team leader.
"It's something you either want to do or you're born with it. some people lead by example, some people lead by voice, some people lead by both," he said. "And for me, I felt in order for me to be as good as I wanted to be and at the same time in order for our team to be as good as I wanted it to be, I had to be both."
You can follow Charlie McCarthy on Twitter @mccarthy_chas or email him at mac1763@bellsouth.net.
---
---