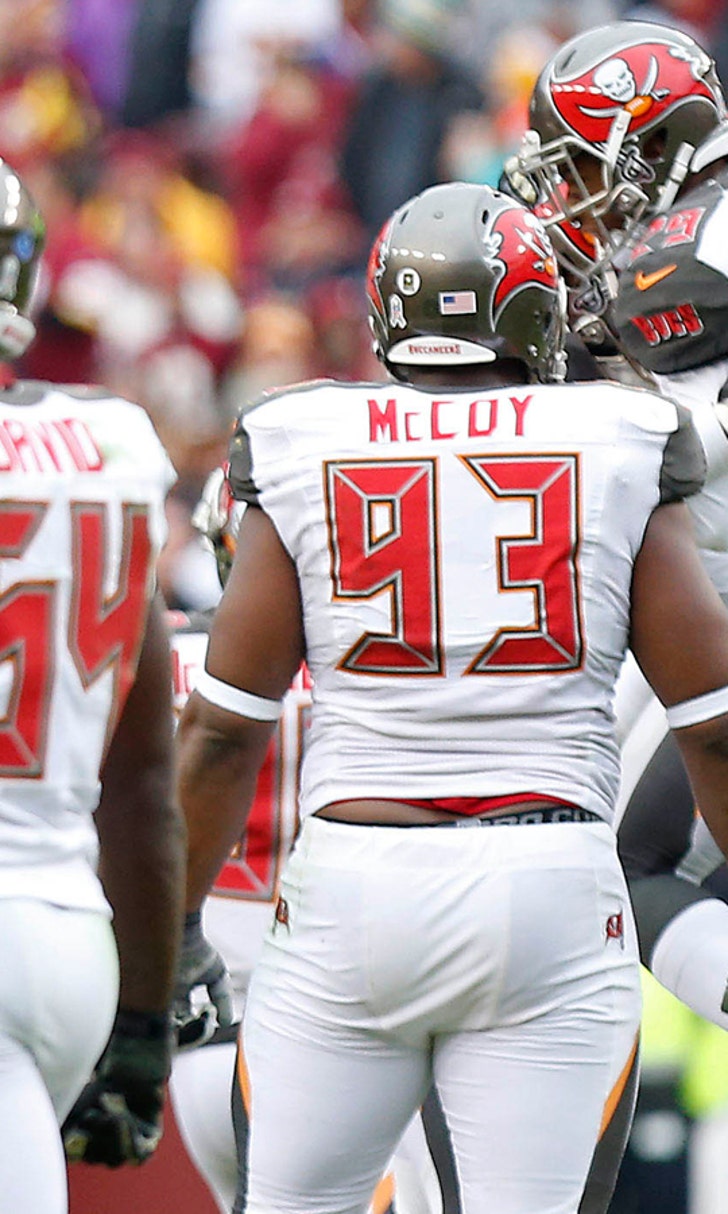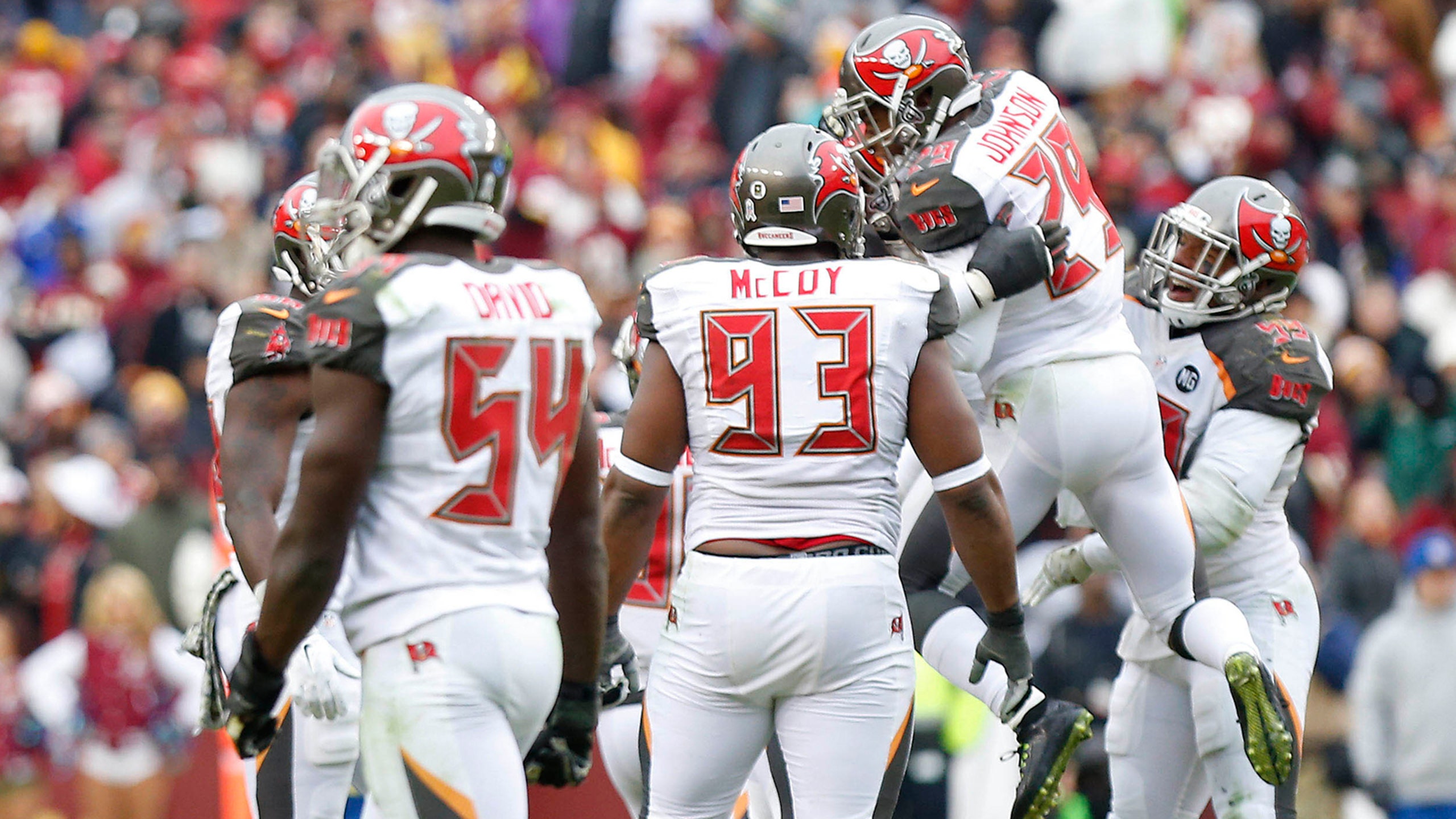 For Bucs, front four critical to team's hopes for victory
BY foxsports • November 20, 2014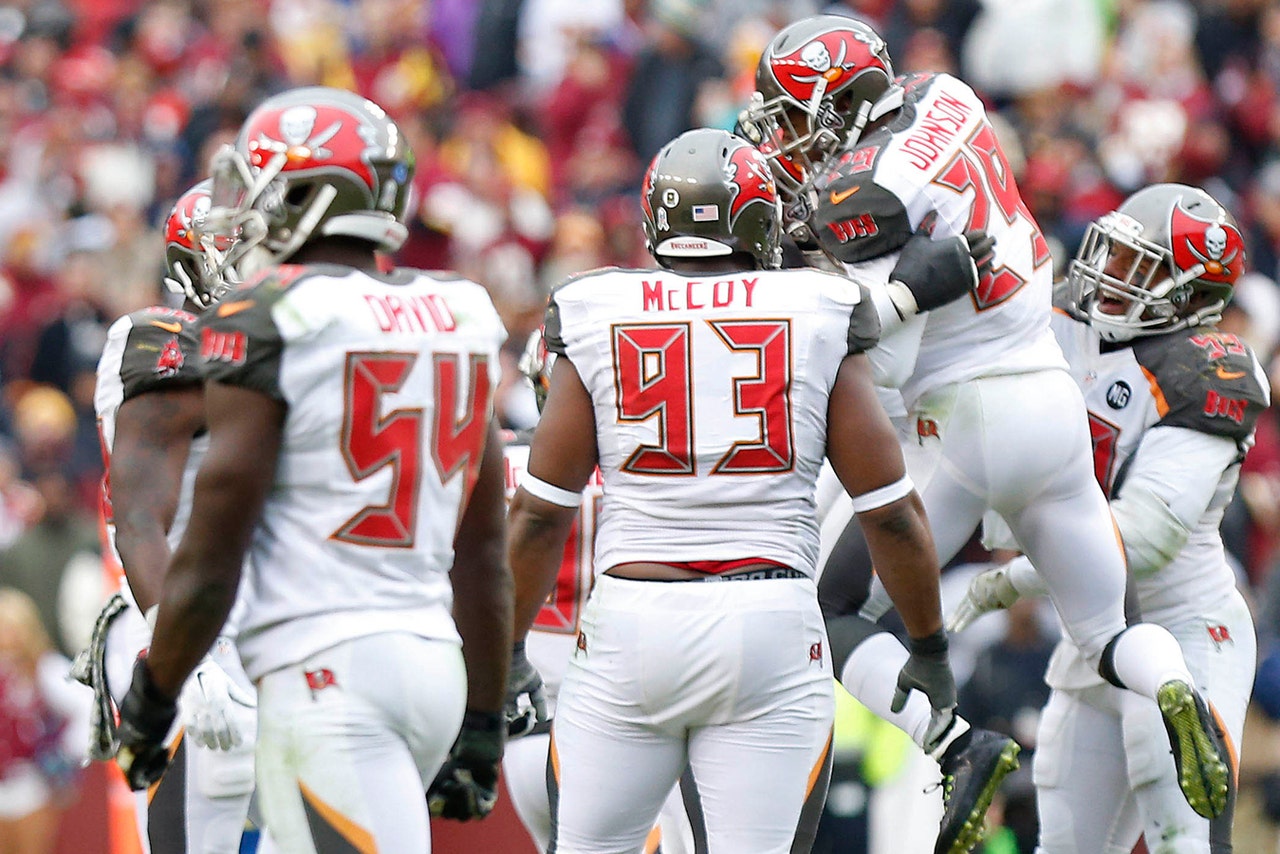 TAMPA, Fla. -- The heartbeat of the Tampa Bay Buccaneers' defense comes in four thumps. Coach Lovie Smith wants his front four to be more pack of wolves than herd of sheep, more attack than nonchalance.
Each defense over time, from Pee Wee to Pittsburgh's Steel Curtain, has wanted their front four to make an impact. But it's extra key that the Bucs' pass rush includes teeth, that there's pain to go with the push up front.
Simple math shows why.
The Bucs sacked Robert Griffin III six times in their victory last Sunday. They dropped Ben Roethlisberger five times in beating the Pittsburgh Steelers in Week 4.
In the eight losses?
Nine sacks. No more.
So the formula goes something like this: Pressure + Execution = A fine day for the D, and the chance of pewter-and-red victory goes up, up, up.
So how close are the Bucs' big men from turning Week 11 terror into a consistent thing?
"We need to have it going this Sunday," said defensive coordinator Leslie Frazier, who saw his unit turn Griffin into mashed potatoes. "That quarterback that they have, if Jay Cutler is able to stay in that pocket and survey the land, it makes it very difficult for us to cover those receivers. So we're going to need our pass rush -- our four-man rush -- to really be effective for us in order to have success on Sunday. So we need to make sure that's working well for us."
The rush worked well last Sunday. Often, a Washington series morphed into a defensive all-you-can-eat buffet. Jacquies Smith had two sacks. Gerald McCoy had 1 1/2. Clinton McDonald and Michael Johnson both had one. Even T.J. Fatinikun had half a sack.
This hasn't happened enough.
The Bucs have been limited to one sack in four games this season, against Carolina, Minnesota and Atlanta (twice). They've been held to zero in two, against New Orleans and Baltimore.
Part of the problem is found in underwhelming players who were expected to be more prime rib than a slice of deli ham. The Bucs may have found something in Jacquies Smith, but before then, Adrian Clayborn's season-ending biceps injury seemed to have taken a larger toll than expected.
"The only way to have a dominant pass rush is if you rush together, all four guys," said McCoy, who has a team-high 6 1/2 sacks this season. "It can't just be one guy or two guys. It has to be everybody doing their part. And when you do that, everybody can get in on the action. And it's very rewarding when the room gets the sack. Of course, individually, there will be stats. But the room gets a sack. And that's all we're concerned about -- that we rush as a unit, and we were able to do that Sunday."
None of this is a surprise. If life outside football comes with two guarantees, death and taxes, then an existence at One Buc Place with Lovie Smith in charge includes one.
A pass rush is necessary to win. Period.
Call the effort a work in progress so far.
The Bucs thought they were in fine shape with McCoy, McDonald, Johnson and Clayborn. Then Clayborn went on injured reserve in September. Then Johnson proved he's not at the same level as when he had 11 1/2 sacks in 2012.
After McCoy, the Bucs' next-best sack threats are Johnson, McDonald and Jacquies Smith, all with three. That number should be higher. That number can grow in the coming weeks.
"You like the competition that goes with one-upping each other," Lovie Smith said. "One guy gets a sack, you want someone else to want that same feeling. Good competition. Hopefully, we can get the same type of pressure we got last week."
The chance will be there. The Chicago Bears have allowed 24 sacks, which ranks 18th in the NFL. Cutler has been sacked no more than four times in the Bears' four victories. He has been dropped no more than twice in three of those wins.
The math is simple. The Bucs have proven that execution is hard.
"Guys just have to get after it," McCoy said. "But we'll see on Sunday. You don't know until you play."
Last Sunday, that play included a beeline to the quarterback. Last Sunday, Griffin was scrambled and wasn't allowed to soar.
Cutler stands next in line.
The heart of the Bucs' defense must be strong.
You can follow Andrew Astleford on Twitter @aastleford or email him at aastleford@gmail.com.
---
---