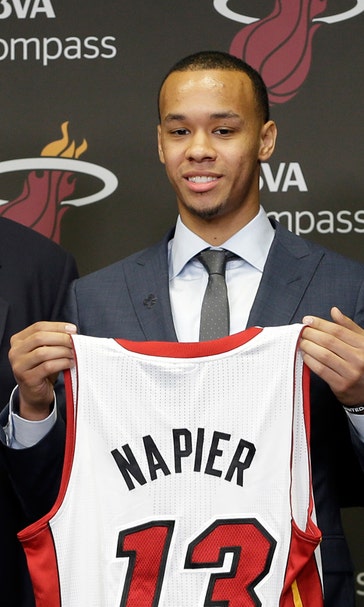 For a moment, Heat focus squarely on Shabazz Napier, not free agency
BY foxsports • June 30, 2014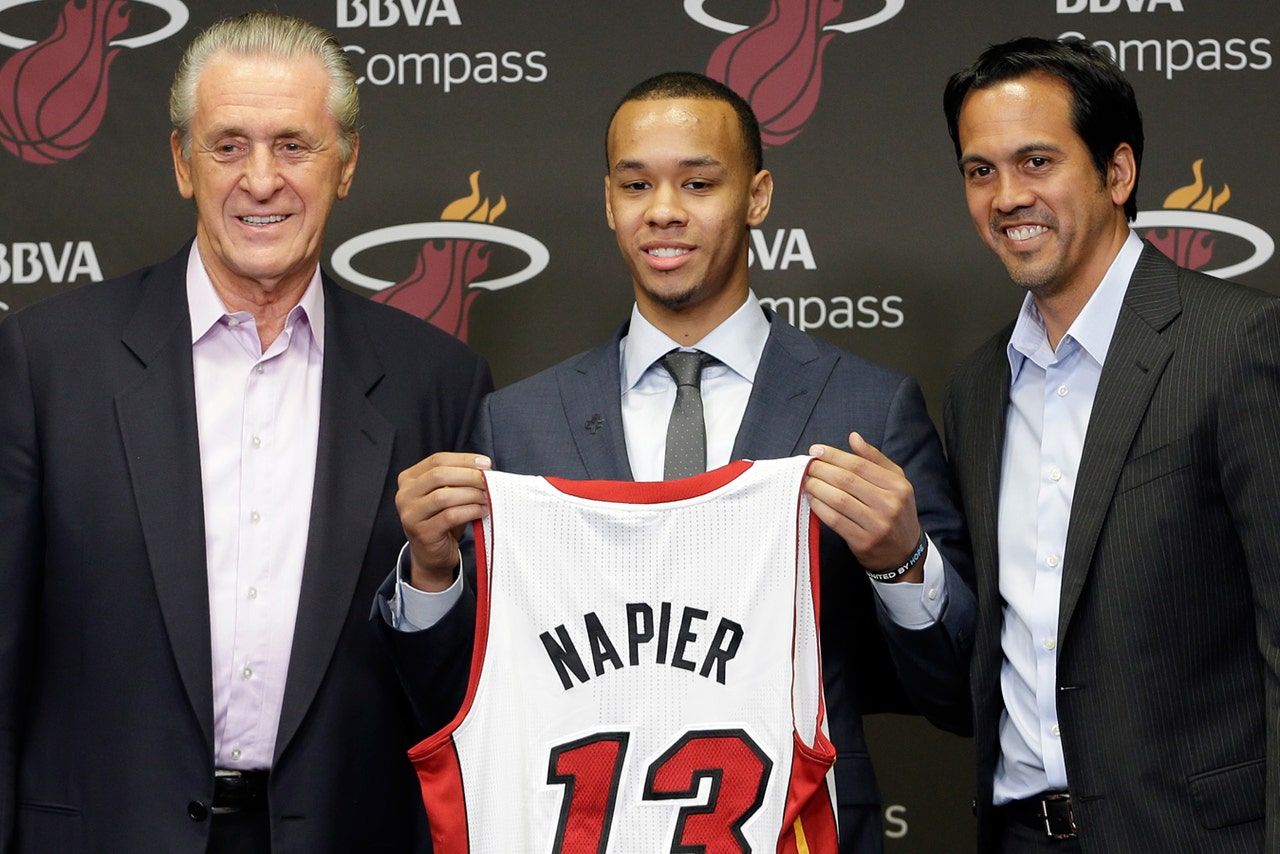 MIAMI -- A couple of key members of the Miami Heat met with the media Monday at 2 p.m. -- 10 hours before the NBA's free agency period was set to begin.
But Heat president Pat Riley took no questions, and it was made clear that coach Erik Spoelstra would not talk about free agency.
Instead, this was a day for rookie point guard Shabazz Napier to meet the local media.
"It's exciting to be part of the Heat organization," Napier said. "I'm ready to get everything started. I'm ready to learn.
"I've been playing basketball since I was 5 1/2. Of course, every level gets harder and harder. But I'm not nervous."
Napier certainly deserves his time in the spotlight.
He won a national championship at Connecticut as a key reserve and then showed loyalty to the program, remaining on campus through a coaching change, shifts in personnel and an NCAA postseason ban.
Napier was rewarded for his loyalty, leading UConn to a second national title this past April.
The final tally for Napier was two titles in four years, which, coincidentally, is exactly what the Heat has accomplished in the LeBron James Era.
Oops -- we weren't supposed to talk about James quite yet.
It's about Napier, who posed for photos Monday with a No. 13 jersey, the same number he wore in college because it's his mother's favorite.
Riley, in his brief statements, expressed his belief in Napier.
"We feel (Napier) is going to be here a long time and is really going to help us," Riley said. "He's a player who is very mature and experienced and has proven he is a winner.
"When we sat down and talked, all he wanted to do was (figure out) what it was going to take for him to get better and help our team."
Just how much help Napier provides the Heat remains to be seen. The Heat in recent years have relied almost exclusively on veterans, with the exception of point guard Norris Cole, who broke in three years ago as a key reserve and has remained in that role.
Perhaps that will be Napier's new role. But so much needs to be resolved yet in free agency. Will incumbent Heat point guard Mario Chalmers bolt now that he is a free agent? Will Cole ascend to the starter's job?
And will the Heat be able to sign Toronto Raptors free agent point guard Kyle Lowry? Or will Lowry's price tag prove too rich for the Heat, given their desire to re-sign James, Chris Bosh and Dwyane Wade plus bring in other pieces?
No answers were provided Monday, of course, but there were some bits of news:
-- Prior to the draft, Napier went through a personal workout for the Heat in California.
-- Napier's first summer-league practice is set for Tuesday.
-- Spoelstra said Napier has great shooting range already but will be put on a program to make sure he has NBA 3-point range.
After the Heat's season ended, the coaching staff had one day off. Then they played catch-up on the draft, and Spoelstra said he watched tape on 40 to 50 prospects.
"From the very beginning of the process, Shabazz's name was at the top of our list," Spoelstra said. "How we were going to get him, that was another story. We had 10 days to figure it out."
As it turned out, Napier was drafted in the first round, 24th overall, by Charlotte. The Heat soon thereafter revealed that they had traded their first pick (No. 26), their second-round choice and a future second-round pick to move up two slots to get the rights to Napier.
"He was the guy I watched the most film on, and the guy we felt was the best fit," Spoelstra said. "The thing that jumped out the most was his competitive will. Being on winning teams, knowing what it takes to have big moments at big times."
Spoelstra said Napier's ability to play with or without the ball was a key. Given that James and Wade -- assuming they return -- have the ball in their hands a lot -- a Heat point guard who is used to being the focus of the offense must be able to adjust to this new reality.
Point guards in Miami, especially the starter, are under great scrutiny. Chalmers was yelled at countless times by James and Wade, and the Heat obviously feel that Napier has the mental toughness to handle all of this.
James, no doubt, agrees. He tweeted before the draft that Napier was his favorite player among those available, and, coincidence or not, that is exactly the player the Heat selected.
Spoelstra did not directly answer a question posed about the effect James' public comments had on the Heat's thinking.
Instead, Spoelstra answered the question with another question.
"We're all big fans -- how can you not be a fan of Shabazz and the way he plays?" Spoelstra said. "(UConn's) team basketball when they got hot (during the NCAA Tournament) was exceptional. That is something we really respect.
"We love to see players sacrifice. It's obvious (Napier) had to sacrifice and play different roles in his four years. That's something that is relevant to us."
By "sacrifice," Spoelstra was alluding to the fact that Napier as a freshman played behind Kemba Walker, now an NBA standout. And Napier "sacrificed" again this past season, sharing point guard duties with Ryan Boatright.
That is relevant, in Spoelstra-speak, because Napier's role with the Heat is undefined and may be constantly evolving through the upcoming season and for years to come.
In truth, about half the Heat's roster last season was in a state of flux -- in the rotation, then out of it for long stretches and then back again.
The Heat felt Napier, who turns 23 on July 14, is older and more experienced than most other prospects and more equipped to handle the ups and downs of their system.
"You have to have an inner toughness," Spoelstra said.
He was talking about the toughness Napier displayed on the court during the NCAA Tournament, but he could have been talking about mental toughness, too.
Napier said he hasn't talked to James lately but he has exchanged texts with fellow UConn alum Ray Allen.
"Ray and I have a developed a close bond, and he congratulated me on my success in the NCAA Tournament," Napier said.
As for James' tweet, Napier said he was honored by the attention.
"When someone of his caliber expresses his interest in my talent, it just makes me want to work because I know I am light years away from how good he is," Napier said. "It was humbling."
Riley mentioned the names of 10 members of the Heat's scouting department who weighed in on Napier before the draft.
"There's an old saying that it takes a village just to raise one child," Riley said. "Well, it takes this number of people at times to draft who we consider to be an incredible basketball player."
After that, Riley departed the press briefing by saying: "I'm going to go back upstairs and crunch some numbers."
Let the free-agency talk commence.
---