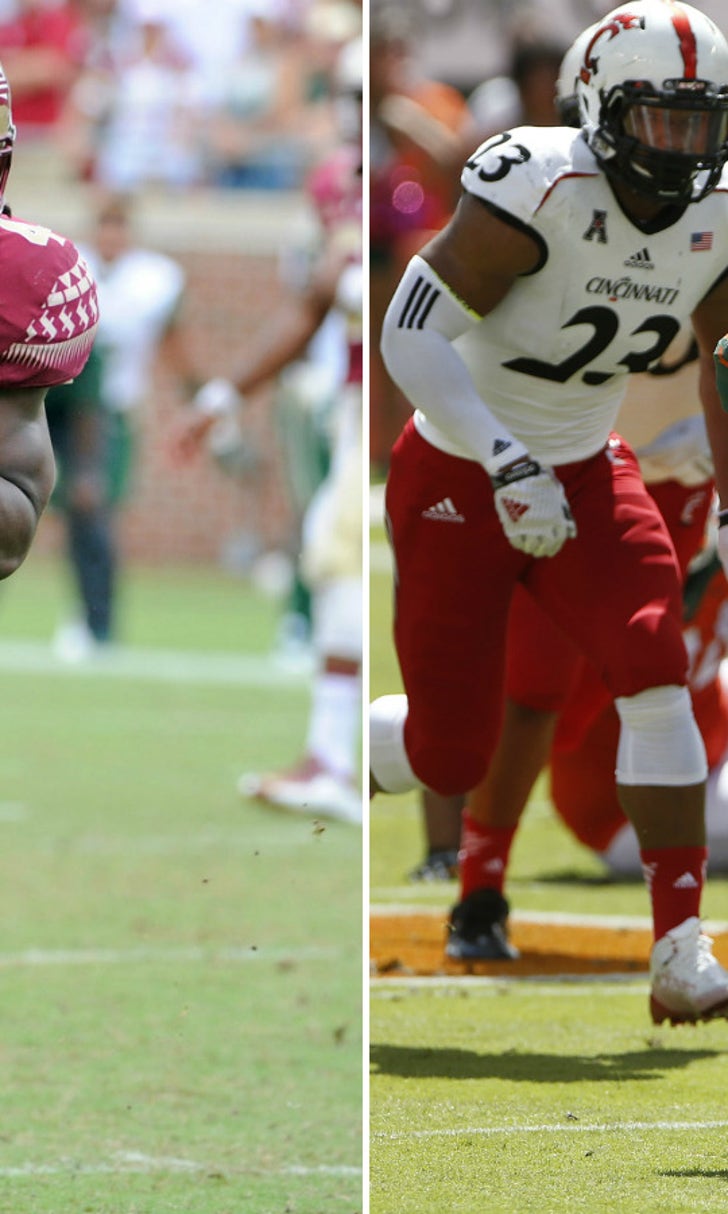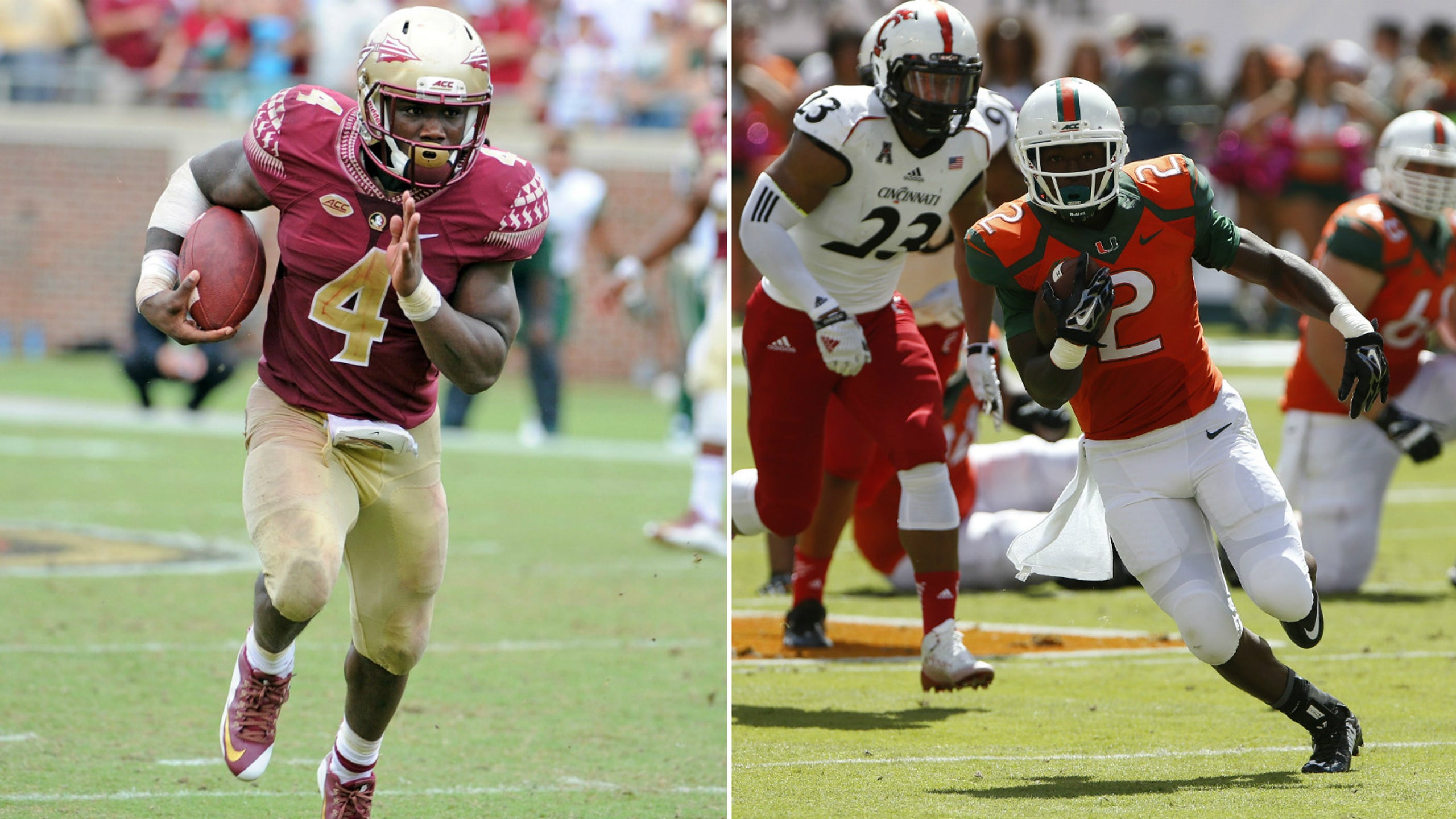 Florida State's Cook, Miami's Yearby ex-teammates now rivals
BY foxsports • October 8, 2015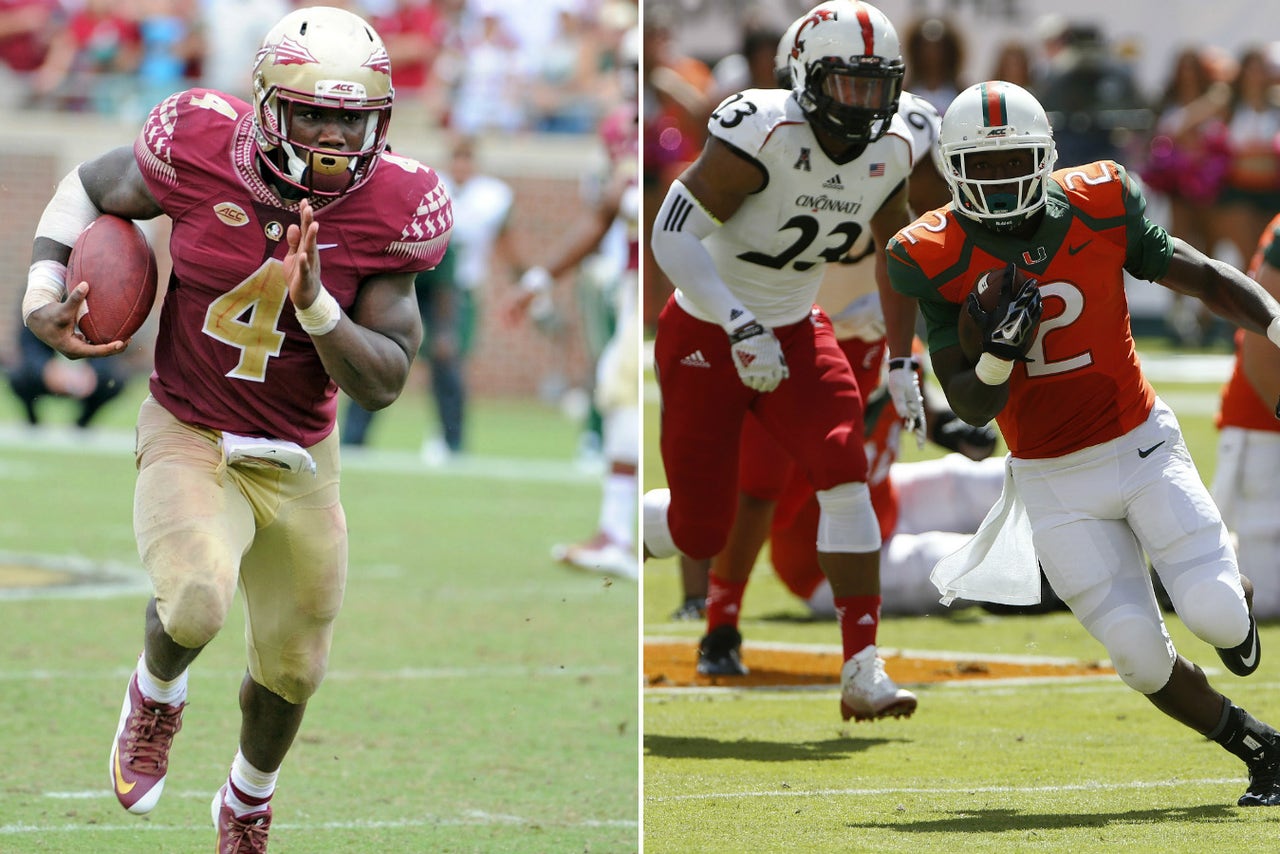 TALLAHASSEE, Fla. (AP) -- When Dalvin Cook and Joseph Yearby played together in the same backfield at Miami Central High School, their coach's first goal wasn't trying to distribute carries but to make sure there wasn't a rivalry between the two.
"People didn't want them to be close and I had to be a buffer," said Telly Lockette, who is in his first year as the running backs coach at Oregon State. "They respected each other and were good friends. The one thing they understood was to enjoy the time at high school and the memories."
Two years after leading Miami Central to a state title, the duo remains good friends off the field but they will be on-field rivals when Cook and No. 12 Florida State hosts Miami and Yearby.
The Seminoles (4-0, 2-0 Atlantic Coast Conference) have won five straight over the Hurricanes (3-1).
Yearby originally committed to Florida State before eventually landing at Miami. Cook, who has been questionable most of the week due to a strained left hamstring, was a Florida commit before switching to Florida State.
Florida State coach Jimbo Fisher said the Yearby-Cook backfield at Central was truly impressive.
"That one right there ranks as high as any," Fisher said. "I've seen some really good backfields, but those two right there are pretty dadgum good now."
Both are sophomores. Cook leads the ACC in rushing with 570 yards and is averaging 8.6 yards per carry. He has become the top player on the Seminoles' offense. Yearby, who has 424 yards and is averaging 7.3 yards per carry, is third in the ACC in his first year as the Hurricanes' main back.
"It's very unique. I say that because we all planned it and we all dreamed it when we were in high school, so it's not too much different," Yearby said.
Yearby and Cook combined to gain nearly 10,000 yards in high school. Yearby had 5,592 yards and would have broken the Dade County record held by Bobby Washington had he not fractured his left fibula in a regional semifinal game his senior season. Instead, he finished 104 yards shy.
Cook, who didn't begin playing until his sophomore season, had 4,267 yards and missed half his sophomore season due to a shoulder injury. In the 2013 Class 6A state title game against Armwood, Cook wore Yearby's No. 3 and rushed for 223 yards with four touchdowns.
The running styles that made them a dynamic duo in high school have carried through to college. Cook has tremendous speed and the ability to break a long run at any time. Of his 55 carries, eight have gone for 20 yards or more, which is tied for fifth in the nation.
Last week Cook scored from 94 yards on his first carry, which is the third longest touchdown run in school history.
Yearby is more of an inside, between the tackles-type back but has also proven to be a good receiver out of the backfield. His eight receptions are tied for third on the Hurricanes.
Miami coach Al Golden said the one thing he has noticed on film from Cook this season is that he is stronger and running through more tackles. Golden also said that Yearby's biggest improvement has been spinning on contact.
Lockette went one step further, saying Cook is just beginning to peak.
"He is seeing things clearer in terms of seeing the holes and reading defenders," he said. "The game has started to slow down for him. Joe might have peaked earlier but he understands the game better."
Saturday's game features 31 players who went to high school in Dade County, including six that went to Central. In last year's game at Miami, Cook ran for 92 yards on seven carries, including a 26-yard touchdown that gave Florida State the lead. Ironically, there was 3:05 remaining, which is the Miami area code.
Cook celebrated by touching his thumb to his forefinger with his right hand and raising his left hand to signal "305." Yearby, who had 10 carries for 34 yards, said if he scores on Saturday that he is hoping to do the same thing.
"I can tell Joe is pumped up for the game and I expect Dalvin to play," said Miami left tackle Trevor Darling, who also went to Central. "Old high school teammates are showing up, so they are going to want to put on" a show.
---