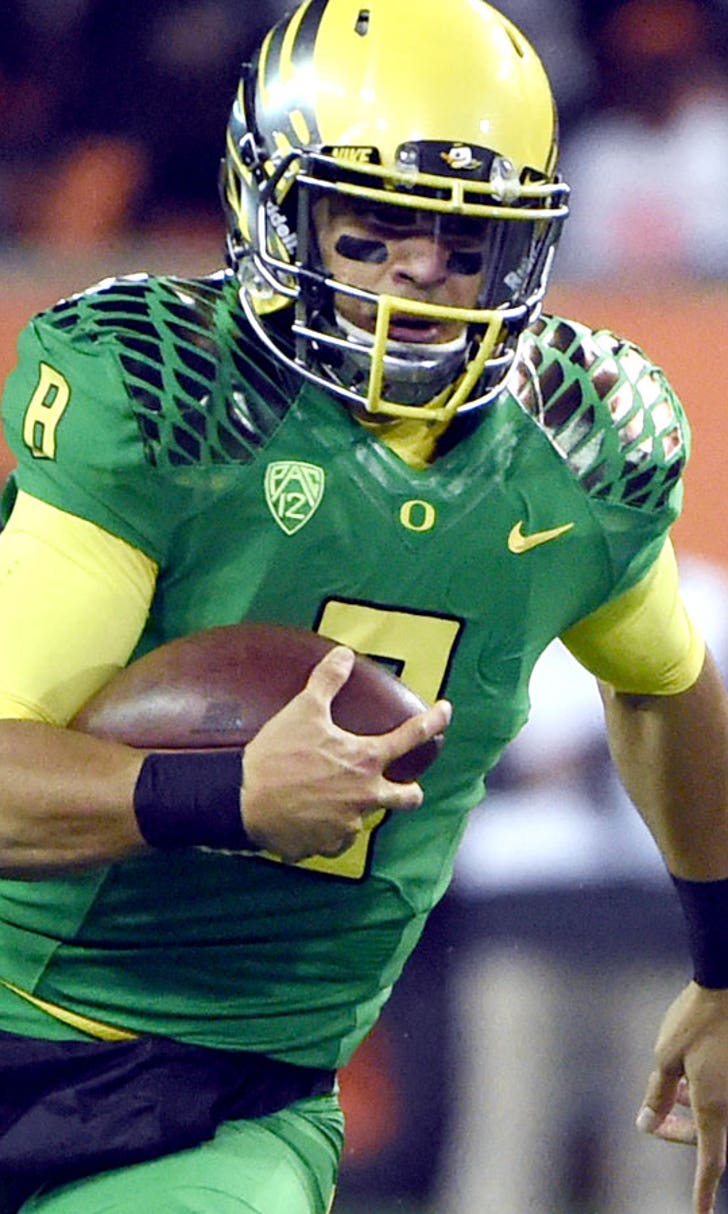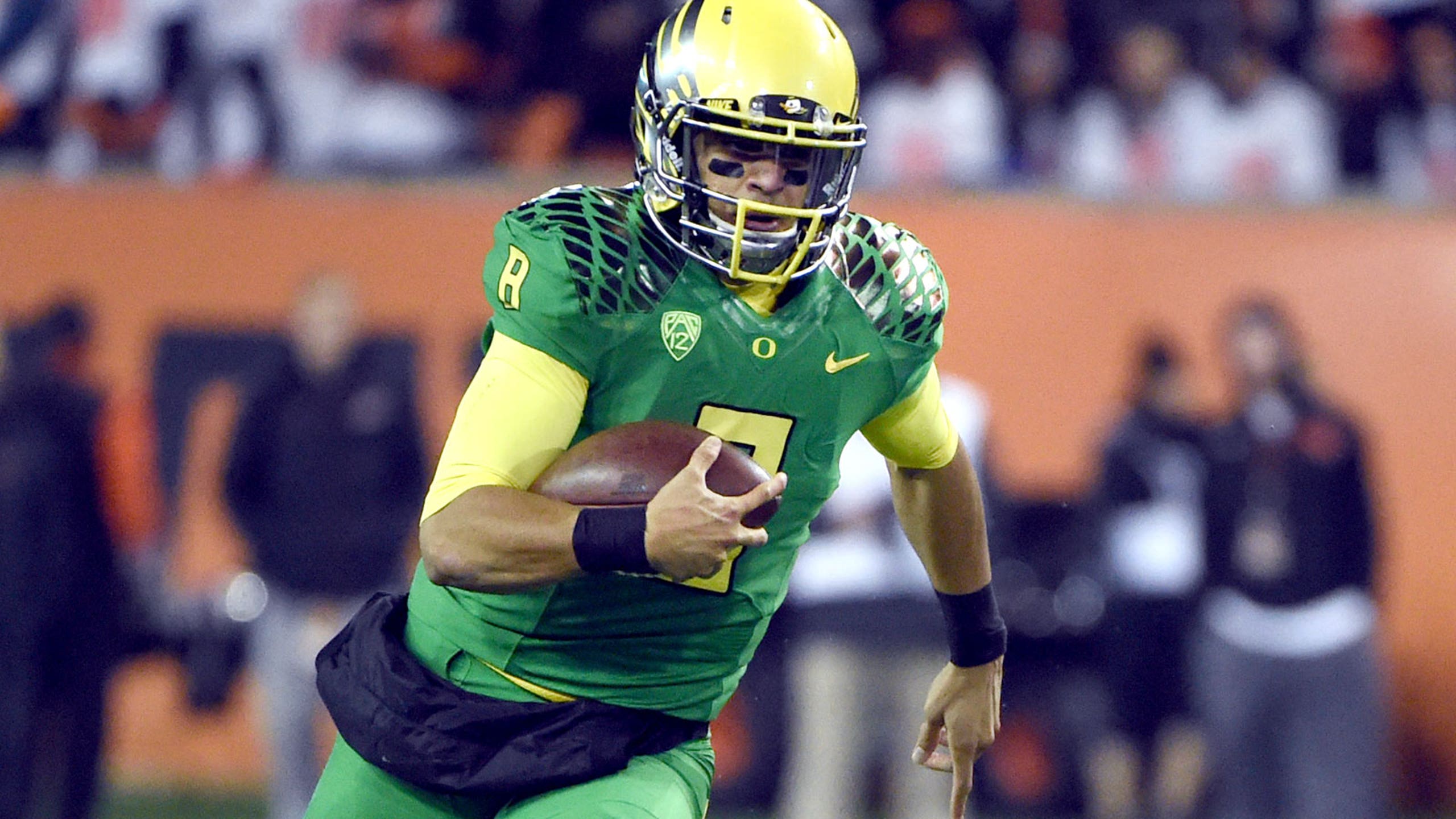 Florida State well-equipped to prepare for Oregon QB Mariota
BY foxsports • December 17, 2014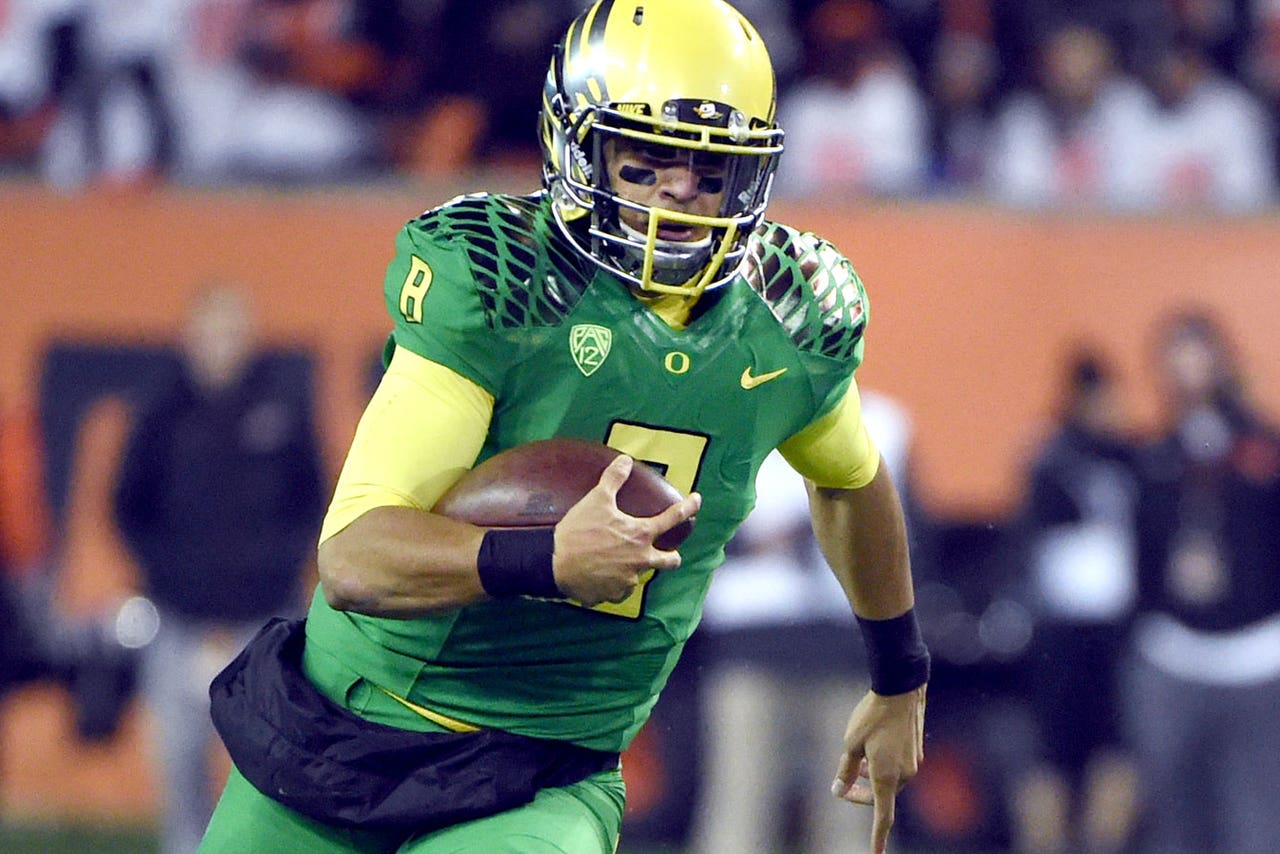 This year's Rose Bowl Game matches up newly minted Heisman Trophy winner QB Marcus Mariota and his No. 2 Oregon Ducks against No. 3 Florida State and last year's Heisman recipient QB Jameis Winston.
Mariota had a phenomenal season, posting 53 total touchdowns in comparison to just four turnovers. He led an Oregon offense that ranked third nationally in both points per game (46.3) and total yards per game (546.2). Not only was he named America's best player, but he's also the best dual-threat quarterback in college football, making him a nightmare to prepare for -- the exact task facing FSU head coach Jimbo Fisher, his coaching staff and his players.
"He's a good quarterback, he's smart," said Florida State's leading tackler LB Reggie Northrup. "He knows how to read defenses. He's fast. If he doesn't see his guy is open, he knows how to find that opening to take it down the field. Most of the time when he does scramble, he gets the first down or he might score. We're working on containing him, we're going to have to be disciplined against him and his offense."
Stopping Mariota is not easy and rarely, if ever, done. The Seminoles do, however, have two players on their roster that will assist them greatly in their preparation for Oregon's celebrated quarterback. One you might expect and the other is an unknown player to many, but nonetheless valuable.
"Yeah, that doesn't really matter to me," sophomore DB Jalen Ramsey said of playing against Oregon's Heisman winner. "Jameis is the best player in America and I go up against him every day in practice.
"The way he looks us off means we can't slack because he might look the other way and then complete a pass on you. That teaches us that we need to focus on our job every single play and not take a play off."
The 2013 Heisman winner is one of the most accurate quarterbacks of all-time and possesses the ability to put the ball exactly where it needs to be with pinpoint accuracy. This allows FSU DBs to practice blanketing receivers and maintain coverage throughout the play.
"It's a challenge [in practice] because you could be guarding a receiver tight and then Jameis will put it right on the money," said defensive back Nate Andrews as a puzzled smile came over his face. "I know the quarterback from Oregon can do the same thing."
What Winston lacks, however, is the speed and agility of Mariota, who rushed for 669 yards and 14 touchdowns on the year. For that the Seminoles turn to someone else: scout team QB John Franklin III.
"John Franklin is one of the fastest players on this team," linebacker Terrance Smith said. "So I mean to be able to go and get that real-time speed in practice it helps us out a lot... He's a very good simulation."
"I think John is the fastest quarterback in the country," added Ramsey. "Nobody can compare to him."
Franklin has been asked to emulate a star quarterback before when he did his best to mimic Auburn QB Nick Marshall before last season's BCS National Championship Game -- a performance that Smith called "crucial" to Florida State's success.
Fisher also had high praise for Franklin, but in the end understands that there's a big difference between practicing against pretend Marcus Mariota and playing the real thing.
"John's very equipped with that because he's got great arm strength, he throws it well and I'll tell you what, John's not just quick, he's fast fast -- 10.6 100-meters," Fisher said of his scout team QB.
"I mean from that standpoint, it does give you a simulation of at least the kind of athlete, but that's the Heisman Trophy winner we're gonna be playing, so that's a different level, but it's the best simulation you're going to get."
Come New Year's Day it is unlikely the Seminoles will shut down Mariota, who, even in his team's only loss, threw for 276 yards, two touchdowns and finished with 155.6 passer rating.
However, the reigning national champions will use any resource available, no matter their rank on the depth chart, to prepare themselves for the dynamic runner and passer that is Oregon's Marcus Mariota.
---