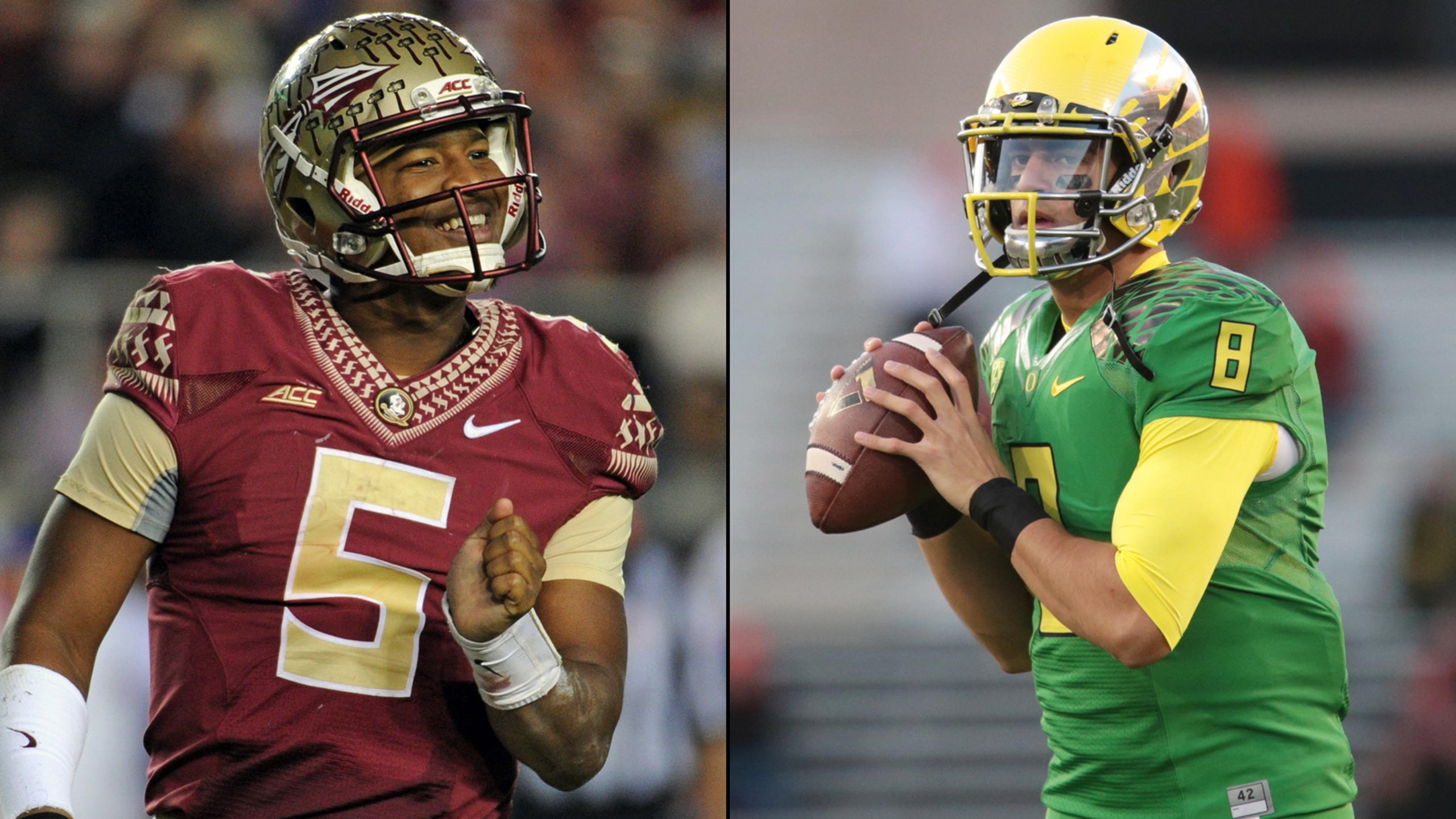 Florida State eager for first-time clash with Oregon, not bothered by seeding
BY foxsports • December 7, 2014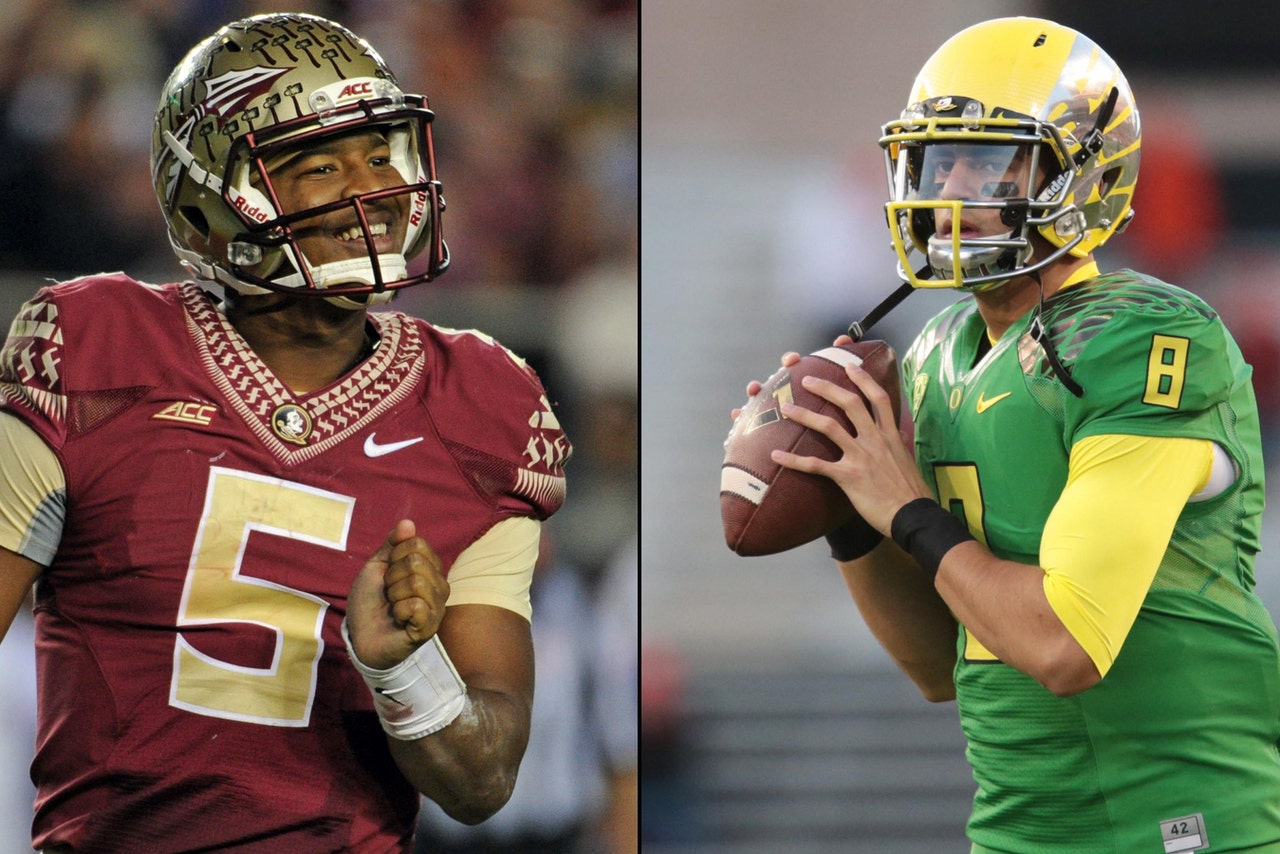 The field of four is set for the first College Football Playoff. The Alabama Crimson Tide are the No. 1 seed, with Oregon, Florida State and Ohio State following in order.
The No. 2 Ducks and No. 3 Seminoles will square off in the Rose Bowl at 4:30 p.m. New Year's Day in the first meeting between the Ducks and the Seminoles. Whoever comes out on top will face the winner of Alabama-Ohio State in the 2015 College Football Playoff National Championship on Jan. 12 in North Texas.
"The Tournament of Roses is pleased to host Oregon and Florida State at this year's Playoff Semifinal at the Rose Bowl Game," Tournament of Roses President Rich Chinen said. "We look forward to an exciting matchup in Pasadena on New Year's Day as these two teams compete in the Granddaddy of Them All for a spot in the first-ever College Football Playoff National Championship."
Oregon comes into the game as one of the hottest teams in the nation and fresh off a 51-13 drudging of Arizona in the Pac-12 championship game.
"They're used to winning, they expect to win just like we do," FSU head coach Jimbo Fisher said of the Ducks. "It oughta be a great matchup."
The Seminoles are riding the program's longest winning streak, now at 29 in a row, and capped off their third straight ACC championship with a victory over Georgia Tech on Saturday.
"Everybody wants to knock them off," Oregon coach Mark Helfrich said. "To be able to come back and win that many in a row is the sign of winners."
Even with an undefeated season (13-0) and a conference championship, Florida State wasn't awarded the No. 1 ranking in the College Football Playoff's final standings. The No. 3 position has not sat well with the Seminoles' faithful, who likely would have preferred FSU ending up in the Sugar Bowl in New Orleans, a six-hour drive from Tallahassee.
The Seminoles themselves, however, aren't miffed and are instead focused on the task ahead of them: Oregon and star quarterback Marcus Mariota.
"We're just excited to be in the playoff," Fisher said Sunday. "Where you're ranked doesn't really matter. Every team in this playoff is a great team. We're excited to play a great Oregon team.
"It's a live-and-learn process, and I believe as we move forward with everything, people will start to get a better idea of what needs to be done."
Oregon will be playing in what many are touting a virtual home game because of its proximity to Pasadena, California -- about 850 miles -- whereas Florida State will be traveling more than 2,000 miles from its campus. That doesn't bother Fisher and the Seminoles either.
"Things went well last time we were out there," said Fisher, whose team won the BCS Championship there after last season. "It's a very hospitable place, and we're honored to be playing in the Rose Bowl."
Florida State and Oregon now have the next 24 days to study each other and prepare for their semifinal matchup. Pitting Mariota, this year's favorite to win the Heisman Trophy, against Jameis Winston, last year's winner, makes for a great storyline and must-watch television.
---