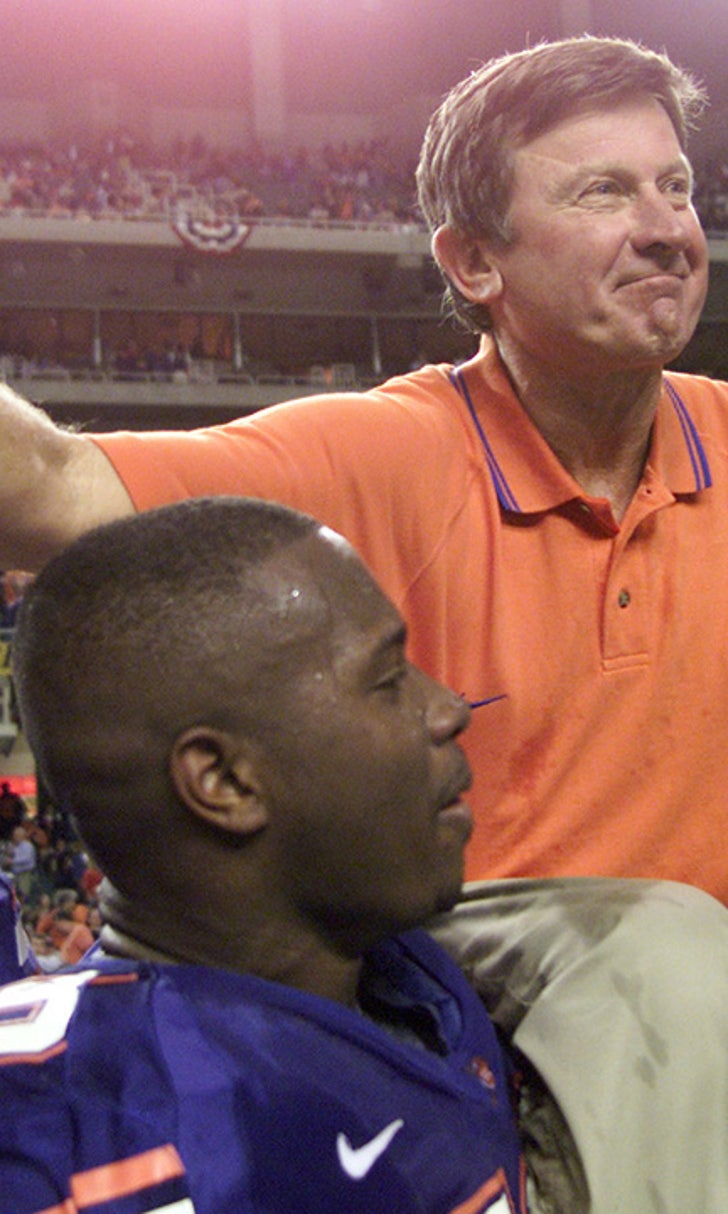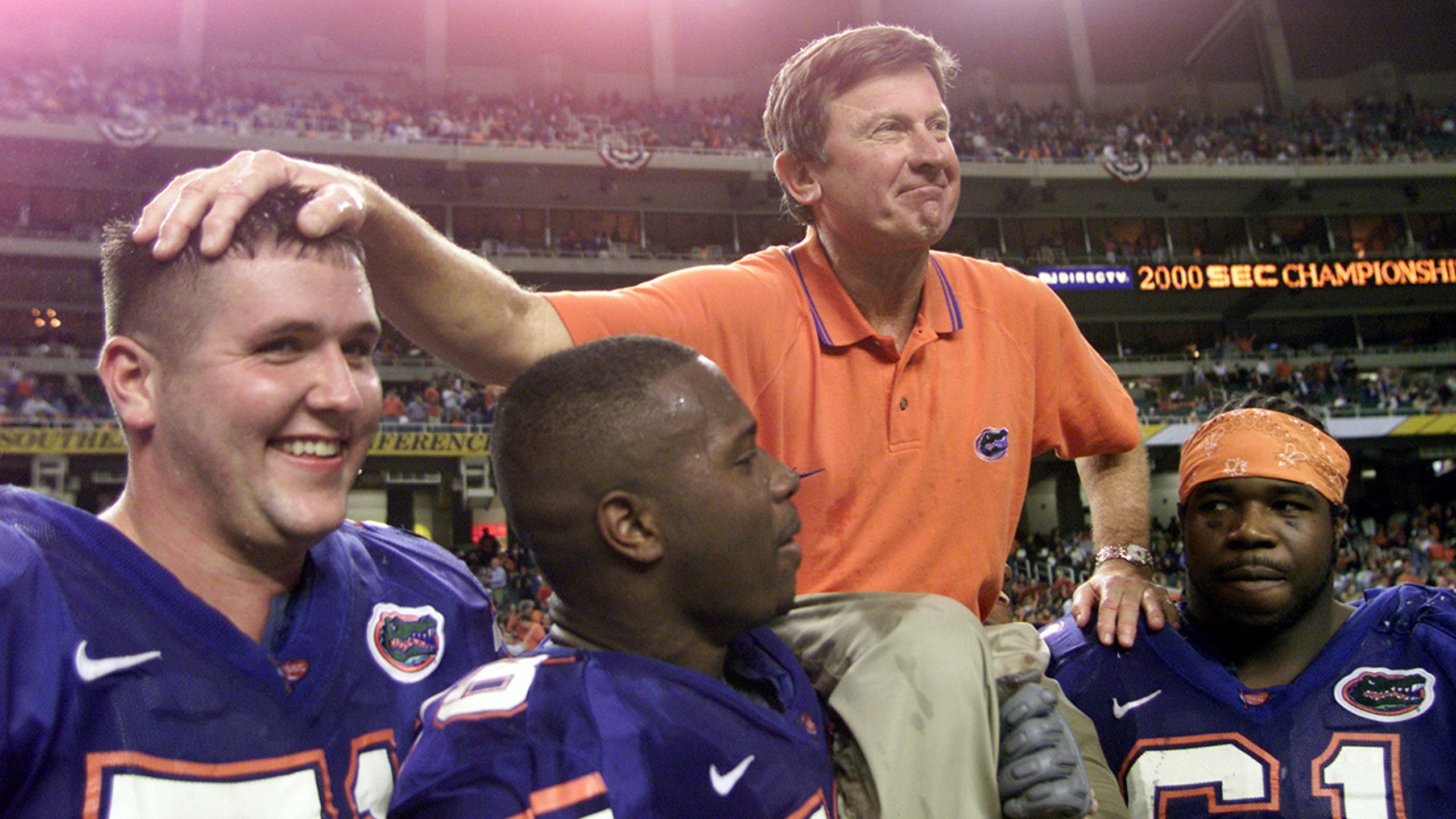 Florida relished swagger of Steve Spurrier
BY foxsports • October 14, 2015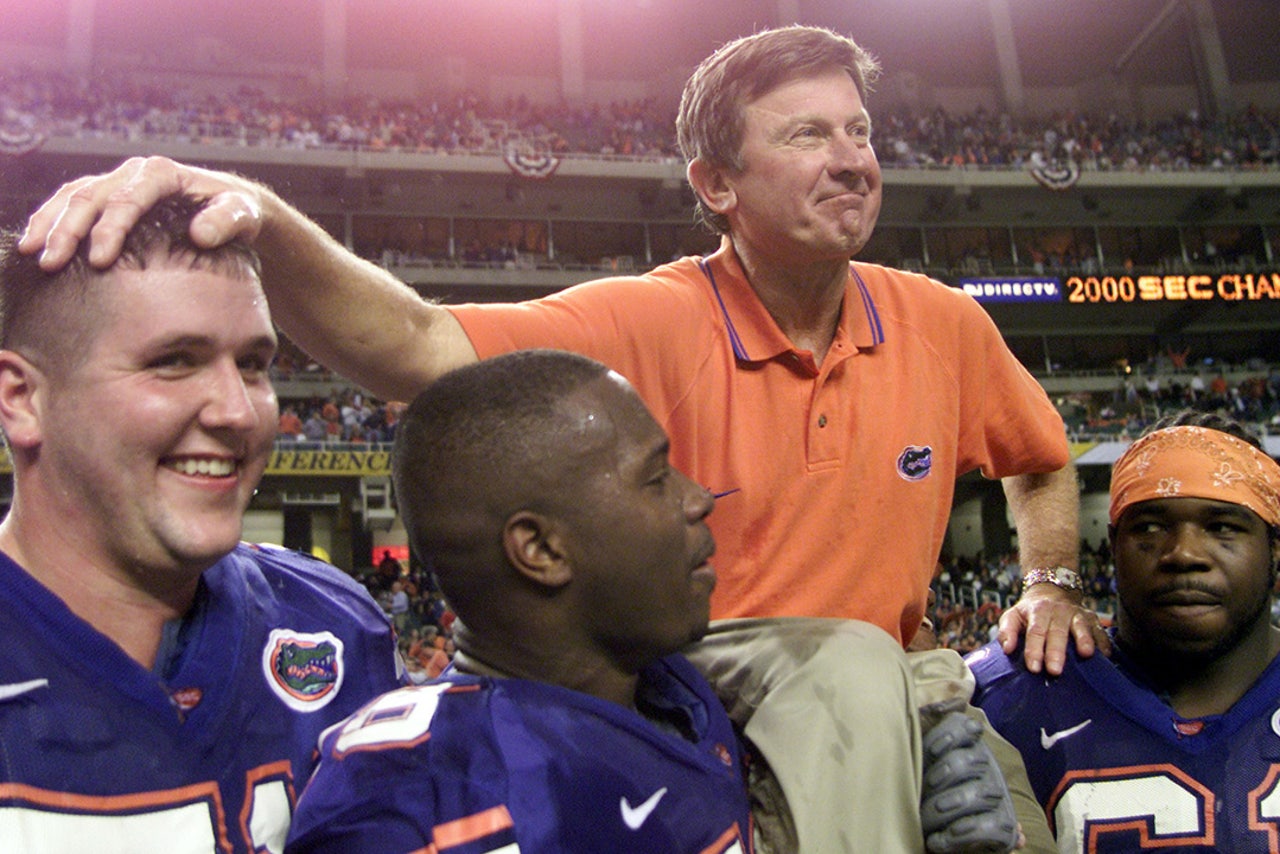 GAINESVILLE, Fla. -- James Bates could barely contain his enthusiasm as he prepared to tell the story Tuesday afternoon in the press box at Florida Field.
Like the other former Gators who showed up to talk about Steve Spurrier, their beloved head ballcoach, Tuesday was bittersweet for Bates. On one hand, he was sad to see Spurrier resign midseason at South Carolina. And on the other, whenever the former Gators get together and share Spurrier stories, it's always a good time.
"I should have worn my visor," Bates said.
And then Bates shared a story that Oklahoma coach Bob Stoops, Florida's defensive coordinator under Spurrier in the mid-1990s, told him recently.
A story that Bates, the master at telling Spurrier stories, had never heard.
It happened in 1996 prior to Florida's 35-29 victory at Tennessee. The Gators led 35-0 at Neyland Stadium before the Vols scored, a victory kick-started when Spurrier decided to go for it on fourth-and-11 at Tennessee's 35 on the Gators' opening drive.
"You know how Coach Spurrier loves Crescent Beach," Bates said. "On the open weekend, he made all the coaches go over there. They're all floating in the ocean, and he says, 'Hey, Bobby, how many of those Tennessee coaches do you think are floating in the ocean right now?' A week later he is going for it on fourth down on the opening drive in the rain and throwing for a touchdown.
"That's what swagger is."
Spurrier Swagger. Gator fans loved it, opponents hated it.
As for his former players at UF, it's no secret where they stand.
"There's just something about Spurrier," said former UF defensive lineman Mark Campbell, now part of the Gators' strength and conditioning staff. "It was magical. You just can't forget what he's done for this program."
Bates, Campbell, former UF quarterback Shane Matthews and linebacker Mike Peterson retold Spurrier stories on Tuesday in the wake of his resignation at South Carolina.
Spurrier stepped down with the Gamecocks 2-4, 0-4 in the Southeastern Conference. In 12 seasons at UF from 1990-2001, Spurrier posted a 122-27-1 record and led the Gators to the '96 national championship and six SEC titles.
Matthews, a Mississippi native, had never heard of Spurrier when the Florida icon took over the Gators 25 years ago. He liked him right away when Spurrier told Matthews, fifth on the depth chart at quarterback, that he would have an equal opportunity to become Florida's starting quarterback.
Matthews won the job and led the Gators to the 1991 SEC title.
"Outside of my dad, the most influential person I've ever been around," Matthews said. "He impacted so many players. I would not have played 14 years in the NFL if not for him. There will never be another guy like him."
Matthews recalled one of his favorite Spurrier stories.
In Spurrier's first game as Florida's head coach in 1990 against Oklahoma State, he stopped by Matthews' locker prior to the game to see what play Matthews wanted to run to start the game. Matthews suggested a draw or screen to ease his nerves.
"Shoot, they didn't pay me all this money to come down here to run the ball. We threw Blue-Slide Z Cross for about 35 yards [to Ernie Mills],'' Matthews recalled. "And four plays later, touchdown."
The Spurrier Era was off and Fun 'N' Gunning.
"That competitive nature he has every day -- that trickles down to the players," said Peterson, who went on to play 14 seasons in the NFL and returned to UF two years ago to serve on the team's strength and conditioning staff. "We just mimicked our head coach. He was very competitive, borderline cocky."
Peterson also shared a funny story that sums up Spurrier's what-you-see-is-what-you-get persona.
The Gators visited the White House soon after winning their national title and presented President Bill Clinton with a customized Gators jersey.
"We were taking the group photo and I was standing right there behind the President feeling good," Peterson said. "We presented him with a jersey. On the front it had 'Gators' and on the back it had 'Clinton.' The President is holding his jersey up [showing the front] and in classic Coach Spurrier, he tells the President, 'turn around, turn around, turn around, let them see the other side.' He's going to say what he wants anytime."
Spurrier was the same way whether dealing with UF's administration, the media, his players or fans.
"He's just one of a kind," Matthews said. "He's probably the most honest guy I know."
Gators coach Jim McElwain, who got to spend some time with Spurrier over the summer as the two got to know each other, offered his respect to what Spurrier built at Florida.
"First and foremost, let's celebrate what this guy's all about and what all he's done," McElwain said. "Not only with the game of football, but with the impact he's had in so many young guys' lives along the way. You know what's great is we've had so many former players that played for him and come back to the Gators. To see what he's done -- that's something special. It's truly a tribute and we're going to miss him."
Campbell said the personal relationships with his teams gets lost sometimes because of Spurrier's quirkiness and knack for ribbing opponents.
"He cared about his team. He cared about his players. He really cared about us and wanted us to do well," Campbell said. "There's more to Coach Spurrier than just football. It was just a fun time. We won a lot."
That they did.
It was a time the former players will always cherish.
"So much of what I am, what my family is, my whole world, has so much to do with my time at the University of Florida, and Coach Spurrier gave me that chance," Bates said. "I thank him for it, I'll always love him for it."
Bates forgot his visor Tuesday. Peterson did not.
"To me, this symbolizes the Ol' Ballcoach,'' said Peterson, tugging at his visor.
---
---