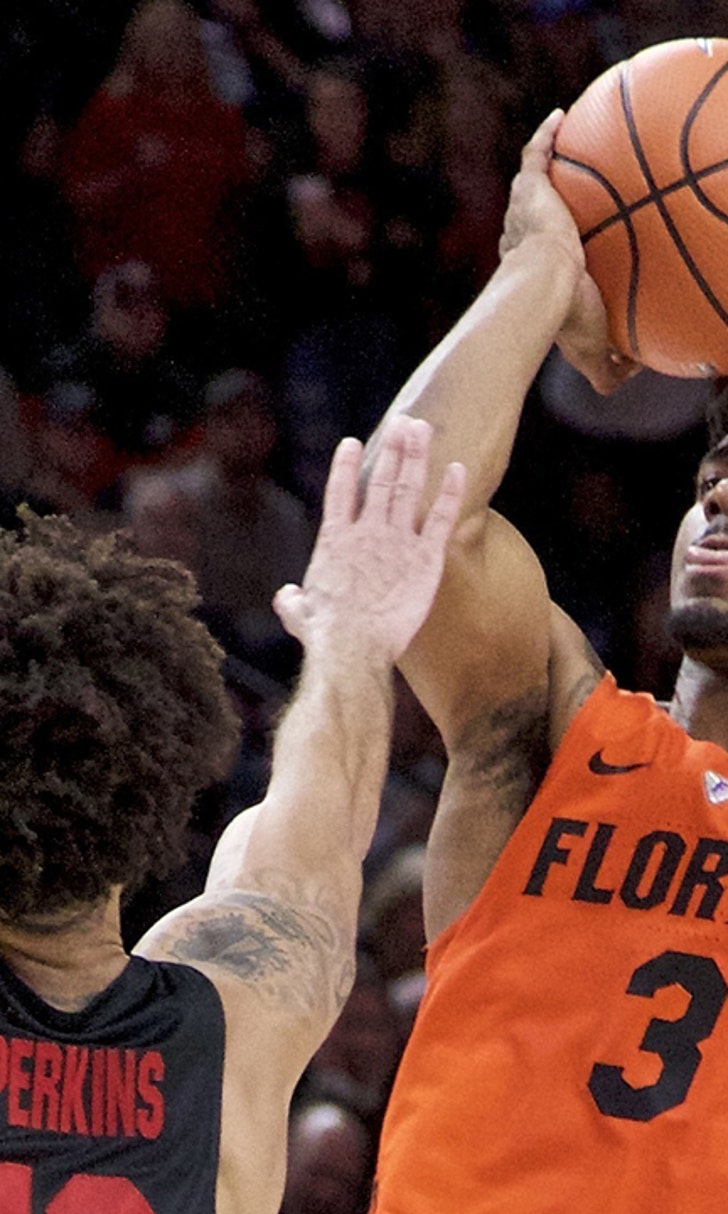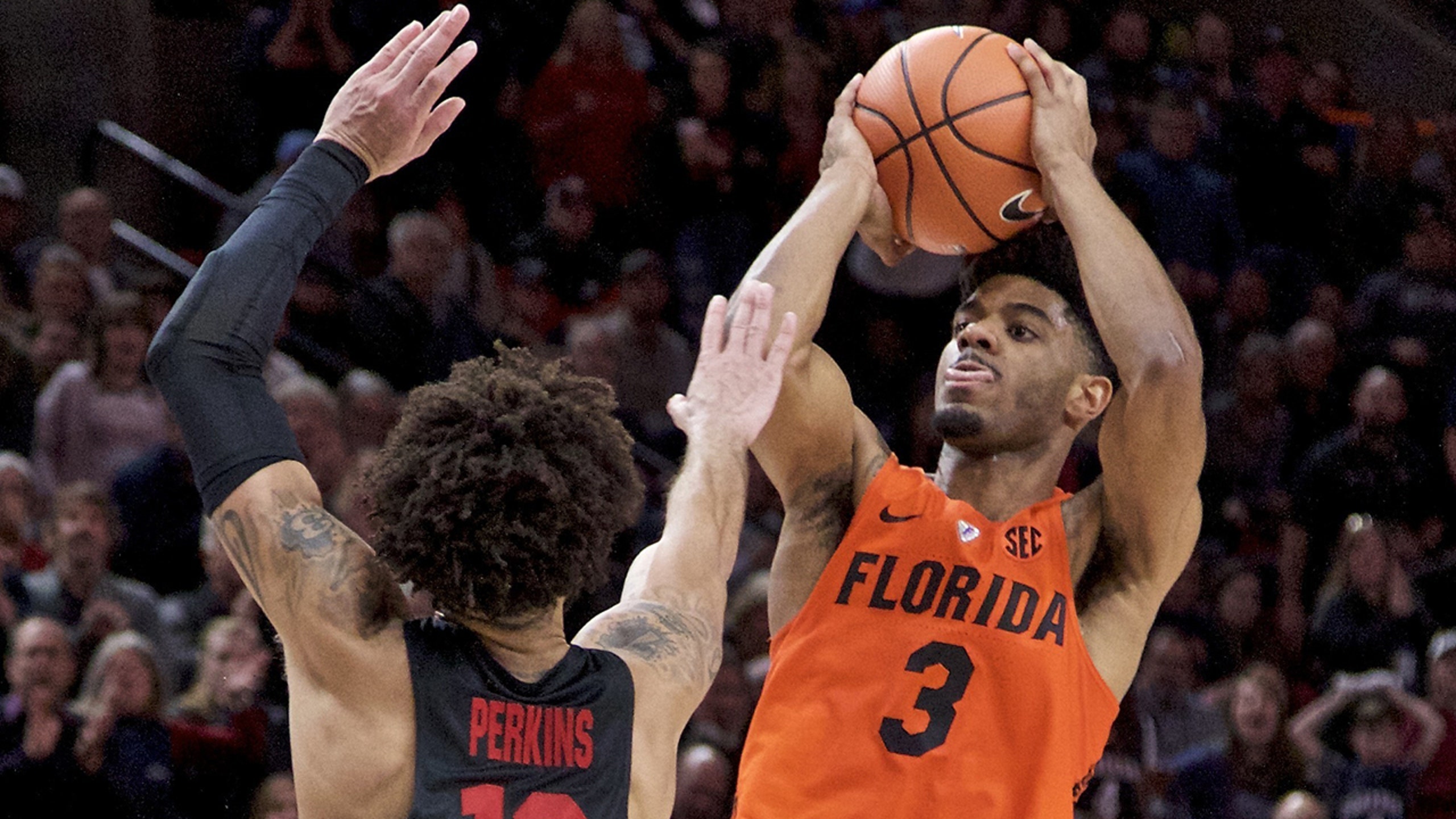 Florida outlasts Gonzaga in 2OT in semis of Phil Knight Invitational
November 25, 2017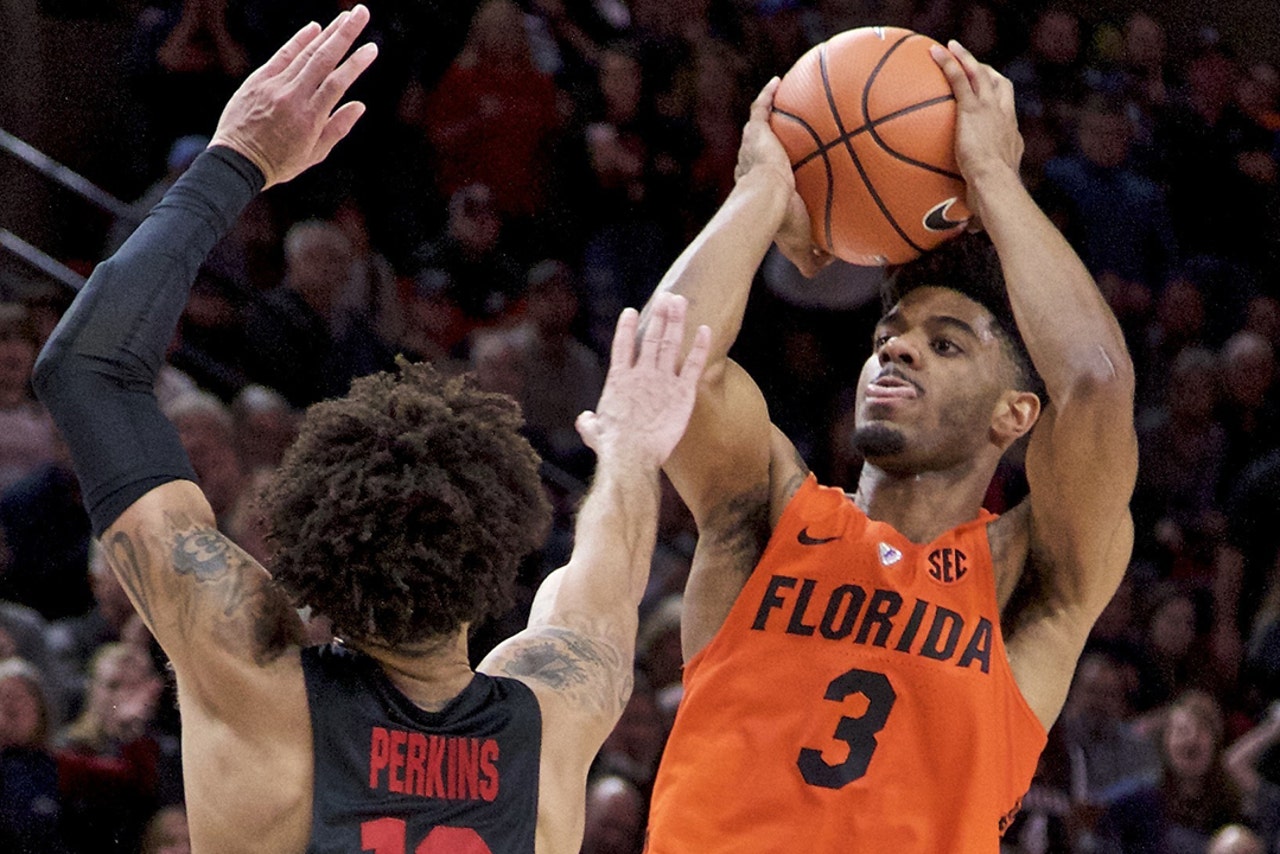 PORTLAND, Ore. (AP) -- Jalen Hudson couldn't wait to get back to Florida's locker room to celebrate with his teammates following a thrilling double-overtime victory over Gonzaga.

Hudson had a career-high 35 points, including eight 3-pointers, and the No. 7 Gators downed the No. 17 Bulldogs 111-105 on Friday night at the PK80 Invitational.

"We played really tough. We never quit. They made a lot of big plays, like huge plays, big shots, Hudson said. "We just never quit, never folded. I just can't wait to get back to my guys. I know they're in there celebrating."

Chris Chiozza added a career-high 26 points and 10 assists for the Gators (5-0), who go on to face No. 1 Duke in the bracket championship on Sunday. The Blue Devils rallied to defeat Texas 85-78 in overtime earlier in the day.



Hudson hit a 3-pointer with 1:41 left in the second overtime that put the Gators up 106-99. Gonzaga closed within 106-102 on Johnathan Williams' layup, then within 109-105 on Corey Kispert's 3-pointer with 11 seconds to go, but couldn't get closer.

Williams finished with a career-high 39 points and 12 rebounds for Gonzaga (4-1).

"This was like a Sweet 16, Elite 8 game right there," Bulldogs coach Mark Few said.

Florida coach Mike White agreed: "Crazy game. What an unbelievable college basketball game."

In the first overtime, Silas Melson got a layup to tie it at 95 with 1.8 seconds left, but missed a free throw that would have won it. Egor Koulechev was called for travelling on a heave down the court, giving Gonzaga back the ball with 0.7 seconds remaining but Melson missed a 3 from the corner at the buzzer.

Gonzaga went up 78-76 on Josh Perkins' layup and free throw with 40.1 seconds left in regulation. KeVaughn Allen's layup tied it and the game went to overtime.

"We had several opportunities to fold and our guys were extremely resilient and tough," White said.

The crowd at the Moda Center was decidedly on the side of Gonzaga, which is about a 5 -hour drive from Portland. Fans gave the team a standing ovation as they left the court at halftime with a 36-29 lead.

Killian Tillie finished with 17 points for Gonzaga before he fouled out in overtime. Josh Perkins also had 17, all in the second half, before also fouling out.

The Zags and Gators were among 16 teams playing in two brackets at the PK80, which celebrates Nike co-founder Phil Knight's 80th birthday.

Gonzaga and Florida were in the Motion Bracket, playing Friday at the Moda Center, home of the NBA's Trail Blazers.

Melson's early 3-pointer that put Gonzaga in front 7-2 drew a roar from the crowd. Melson went to Portland's Jefferson High School.

Williams went on a personal 8-0 run, with a free throw, a dunk, a 3-pointer and a jumper to put Gonzaga up 27-23, and the Bulldogs went into halftime with a 36-29 lead.

Florida wrestled back the lead on Hudson's 3-pointer, which made it 42-41. Hudson, who had just four points in the first half, hit another 3 that pushed the lead to 53-49.

The teams also met last season over the Thanksgiving holiday in the AdvoCare Invitational. Gonzaga won 77-72 and went on to win the final 73-71 over Iowa State.

Overall, the Zags won two of the previous three meetings with the Gators.

BIG PICTURE

Gonzaga: Gonzaga's starters were all averaging in double figures going into the game, and all finished Friday night in double figures. Corey Kispert had a career-high 15 points and Melson scored 12.

Florida: The Gators were picked to finish second in the SEC preseason media poll. ... The Gators averaged just over 100 points through their first four games. ... Allen finished with a season-high 23 points, and was 11 for 11 from the free throw line. .... Hudson attempted 12 3-pointers.

HOMECOURT ADVANTAGE

Gonzaga's enthusiastic fan base also turns out for Bulldogs road games at Portland, another member of the West Coast Conference. "It got really loud. It was obviously a pro-Gonzaga crowd," White said.

UP NEXT

Florida will face top-ranked Duke on Sunday.

Gonzaga will face Texas for third place on Sunday.


---
---