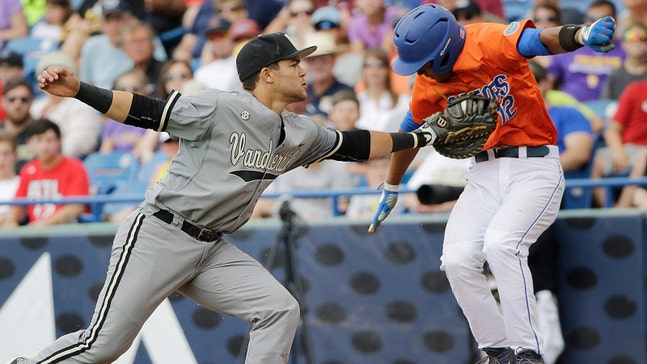 Florida emerges from rain delays to beat Vanderbilt, win SEC title
Published
May. 24, 2015 11:38 p.m. ET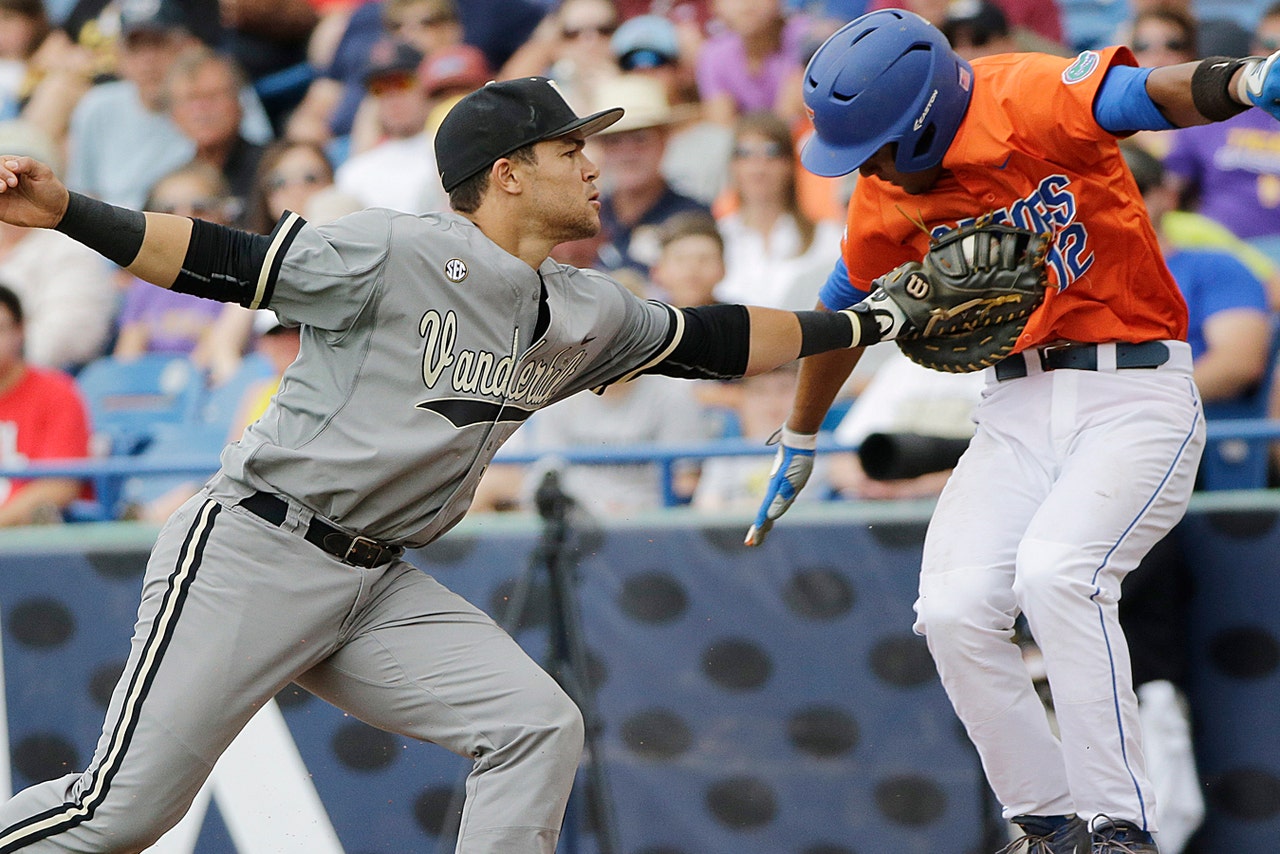 HOOVER, Ala. (AP) -- The Florida Gators started fast and then waited out a few hours of rain delays before their bullpen secured the SEC title.
Buddy Reed had three hits Sunday night and four relievers shut down Vanderbilt on the way to a 7-3 victory in the rain-delayed conference tournament final.
The Gators (44-16) scored five runs in the first three innings, which were interrupted by two delays totaling 2 hours, 48 minutes. Both teams were awarded NCAA regional sites during the game that ended 6 1/2 hours after first pitch.
Florida coach Kevin O'Sullivan said he didn't have to give his players a pep talk during the delays.
"I didn't say anything to them," O'Sullivan said. "Just trying to figure out who we were going to pitch. The kids were having a good time."
Harrison Bader started the game with a home run for Florida, which finished with 14 hits.
The defending national champion Commodores (42-19) are regulars in SEC title games but have gone 0-5 since last winning in 2007.
"There wasn't one particular part of the game we did real well tonight," Vandy coach Tim Corbin said.
It is Florida's first title since 2011 after losing the championship game to LSU last season. The Gators advanced with three straight wins after losing the tournament opener to Arkansas on Wednesday night.
"Obviously our team's really resilient," reliever Danny Young said. "We battled back. We have a lot of pitching depth. We can keep running guys out there and keep you in a ballgame and with our offense, we're never really out of it."
Reed also scored twice while tournament MVP JJ Schwarz had a pair of hits. Four relievers allowed just one run over 6 2/3 innings for the Gators, with Kirby Snead recording the final five outs. Young (2-0) pitched 3 1/3 scoreless innings for the win.
Karl Ellison had three hits and drove in a run for Vandy, which got consecutive two-out singles from Ellison and Bo Coleman in the ninth. Snead got Rhett Wiseman to ground out to first to end the game.
"They played better than we did," Corbin said. "Their bullpen was really good. They basically eliminated us from any good at-bats, particularly after the break. They were very good.
"When we got back (out) here, I didn't think we were as engaged offensively. I thought our at-bats were sloppy. Their bullpen had something to do with that."
RAIN DELAYS
The game was delayed 34 minutes by rain in the top of the second inning and 2 hours, 14 minutes in the third. The crowd was considerably thinned out when play resumed after the second delay.
Reed killed time partly by watching the Yankees' ceremony to retire Bernie Williams' No. 51 jersey.
"I'm a huge Yankees fan," he said. "Other than that, I just danced a little bit and ate some candy. That's my superstition."
UP NEXT
Both teams start preparing to host NCAA regionals. Vanderbilt and Florida are also both candidates to receive national seeds when those are released on Monday.
---