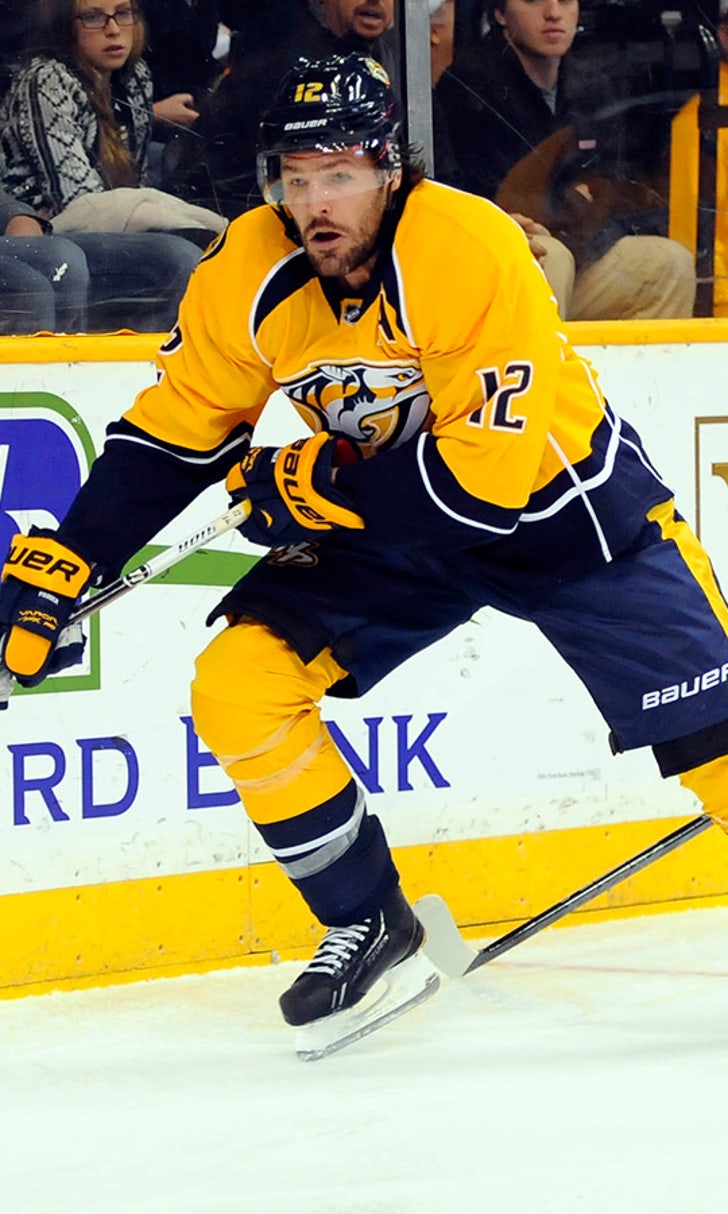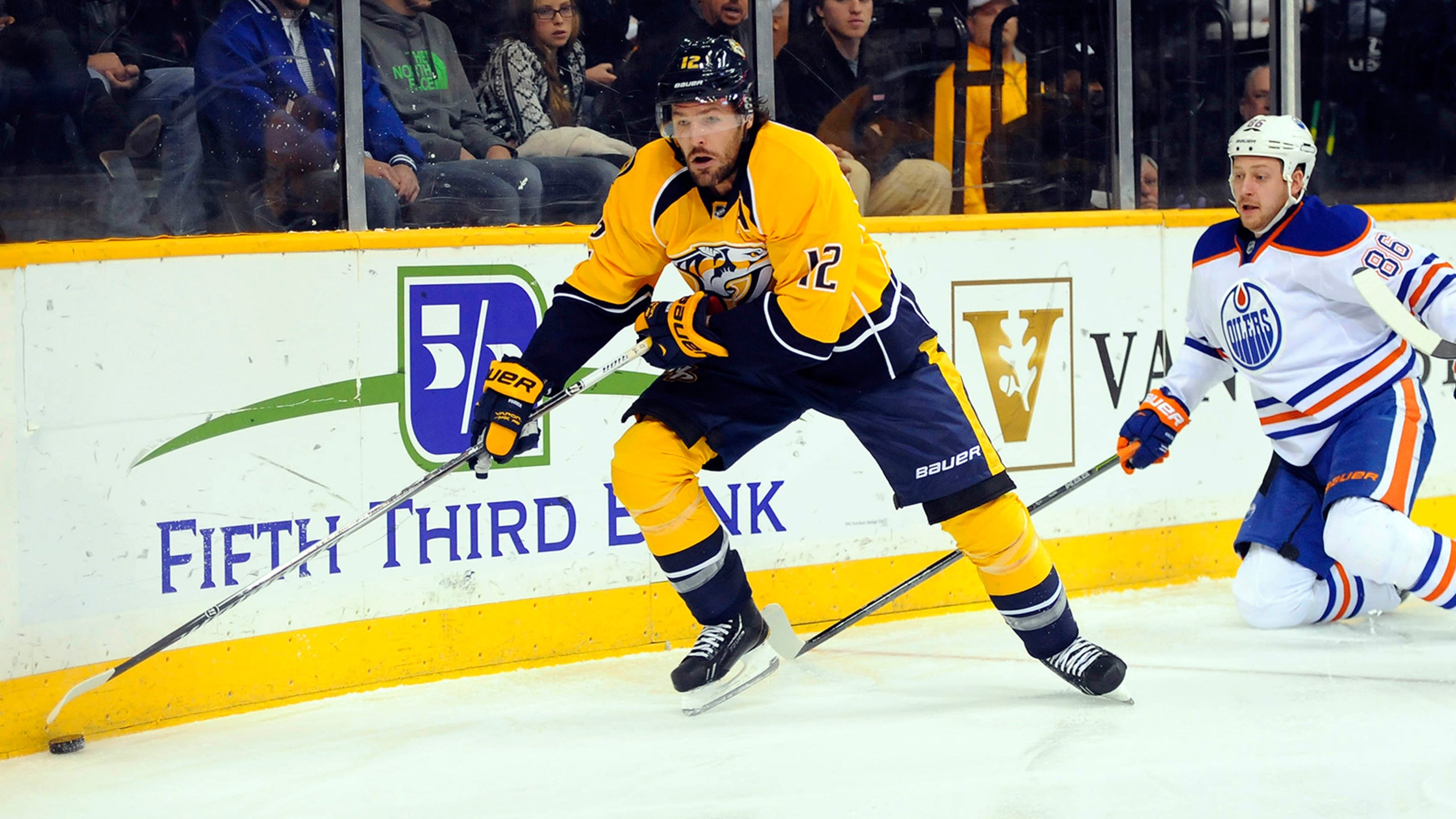 Fixing power play continues to be area of focus for Predators
BY foxsports • December 9, 2014
NASHVILLE -- Through the first quarter of any season in the NHL, you can get a good sense of how to rank a team's performance in all facets on the ice. How much of that, though, can you take with a grain of salt for the remaining three quarters of the season yet to be played?
Nearly every area has been trending upwards for the Predators. Nashville's special teams have been one, if not the only, true concern of items that could be potentially damaging if not corrected prior to any type of regression in the standings this season.
Naturally, there were bound to be certain areas of Nashville's unbelievably hot start that would present an array of questions.
Right now, the distressing performance on the power play has been the hot ticket of late. Unfortunately, for the Predators, the answer to their only apparent ailment has still eluded them.
"We're definitely not happy with it. I think it's got to get better and we're working on it," said defenseman Roman Josi, who is third on the team in power play time on ice. "Just have to stay with it, you can't get too frustrated. It's obviously a big part of the game. It's going to come, we just have to work on it. Get shots on net and turn it around."
"I think the puck movement was a little better in some of the games, but if you don't score it's still not a good power play," said forward Mike Ribeiro. "The main thing is, if we can get three or four shots a power play, I think that's a good average. At the end of the day, it's all about goals. We're not able to score right now."
One of the biggest issues hurting Nashville's power play may not be its inability to generate quality scoring chances, but the lack of actual power play opportunities that the team sees in each game.
"We're not getting a lot of [power plays]. One if we're lucky, two a game, which we should be drawing more penalties for some reason," said forward Mike Fisher. "It's been tough to kind of get it in a little bit of a flow. We know we have the personnel, we got the guys to do it. We feel like once we get one or two [goals], we'll feel good about ourselves."
The Predators sit at 25th in the league in total power plays with 78 total chances in 26 games played. That's an average of three tries on the man-advantage per outing. While Nashville is in the bottom 10 of the league in actual shots generated during each five-on-four event, collecting a total of four opportunities in their past three games can only do so much in helping them find an answer to a power play unit that has yet to register 10 goals on the season.
"If you get one chance a game, that means one unit might get 40 seconds. We might work on something four times in practice. The best way to always get reps is game reps," said coach Peter Laviolette. "Certainly I think the reps on the power play, if we got more of them and more looks at it, we might find some more consistency with it. We do it out here on a daily basis. We practice it, but we'd really like to get some game reps at it too. That's out of our control."
What is in their control, though?
The Predators performed a complete overhaul of their power play units and overall strategy since the beginning of the season and it's still only amounted to one man-advantage goal at home in 44 attempts and nine overall.
Adding Fisher back into the mix, however, gives the Predators a player who not only ranked fifth on the team in power play points last season, but he's been in the top 10 since arriving to Nashville late in the 2010-11 season.
"If the shot's there, we want to be a shot-mentality power play. We got guys that have good shots back there and they can get pucks through," Fisher said. "We have to do a good job of bouncing on rebounds. If we're moving the puck, we got possession, and we're getting shots it's going to come. It's just right now we haven't got that bounce.
"To get us feeling good, we need a couple in a row here. It's going to be big on the road. It'll be the difference between some games, here. We have to make sure we're better and not worry about what's happened, but what we got to do to be successful going forward."
Another hot topic that seems to have gone by the wayside is the clear absence of Patric Hornqvist on Nashville's roster. Hornqvist, who was traded to the Penguins earlier this summer, wasn't the most sizeable man for the Predators, but his in-the-crease net presence and ability to agitate the opposition are features the organization has clearly missed.
Nashville will effectively be able to replace Hornqvist's place on the power play over time, but how long that will take may be the more appropriate question to ask.
"[Hornqvist]'s one of the best in the league at it. There's no question he's good. We've got guys playing different spots. I've been in the front for a little while," Fisher said. "So it's going to take time for guys. We got some guys in different spots, new guys, and it takes time to get comfortable in a spot, in an area that you're used to being in on a power play to be successful."
Ultimately, the Predators almost seem as if they're trying too hard to find the right pass and shot while out on the power play. Through their last three games, they've only registered five shots on their four opportunities with the man-advantage.
"I think we're over-thinking. We try to think what we're supposed to do instead of just really keeping it simple, bring the puck to the point and just go and crash the net for ugly goals," said Ribeiro. "I think if we start doing that, if we get a bounce here or there, then you get confidence and that can change."
With a road trip that will see Nashville take on two of the more penalized teams in San Jose and Colorado, the Predators may be able to boost their third-worst power play percentage in the NHL. Scoring the eighth most goals at even strength in the league, Nashville is already finding ways to win without offense from its special teams.
Boasting the league's fifth-best power play percentage on the road, however, the Predators could give their man-advantage a timely boost with six of their final nine games of the calendar year on the road.
"The good thing is that we can win without the power play. I think our [penalty kill] is doing way better. It's a matter of our power play. You need that to give you that second goal or a goal to take the lead," said Ribeiro. "We need to bear down."
Need more Nashville Predators discussion? Make sure and tune in to one of the most entertaining and informative Predators podcast on the market! The Predcast is a weekly hockey show available on iTunes, Stitcher Radio and TuneIn Radio. Hosts Kristopher Martel, Chris Link, and Dan Bradley break down the news surrounding the Nashville Predators and around the rest of the NHL.
---