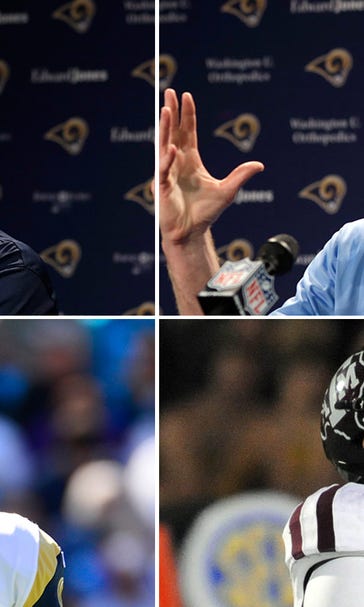 Fisher and Snead admit that Manziel can ball -- but the Rams are Bradford's team
May 6, 2014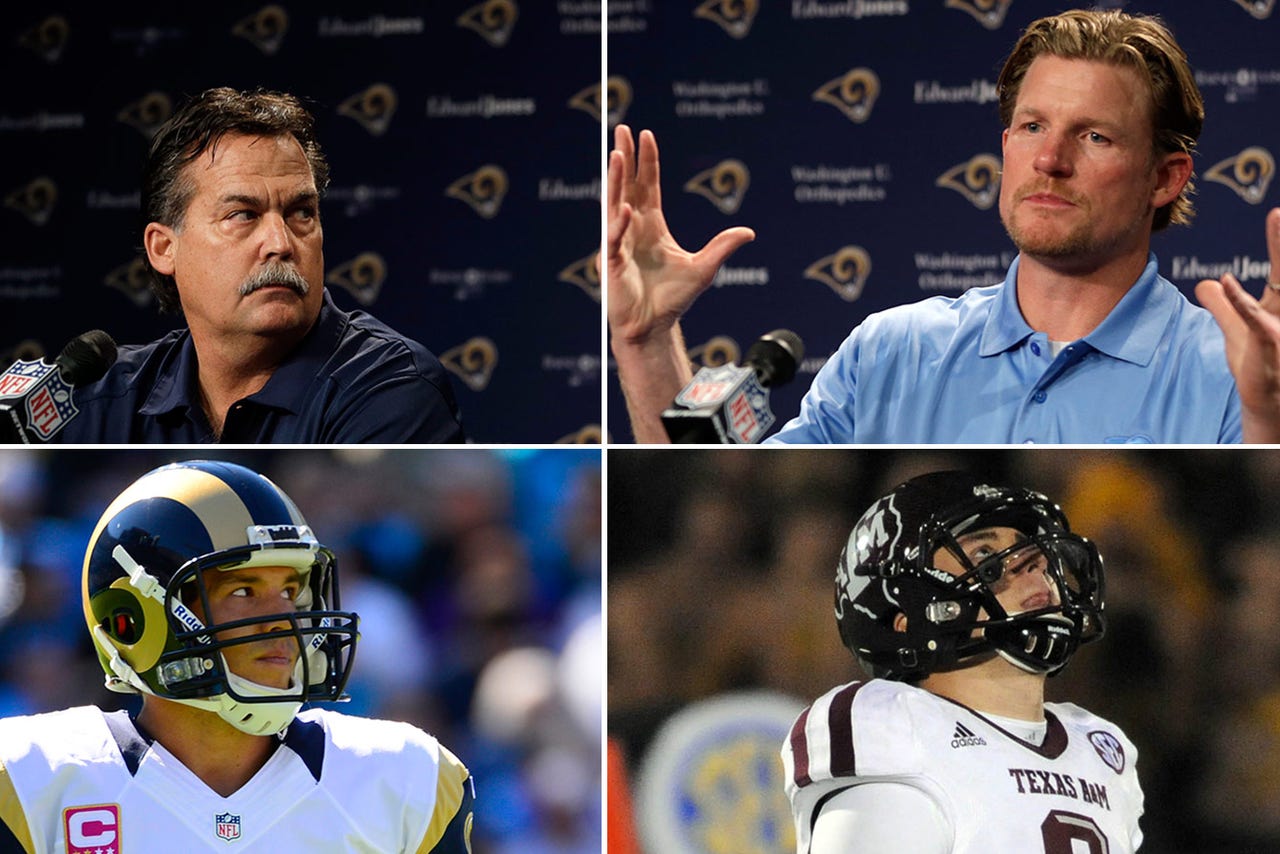 ST. LOUIS -- Jeff Fisher and Les Snead have heard the rumors, too.
The Rams' head coach and general manager met with the media Tuesday for their annual pre-draft press conference and addressed some of the rumors that have made the rounds recently, including that they are looking to trade quarterback Sam Bradford and select a QB on Thursday.
"No, we are not shopping Sam," Fisher said, matter-of-factly. "On the road, I forget where we were last week, but we saw (on TV) that Johnny Manziel was sighted in St. Louis. I think it was one of the next things that they wanted to discuss or something like that, you know? The reality is the 30 visits were over and it's not permissible to bring in players at that point. So, that kind of gives you an indication of the rumors and things like that."
The general manager continued where the coach left off.
"We broke a lot of rules on this rumor trail," Snead added. "Met with him 80 hours at the Combine -- that broke it by about 79 hours and 45 minutes. Met with him. He was in St. Louis. So, a lot of rules were broken."
Fisher and Snead were asked several questions about Manziel, the Heisman Trophy-winning quarterback from Texas A&M who has become arguably the most polarizing figure going into the draft.
They both were among a Rams contingent that traveled to College Station last week to work out Manziel as well as wide receiver Mike Evans and offensive tackle Jake Matthews.
"Johnny was probably one of a dozen quarterbacks that we worked out over this process," Fisher said. "With respect to Sam, he's our starter. As you guys know, that was the reason I took this job was for our owner and because of Sam, our quarterback. We have all the confidence in the world that he'll be back. But we also have the responsibility to continue to upgrade this roster .... If the right guy is there to help in a backup role to Sam, then we'll make sure we've done our due diligence."
One of the more recent media reports linking St. Louis with Johnny Football came from Peter King of MMQB.com, who wrote in his column Monday that the Rams really liked Manziel and would consider drafting him if he were still available at the No. 13 overall pick, which is unlikely.
King also wrote that Snead traveled to Texas Tech to meet with coach Kliff Kingsbury, who was Manziel's offensive coordinator and quarterbacks coach at A&M in 2012, to talk about the quarterback.
Fisher was complimentary of the Aggies' ex-quarterback Tuesday.
"Well, I think his production and his competitiveness and everything speaks for itself," he said. "I mean, he was an outstanding college football player, as it was reflected the year before last with the rewards that he received. He can make all the plays, throw the football, and he's a great teammate. He's been a very productive player and great for their program." 
Everyone wants to know where Johnny Football is headed.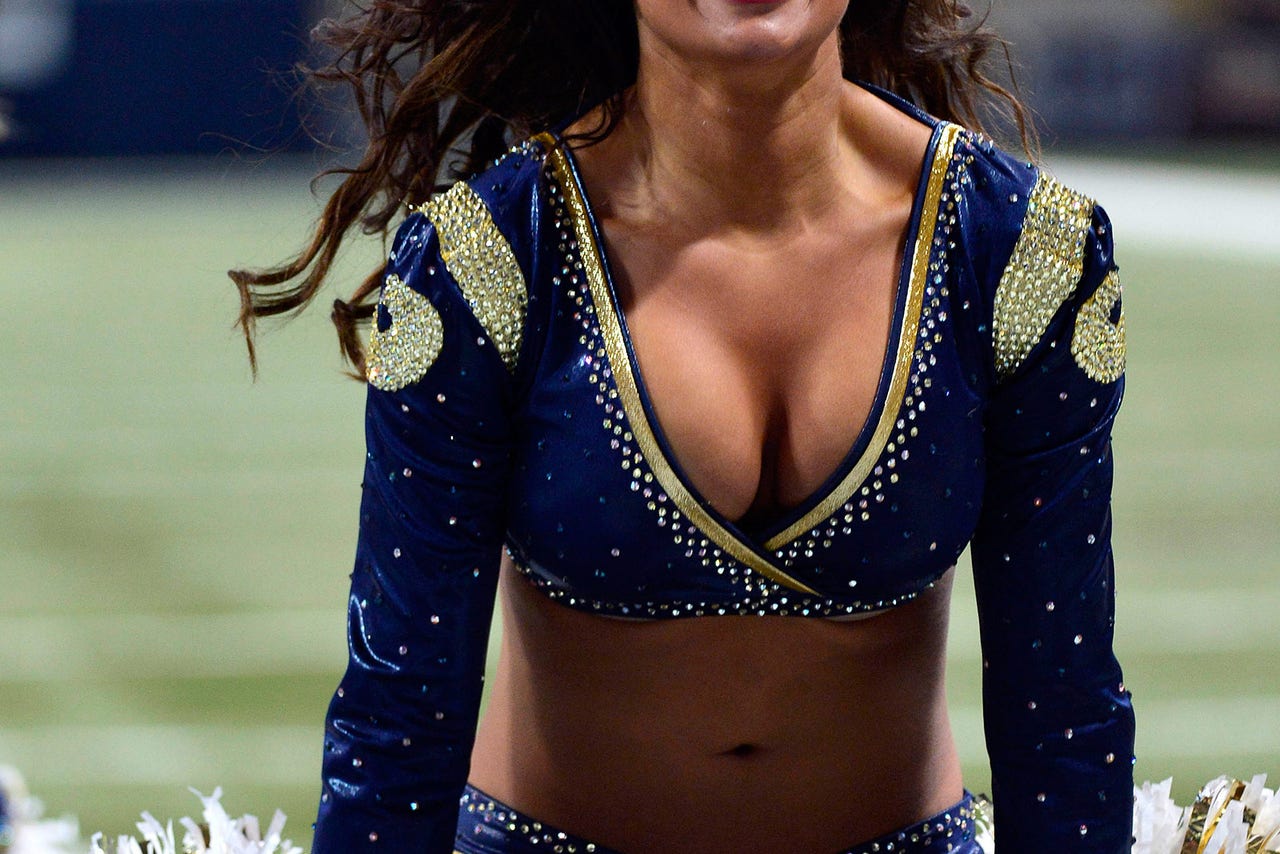 NFL CHEERLEADERS: Check out our gallery of sideline shots from around the league.
Well, it doesn't appear to be St. Louis, but you never know.
UNCERTAINTY GOING INTO DRAFT
Two days before the start of the first round, there's still no telling what will happen at the top of the draft with the Houston Texans.
The Texans have a new coach in Bill O'Brien and need a quarterback, but there might not be one they like enough to take with that pick. Houston could select South Carolina defensive end Jadeveon Clowney, linebacker Kahlil Mack, an offensive player or even trade down for the right package of picks.
That great unknown makes it more difficult for the Rams to have a clear picture of who will be available at No. 2, the selection they received from Washington as part of the trade that netted the Redskins quarterback Robert Griffin III two years ago.
"We don't even know what Houston's going to do yet," Snead said. "You're starting to get a lot of different rumors. You don't even know who's going to be picking at (No.) 1 yet. Nobody knows who the first quarterback's off the board yet. In that top whole (No.) 7 to (No.) 10, there's a lot of things going on that I don't even know in your mocks if you'll get it right. So, I think that's what'll make it a little bit dramatic. It'll be fun to watch." 
RAMS TRYING TO FIND RIGHT FIT WITH TWO FIRST-ROUNDERS
Like Houston, St. Louis could also go in a couple different directions with its first pick. The most likely names are offensive tackles Jake Matthews and Greg Robinson, wide receiver Sammy Watkins, defensive end Jadeveon Clowney or a scenario where the Rams trade down and accumulate more draft picks.
"I think this year, definitely, there's a lot of avenues we can go and we're jacked about," Snead said.
Fisher and Snead have been plenty busy with two picks among the first 13.
"We've identified six to eight players that we think potentially could fit us at (No.) 2," Fisher said. "And then, of course, we've gone on with the additional process at (No.) 13. That's been the challenge for us upstairs is that we have two separate issues going on and we have to make sure we address equally each pick. You don't get consumed with one and then get caught off guard with the other, so we've got a couple different scenarios." 
Snead was asked about calls about trading the No. 2 pick.
"Man, people are still flirting," he said. "Nobody's asking me to the prom yet. I think this week it gets slightly more serious. But again, I think with our pick at (No.) 2, hey, just like we're waiting on Houston to draw first blood, those teams somewhat have to wait on Houston as well. I think that's why we've always said this stuff may really come down to they make the pick and you've got 10 minutes."
DEEP CLASS OF RECEIVERS
This looks like one of the strongest groups of wide receivers entering the NFL in years.
"When you look at the board, I think teams that really want receivers, they're looking at the board and going, 'Wow, we've got a chance to get one.' Especially in the first round, second round, that can help those teams win or be starters," Snead said. 
The wide receiver class is headlined by Watkins of Clemson and Evans of Texas A&M, both of whom look like upgrades over what the Rams currently have on their roster.
Snead was asked specifically about Watkins, a player some have projected to St. Louis at that No. 2 pick.
"You know, he seems to be the poster child above the other guys, and hey, he's proven that -- run after the catch, ability to catch the ball, all those things. He's got some development to do, like a lot of them, but I wouldn't discount some of the others behind him," Snead said. "Whether it's the Texas A&M guy (Evans) because he can go get rebounds, whoever is third and fourth, but Sammy, if he's winning the horse race it's for a reason, but he's not up by two horse lengths." 
---
---