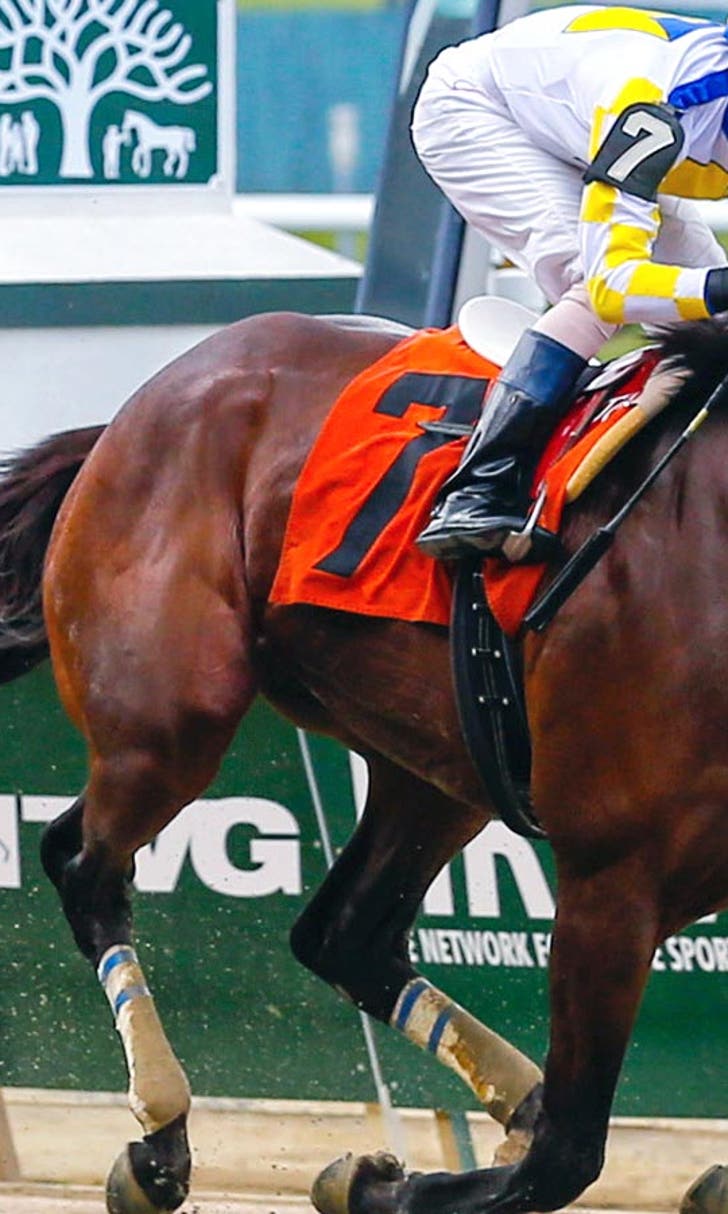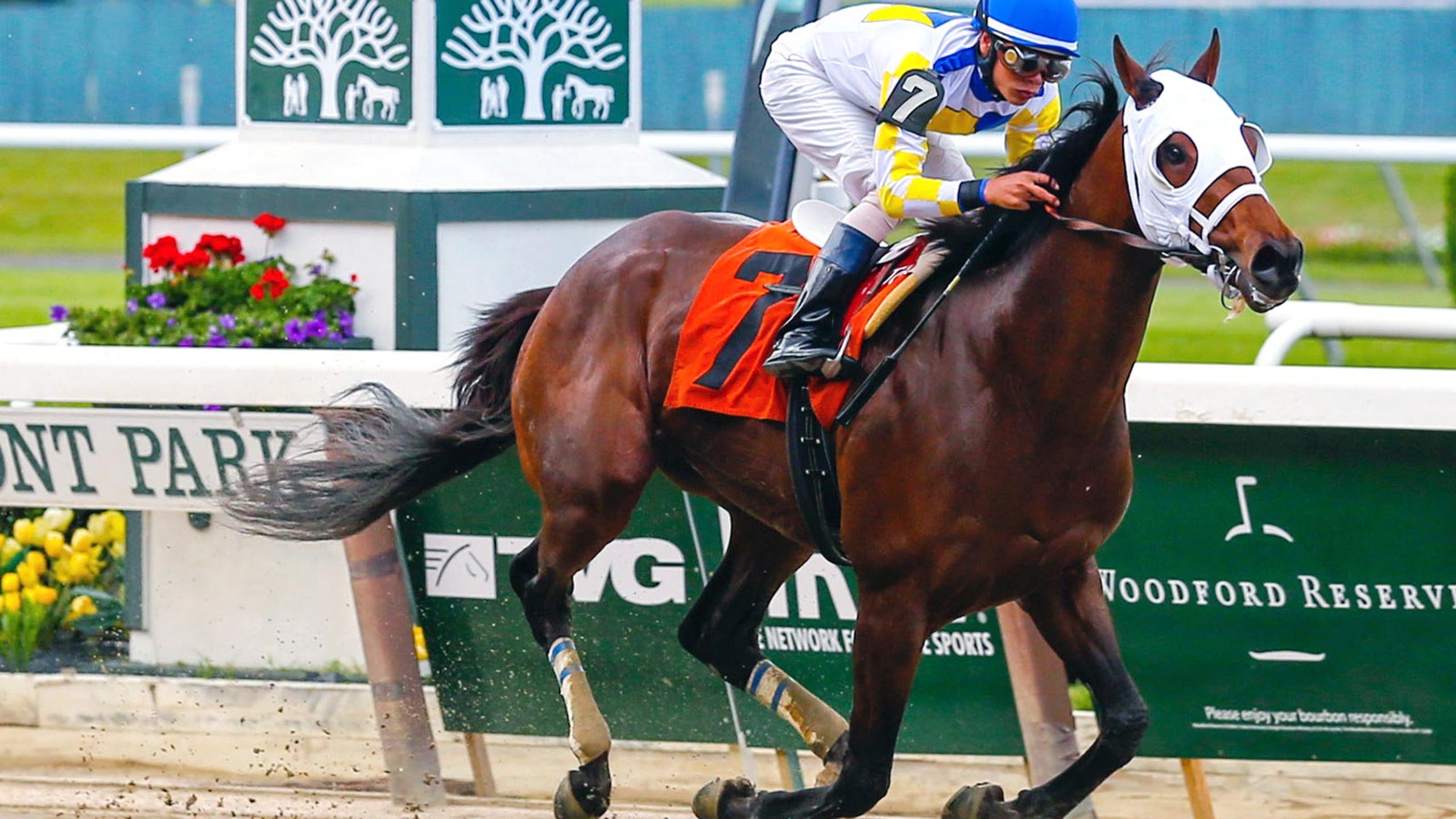 Finally, a breakthrough win for Moreno in Whitney
BY foxsports • August 3, 2014
Many fans lost faith in Moreno after the first 19 starts of his career produced only two victories. Sure, he packed speed aplenty. Sure, he belonged in the conversation with the nation's premier horses. But where were the results?
Trainer Eric Guillot can finally point to a videotape of the 87th running of the $1.5-million Whitney Handicap as proof that his horse is as good as he long proclaimed him to be.
The film shows Southern Equine Stable's homebred Moreno leading from start to finish against a star-studded field and holding off Itsmyluckyday by 1 1/4 lengths on Saturday.
"It's great. How could it not be?" said an ecstatic Guillot. "It's the Whitney, right?"
Aside from the grandest purse any race at the prestigious Saratoga meet will carry, the Whitney carries an automatic berth into the $5-million Breeders' Cup Classic at Santa Anita Park on Nov. 1. Breeders' Cup will pay the $100,000 entry fee and provide a $10,000 travel allowance.
Will Take Charge rallied for third but last year's champion 3-year-old male lost for the fifth time in six starts this season. Heavily favored Palace Malice ran a perplexing sixth for his first defeat in five starts this year. Trainer Todd Pletcher was almost at a loss for words after Palace Malice, well-positioned in third during the backstretch run, never menaced the leader.
"I don't have a good excuse at this point," Pletcher said. "We got the trip we were hoping for and it wasn't his day."
John Velazquez, who rode Palace Malice, was equally puzzled: "I'm pulling my hairs because I don't know what to tell you. He worked good, did everything good and then he didn't show up," he said.
Velazquez was concerned because his mount, so keen during a season-opening 4-race winning streak that established him as the premier horse in the country, so abruptly lost his edge, mentally and physically.
"He never showed any interest. He went through the whole race without paying attention," the jockey said.
Guillot knows what it is to fall short with a horse deemed capable of more. Moreno ran erratically in the stretch when he finished third in the Jim Dandy Stakes at Saratoga last July 27. He seemed to be snakebitten when he lost a head bob to Will Take Charge in the Travers Stakes last Aug. 24. He was nowhere when he struggled home 10th in last year's Breeders' Cup Classic at Santa Anita.
In all, the Ghostzapper gelding won only 2 of 12 starts in 2013 but finished second five times. The beginning of this year brought more disappointment as Moreno dropped his first four starts. Guillot tried to make certain adjustments during the course of his travails, including attempts to teach the dedicated front-runner to relax just off the lead. They were to no avail.
"He knows no other way," Guillot said of Moreno's pedal-to-the-metal style.
Moreno benefitted from reasonable fractions of :23.67 for the opening quarter of a mile, :47.50 for a half-mile and 1:11.31 for three-quarters of a mile before finishing in 1:48.05 at 10-to-1 odds for heady jockey Junior Alvarado.
"Turning for home, he's on the lead and I'm hollering, 'Junior! Junior! Did you hear that bell? Did you hear that bell? Somebody just got taken to school,' " said the colorful Guillot.
In other Grade 1 races that highlighted a compelling undercard:
Alfred G. Vanderbilt Handicap: Palace overcame a sluggish start and made a resolute charge in deep stretch to reel in front-running Happy My Way by one length in the $350,000 Vanderbilt.
"This horse really has a strong finish," trainer Linda Rice said. "Once he switched to his right lead and he was in reach of him, he's such a tremendous competitor that he would get to him."
Palace earned his 10th victory in 20 career starts and became a millionaire when he boosted his lifetime earnings to $1,009,550.
Test Stakes: Sweet Reason, fourth in the 2013 Breeders' Cup Juvenile Fillies, continued to excel as a 3-year-old in prevailing by one length against longshot Miss Behaviour.
"It's a first for me to have a nice horse that doesn't just pop up to run one or two big races," said trainer Leah Gyarmati. "It seems like she's got a nice career going and keeps improving. It's exciting."
For Equibase charts for all of the action on Saturday, click here.
---