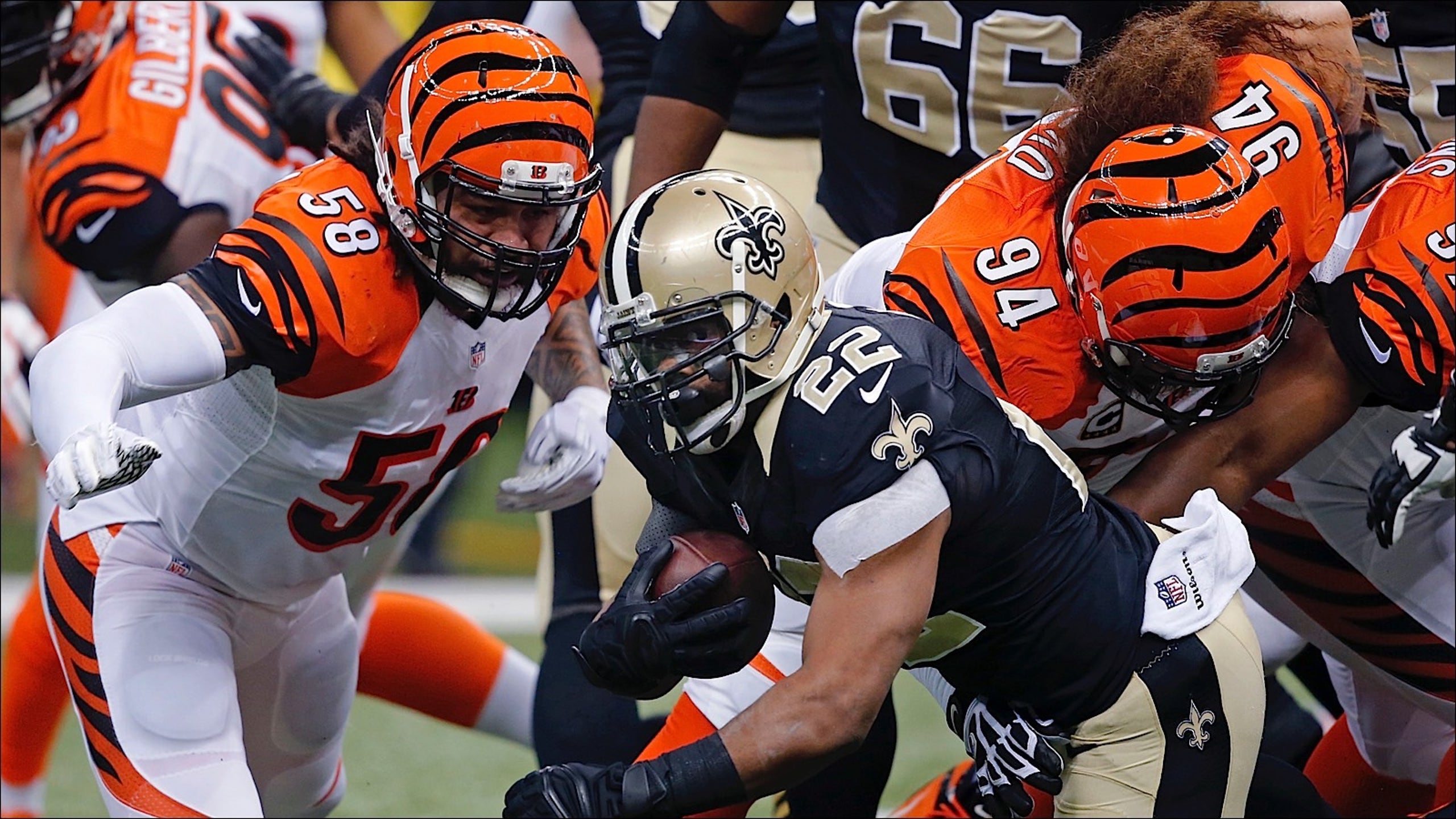 Feeling like old times for Bengals defense
BY foxsports • November 17, 2014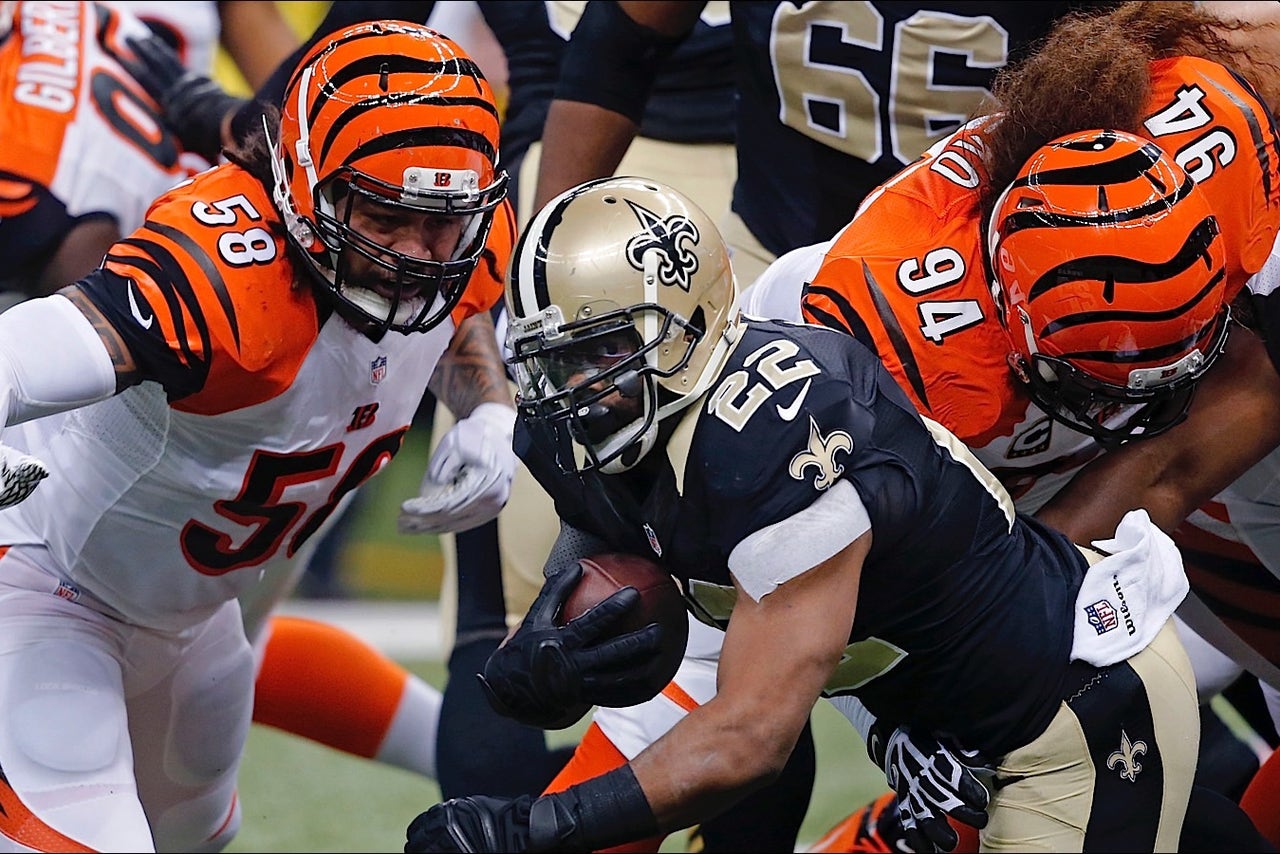 CINCINNATI -- Sunday in New Orleans was a throwback day for the Bengals defense. For many of the first nine games of this season the Bengals on that side of the ball haven't looked like themselves, at least not the unit that has been among the NFL's best the past five seasons. 
Sunday's performance against the Saints was much more reminiscent of what the defense was expected to be rather than has been this season.
New Orleans came into the game ranked second in the league in yards per game (435.0) and sixth in points scored (27.9) but the Bengals held quarterback Drew Brees and his offense to just 330 yards and one touchdown in a 27-10 win at the Mercedes-Benz Superdome. It was the fewest yards gained and points scored by the Saints this season and their second-lowest yardage total in the last 31 games dating back to the 2012 season.
Seattle held New Orleans to 188 yards in a game last December but other than that over their previous 30 games the Saints had gained at least 347 yards, including topping 400 yards 19 times.
The Bengals had four times this season allowed opponents to gain 400 or more yards, including more than 500 yards in losses at New England and at Indianapolis. That's as many 400-yard games as they allowed the previous two seasons combined.
Sunday in New Orleans was more of the norm than the aberration of the first half of the season.
"We've got a lot of prideful guys in this locker room and on defense," said defensive end Wallace Gilberry. "When it boils down to it, we know we have the assets to get it done. We know we have the people capable of getting it done. It's just a matter of doing it."
They got one of their key assets back when middle linebacker Rey Maualuga returned after missing the last four games with a hamstring injury. Maualuga has garnered plenty of criticism from the outside for his play over his six seasons with the Bengals but he has always had the backing of the coaching staff. Head coach Marvin Lewis and former defensive coordinator Mike Zimmer were adamant when it came to wanting to re-sign Maualuga as a free agent after the 2012 season.
"His mental and physical presence was good to have him back and playing," said Lewis. "He did as advertised, so that was good."
Maualuga was only credited with three tackles but two of them were for losses, including dropping New Orleans fullback Erik Lorig for a 1-yard loss on a fourth-and-goal swing pass from the Bengals' 1-yard line in the second quarter. The Bengals held a 7-3 lead at the time.
"We needed a spark. We needed a big play in order for everyone to click and get going," said Maualuga. "We just needed something big and that happened. They were first-and-goal from the 4-yard line and they couldn't get it in. That's a credit to everyone being aware of the situation and being aware of what we needed do. We stopped them and gave our offense a chance to go put some points on the board."
The Bengals eventually took a 13-3 lead into the halftime locker room. New Orleans extended its streak of scoring at least one touchdown to 139 straight games -- the third longest streak in NFL history -- but didn't get that touchdown until the first play of the fourth quarter.
While Brees completed 33 of 41 passes he only averaged 6.2 yards per attempt, well below his season average of 7.9 yards coming into the game. It was the 42nd time in his career he completed 30 or more passes in a game -- a NFL record -- but his longest completion was just 17 yards.
It was just the second time since Brees joined the Saints in 2006 that he failed to have a 20-yard completion in a game; the other time was Oct. 8, 2006, against Tampa Bay. It's just the sixth time in his 14-year career Brees has failed to have 20-yard pass completion in a game he's played.
"We didn't give up any deep balls. That's the key to our defense," said cornerback Adam Jones after the game. "When you look at how we try to control things on defense we make sure we try to check the ball down. And I think we did a great job of doing that today. And our guys up front did a great job of applying pressure on Drew and collapsing the pocket."
While the Bengals got Maualuga back in the lineup, they played without cornerback Terence Newman and linebacker Vontaze Burfict because of knee injuries. Burfict had arthroscopic surgery on Oct. 29 and has not practiced since, while Newman missed all three practices last week. Cornerback Leon Hall left Sunday's game with a sore Achilles.
Despite those absences, they had one of their best performances of the season. The task starting next Sunday at Houston is to again make it a regular occurrence.
"Everybody played better yesterday, not just one group," said defensive end Carlos Dunlap. "Getting guys back healthy is the easiest way to show consistency because they're the guys you're used to consistently having out there. To this point they haven't been out there consistently. Getting those guys back will help a whole lot this late in the game. We've got to continue to play great all in one."
---