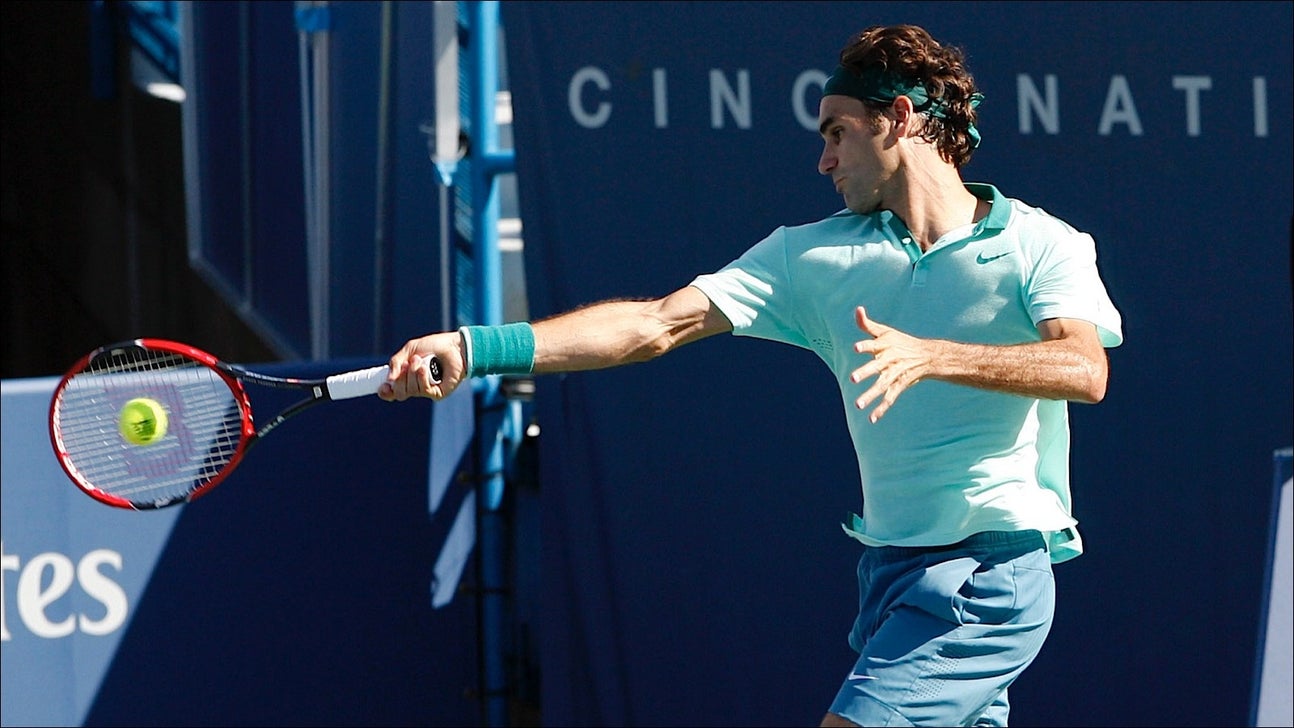 Federer gets 300th Masters win in Cincy
Updated
Mar. 4, 2020 12:43 p.m. ET

MASON, Ohio (AP) -- Roger Federer had another big moment. Those seem to happen for him a lot in Cincinnati.
Federer won his opening match at the Western & Southern Open on Wednesday, a three-set victory over Vasek Pospisil that was his 300th career victory during a Masters tournament. He's the first player to reach the mark -- Rafael Nadal is second with 281 such wins.
The big number was nice. After a two-hour struggle, Federer was glad just to have a chance to try to add to his unprecedented five titles in Cincinnati.
"It's a nice, round number," Federer said. "I've had some more important ones over the one today. Nevertheless, it's nice to reach such milestones."
The Swiss star didn't take control until the middle of the third set, when he broke Pospisil twice for a 4-1 lead. Both players were sloppy in the breezy conditions.
"You just hope to get through the first match in tough conditions," Federer said. "It's important to stay calm even though it's frustrating for much of the match."
Top-seeded Serena Williams kept her poise during the toughest moments and pulled through a tough opening match as well. She rallied from behind in both tiebreakers to beat Samantha Stosur 7-6 (7), 7-6 (7) in an hour and 54 minutes.
She found it useful to get pushed so hard in her first match.
"It's good when you play a lot of close matches and you come out on top -- I'm defeated, I'm down and I come back and win," she said. "That's very good."
Stosur got ahead 4-0 in the first tiebreaker before Williams rallied. Stosur had two set points in the second tiebreaker, but hit a shot into the net and another one long to even it. Williams won it when Stosur dumped another shot into the net.
"Against player like that you think, `Oh, there is a chance there,'" Stosur said. "More often than not they come up with the goods to shut you down."
Asked how she pulled it out, Williams said, "I really don't know. She was up in both of the breakers. It was just a great match, really."
By contrast, Andy Murray needed little more than an hour to get through his opening match. He faced only three break points -- and fought all of them off -- during a 6-3, 6-3 win over Joao Sousa.
Murray is still trying to get back into form from back surgery last September. He also made a break with coach Ivan Lendl in March that was a big adjustment.
"It's been a tough year," Murray said. "There have been a few things happen. Obviously coming back from surgery is hard. To me now, that isn't in any way an excuse. Now I have had enough time to get over it. Obviously with Ivan, that was also tough."
No. 4 Tomas Berdych converted only one break point while losing to Yen-Hsun Lu 3-6, 6-3, 6-4. John Isner, who reached the finals in Cincinnati last year before losing to Rafael Nadal, moved on with a solid 6-3, 7-6 (1) victory over Marinko Matosevic.
"I played so unbelievably well here last year," Isner said. "I'm off to a very good start this year. I love this tournament. I feel very comfortable here."
There was an upset in the women's draw. Third-seeded Petra Kvitova had trouble with her serve and lost to Elina Svitolina 6-2, 7-6 (2). Kvitova had nine double-faults and made just 52 percent of her first serves.
"I'm disappointed how I played today, for sure," she said. "From the beginning, I didn't feel very comfortable out there."
---