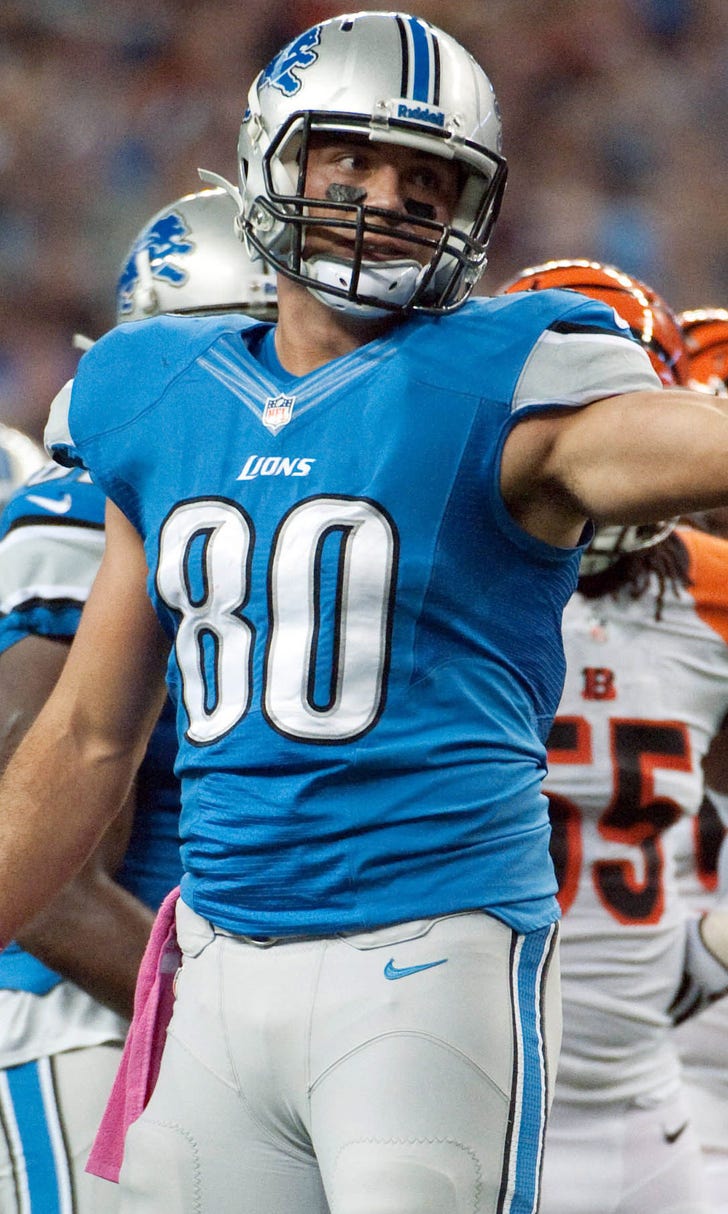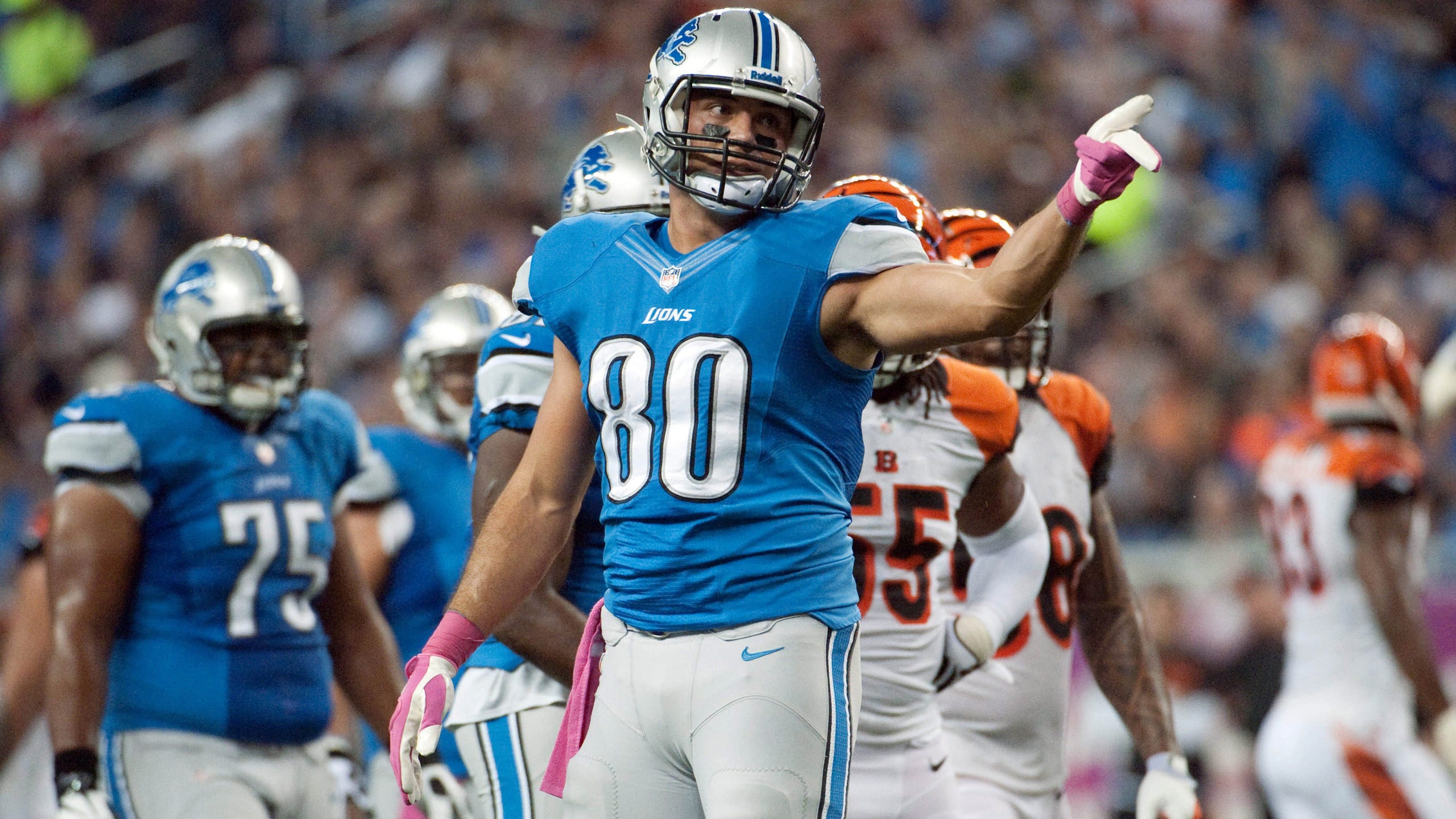 Fauria expects 'to come back strong' after disappointing 2014 season
BY foxsports • June 17, 2015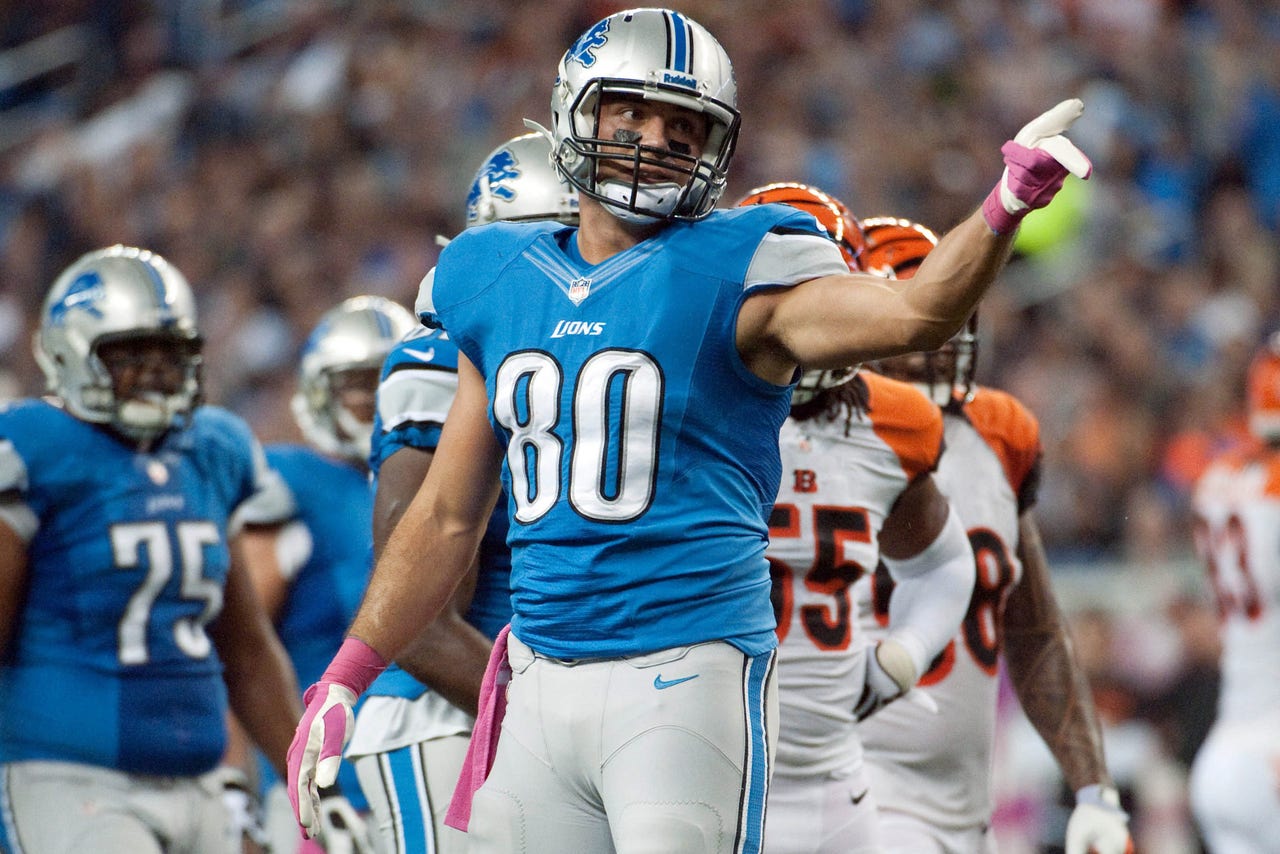 ALLEN PARK, Mich. -- The music was blaring on the Detroit Lions' practice field Wednesday afternoon during the second day of the team's mini-camp.
All that's missing now is one of those famous Joseph Fauria touchdown dances.
Fauria quickly emerged two years ago while becoming a highlight sensation with his dance steps after scoring seven touchdowns as a rookie, even though he didn't get drafted.
His second season, however, turned into a disappointment, primarily because of a nagging ankle injury that he said he initially hurt when he fell while trying to chase down his peeing puppy.
"Extremely frustrating," Fauria said of the long rehab period he's been going through. "But football's frustrating. Everyone has injuries. Everyone has trials and tribulations. It's how you answer and how you come back.
"I expect myself to come back strong."
Fauria, a 6-foot-7 tight end from UCLA, was held to six catches for 74 yards and one touchdown last season.
He played the first three games, missed the next six, returned to play in four but then aggravated the injury again and missed the final four games, including the playoff loss to Dallas.
Fauria took part in some individual drills during Wednesday's practice, but he has sat out much of the offseason program and hasn't participated in any of the competitive team drills.
"I just want to be smart about it," Fauria said, pointing out that ankle injuries have a reputation for being slow to heal.
Coach Jim Caldwell said he sees Fauria starting to make some progress.
"He's coming along," Caldwell said. "He's running a little bit more. They've been increasing his activity on a daily basis. Hopefully, he'll be full go by the time we get back."
Fauria said it was important to him to get back on the field Wednesday and at least participate a little to "show the guys that I'm not just watching here on the sideline," he said.
"I'm still pushing through some pain, but at the same time I want to be out there with the guys, just getting better."
Fauria chose not to undergo surgery after getting reinjured. He said he "got a lot of opinions" from team doctors and even an uncle who is a podiatrist.
"It was a decision I had to make," he said. "I think the best decision for myself was not to have surgery."
The alternative was therapy and, perhaps most importantly, patience.
The Lions wrap up their mandatory three-day mini-camp Thursday afternoon and will then break for the summer. Fauria plans to return home to California for the next few weeks to continue his rehab.
The team is scheduled to open its regular training camp in early August.
"I'll be on top of it during the offseason and I'll be ready for training camp," Fauria said. "You'll see me out there for sure."
His return to health would give an offense that underachieved last season another potentially valuable weapon in the red zone.
Whether he can carve out a bigger role for himself in other areas on the field remains to be seen.
First, he'll have to prove he's indeed healthy enough just to keep his roster spot.
"He has a unique skill set," Caldwell said. "When you're not able to utilize everything that's available to you, obviously, you have to find other ways to do it.
"He brings it to the table and it's something that you can't teach. He has height and he can position himself, particularly in the red zone, extremely well."
Fauria said the goals for himself entering the upcoming season are pretty simple:  
"Just to help my team win," he said. "And be out on the field as much as possible, and to do some dances."
---