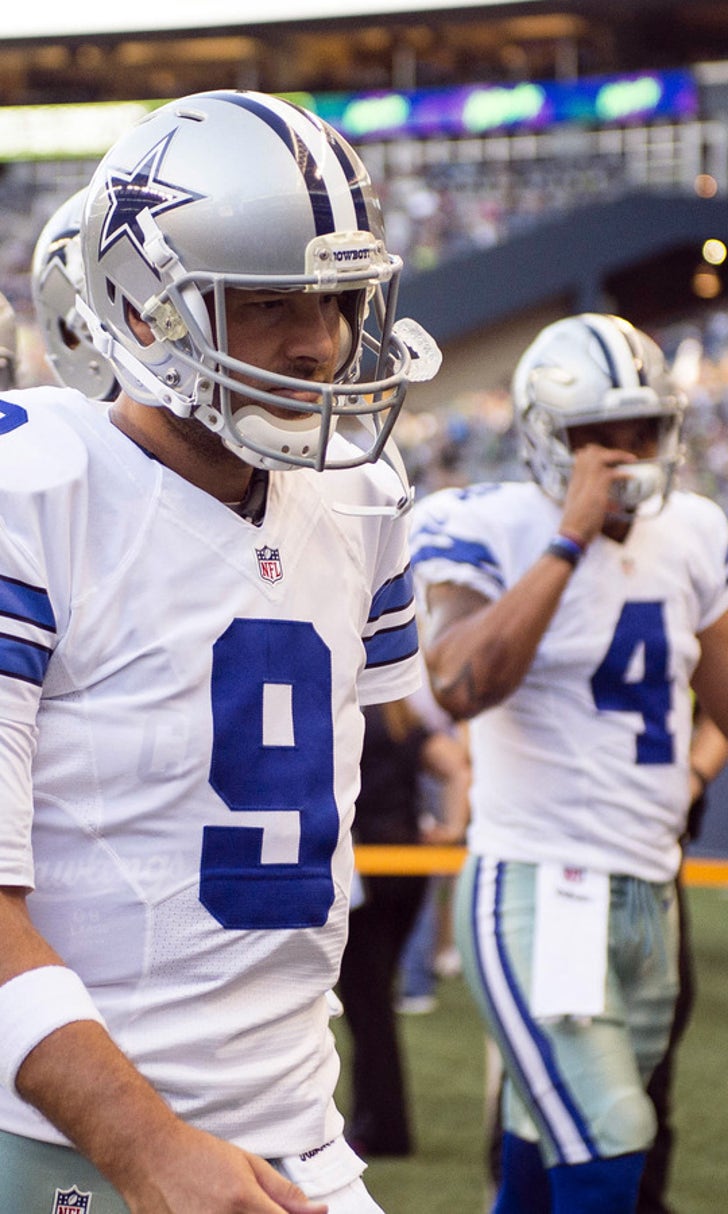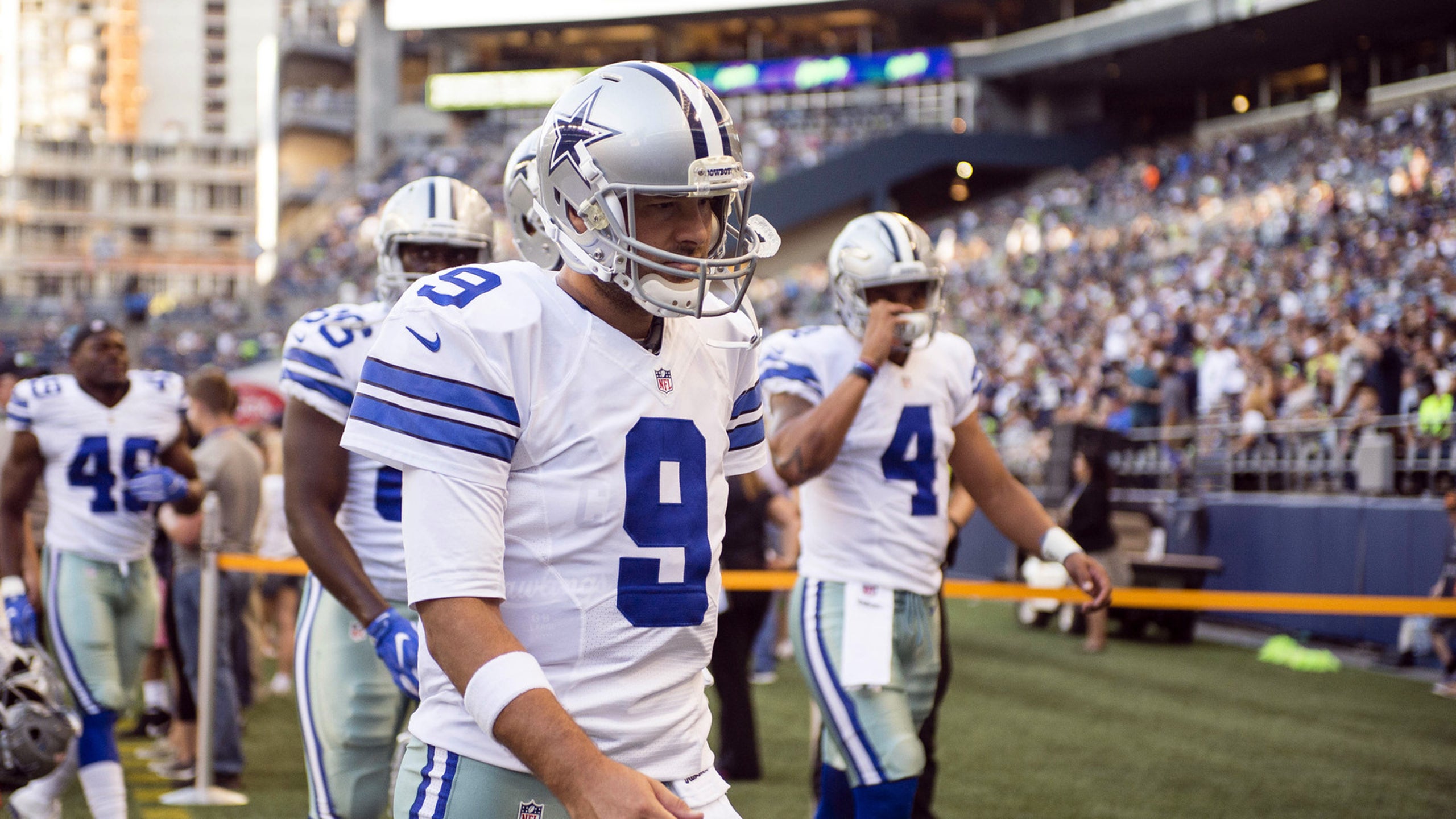 Fantasy impact: Tony Romo's injury hurts Dez Bryant
BY foxsports • August 29, 2016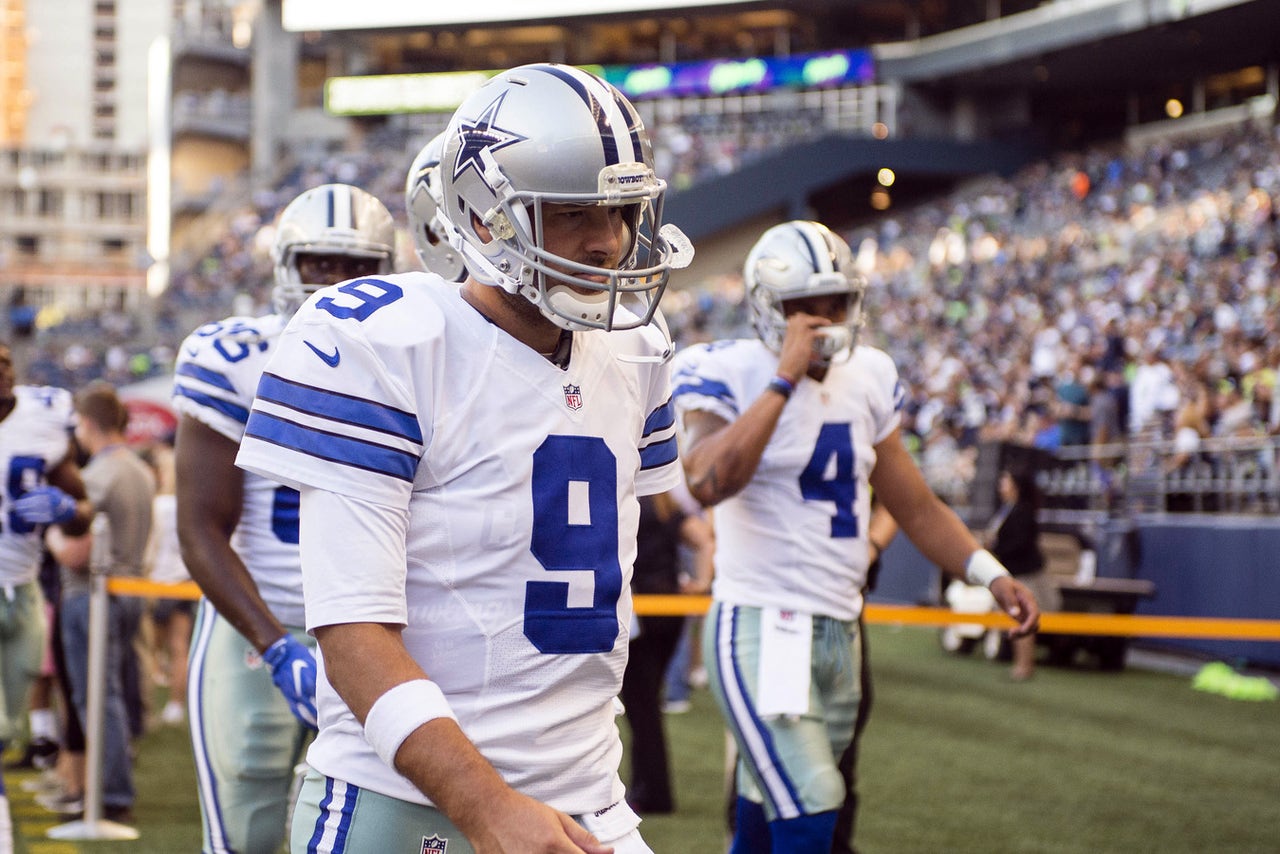 As you've probably heard, Cowboys QB Tony Romo suffered a fractured vertebra against the Seahawks on Thursday. Head coach Jason Garrett said Sunday that he's not ruling out Romo for the season opener, but most reports suggest that he'll miss 6-10 weeks. The fantasy impact is wide-reaching.
If you drafted Romo ...
Put him in an IR spot if you have one (obviously). If you don't, don't feel compelled to keep him with the idea of waiting around until he's healthy. He might not play until October or November, and he might not play at all.
Keeping Romo on your bench is fine if you don't need a replacement to help you now. However, if a strong free-agent RB (for example) surfaces early in the season, don't sacrifice that player for the sake of holding an uncertain Romo.
Start off with your hopefully strong backup QB, and play the free-agent streaming game as much as possible. Alex Smith plays at home against the Chargers in Week 1, while Sam Bradford and the Eagles host the Browns. Real-life Romo replacement Dak Prescott has the potential to help with his legs. There are plenty of options for you, and Romo's absence isn't a fantasy death sentence. You didn't spend a high draft pick on him, anyway.
If you haven't drafted yet ...
Consider Romo basically undraftable. I've got him at QB31. Maybe he'll come back successfully, but you don't want to bet on it. Or wait on it.
Prescott lands at QB26 on my board, with some upside. Even if he struggles, his running ability can make him productive on the fantasy front. Tyrod Taylor finished last season as QB14 despite ranking near the bottom of the league in attempts and touchdown passes, so there's a path to modest fantasy success for a conservatively managed Prescott. However, he also could struggle mightily, and/or be replaced by Romo at midseason.
Ezekiel Elliot remains at RB3 in my rankings, behind only Todd Gurley and David Johnson. He'll probably have fewer running lanes and run more often than originally planned. Remember that the Dallas O-line made Darren McFadden look like a star last season with a motley crew of QBs handing him the ball. That group is awesome, and Zeke is going to be really good. Get ready for a big workload, kid.
Dez Bryant's fantasy value takes a hit, as he moves down a handful of spots to WR12. Prescott will feed Bryant as much as possible, but bumps in the road should be expected. If you spend a second-round pick on Bryant, you'll be crossing your fingers for a midseason Romo return. My ranking for Bryant seems right, but I can't say I'm not a bit nervous about it.
Jason Witten is TE13, right around where he was before the injury. Maybe Prescott will use Witten as a security blanket, but Romo threw to him plenty.
One more thing ...
Try to grab the Giants' defense for its season opener at Dallas. Prescott has looked great during the preseason. The Cowboys will lean on the run with him under center, trying not to put too much on his shoulders. Heck, he might be terrific. And he's still the QB most likely to throw a pick-six in Week 1 because he's a fourth-round rookie who's three games removed from a college spread offense and has faced vanilla schemes this month. 
---
---