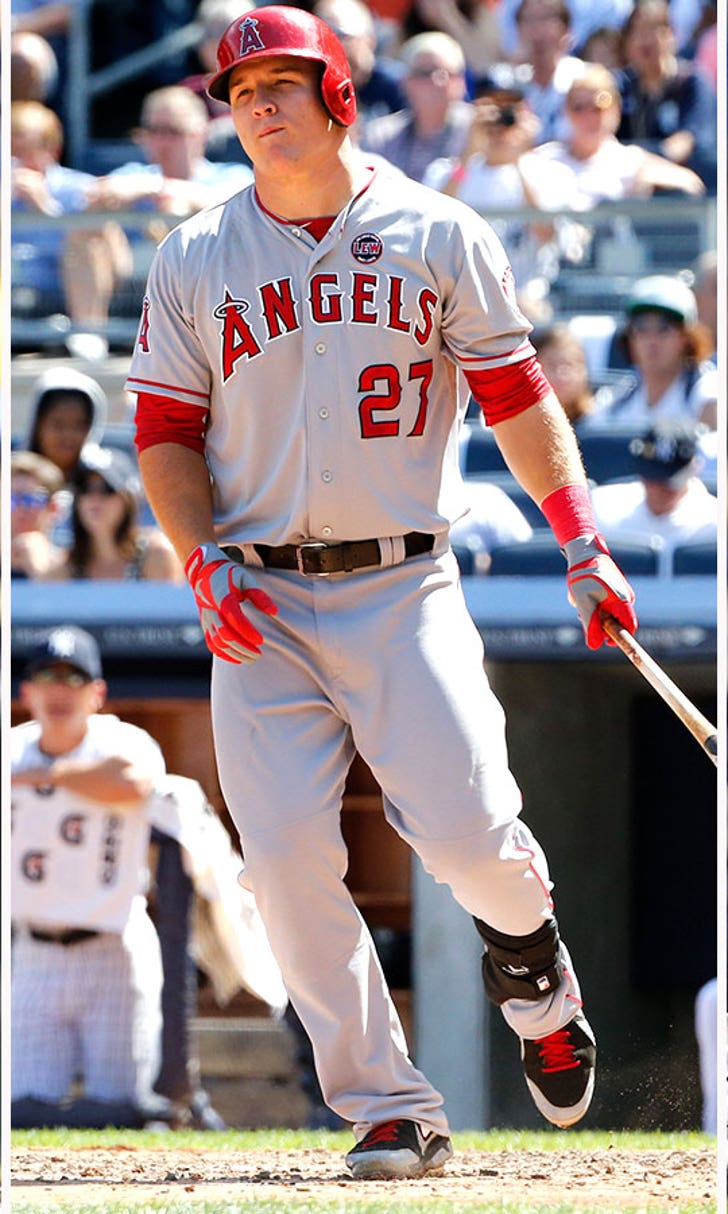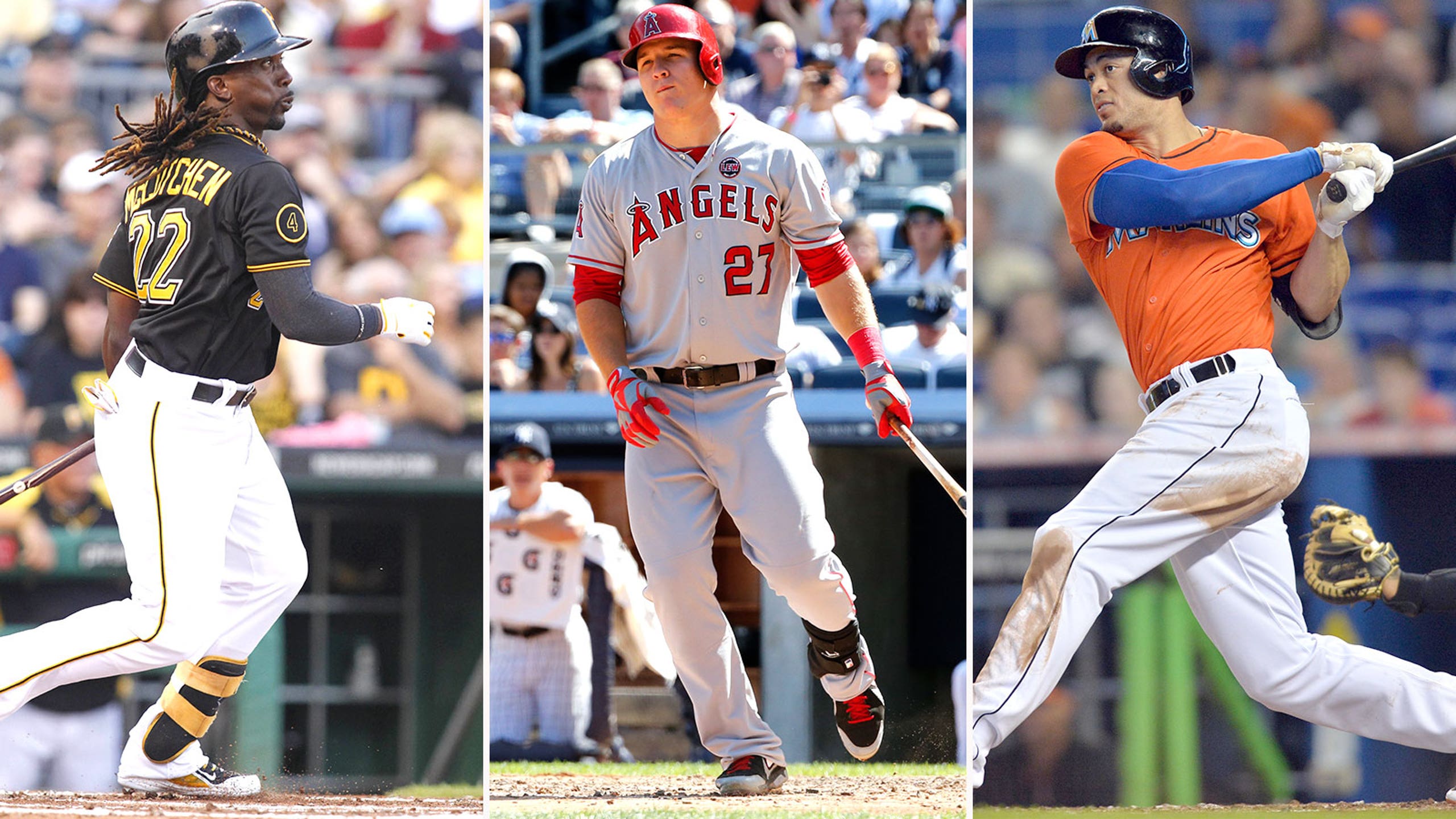 Fantasy Fox: Early look at the Top 60 outfielders for 2015
BY foxsports • February 11, 2015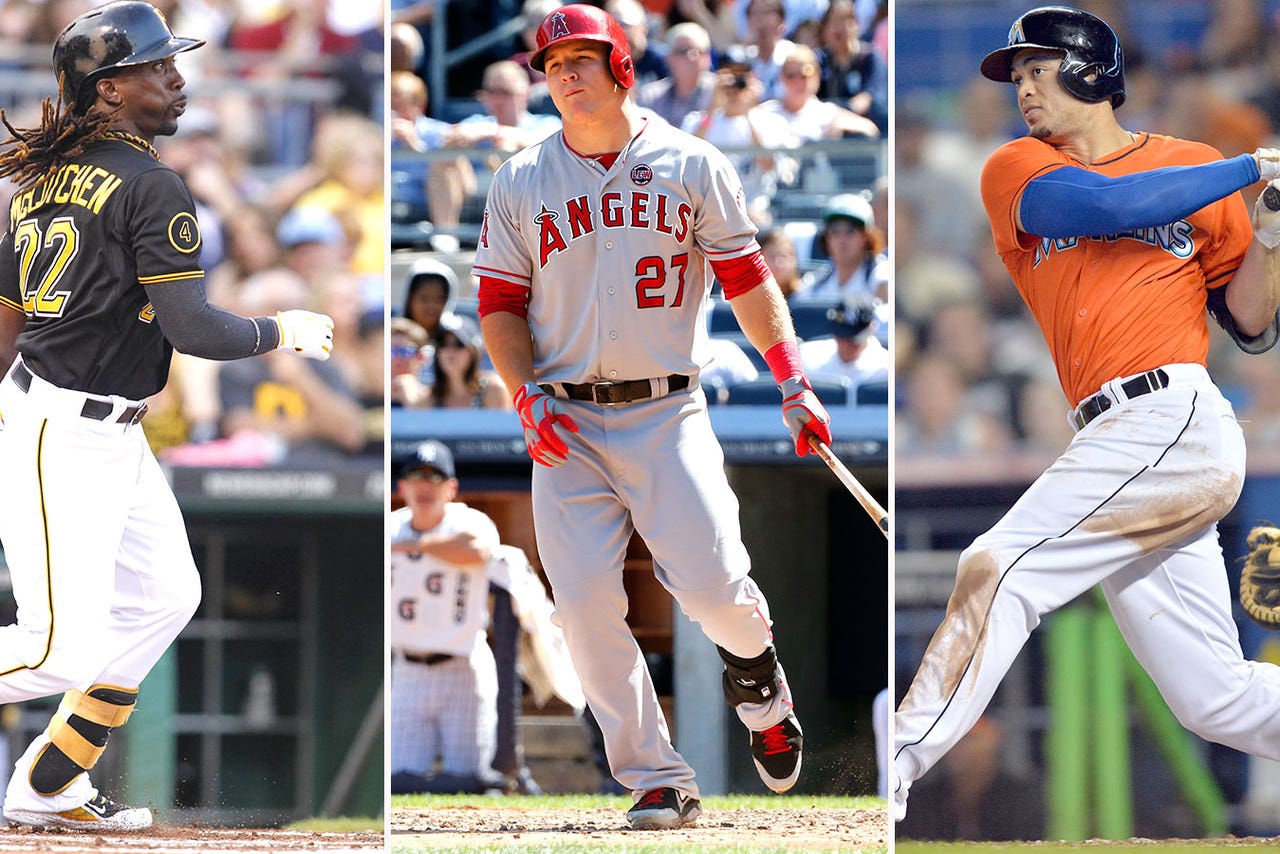 Here's an early look at the Top 60 outfielders fof 5x5 roto leagues -- covering homers, RBI, batting average, runs and steals.
This field will undoubtedly get a little deeper around May 1 -- after established fantasy assets like Hanley Ramirez (Red Sox), Evan Gattis (Astros -- a proverbial lock for 25-plus homers at Minute Maid Park) and Ryan Zimmerman (Nationals) accrue enough games to become outfield-eligible.
There might also be room for hyped Cuban import Yasmany Tomas (Diamondbacks), if he earns dual eligibility for third base and outfield.

TOP 60 OUTFIELDERS
1-30

1. Mike Trout, Angels
2. Andrew McCutchen, Pirates
3. Giancarlo Stanton, Marlins
4. Michael Brantley, Indians
5. Jose Bautista, Blue Jays
6. Adam Jones, Orioles
7. Carlos Gomez, Brewers
8. Matt Kemp, Padres
9. Jacoby Ellsbury, Yankees
10. Carlos Gonzalez, Rockies
11. Hunter Pence, Giants
12. Starling Marte, Pirates
13. Bryce Harper, Nationals
14. Jay Bruce, Reds
15. Corey Dickerson, Rockies
16. Justin Upton, Padres
17. Yasiel Puig, Dodgers
18. Nelson Cruz, Mariners
19. Yoenis Cespedes, Tigers
20. Billy Hamilton, Reds
21. Ryan Braun, Brewers
22. George Springer, Astros
23. Christian Yelich, Marlins
24. Jason Heyward, Cardinals
25. Brandon Moss, Indians
26. Marcell Ozuna, Marlins
27. Shin-Soo Choo, Rangers
28. Brett Gardner, Yankees
29. Alex Gordon, Royals
30. Danny Santana, Twins

BREAKDOWN
1) Not a single fantasy owner cared that Trout batted only .287 last season ... or stole just 16 bases ... or struck out a career-high 184 times. In his age-22 season, the 2014 MVP still notched a third straight American League runs title (115), career-highs with doubles (39), triples (9) and homers (36), along with a career-best 111 RBI (also an AL seasonal high).
As such, Trout remains a no-brainer selection as the No. 1 overall pick in the draft.
2) Forget about McCutchen's deflated numbers from 2014 -- relative to the greatness of the previous three seasons.
From a splits perspective last year, A-Mac posted elite-level stats in June (8 HR/25 RBI/19 runs/5 steals/.343 batting) and September (5 HR/12 RBi/19 runs/.347 batting/.452 on-base). Plus, his OBP never fell below .360 for any month; and his slugging rate held strong at .540 or higher five times (with May as the lone exception).
In other words, McCutchen remains a good bet for 20-plus homers, 80-plus RBI, 95 runs, 20-plus steals, 35 -plus doubles, six triples and a batting average north of .300 for the foreseeable future.
3) New Padre Matt Kemp's preseason ranking (No. 8) seems fair, given his move to a more expansive home park (PETCO Park) and the staggering annual reductions with runs and steals.
However, let's also remember his absurd splits for September/October ... when the Dodgers outfielder racked up nine homers, 25 RBI, 21 runs, a .322 batting average, .700 slugging rate and otherworldly OPS of 1.047.
Even at age 30, Kemp can still be a dominant force among fantasy stars -- regardless of position.
4) OK, so we might have jumped the gun a little bit on Billy Hamilton -- forecasting 85-plus steals as a rookie. But the potential for 90 or more thefts certainly remains for a guy who swiped 165 bags just three years ago (in the minors -- a professional record).
From a splits perspective, Hamilton led an interesting trend of notching double-digit steals for April, June and August ... but falling below that attainable threshold for May, July and September.
Consistency is the key for Hamilton, who possesses the power to carry a team championship in steals for 5x5 roto leagues -- at a Round 4 draft price.
5) Only one team has all three outfielders ranked in the top 30 -- the Marlins. That's how far this franchise has come in just two short seasons.
**Giancarlo Stanton (37 HR, 105 RBI, 89 runs, .395 OBP) was the NL slugging champion last season ... and has a great shot at repeating his title.
**Christian Yelich (stats) is a viable All-Star candidate heading into his age-23 campaign, especially when replicating last year's cumulative on-base percentage of .380 from June/July/August.
**Marcell Ozuna, the forgotten principal in the Miami outfield, enjoyed four months of four-plus homers, five months of double-digit runs, five months of four-plus doubles and six months of double-digit RBI last year. N
Not bad for a 24-year-old masher with only 840 MLB at-bats under his belt.
31-60

31. Marlon Byrd, Reds
32. J.D. Martinez, Tigers
33. Kole Calhoun, Angels
34. Leonys Martin, Rangers
35. Jayson Werth, Nationals
36. Mark Trumbo, Diamondbacks
37. Lorenzo Cain, Royals
38. Charlie Blackmon, Rockies
39. Melky Cabrera, White Sox
40. Gregory Polanco, Pirates
41. Rusney Castillo, Red Sox
42. Oswaldo Arcia, Twins
43. Wil Myers, Padres
44. Khris Davis, Brewers
45. Desmond Jennings, Rays
46. Alex Rios, Royals
47. Jorge Soler, Cubs
48. Avisail Garcia, White Sox
49. Austin Jackson, Mariners
50. Torii Hunter, Twins
51. Nick Markakis, Braves
52. Adam Eaton, White Sox
53. Angel Pagan, Giants
54. Juan Lagares, Mets
55. Alejandro de Aza, Orioles
56. Curtis Granderson, Mets
58. Joc Pederson, Dodgers
59. Domonic Brown, Phillies
50. Mookie Betts, Red Sox
60. Michael Cuddyer, Mets
60b. Ben Zobrist, Athletics
60c. Josh Reddick, Athletics
Jay Clemons can be reached via Twitter, day or night, at @ATL_JayClemons.
---