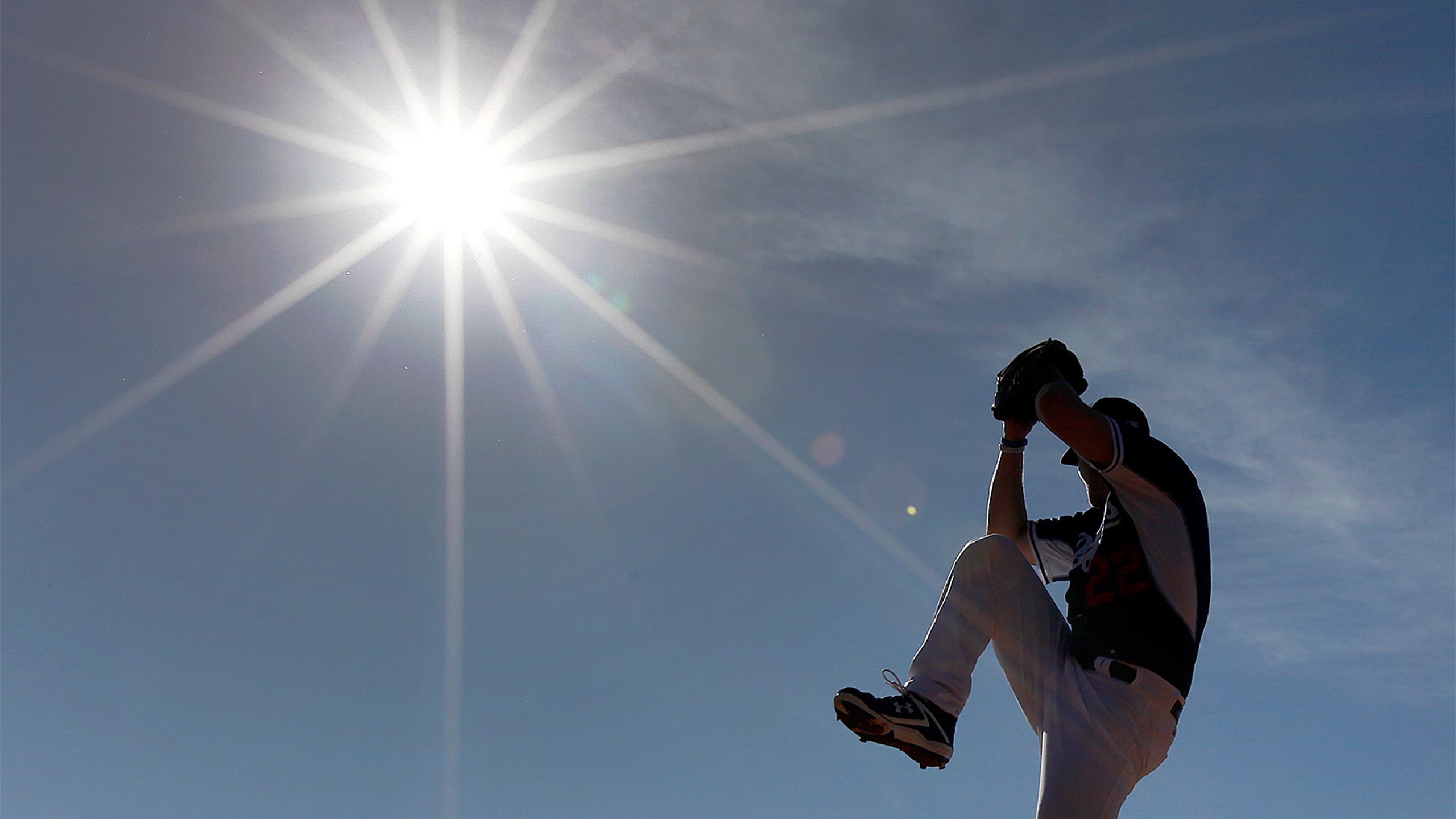 Fantasy Baseball Top 10 Starting Pitchers of 2014
BY Fox Sports • February 28, 2014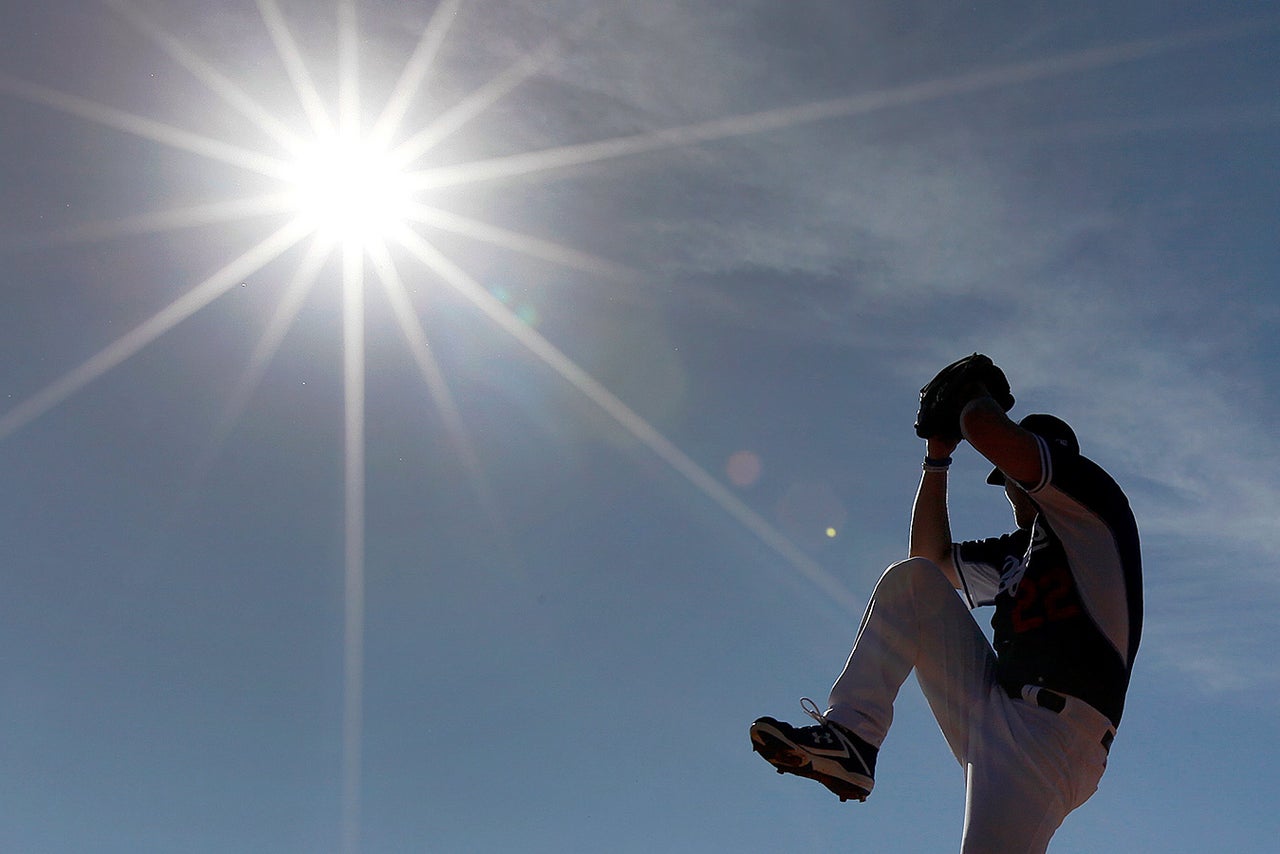 Offense will dominate the fantasy baseball draft day selections, but pitching still accounts for half of the stats. Here's a list of my Top 10 starting pitchers to aim for in 2014:
1. Clayton Kershaw (LAD)
No doubt about it, this arm should be the first one drafted. If we're doing a "tier system," Clayton Kershaw is in a league of his own. Kershaw won his second Cy Young Award in the past three years and did it by posting a phenomenal 1.83 ERA. Add in the facts that he had the lowest WHIP (0.92) and third-most strikeouts (232) and you have a fantasy roto stat-stuffing hurler that is worthy of a first round draft pick. I'd even consider him a top five selection.
2. Yu Darvish (TEX)
The strikeout king (277 Ks, to be exact) of 2013 takes the second spot on my list. I know that he was behind the top five starting pitchers in every other category, but his ERA improved over a full point - from 3.90 to 2.83.  Plus, he lowered hits and walks allowed totals, while increasing his innings of work. Yu Darvish's home field doesn't do him any favors. Though Rangers Ballpark was unseasonably friendly last year, the fences surrendered 2.49 home runs per game in 2012.
It's also worth noting, Darvish tallied more strikeouts and boasted a lower ERA than Max Scherzer last year. Just sayin'.
3. Stephen Strasburg (WAS)
The wins were down for Stephen Strasburg in 2013, but the outings were longer. In 2012, he averaged 5.2 innings per start. The following year, Strasburg's average jumped to over six innings of work per outing. It took until May 16, 2013 for Strasburg, but he finally pitched into the eighth inning. He even went the distance in an August victory over the Phillies. After the All-Star break, he posted a WHIP of 0.94, but only garnered 3.4 runs of offensive support throughout the season. The Nats offense was riddled with injuries and Strasburg was even rumored to be pitching through elbow pain. His youth and injury concerns make him a high-risk, high-reward option in 2014. Strasburg's hype from day one has really hindered the numbers. An ERA around three and close to 200 strikeouts (in only 183 innings) would look great on any other pitcher. If Washington's ace can pitch through an entire season, one could only imagine the stats he'll produce.
4. Adam Wainwright (STL)
Speaking of recovering from injury, Adam Wainwright struggled in 2012 after Tommy John surgery. However, his 2013 season was a reminder of what kind of pitcher the Cardinals ace is and why they should invest in his fantasy production.
His Cardinals helped Wainwright win 19 games. He pitched in an MLB-high 241.2 innings (not including the postseason) and significantly dropped his walks from 52 (in less than 200 innings) to 35. Wainwright also finished sixth among starting pitchers in Ks (219). You could basically mark him down for seven innings, seven Ks, and a win before a pitch was even thrown. This makes him one of the most consistent pitchers of 2013. If he can come anywhere near those numbers this season, Wainwright could rival Clayton Kershaw for the NL Cy Young Award.
5. Felix Hernandez (SEA)
Did someone say Cy Young? The 2010 award winner hasn't come close to the 2.27 ERA he posted back then, but Felix Hernandez did lower his ERA for the third straight year (from 3.47 to 3.06 to 3.04). His innings, strikeouts, and wins didn't improve, but Hernandez still posted a career-high 9.5 K/9 (eighth in MLB) and 4.7 K/BB ratio (seventh among starting pitchers).
6. Cliff Lee (PHI)
Remember when Cliff Lee won only six games in 2012? Yeah, that was awful. Well, those who rolled the dice and drafted him at a discount in 2013 were heavily rewarded. Lee more than doubled his win total - from six to 14 - and recorded his lowest WHIP since 2010. Finishing in the top five in the strikeout department also boosts Lee's draft stock almost to where it was after his 2011 campaign.
7. Max Scherzer (DET)
I hope Brian Kenny is covering his ears or, in this case, closing his eyes, but winning at least 15 games over the last three seasons definitely doesn't hurt Max Scherzer's stock. The 21-game-winner set career-lows in ERA, 2.90, and WHIP, 0.97 last season. However, if he wants to anchor a fantasy baseball rotation, Scherzer's got to be more consistent. Though, he is on the right track. I just want to see how Scherzer's arm reacts after reaching the 200 innings pitched plateau for the first time.
8. Jose Fernandez (MIA)
For a guy who earned a spot on Miami's rotation because of all the injuries, Jose Fernandez sure did take full advantage of his opportunity. The NL Rookie of the Year was somewhat restrained with an innings limit and yet still managed an ERA of 2.19 and sub-one WHIP. After the All-Start break he really hit his stride. In 10 second half starts, Fernandez totaled a 1.32 ERA and won seven games. Let's see how Fernando-mania does after an offseason and some extended workload this year. I'm not saying he'll be a bust this season, I'd just temper my expectations.
9. Chris Sale (CWS)
Another young arm that's shouldering the load for his team is Chris Sale. After pitching only 71 innings in 2011, Sale upped his total to 192 in 2012, and to 214.1 in 2013. Though the work has increased, the ERA has remained around the three-mark and Sale still notches at least one strikeout per inning. Having the fourth-highest whiff total in the Majors last year propelled him into Top 10 fantasy baseball status. My biggest advice for owners who draft Sale is beware the day games. In nine starts last season, he recorded a 4.68 ERA. When the lights were turned on, Sale's ERA fell to 2.47 (in 21 outings).
10. Madison Bumgarner (SF)
There was an internal struggle on who would emerge as the final name on this list. David Price and Cole Hamels put up a heck of an argument, but I ultimately went with a more experience youth in Madison Bumgarner (plus the whole "shoulder tendonitis" thing ruined Hamels' case). The 24-year-old has been a staple in the Giants rotation over the past three years. In that time, Bumgarner has thrown for over 200 innings and finished with at least 191 punch outs per season. Last year, his ERA plummeted to 2.77 and his WHIP was also a career-best 1.03.
---