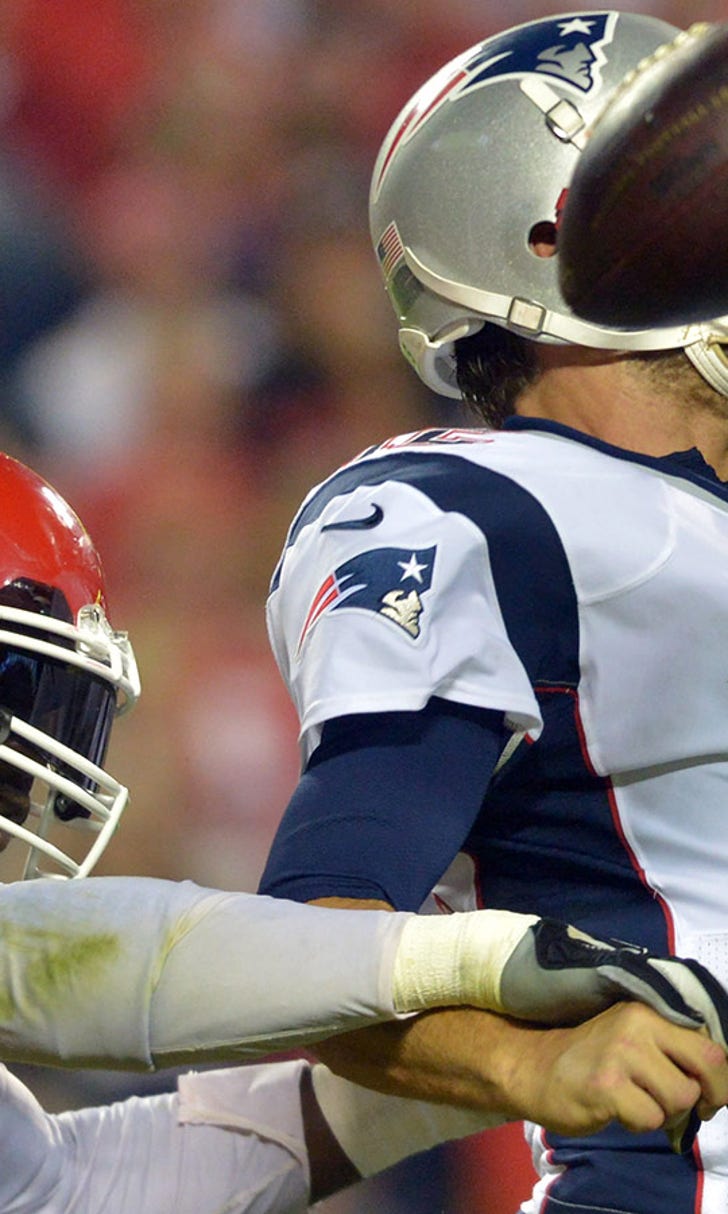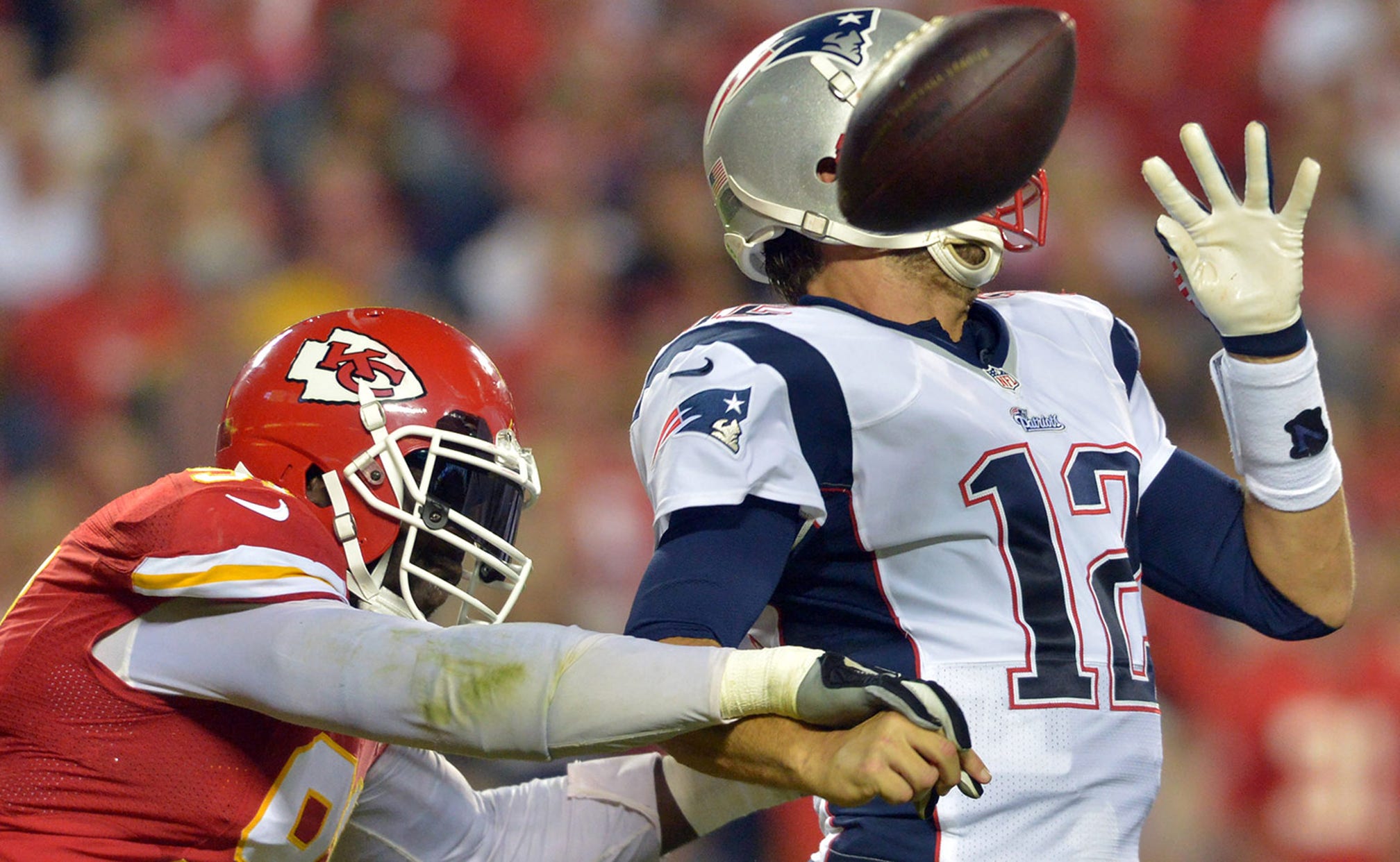 Fans brought the noise, but it was Chiefs who brought Tom Brady all kinds of pain
BY foxsports • September 30, 2014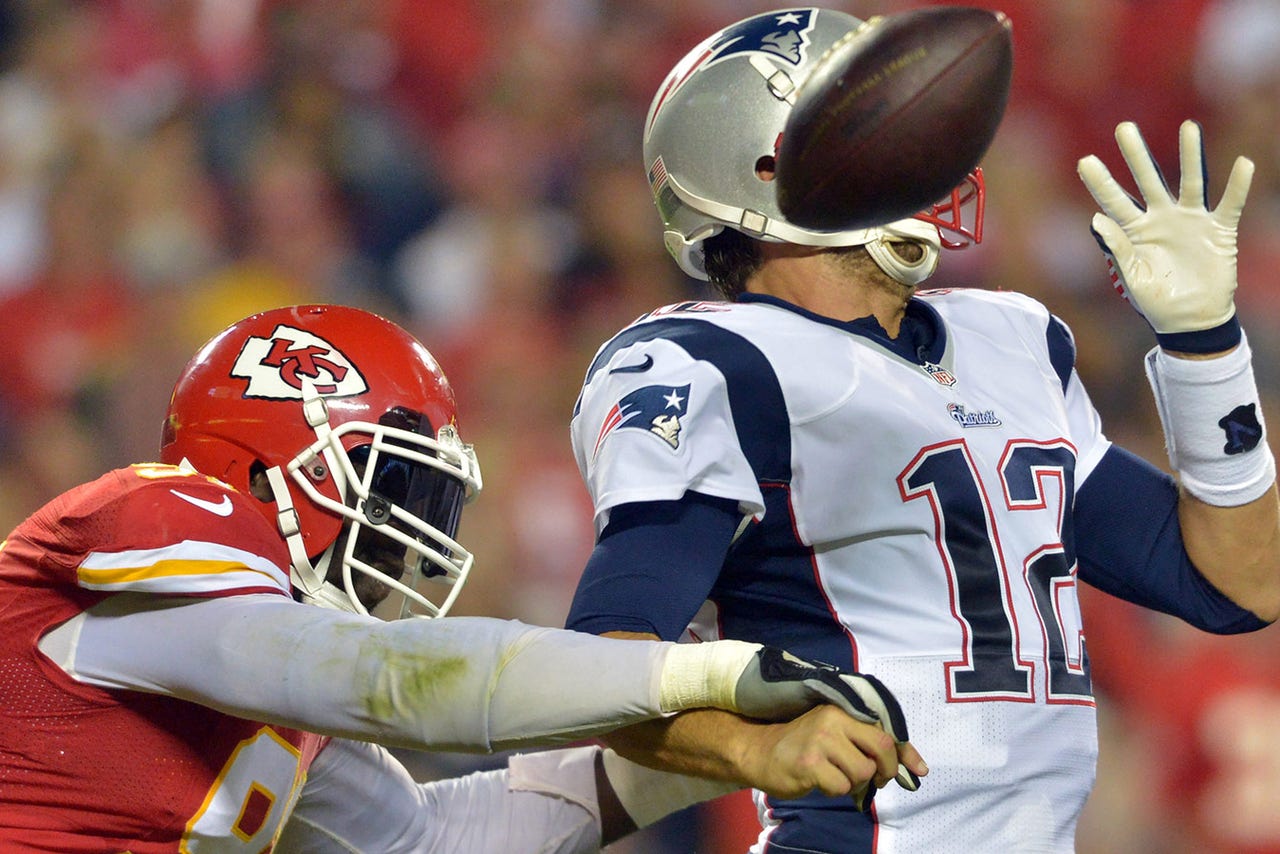 KANSAS CITY, Mo. -- The prevailing narrative, of course, will be that Tom Brady is done, the great Hoodie Dynasty is dead and buried, and that the bill for all those souls sold to make Boston the toast of the football and baseball world for the last 15 years or so are finally, painfully, coming due.
And all of that might very well be true, but it's only half the story. The Kansas City Chiefs, the last highlanders standing on top of a big ol' pile of bodies Monday night, played, to a man, with something to prove. Something lasting.
To their fans, who would have booed them off the field in Week 1 at Arrowhead Stadium if 95 percent of them hadn't left before the 5:00 mark of the fourth quarter. To a town ready to ignore them, a town feeling baseball fever, seeing postseason baseball, for the first time since the Reagan administration. To a national media -- and some local scribes, too -- who wrote off last year's 11-5 record as a fluke of fortune and scheduling.
"We know what we're doing," tight end Travis Kelce said after Chiefs 41, Patriots 14. "We know what we're capable of doing."
Now the rest of the country does, too.
Guinness World Record: Reclaimed.
Patriots: Destroyed.
Flip through our photo album of NFL cheerleaders.
Royals, you're up.
"That's a '10,'" right tackle Ryan Harris said.
Sure was. The only thing that could have made the night more perfect was for the meltdown to be happening to Peyton Manning instead of Brady, well below No. 18 in the local public-enemy countdown. Or Manning and John Elway at the same time, while Al Davis, in that white track suit, is being dipped into a very large vat of Gates original sauce.
"They beat us," Pats defensive tackle Vince Wilfork said, "like we stole something."
So many superlatives, so little time. The Chiefs' 27-point margin ties the most ever in club history for a Monday night win; the 41 points were the most ever scored by Kansas City on a Monday at Arrowhead and the third-most on Monday Night Football all-time.
The Chiefs racked up 303 yards by the end of the second quarter -- the first time a Bill Belichick defense had ever allowed 300 or more yards in a single half. By the end of three periods, the hosts had piled up 183 rushing yards -- 87 by Knile Davis, 86 by Jamaal Charles -- on 28 carries, and finished with 207 for the evening.
And no Jeff Allen, the starting left guard. No Donald Stephenson, the starting right tackle.
"We're just confident in our ability," said Harris, Stephenson's understudy who, along with Allen's replacement, Mike McGlynn, has stabilized a unit whose run-blocking, right now, looks like the best collective unit in the league. "I think we're gaining confidence, week to week. And to be able to do the things we've done, we've got great talent in the backfield -- Alex (Smith) and both running backs. It's just fun. It's just fun to play this type of football."
It's fun to watch, too. The line picked up, more or less, where it left off at Miami, parting the Pats' 3-4 defense for wide, friendly seams on the ground. While the pass-blocking isn't air-tight (Smith was sacked twice), second-year left tackle Eric Fisher took two or three more steps forward, while veteran center Rodney Hudson continues to push all the right buttons in the middle of the fray.
Over the last three weeks, the Chiefs have averaged 171.3 yards on the ground and 4.67 yards per carry. If it ain't broke, captain, don't try to fix it.
"I think anytime you're running the ball like that, you dictate a little bit of what they're doing," said Smith, directing the orchestra again with 20 completions on 26 attempts and three touchdowns. "You saw so many times (that) you had one on one outside; it was because we were running the ball so well and we're forcing them to bring an extra hat down to the box and you get those one-on-one matchups. You're getting Jamaal matched up (solo), Dwayne (Bowe), Donnie (Avery), Kelce, all those guys."
With Pro Bowl tight end Rob Gronkowski in the house, Kelce -- the second-year speedster out of the University of Cincinnati -- managed to outGronk the Gronk, snaring a game-high eight receptions for 93 yards and a score, a stock that continues to rise by the week. He's big enough to block, quick enough to be used like a wideout, a defensive coordinator's nightmare. The Chiefs can go small and run or go big and throw. For coach Andy Reid, three tights is now the rule, and it rules.
"It's tough to cover three tight ends in a game and also put big bodies there to be able to stop the run," veteran tight end Anthony Fasano said. "If that expands for us, it'll be trouble for people."
The Chiefs had three times as many third-down conversions through the game's first 13 minutes (three) as they did the entire Week 1 contest versus Tennessee, a 26-10 home setback that looks downright bizarre relative to everything that has transpired since.
Maybe it was the shock of losing defensive stalwarts Derrick Johnson and Mike DeVito in the same game, to the same blankety-blank Achilles injury. Maybe it was an aberration, a slice of the bizarre.
Because, like the offensive line, the Chiefs' defense hasn't looked back. After not recording a turnover through the season's first three weekends, The Andy Gang nabbed two in a span of 90 seconds early in the third quarter -- a strip-sack-fumble recovery by outside linebacker Tamba Hali and a pick of Brady by cornerback Sean Smith. Two short fields, a touchdown toss to Charles with 7:53 to go in the third and a Cairo Santos field goal at the 5:33 mark pushed the margin to 27-0.
And this on a night when Chiefs fans reclaimed, in the second quarter, the Guinness world record for loudest crowd at an outdoor sporting event -- 142.2 decibels, besting an Arrowhead-best mark of 137.5 last October and the record set by Seattle Seahawks fans of 137.6 last December.
The locals brought the noise. Hali, Justin Houston (two sacks) and Smith brought the pain.
"These fans are special fans, and they proved it (Monday)," Alex Smith said. "This doesn't happen anywhere else."
This doesn't happen to Belichick and Brady. Not often, anyway. In 196 career regular-season games before Monday night, a run going back to 2000, Brady had tasted a defeat of 25 points or more just twice.
"Do I feel bad for Tom Brady?" Alex Smith asked, repeating the question. "No offense to Tom, but no."
Hey, like a former Kansas coach once famously opined, stats are for losers.
"We definitely proved something," Sean Smith said, "not only to the world, but to ourselves."
And that something is this: We're not sure who those guys were who lined up against the Titans, all those moons ago. But they're sure as hell gone now. If this keeps up, it might even be for good.
You can follow Sean Keeler on Twitter at @SeanKeeler or email him at seanmkeeler@gmail.com.
---
---