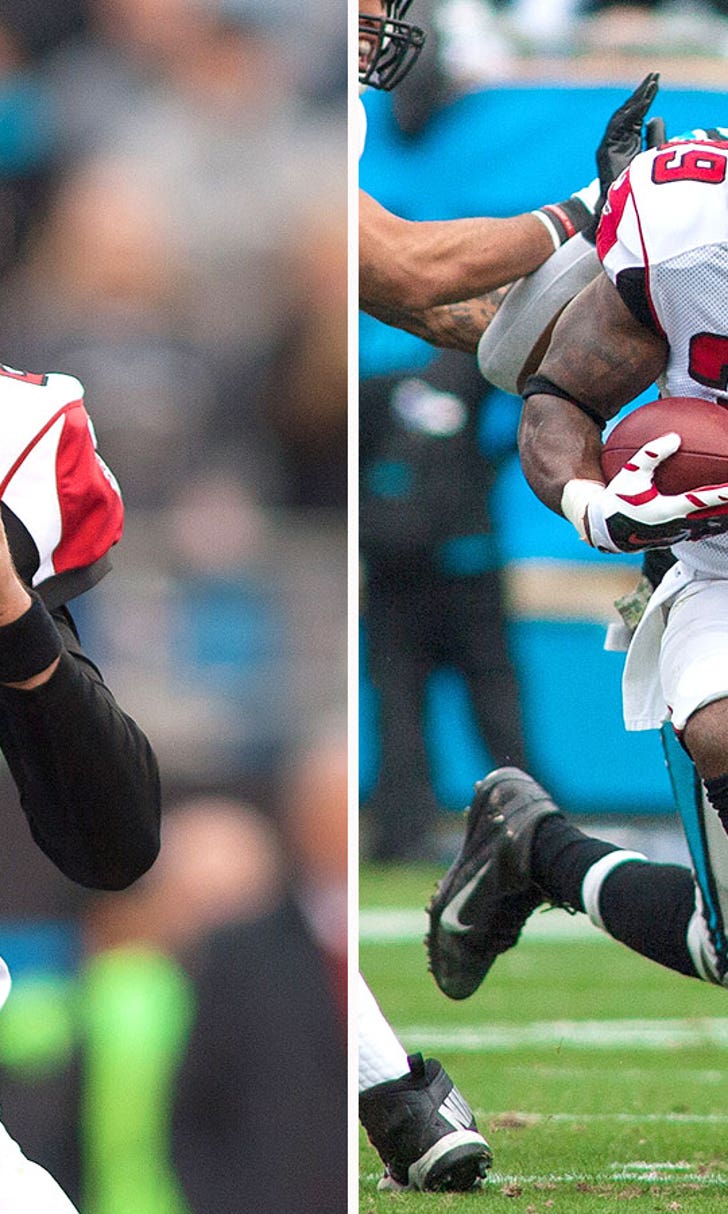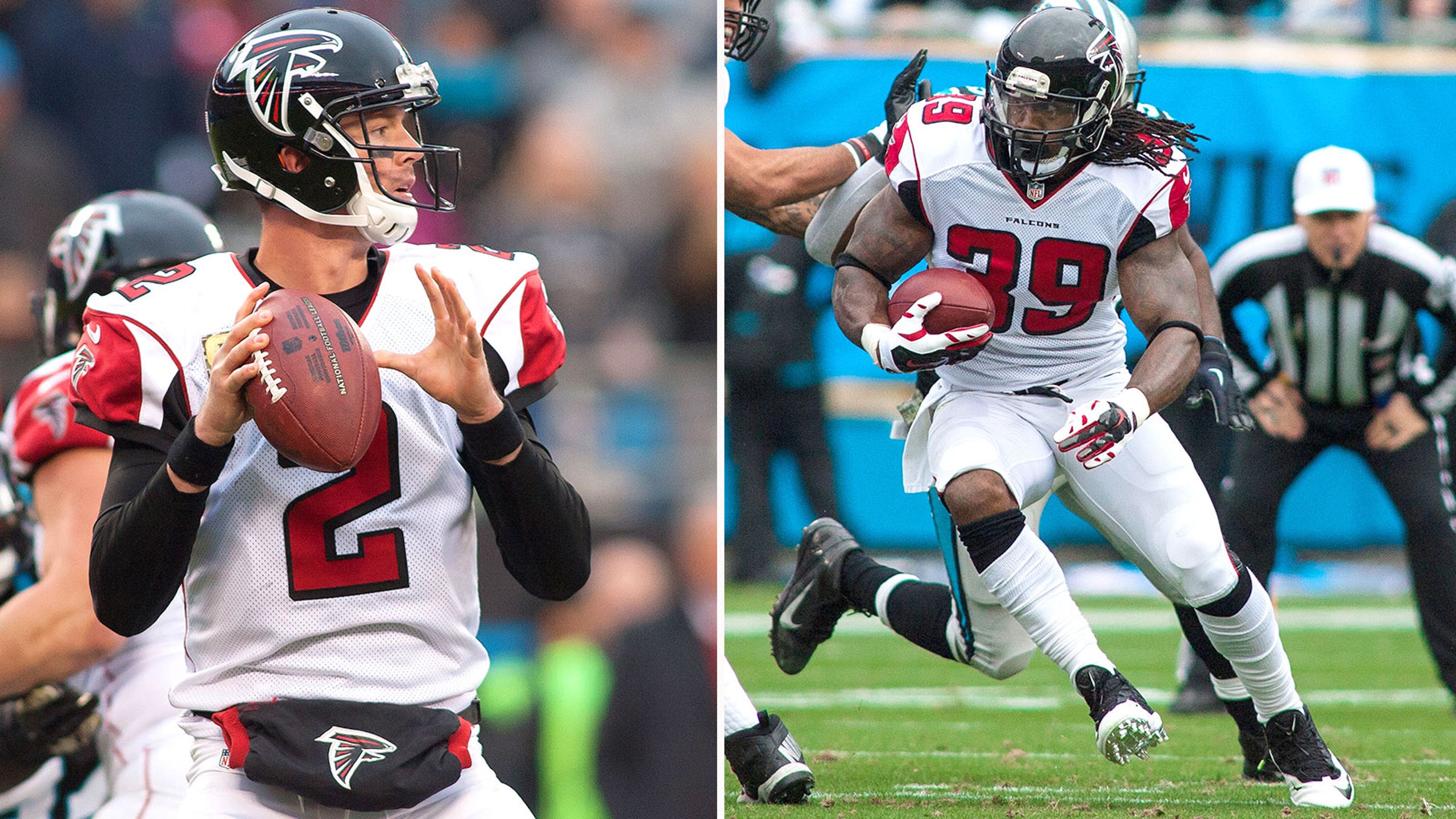 Falcons' quirky rise to NFC South penthouse should be enjoyed
BY foxsports • November 21, 2014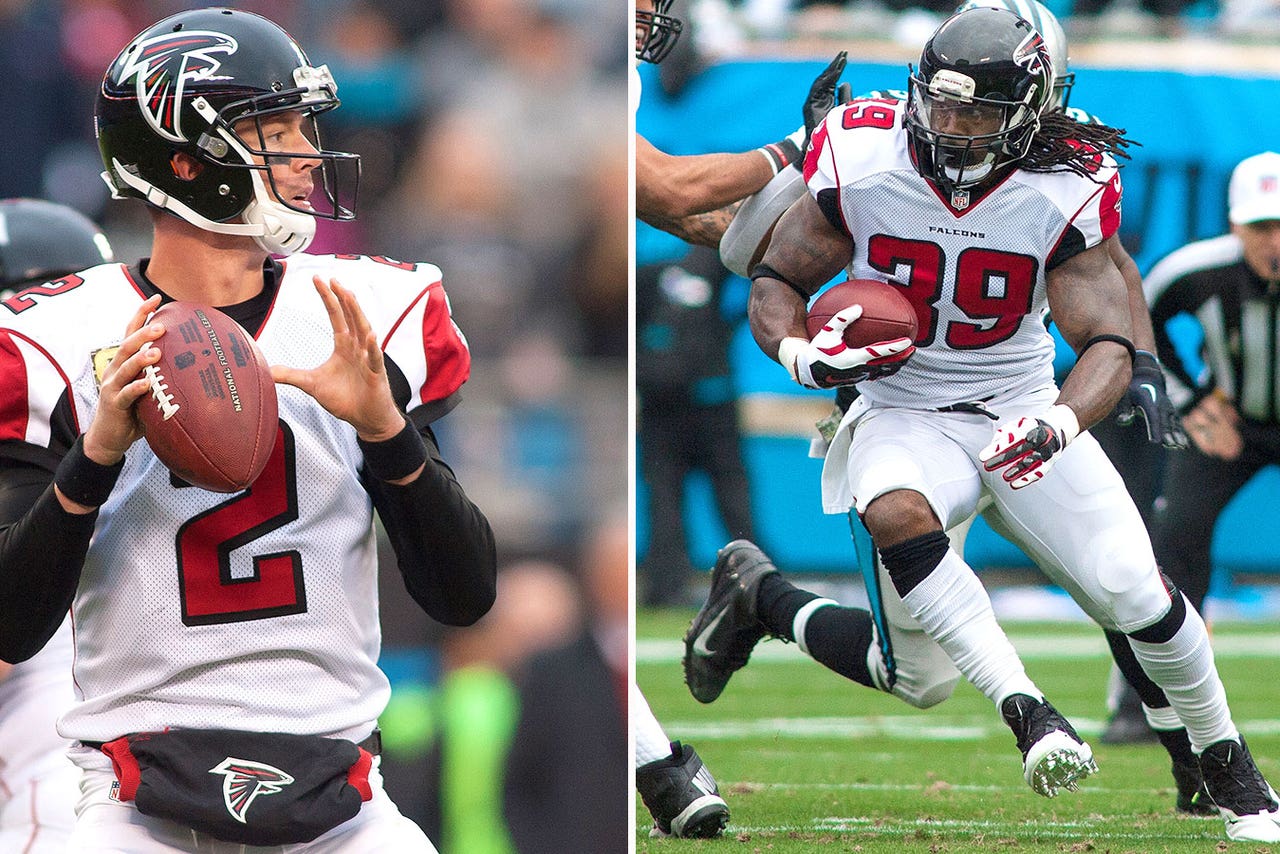 ATLANTA -- From a subjective-resume standpoint, the 2010 Seattle Seahawks aren't the worst team of this century to reach the NFL playoffs.
That honor might go to the 2004 St. Louis Rams (8-8 overall; seven losses of 10 points or more, three defeats to sub-.500 clubs) or 2004 Seahawks (9-7 overall; four losses of 10-plus points, negative-point differential).
But since Seattle's 2010 club stands as the only team of the modern era -- after the 1970 NFL-AFL merger -- to reach the postseason with a losing record (7-9), those Seahawks get the ultimate red-headed-stepchild treatment, involving NFL historians with short memories.
Which brings us to this: Heading into Week 12 of the 2014 campaign, five teams currently own 4-6 records, but only the Atlanta Falcons would qualify for the playoffs ... if the season ended today.
Let that sink in for a bit. We're talking about the same Falcons team that controls their own destiny in the NFC South ... despite not possessing a single seasonal victory outside the division. (Atlanta has a 4-0 intra-division mark.)
The same Atlanta team that has already suffered five double-digit losses.
The same Atlanta defense which allowed averages of 28.4 points in its first seven games. The same Falcons defense that had surrendered 100-plus team rushing yards 19 times over a 20-game span -- including last season.
The same Falcons offense that has had to survive Julio Jones not finding the end zone for seven straight outings (Weeks 4-11) -- the longest drought of his elite-level career.
The same Falcons team that currently holds lowly tallies with defensive sacks (tied for 29th), rushing TDs allowed (30th) and club rushing yards per game (24th).
And yet, fortified by a pair of back-to-back road wins (Tampa Bay, Carolina) and armed with a valuable divisional tiebreaker (Week 1 victory over New Orleans), the first-place Falcons genuinely have all their stated goals from the Hard Knocks days of July/August within their grasp.
Without the initial need for outside help.
"Obviously, each year shakes out differently, and one thing I've learned (as a pro) ... you just don't how things are going to play out," said Falcons QB Matt Ryan during the week. "We're in a position where we kind of control our own destiny, but we need to take it one game at a time and hopefully play our best football this week, and down the stretch."
The Falcons couldn't have asked for a more fitting Sunday foe than the Cleveland Browns -- a delightfully schizophrenic team that could easily be renamed the "Atlanta Falcons" ... in the Bizarro World.
**Cleveland boasts a 6-4 record -- the positive inverse of 4-6 Atlanta -- but resides in the basement of the highly competitive AFC North.
**At quarterback, Brian Hoyer -- a lightly regarded NFL prospect out of Michigan State -- has a 9-5 career record as a starter, despite only 18 lifetime touchdown passes. Meanwhile, rookie backup Johnny Manziel, arguably the most-hyped college-turned-pro QB since Michael Vick or Peyton Manning, has been the Browns' Clipboard Guy for the whole season.
Ryan, by contrast, started for the Falcons on Day 1 of his rookie campaign (2008). In fact, he tossed a touchdown on his very first professional pass (62-yard score to Michael Jenkins), prompting a precocious, but ultimately wise Sports Illustrated writer -- who now works for FOX Sports South -- to declare it as the "greatest debut pass in NFL history."
**During the week, the Browns summarily booted tailback Ben Tate -- a high-profile offseason signing -- from the roster, in order to focus on the rookie rushing duo of Terrance West and Isaiah Crowell.
Meanwhile, Falcons tailback Steven Jackson (four TDs since Week 3) has done everything in his power to ward off go-getters like Devonta Freeman (touted rookie from Florida State) or Antone Smith (recently placed on IR) from commanding the lion's share of touches in Atlanta's versatile offense.
And that's a good thing, since Jackson isn't much for subtleties.
"As an 11-year veteran, I don't sneak up on anybody," says Jackson, lamenting his lack of obsession for stats these days. "I've just to go out there and produce."
* * *
Excluding the South's battle of isolated mediocrity, the NFC ostensibly has seven teams with winning records (Cardinals, Packers, Eagles, Lions, Cowboys, Seahawks, 49ers) vying for five playoff spots ... which means, obviously, two teams will walk away scorned from the process after Week 17.
But there's another element to that rat race: Yes, the above clubs all have realistic dreams of capturing division titles and claiming a bye in the first round of the playoffs (top two seeds). And as part of that ... Wild Card #1 (No. 5 seed) would subsequently receive the closest thing to a bye:
A locked-in meeting with the Falcons, Saints, Panthers or even Bucs on Wild Card Weekend!
And that, frankly, should blow your mind -- from both sides.
Picture this: On the first Saturday of 2015, sometime around the bewitching hour of 4 p.m., a raucous red-and-black-clad crowd fills the Georgia Dome, waving towels on behalf of the NFC South champion Falcons hosting their fourth playoff game in five years.
Regarding the opponent, Atlanta welcomes Green Bay, Philadelphia, Detroit, San Francisco or Seattle to the dome, even though each club posted a better regular-season record ... and enjoyed substantially greater success with stats, category by category.
On paper, it's a mismatch -- for the visiting team. After all, these hard-to-figure Falcons ceded victory to hum-drum QBs Teddy Bridgewater (Vikings), Eli Manning (Giants) and Jay Cutler (Bears) over three consecutive Sundays.
Plus, the Falcons almost lost the turnover battle to the Bucs on Sept. 18 -- the same night Atlanta demolished Tampa Bay by 42 points.
"We've had a good buzz in the locker room, probably the last three or four weeks, and it's materialized on the field the last two (games)," said Ryan, who has accounted for only seven TD passes in his last six games.
He then added: "We've played (well) the last two weeks ... but I personally think our best football is ahead of us -- and we've got to chase that every week."
* * *
You wouldn't have believed the scene at the Falcons' Flowery Branch training facility on Nov. 6.
On that Thursday afternoon, just moments after Atlanta had wrapped an outdoors practice, head coach Mike Smith addressed the media for his daily briefing ... which curiously lasted roughly 80 seconds.
Why so brief?
Did Coach Smith storm away in anger, possibly upset about a certain line of questioning? No.
Did he excuse himself early from the proceedings to address an urgent team matter? No.
Was he late for the sequel filming to another Metro Atlanta Ford Dealers TV spot, a reward for doing a bang-up job on the original commercial? No again.
The reason for the quick exodus derived from Smith soliciting just two questions from the huddled media.
Why only two? Well, Smith had already fielded a slew of questions during his Monday and Wednesday briefings -- amid the same local-media contingent.
But there was also an underlined aspect to the dearth of new questions: At the time, the 2-6 Falcons were 11 days removed from one of the biggest gut-punch losses in franchise history -- squandering a 21-0 halftime lead to the Lions (Oct. 26 in London), only to lose 22-21 at the final gun.
And only after Detroit kicker Matt Prater had multiple chances to boot the game-winning field goal. (A Falcons penalty negated the first Prater kick -- wide right.)
During Smith's short media session, you could sense some empathy for the coach, who surely wouldn't survive another 4-12 campaign (or a reasonable facsimile). Plus, the anger from the disheartening Detroit defeat -- a setback that even team owner Arthur Blank publicly deemed as unacceptable -- had washed away after a week of quiet reflection.
There might have also been some media sympathy for general manager Thomas Dimitroff, who had walked off the practice field with Smith that day. There was some reluctant fascination too, as in, Quick, somebody snap a picture of Dimitroff and Smitty together ... perhaps for the last time.
Isn't it crazy how sports work in today's hyper-competitive society? By a long shot, Smith, Dimitroff and quarterback Matt Ryan (65 wins, two division titles, four playoff appearances since 2008) stand as the most successful coach/GM/quarterback trio in Falcons history; and yet, the businesslike-but-friendly atmosphere at Flowery Branch also bore the stench of inevitability during that week, as if it were only a matter of time before Atlanta incurred major changes at the top.
And that's certainly an owner's prerogative. After all, it would kill even the most patient of men to miss out on a Super Bowl dream just 22 months ago (Falcons' NFC championship loss to the 49ers) ... and then endure a 6-18 stretch after that, with roughly the same core of high-end playmakers and responsible veteran leaders.
In other words, why pile on a supposed lame-duck coach and GM, especially on a game week that involved a so-so rematch with the lowly Buccaneers?
Fast forward to Wednesday of this week: There was a noticeable bounce in the proverbial step of coaches and Falcons staffers alike. And even though the players were busy churning out time-tested sports cliches like, We're only focused on being 1-0 for this week or We're going to play hard, regardless if we're 4-6 or 10-0 ... the prideful grins on their faces told the real story.
It's always fun to have a purpose in life -- no matter the money. Just ask Falcons wideout Roddy White, who could be heard shouting We've got a chance! to anyone within earshot during Wednesday's media session.
* * *
Starting NFL quarterbacks presumably don't have a lot of on-field free time during games -- in terms of processing play calls, constantly monitoring the offensive/defensive personnel, playing the role of Alpha Dog Leader with teammates and executing split-second decisions on roughly 35 pass attempts per game.
The same holds true when quarterbacks are in-between possessions, in terms of checking out Polaroids (or iPads), talking shop with the offensive coaches and avoiding team trainers along the sidelines, at virtually any cost.
In essence, does it really matter the Falcons control their own NFC South destiny from this point forward? It's not like Matt Ryan has time or energy to care about anything else during his team's three-hour window for victory.
Right?
"Sometimes when you're on the bench, you'll see something randomly cross (on the scoreboard)," says Ryan, the Falcons' all-time leader in passing yards (26,265) and passing touchdowns (170). "But it's not like baseball or golf when you're scoreboard-watching. You're focused on that game."
That's not to say he's blissfully unaware of other NFL happenings.
"Stadiums are set up now where you can't really miss the scoreboards and the jumbotrons," says Ryan, while wearing a sheepish grin. "They're lit up and they're all over the place ... and sometimes you see it."
* * *
The Falcons are certainly "trending in right direction," to borrow a line from Ryan. The once-villified defense, for example, has allowed sparse averages of 20 points in their last three games.
But here's the interesting thing:
After all, the average NFL enthusiast cannot rattle off the number of 8-8 or 9-7 teams to make the playoffs since 1970, or how many of those marginal clubs won during the postseason.
But everyone recalls the sub-.500 teams to make the playoffs ... perhaps because it has only happened once.
The 2010 Seahawks amazingly played in 14 games with differentials of 10 points or more (five positive, nine negative).
How is that even possible ... in a league that prides itself on parity?
Adding to the absurdity, Seattle might have hosted the NFL's most meaningful smashed-windshield game of the past 50 years, when the 6-9 Seahawks and 7-9 Rams had a winner-take-all clash for the NFC West crown in Week 17.
It's also worth noting: Seattle's heralded sub-.500 run to the NFC playoffs had a happy ending ... in the form of the Seahawks hosting and knocking off the defending champion Saints on Wild Card Weekend.
---
---