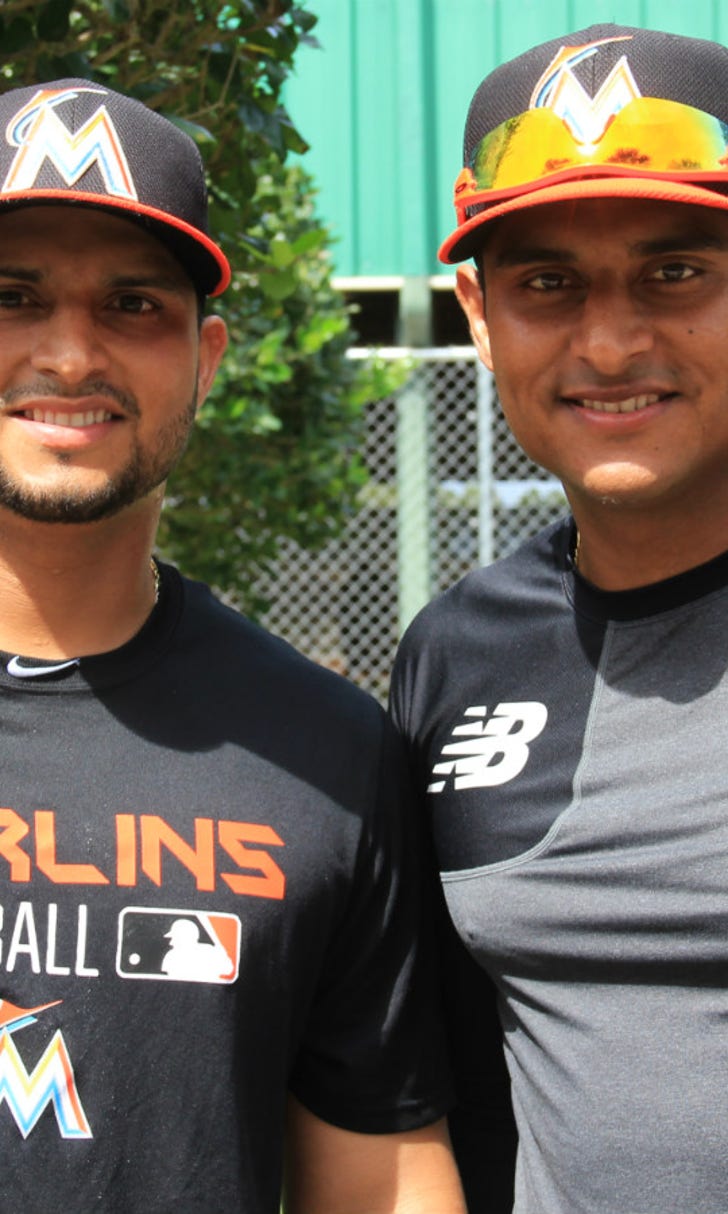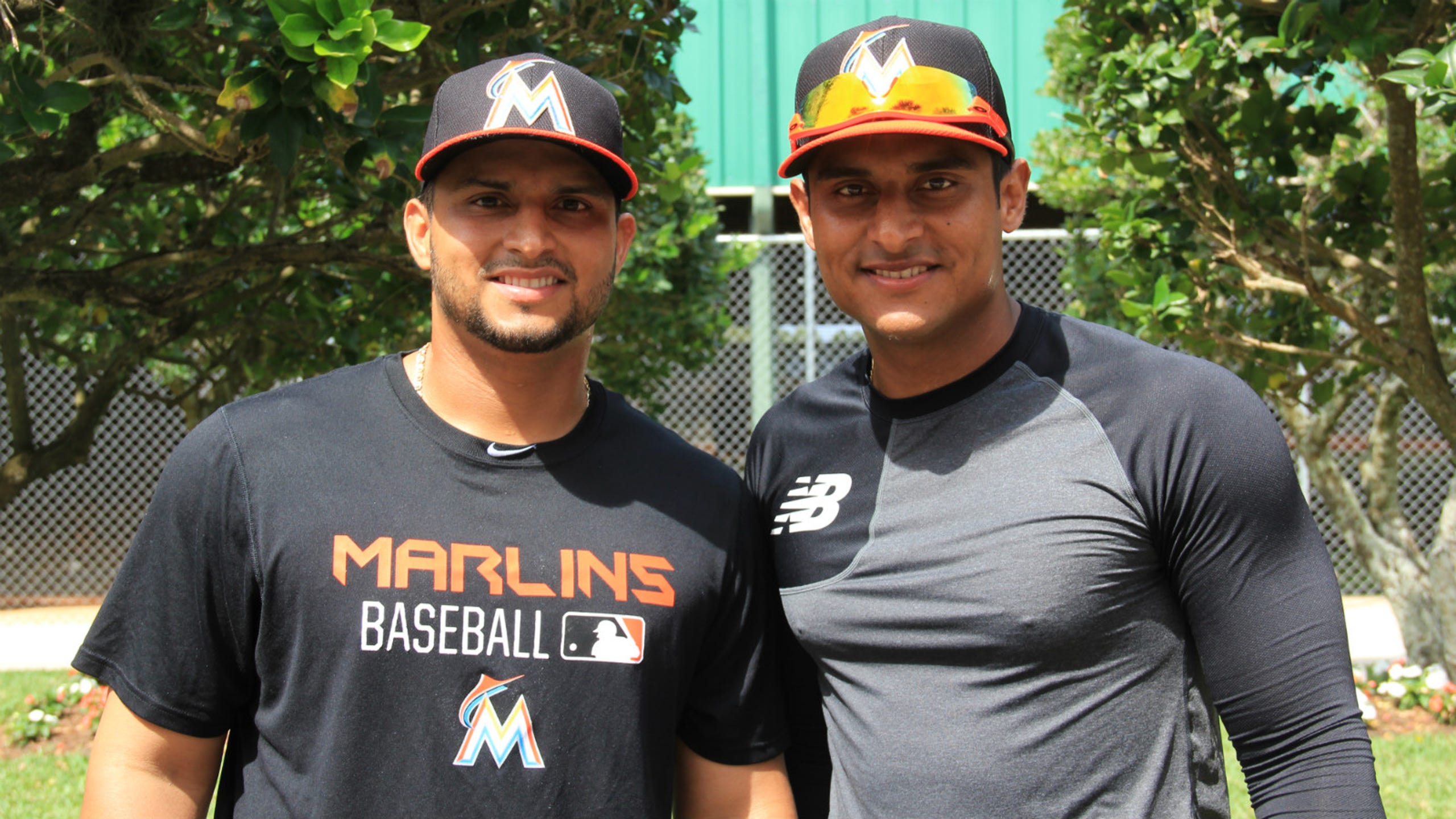 Fairy Tale: Brothers Solano together with common goal for Marlins spring training
BY foxsports • March 1, 2015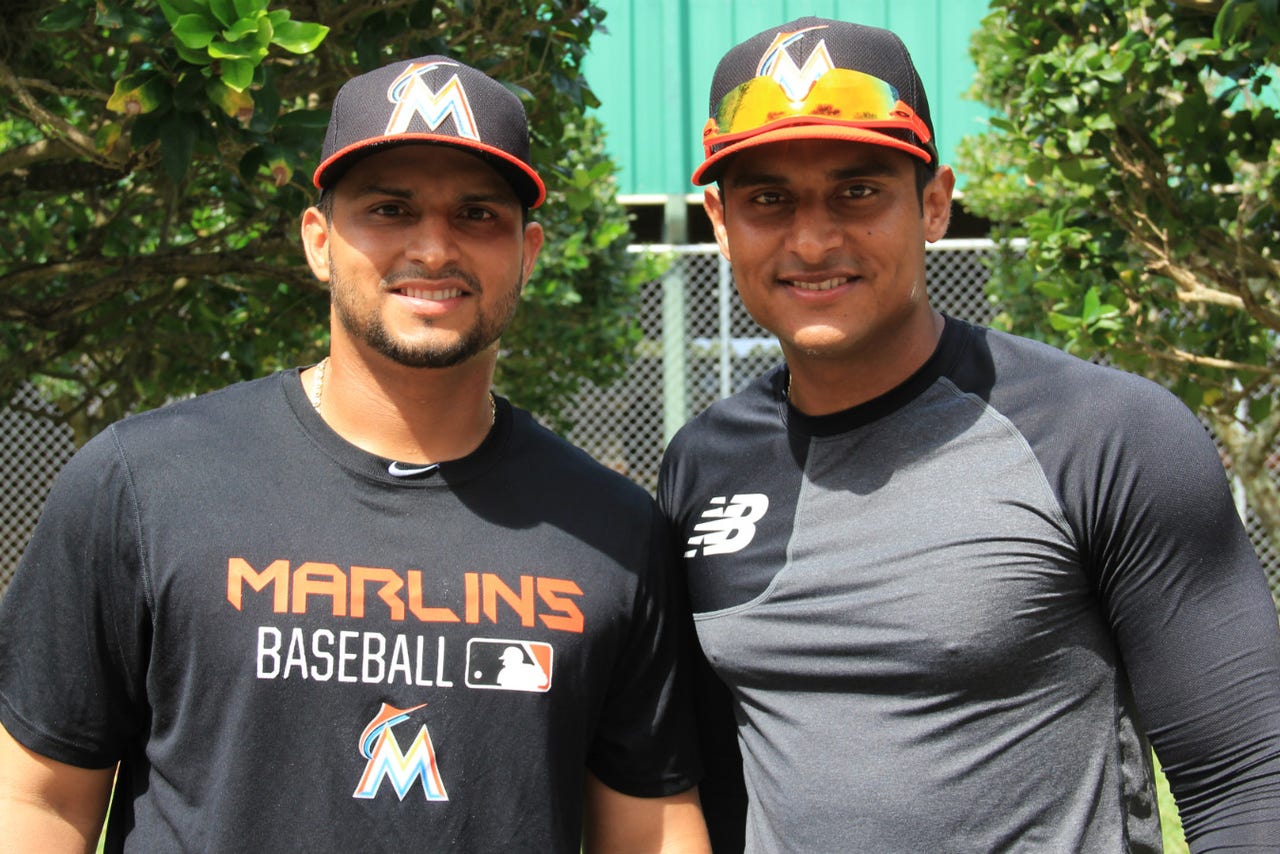 JUPITER, Fla. -- Since beginning their professional careers, Jhonatan and Donovan Solano have spoken over the phone before or after every game.
Jhonatan, a catcher for the Washington Nationals, and Donovan, an infielder for the Miami Marlins, encouraged each other from a distance while living out a shared dream of playing in the big leagues.
Until this winter, when Jhonatan, at the time playing winter ball in the Dominican Republic, called Donovan in Florida with news: The Marlins were one of a few teams interested in him, so he signed a minor-league deal with an invitation to spring training.
Other than playing on the same winter-ball club (Caimanes de Barranquilla) in Colombia two years ago, the brothers have never been on the same team. It's something they hoped would one day come.
"We know that's a blessing," Jhonatan said. "We enjoy it now. We started talking (Wednesday) at the hotel. 'Remember when we were kids hoping to be playing on the same team? That would be awesome.' This is real life today. That's amazing."
Despite being two years younger, Donovan accomplished a few of the firsts for the family.
He signed with the St. Louis Cardinals in January 2005. The Nationals inked Jhonatan seven months later, after he took a bus into Venezuela for a tryout. On May 21, 2012, Donovan made his big-league debut as a defensive replacement. Jhonathan reached the majors eight days later with Washington, singling in his first at-bat. Donovan became an Opening Day starter in 2013.
Donovan and Jhonatan became the 12th and 13th Colombians, respectively, to play in Major League Baseball. Since then, they have experienced common ups and downs, such as bouncing back and forth between the minors and majors.
"It's kind of weird, right?" Donovan said. "But still we're excited for the same opportunity, same club. We point to the same direction. We grew up so close. He helped me out and I helped him out. I signed first, so I helped out that, 'It's like this and that stuff.' The same thing happened when in the major leagues and minor leagues. It's kind of backwards. Same point he helped me out with other things."
Added Jhonatan: "When I saw that -- to be honest I felt bad -- because my younger brother signed already. Every day I prayed for my future and my career. I put my career in God's hands. God time is the perfect time. We live in that dream today, and it is amazing."
When the Nationals visited the Marlins in 2012, Donovan picked Jhonatan up at the airport. Their parents alternated wearing either Nationals or Marlins apparel. In September 2013, they both started the same game for a Sunday matinee in Washington.
For the games in the nation's capital, Donovan's wife flew up for the series. In Miami, Jhonatan's wife and daughter made the trip south.
"Now everybody has a Marlins jersey or hat," Donovan said. "Now the whole feeling is going to one way. We're blessed."
But both will be battling for spots on the Opening Day roster.
Donovan's situation is much like it was last year. When the Marlins signed Rafael Furcal to be the second baseman, he got pushed aside as a bench player. He still played in 111 games, batting .252 with 11 doubles, one triple, three home runs and 28 RBI in 310 at-bats. All-Star Dee Gordon is penciled in as the starter after being acquired in an offseason trade. Since his rookie season, Donovan is a .264 hitter with 35 doubles, five triples, eight homers and 90 RBI in 306 games.
An infielder who has seen stints at second, third and short, Donovan showed more of his versatility in 2012 when plugged into the outfield for the first time after just three days of practice. With Ed Lucas no longer in the organization, Donovan will likely take over the utility role.
"Right now I'm not paying attention to it," Donovan said. "I'm just here to make the team, make the club. Put aside everything I've got, play baseball, play the game hard. It's not how you start, it's how you finish the season. It's a long season. Something can happen. I just need to be ready for it."
Jhonatan, meanwhile, is a non-roster invitee. Out of options, Washington released him this winter. Jarrod Saltalamacchia and Jeff Mathis are the big-league catchers, barring injury. Prospect J.T. Realmuto, who made his debut last summer, is also on the 40-man roster and appears to be the future backstop.
His major-league resume isn't as extensive as his brother's. Jhonatan didn't get called up to the majors in 2014 after 36 games between 2012-13. He has batted .217 with five doubles, two homers and eight RBI in 83 at-bats. As a rookie, he batted .314 (11 for 35) with a small sample size.
Bias aside, Donovan believes Jhonatan can contribute to the organization. He is known for being a good receiver and thrower behind the plate. A self-proclaimed "win guy," Jhonatan says he "has to be ready when (the manager) puts me in the game."
"It's so different because that was at home," Jhonatan said of playing with his brother. "Here in the U.S., that's our goal when we were kids. We know that's coming from God, and we put 100 percent for making the team and staying on the team."
You can follow Christina De Nicola on Twitter @CDeNicola13 or email her at cdenicola13@gmail.com.
---
---