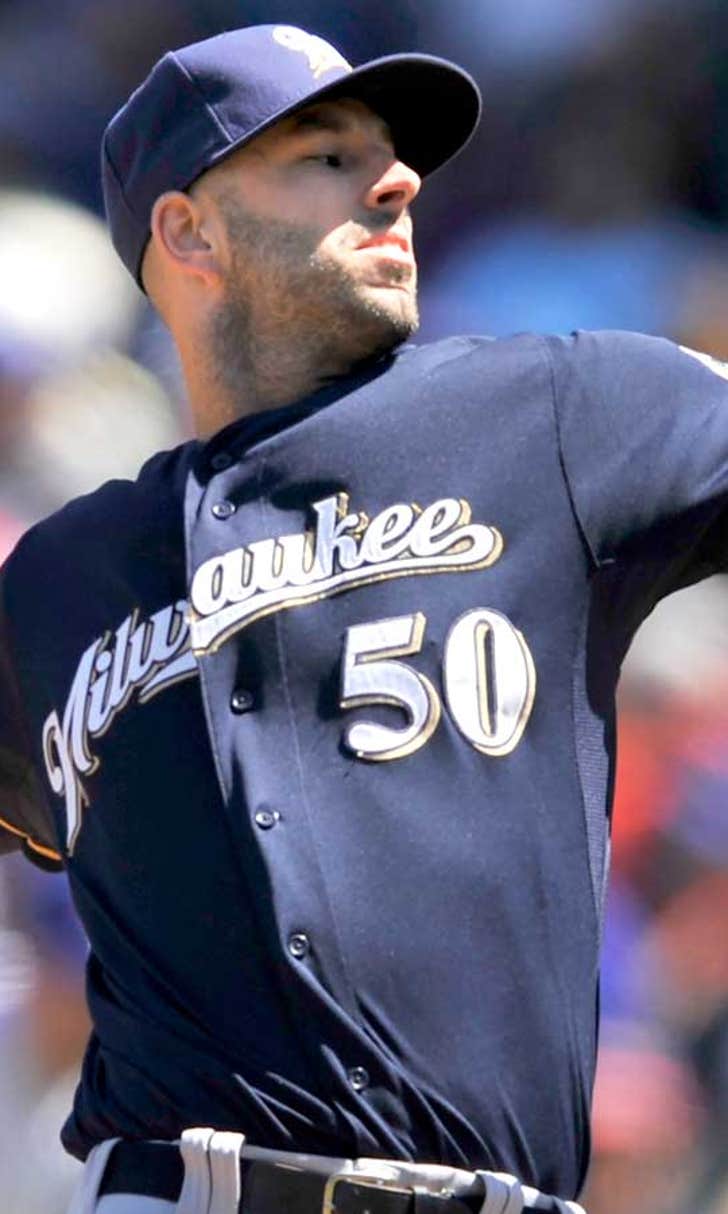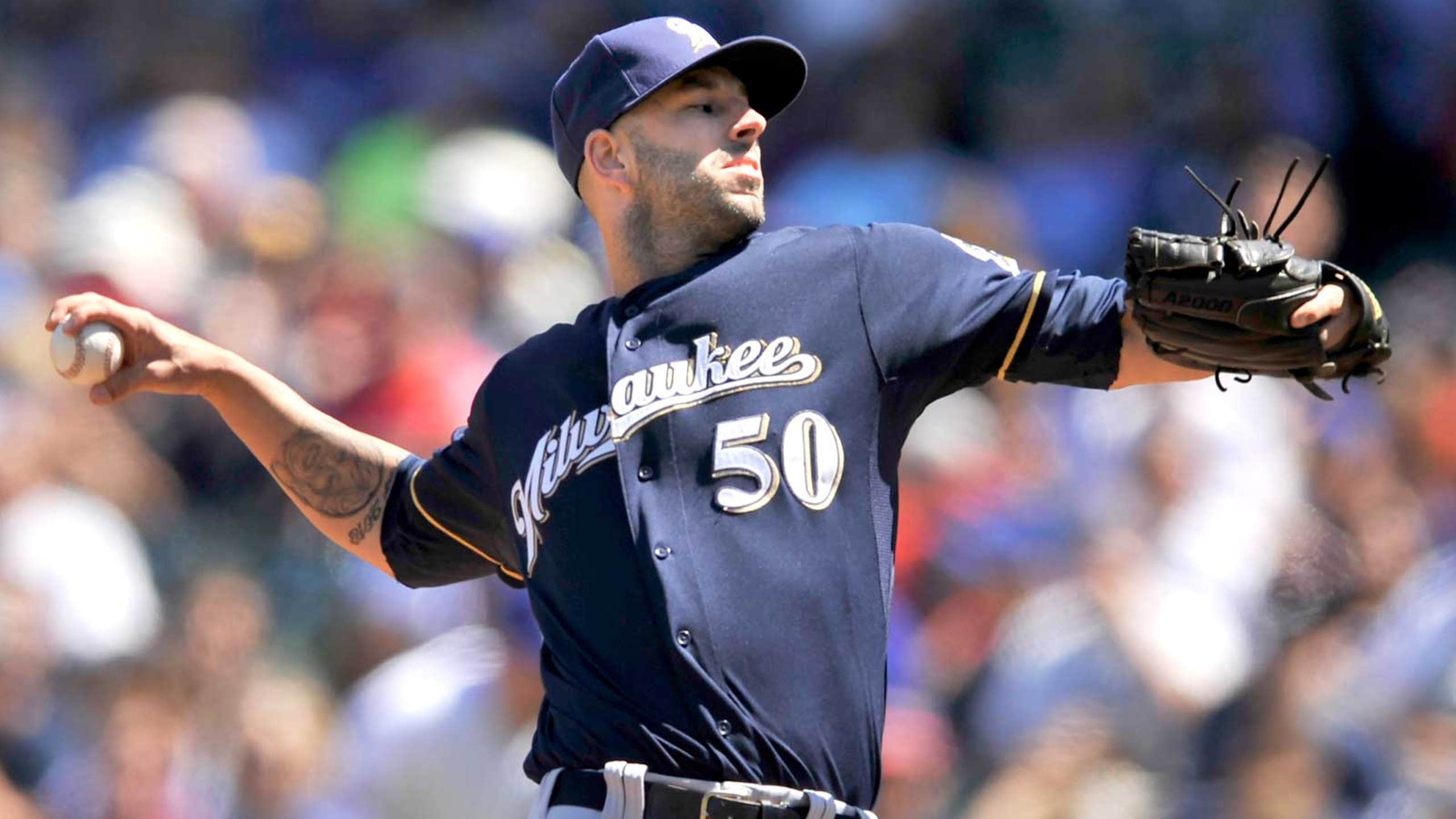 Fabulous Fiers fans 14 Cubs in Brewers win
BY foxsports • August 14, 2014
It was going to be hard for Mike Fiers to provide a follow-up act as impressive as his return to Milwaukee's starting rotation was last Saturday, when he allowed just one run in eight innings.
This time around, Fiers became just the eighth pitcher in the last 100 years to strike out at least 14 batters in six or fewer innings, leading the Brewers to a 6-2 victory over the Chicago Cubs at Wrigley Field and a split of the four-game series.
Fiers struck out two or more hitters in five of his six innings Thursday, including the last six batters he faced.
"Just getting the win is awesome after losing the last two," Fiers said. "We definitely need to get back on the winning side of things and go from there. Personally, obviously it was a great outing with a lot of strikeouts, but the biggest thing was getting the win."
It marked the fourth time a Brewers pitcher recorded 14 or more strikeouts, as Fiers matched the performances of Moose Haas in 1978 and Yovani Gallardo in 2012. The club record for strikeouts in a game is held by Ben Sheets, who fanned 18 in 2004.
Fiers, who walked just one and allowed only three hits, fanned the first two batters he faced Thursday and struck out the side in the second, fifth and sixth innings. Although he was cruising along, Fiers' afternoon was done after six innings with his pitch count at 106.
"It looked like he was throwing an Invisa-Ball, I don't know," Brewers second baseman Scooter Gennett said. "I wish he would have told me he was going to strike out the side a couple of times; I wouldn't have ran out to the field. He did a great job today. It was really impressive."
Every batter in Chicago's lineup struck out at least once Thursday. Chris Coghlan, Arismendy Alcantara and Justin Ruggiano all struck out twice against Milwaukee's starter, while Fiers fanned top prospect Javier Baez four times.
"You definitely notice," Fiers said of the strikeouts. "I definitely knew I was striking out a bunch of guys. The number I didn't know, but I knew it was getting up there later in the game."
The Brewers had gone 286 consecutive games without one of their starting pitchers reaching double-digit strikeouts, as Fiers was the last to do it when he struck out 10 in a loss to the Houston Astros on Sept. 30, 2012.
"First of all the team has to match up," Brewers catcher Jonathan Lucroy said. "If you play someone like the A's, someone real patient like that, it's probably not going to happen. But a team like these guys over here who have younger players that swing, trying to get hits, obviously you can take advantage of that and pitch accordingly.
"With Fiers and his deception of being able to pitch up in the zone and work down in the zone in his fastball as well while mixing your offspeed, I think that the result is what you saw."
Recalled from Triple-A last Saturday, Fiers has allowed just one earned run in 14 innings over his first two big-league starts of the season. He's helped lessen the blow of losing Matt Garza to the disabled list by pitching the Brewers to two wins.
What Fiers has been able to do is somewhat reminiscent of the dominant stretch he produced in 2012, but now he's doing it with Milwaukee in the postseason race.
"He looks like the same guy (as in 2012)," Brewers manager Ron Roenicke said. "Confident, great fastball, able to throw the off-speed when he wants to, not walking people. That was really fun to watch.
"It's really big to be able to fill in for your big guys that you count on, to walk in and throw those kind of games. It's great."
While nobody could have predicted these kinds of performances from Fiers, he feels like he was pitching this way all season long in Triple-A, where he put last year's struggles behind him with a 2.55 ERA for Nashville.
"I kind of got my confidence back from last year probably in winter ball," Fiers said. "Coming into spring training I felt good. I just took off from there. Yeah, I got sent to Triple-A, but it didn't kill my confidence sending me down. I just had to wait for my opportunity and do it now.
"We had a great pitching staff coming out of spring training. I just had to wait my turn. I'm just trying to make the most of it now."
Four more years: The Brewers announced a four-year extension of their player-development contract with Rookie-level Helena on Thursday, as Milwaukee will continue to be affiliated with the Pioneer League club through 2018.
"Our affiliation with the Helena Brewers has been very positive and we're excited to extend our player-development contract with the franchise," Brewers assistant general manager Gord Ash said. "Many players on our big-league roster started their professional careers at Helena, where they developed and honed their skills to play at the major-league level."
Milwaukee's current affiliation with Helena began in 2003, but the Brewers also had a farm team in Montana from 1985-2000.
"The Brewers have been flexible and appreciative of the efforts that we make, and I believe that the long relationship over the years has made this the best partnership it has ever been," Helena Brewers president and general manager Paul Fetz said. "We know each other, we know what to expect and we work well together. There is a mutual respect. When I went to spring training a few years ago I really felt a part of the organization. I wasn't just some executive from the outside."
Ready to return: Brewers first-base prospect Hunter Morris was activated from the Triple-A disabled list Thursday and subsequently transferred from Nashville to Double-A Huntsville.
Morris missed a little more than five weeks with a fractured right arm suffered when he was hit by a pitch. The 25-year-old is hitting .274 with 10 home runs and 37 RBI in 78 Triple-A games this season and hit .200 in five games in Rookie ball on his rehab assignment.
Follow Andrew Gruman on Twitter
---