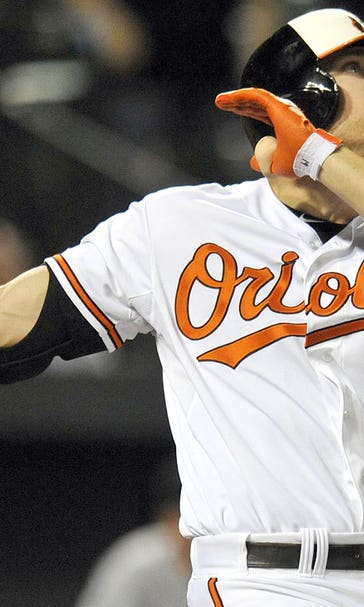 Examining surprising numbers from the first half of the MLB season
BY foxsports • July 7, 2014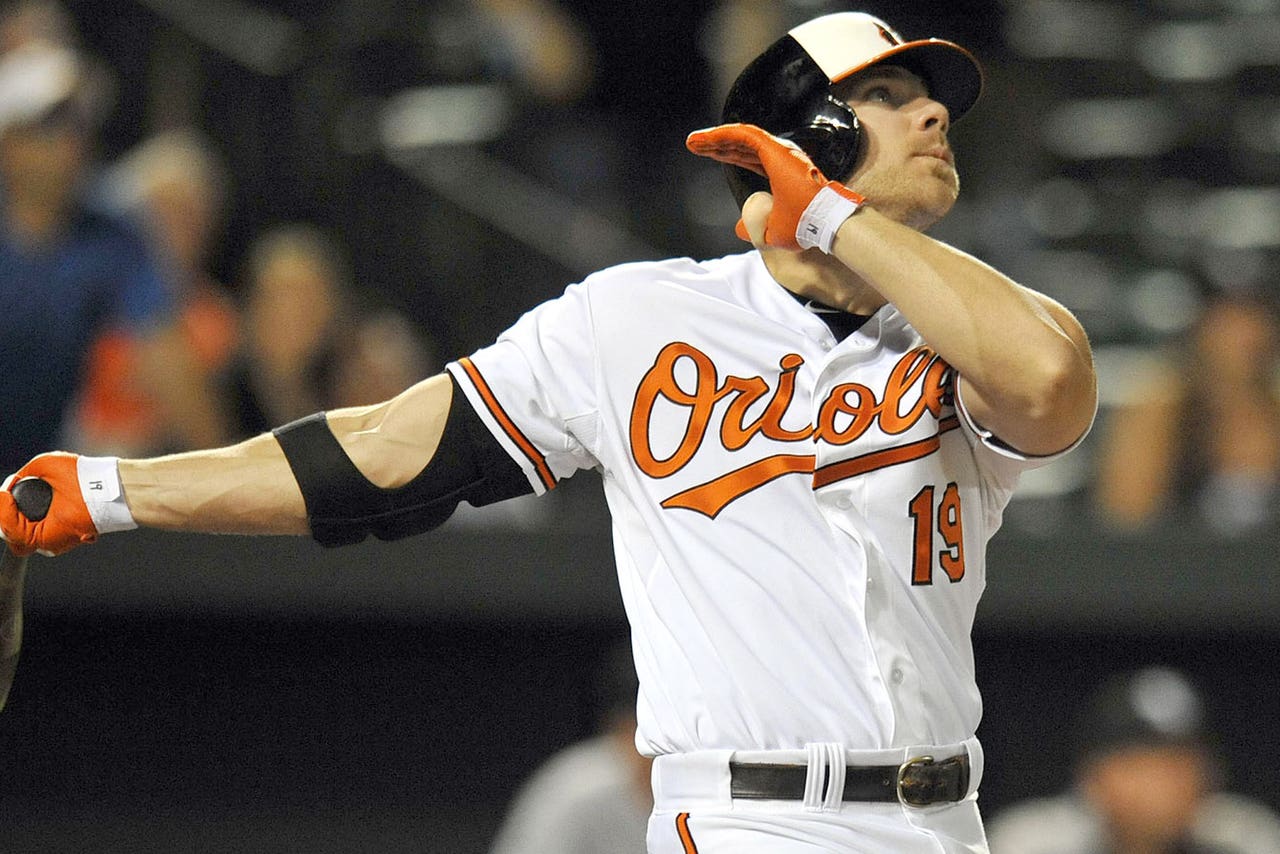 Baseball is infamous for producing eccentric numbers, and not just of the "Chris Davis is the first person to hit three home runs on his birthday after a rain delay on a full moon" variety. Even taking these quirky parameters into account, the 2014 Major League stat board raises eyebrows. Adam Wainwright and Zack Greinke are tied for the league-lead in wins with… Alfredo Simon. J.J. Hardy entered 2014 with 77 home runs in the past three years; as of July 7, he's dialed long distance only twice. Aroldis Chapman, after surviving a frightening comebacker to the head in spring training, is on pace to set a strikeouts per nine innings record. How crazy has 2014 been? At one point in June, the Kansas City Royals were in first. THAT crazy.
However, while breakouts and slumps are inevitable, most players live up – or down – to the back of their baseball card. Luck, aberrations, coincidence can wreak havoc from week to week, but over a season of 162 games, things even out. With the 2014 campaign halfway in the books, let's examine some of the more surprising numbers from the first half and assess the maintainability of each figure:
Jake Arrieta – 1.78 ERA, 79 Ks
Analysis: Entering 2014, Arrieta owned a 5.23 ERA and 1.43 WHIP in 78 career games. Through 12 outings this season, the Cubs right-hander has been lights-out, flaunting a 1.02 WHIP with the numbers above. Departing from the uber-competitive AL East partially explains the improvement, as does the notion of Arrieta, who turned 28 in March, mentally maturing and entering his prime. The biggest factor in his turnaround: control. In his previous 409 2/3 innings, Arrieta walked four batters per nine innings. Through 70 2/3 innings of work this summer, he's surrendering just 2.4 free passes per game.
Verdict: A tad of regression is probable, but with a 2.05 FIP, 2.59 xFIP and .285 BABIP, the sabermetrics show Arrieta's performance is legit.
Lonnie Chisenhall - .338 average
Analysis: The former top-25 prospect was viewed as a lost cause coming into the season, doing little of note since arriving to the big-league level in 2011 (.244/.284/.411). However, those cuts came in just 682 plate appearances, and at age 25, Chisenhall is still a developing talent. With a .940 OPS (best among his position), do the Indians have a star in the making at hot corner?
Verdict: For the record, I had Chisenhall worthy of an All-Star selection, and do think he's capable of smacking 20 homers and 80 RBI. But Chisenhall as a league-leader in average? No way, Jose (or whatever your real name is). His .380 BABIP is second only to Paul Goldschmidt, and though Chisenhall has been spraying frozen ropes thus far, this rate is unsustainable. Also unsustainable – a Cleveland sports entity having success. Don't be shocked by a big drop-off in the second half.
Chris Davis – 13 HR, .201 average
Analysis: The man nicknamed "Crush" has not lived up to his handle in 2014, especially given his power production (53 homers, 138 RBI) just a season ago. Likewise, Davis was more than just muscle, averaging a .278/.350/.571 split with the Orioles in the previous two years. Will Davis regain his mojo, or is the Baltimore basher doomed?
Verdict: While his 30.8 strikeout percentage is high, it's also in line with his historical marks. Moreover, Davis' 13.3 walk rate is a career-best. For owners looking to find a good buy-low candidate, Davis is certainly capable of clubbing 20-plus jacks the rest of the season with a decent batting clip.
Shelby Miller – 4.3 walks per nine innings
Analysis: Miller, who finished third in Rookie of the Year voting in 2013 thanks to 15 wins and a 3.06 ERA, wasn't quite as effective as his numbers conveyed, as a 3.73 xFIP warned the young gun could hit rough waters in 2014. Even in this scope, no one expected Miller to struggle to this degree, brandishing a whopping 1.45 WHIP in 18 outings. The catalyst for these woes has been Miller's control, or lack thereof. This has been exceptionally problematic as of late, walking 15 batters in a four-game stretch in June. Is Miller's wildness here to stay, or are brighter days ahead in the second half?
Verdict: He's never been a bastion of control, but he's better than the numbers indicate. Coupled with the support of St. Louis' offense – a contingent that's also underperforming at the moment – and the fact that he's only 23 years old, Miller should see a relative turnaround in the dog days of summer.
George Springer – 105 strikeouts in 71 games
Analysis: Most are familiar with Springer's moon shots that travel to different time zones, racking up 17 homers in his abbreviated time with the Astros. Alas, the rookie is also waving the lumber like an Egyptian servant flapping a palm branch, leading the American League with 105 whiffs in 268 at bats. To give that figure context, Washington's Ian Desmond, who has 106 strikeouts of his own, has accrued his damage in 333 trips to the plate. At this rate, Springer has a shot at Mark Reynolds' record of 223 Ks in a season. Should owners be worried about Springer's go-for-broke mentality?
Verdict: Plate discipline has always been an issue for Springer, compiling 334 strikeouts in 284 minor-league affairs. Basically, he's Adam Dunn with defensive prowess. I swear, that's a compliment. He holds more value in OBP leagues (11.4 walk percentage), yet even in standard formats, Springer brings more good than bad to the table.
Alfredo Simon – 2.78 ERA, 11 wins
Analysis: Big Pasta was projected to make one, maybe two starts at most in the absence of Mat Latos for the Reds coming out of spring training. Instead, multiple setbacks for Latos gave Simon extended work in the rotation, and Simon made the most of this platform. The long reliever was so proficient that when Latos was finally ready to return, Cincinnati optioned promising starter Tony Cingrani to Triple-A.
On one hand, Simon has been solid in his time in the Queen City, possessing a 2.78 ERA in 99 games the previous two seasons. However, that production came from relief duty, and in his previous tour of duty as a starter in Baltimore, Simon worked like he was pitching BP (4.90 ERA, 1.45 WHIP). And at 33 years old, this emergence could hardly be described as a player hitting his prime. What is on the horizon for the Senior Circuit's leader in victories?
Verdict: Simon, who could earn a trip to the All-Star Game as a replacement, better enjoy the good vibes while they last, because a .233 BABIP, 4.36 FIP and 84.1 left-on-base percentage forecast dark clouds on the horizon.
Colorado Rockies - team .369 OBP at home, .295 OBP on the road
Analysis: Only the Cubs and Padres have a lower on-base rate in the majors than the Rockies away from Denver, while no one is even close to Colorado's mark at home (the Pirates are a distant second with a .351 OBP).
What does this mean, aside from the fact that the Coors Field humidor is broken? At the moment, proprietors of Colorado players need to keep said individuals on the bench during road contests, encumbering their fantasy value. As a corollary, should owners think about trading stars from this club?
Verdict: That strategy is a little overdramatic, but if the team continues to no-show on the road, get out while you can. In a related note, it's bad enough that Charlie Blackmon and his .245/.285/.348 away line are going to the All-Star Game. If Troy Tulowitzki (.265/.367/.463 away production) wins National League MVP, I'm taking John Elway hostage. It's the only way people will pay attention to the chaos that this ballpark is inflicting.
Joe Nathan – 5.97 ERA
Analysis: Thought to be at the end of his career when Minnesota let him go in 2011, Nathan refused to throw in the towel to Father Time, posting a 2.09 ERA and 0.98 WHIP in a two-year stint with Texas. Unfortunately, Nathan's 2014 has been on the opposite end of the pitching gamut, getting shelled to the tune of a 5.97 ERA and 1.55 WHIP in 34 games. Does Nathan have gas left in the tank, or are his days as one of baseball's best finishers kaput?
Verdict: Mixed bag on this one. Nathan's velocity has seen a precipitous drop, paralleling to fewer strikeouts. Worse, his control is shot, allowing 1.42 homers per nine innings (versus a 0.60 rate with the Rangers). Conversely, he's still Detroit's primary closer. He'll get owners the requisite saves to justify a roster spot, but beware of the damage to the ERA and WHIP categories with Nathan at the helm.
Joey Votto - .255 average
Analysis: The 2010 MVP had led the National League in OBP the previous four seasons, with a career .314 batting mark. Sadly, Votto's power output has decreased every year since 2011, with quad and leg injuries sapping his ability to go deep. With Votto likely heading to the DL a second time, things don't look pretty for those that invested in the Reds first baseman.
Verdict: It's worth noting the Reds are paying Votto $218 million until 2023. As one who lives in Cincinnati, excuse me while I scream obscenities into a pillow.
Joel Beall is a writer for FOXSports.com and WhatIfSports.com. He lives with a Golden Tee machine and a jump shot that's broken. Reach Joel on Twitter @JoelMBeall
---
---