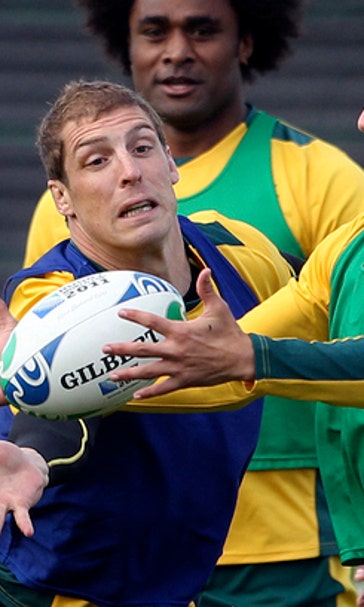 Ex-Australia rugby forward Dan Vickerman dies at age 37
February 19, 2017

SYDNEY (AP) Dan Vickerman, who played 63 rugby tests for Australia and was involved in three World Cups, has died at his home in Sydney. He was 37.
The Australian Rugby Union issued a statement Sunday saying players and officials were shocked and deeply saddened by the death overnight of the South Africa-born former Wallabies lock.
''Dan was an uncompromising competitor who forged a wonderful international rugby career despite a number of injury setbacks along the way,'' ARU chief executive Bill Pulver said. ''He was an enforcer on the field and a much-loved character off the field.
''He cared deeply about the game and the players, helping players transition into life after rugby in his role with Rugby Union Players' Association following his retirement.''
No cause of death was announced.
The 204-centimeter (6-foot-8), 119-kilogram (262-pound) Vickerman was born in Cape Town and moved to Australia in 2000 to pursue a professional rugby career. He played Super Rugby for the Canberra-based ACT Brumbies for three seasons from 2001 and for the Sydney-based New South Wales Waratahs - around a three-year sabbatical to study in Britain - from 2004 until he was forced to retire because of a persistent injury in 2012.
''Dan was well respected for his on-field leadership and performance and equally respected by all that knew him off the field,'' Waratahs chief executive Andrew Hore said. ''The shockwaves of his tragic passing will be felt right across our rugby community. Our thoughts are with his wife, Sarah, their two sons and other friends and family during this difficult time.''
Vickerman made his international debut for Australia in June 2002 in a 31-25 win over France and played his last test in the Rugby World Cup semifinal loss to New Zealand in Auckland in 2011.
In between, Vickerman moved to Sydney in 2004 to play for the Waratahs, where he played until taking leave from the sport following the 2007 World Cup to spend three years studying at Cambridge University.
He returned to Australia to resume his career with the Waratahs and Wallabies, was rushed back into the national squad.
Jeremy Paul, a former Brumbies and Australia teammate, described Vickerman as a great character who emerged as a physical presence in the Wallabies scrum under the tutelage of Eddie Jones, who guided Australia to the 2003 World Cup final.
''He's going to be sorely missed, and at 37 years of age it's just really shocking and it's pretty hard to take in actually,'' Paul told Fox Sports. ''I remember back in the early days, Eddie used to ride him ... he used to give it to Dan. Dan took it on and he turned into a Wallaby and a great Wallaby.''
---