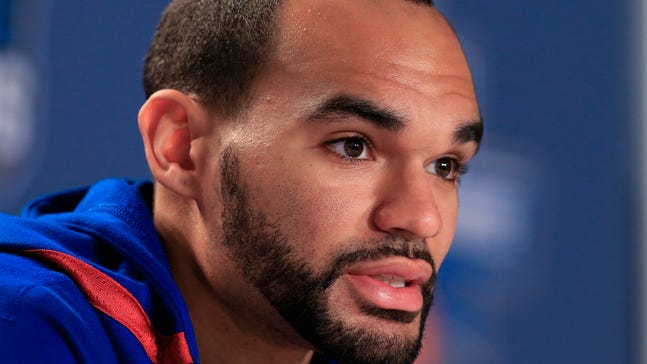 Ellis playing like he doesn't want seemingly infinite KU career to end
Published
Mar. 19, 2016 12:45 a.m. ET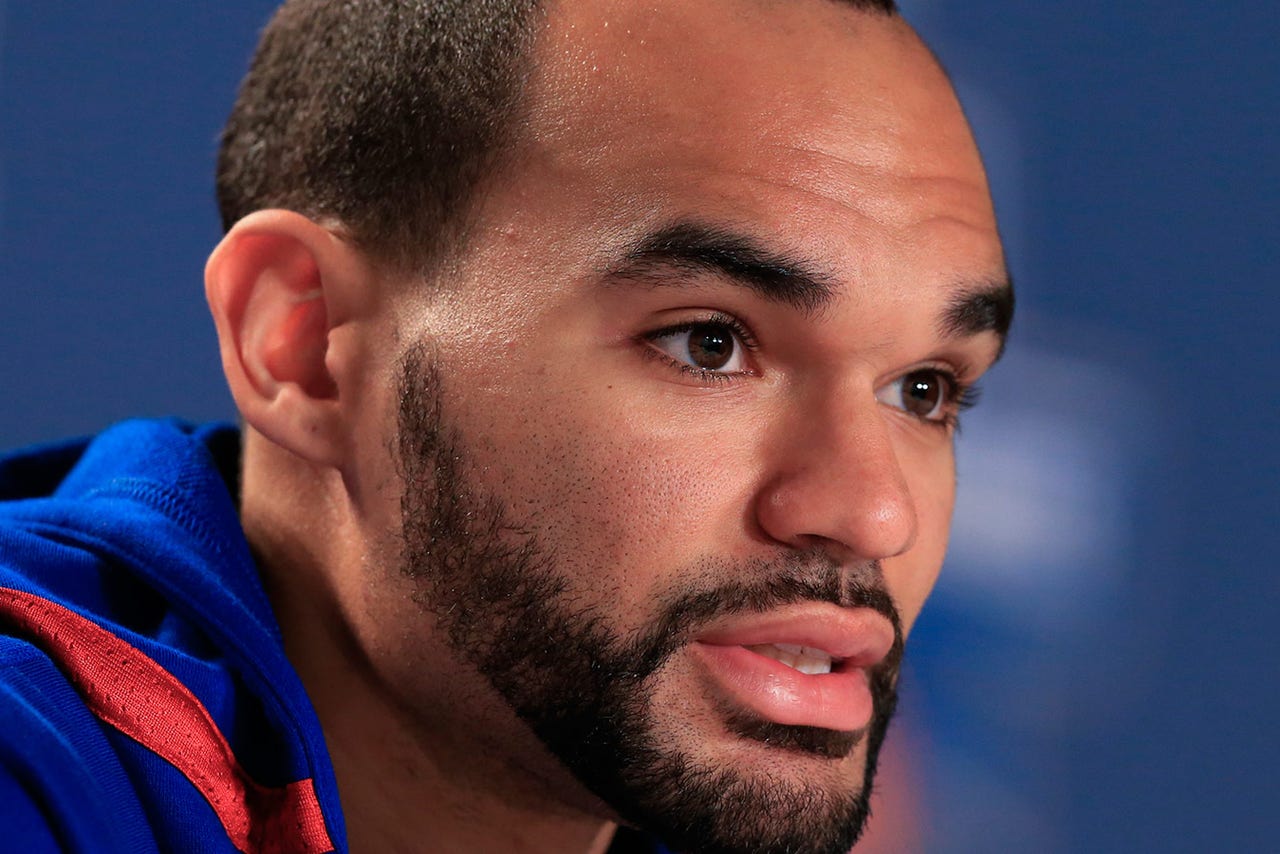 DES MOINES, Iowa -- Perry Ellis has a sage look about him, with calm eyes, a trim beard and a receding hairline that actually suggest he's in his 30s like the Internet jokesters contend.
No, he didn't play at Kansas with Wilt Chamberlain or Danny Manning, just Joel Embiid and Andrew Wiggins.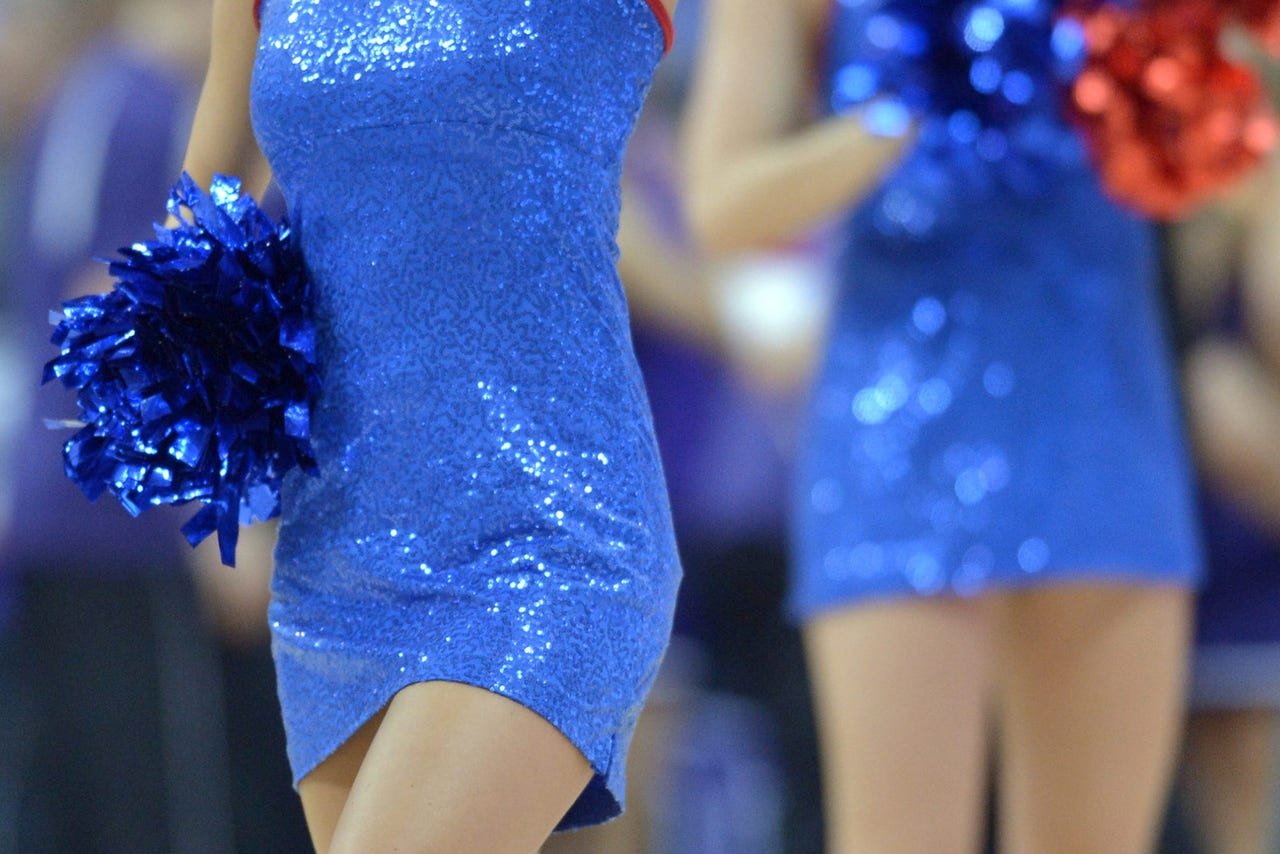 Check out our gallery of NCAA hoops cheerleaders.
Yes, these fine four years for Ellis are finally nearing an end. He's naturally been playing like he doesn't want this seemingly infinite college career to end.
"Definitely, it's a drive in my game," said Ellis, who has put up 20 or more points in five of the last six games. "Just knowing this is my last go-round, I'm willing to do whatever it takes to try to win."
The Jayhawks (31-4) have reached the second weekend of the NCAA Tournament only once with Ellis, a trip to the regional semifinals his freshman season. They were sent home in the round of 32 each of the last two years, but Ellis has been peaking at the right time for a team that brought into the field a bounty of talent as well as the pressure of the No. 1 overall seed.
Kansas coach Bill Self called Ellis as consistent of a player as he's had in 13 seasons there.
"He's a rock. He's a guy that we look to score when we're struggling," Self said. "He certainly plays a much bigger role than what I think a lot of people give him credit for nationally."
The Jayhawks will play No. 9 seed Connecticut in a second-round South Region game Saturday. As much as the trio of Devonte' Graham, Frank Mason III and Wayne Selden Jr. hog the highlights and get this team going, Ellis will be a significant part of the scouting report for the Huskies (25-10).
"Every three levels he can score at," UConn coach Kevin Ollie said.
Ellis, the once-heralded recruit from Wichita who stayed in his home state, probably needed the full stay to better develop into an NBA prospect, unlike the steady stream of one-and-done star players who pop in and out of college basketball these days. The 6-foot-8 Ellis has a forward's skill set that could be caught between the "3" and the "4" positions in the pros.
"We get a false sense of when we're making shots, we forget about Perry," Graham said, praising his teammate and friend's steadiness and efficiency. "So we've always got to play through 'P,' on any given day."
Here are some key angles to know about the game:
UNBEATEN OLLIE: The Huskies are 7-0 in the NCAA Tournament with Ollie as the head coach, a remarkable record buoyed by their 2014 national title, but the 43-year-old has downplayed his work on the bench in March.
"I'm just trying to make substitution patterns and read the game. I do my best coaching in practice," said Ollie, emphasizing the relationship-building he's done with his players to earn their respect.
SVI HIGH: Kansas sophomore Svi Mykhailiuk has predictably come along slowly, considering the transition from his native Ukraine and the fact that he's still only 18, but he gave the Jayhawks a welcome jolt with a career-high 23 points in KU's first-round victory over Austin Peay. The long-range shooting specialist hit four of five attempts from 3-point range.
"All indications are that he's very, very happy," Self said. "I think frustration does set in when you don't play as much as you want to or play as well as you know you can when you get opportunities. ... At times, he can look a certain way and look great, but he's been a little inconsistent. I think that's pretty apparent, but I think a lot of that's just youth."
FREE-THROW SECRET: The Huskies lead the country in foul shooting, with six of their top seven scorers making 80 percent or more. Ollie's practice strategy is to randomly blow his whistle amid the intensity of the workout and force a focus on free throws when they're tired. The losers in the contest must sprint some more. If the players make 11 in a row, though, the coaches have to run.
"It spurs them on," Ollie said.
WAYNE'S WORLD: Selden, who had 14 points in the blowout of Austin Peay, grew up in Boston and was heavily recruited by UConn.
"Early that was like a dream school. A lot of guys from Boston went there. It almost seemed like there was a pipeline," Selden said. "When I visited Kansas, it fit me right."
EARLY-ROUND SUCCESS: UConn is 32-5 on the first weekend of the NCAA Tournament in the last 20 appearances since 1990, under coach Jim Calhoun and now Ollie. The Huskies have 10 trips to the final eight in that span.
---
---