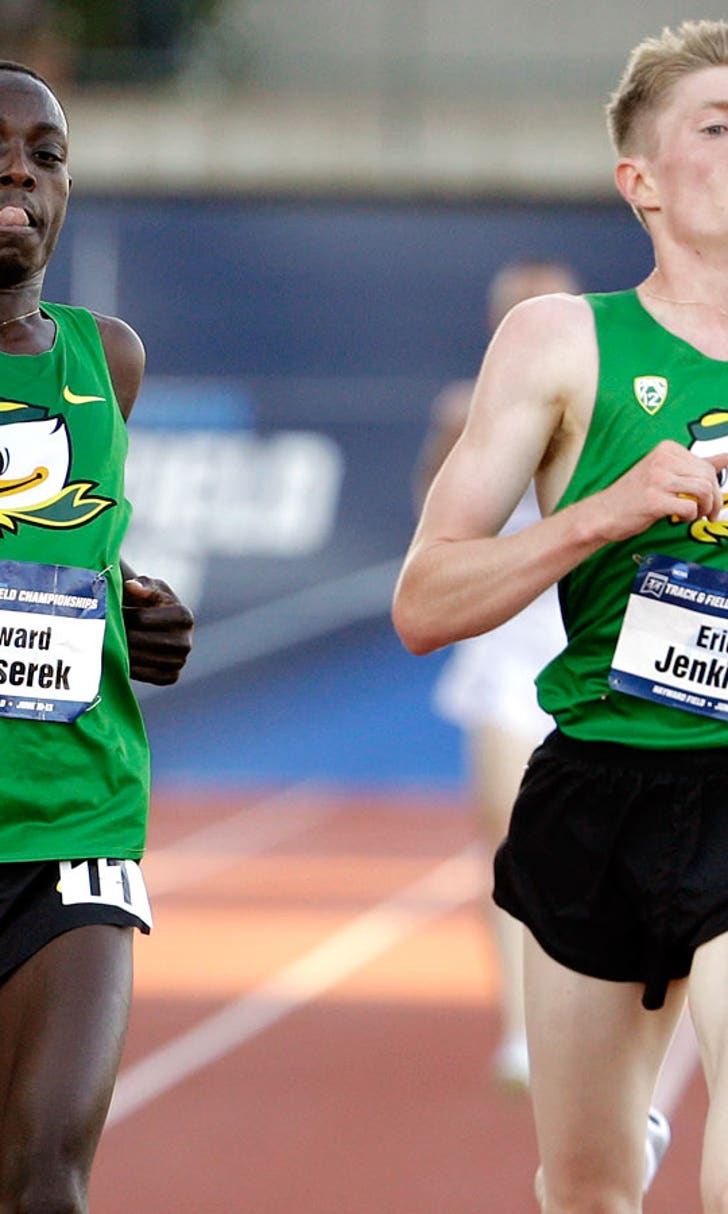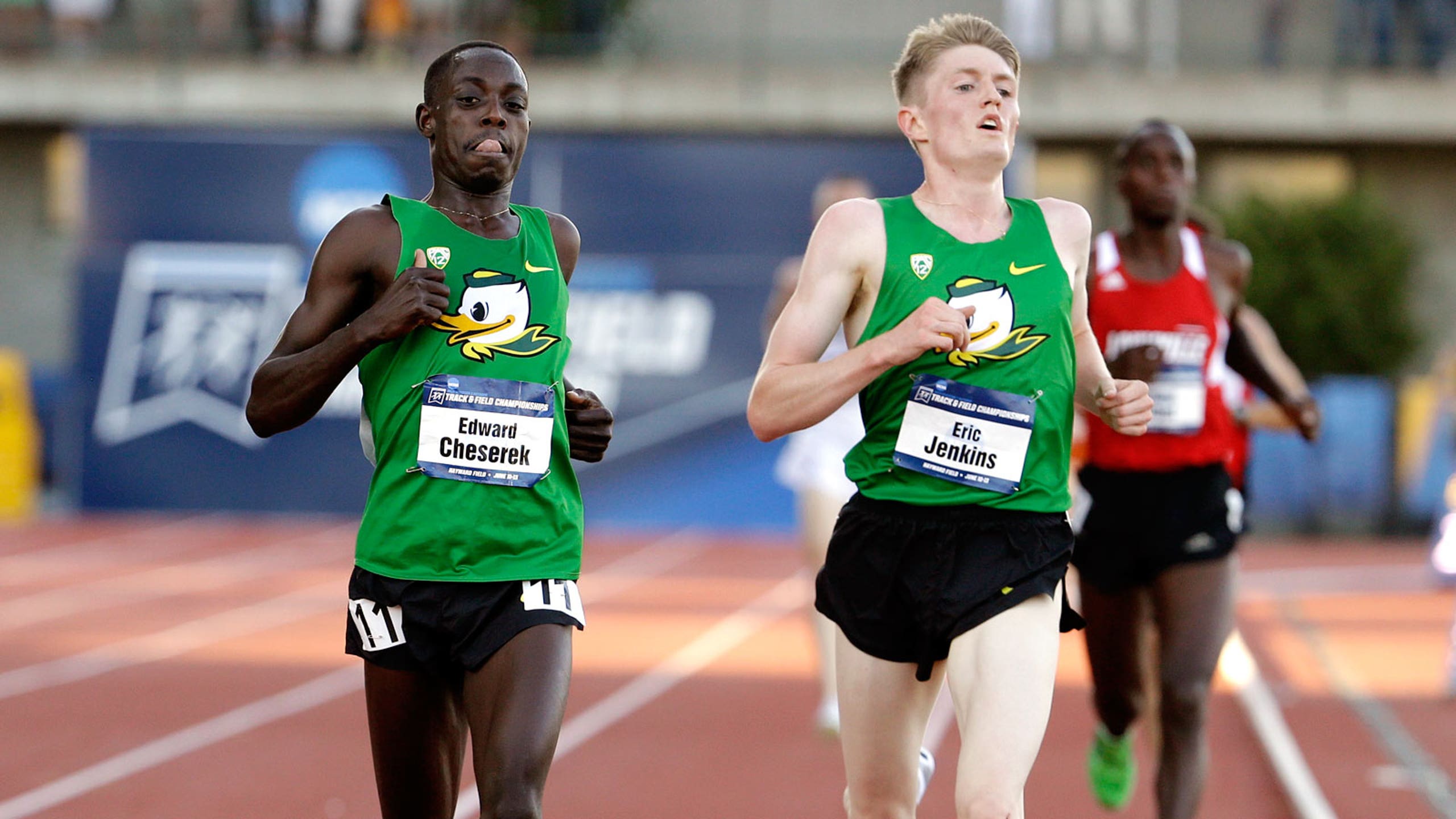 Edward Cheserek leads 1-2 Oregon finish in 10,000 meters at NCAAs
BY foxsports • June 11, 2015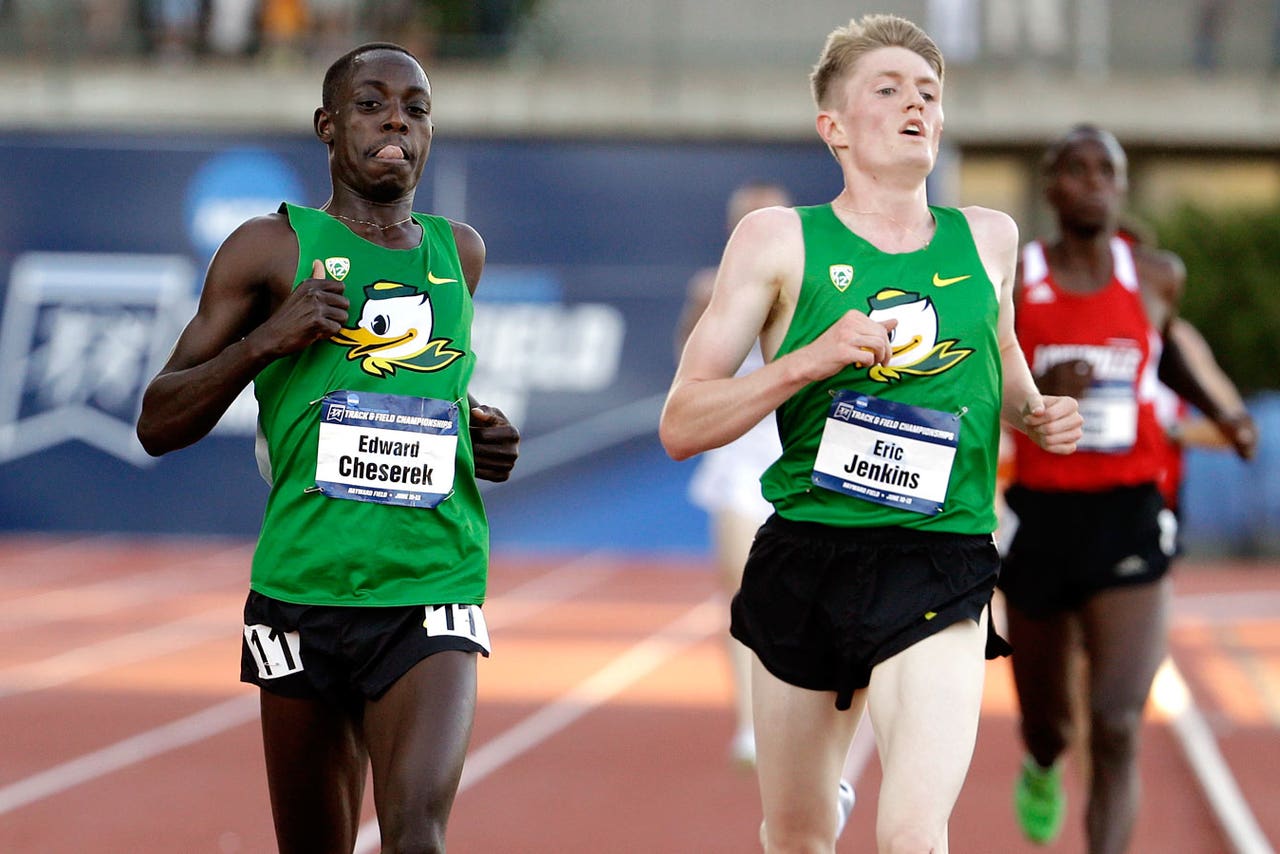 Edward Cheserek overtook Oregon teammate Eric Jenkins on the final turn to win the 10,000 meters and give the Ducks a 1-2 finish in their bid to repeat as men's team champions at the NCAA track and field championships.
Cheserek, the defending champion, won in front of a cheering home crowd in 28 minutes, 58.92 seconds near the end of Wednesday's first day of competition. Jenkins was right behind in 28:59.13.
The 1-2 Ducks finish was no surprise.
''Even though it's predicted, it's tough to do,'' Jenkins said. ''We need these points.''
The pair will go for a repeat Friday in the 5,000, a race that could well determine if the Ducks retain the title.
''It's going to be tough. It's not easy,'' Cheserek said. ''So you've got to be smart.''
Cheserek and Jenkins moved away from the rest of the field with three laps to go, then Jenkins held a slight advantage until the final turn.
''I'm super competitive,'' Jenkins said. ''But I have to lose to anybody, I guess it's this guy.''
Oregon, as expected, also got a first place in the javelin, where Sam Crouser won with a throw of 259 feet, 9 inches.
A third-place finish in the hammer by Greg Skipper gave the Ducks 34 points through the first day of competition.
Florida, one of Oregon's top rivals for the team title, got a first place from Marques Dendy in the long jump with a wind-aided 27-8. Florida had 16 points after the first day.
The meet at the University of Oregon's Hayward Field is under a new format. With the exception of the heptathlon, only men competed on Wednesday and will finish on Friday.
The women compete on Thursday and Saturday.
Heavily favored Shawn Barber of Akron snapped a pole in warmups, then missed twice at his opening height before coming back to win the pole vault at 18-4 1-2.
''I was just as nervous as the crowd out there,'' Barber said. ''It is a nerve-wracking sport, especially when you get down to that last attempt. So to come back and do so well after that was really a nice feeling.''
Reigning 100-meter champion Trayvon Bromell of Baylor had the fastest time in both sprint semifinals, 9.0 seconds in the 100 and 20.023 in the 200, both personal bests. He also ran in the 4x100 relay preliminaries, although Baylor did not advance.
Now the sophomore has a day of rest before the two sprint finals.
''It will be good,'' Bromell said, ''to heal my body up well, get my feet up under me.''
Conor McCullough of USC was the day's first winner with a throw of 252-4 in the hammer.
McCullough's performance was so dominant that four of his throws were better than the best of the runner-up, defending champion Mathias Tayala of Kent State, who threw 234-9.
McCullough, who attended Princeton earlier in his career and did not throw collegiately the past two seasons, was granted a sixth year of NCAA eligibility to compete for USC this season.
Michael Lihrman of Wisconsin, who had the season's second-best mark going into the meet, fouled twice and failed to make the nine-man finals.
McCullough has dual citizenship in Ireland and the United States. He is a former Irish national champion but is competing for the United States now and plans to compete in the U.S. championships later this month on the same Hayward Field track.
''I've been to championship meets enough times not to get too many nerves,'' he said. ''But when Lihrman flopped out there, I was like `What happened?' But he will be here in two weeks, so it will be good.''
Halfway through the decathlon, Pau Tonnesen of Arizona led with 4,230 points, just ahead of defending champion Maicel Uibo of Georgia at 4,029. Scott Filip of Rice was third at 4,176.
Through four events in the heptathlon, Akela Jones of Kansas State led with 4,023 points. Kendell Williams of Georgia with 3,804 was second. Quintunya Chapman of Georgia and Erica Boughard of Mississippi State were tied for third at 3,714.
The favorites breezed through qualifying in the men's 4 x 100 relay. Three of the four fastest were SEC schools.
TCU was the fastest at 38.65 seconds, Arkansas second at 38.78, Florida third at 38.91, and LSU fourth at 38.92.
---