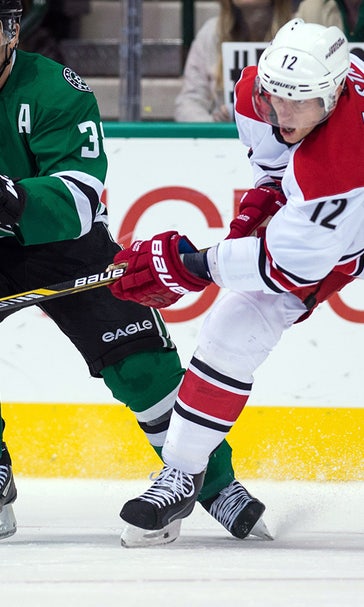 E. Staal's big third period lifts Hurricanes past Stars
BY foxsports • November 19, 2014
DALLAS -- Eric Staal had two third-period goals and an assist to lead the Carolina Hurricanes over the Dallas Stars 6-4 on Tuesday night.
Carolina overcame a 2-0 deficit with four second-period goals. The last of those chased Stars goalie Kari Lehtonen from the game. He stopped 12 of 16 shots in nearly 36 minutes on the ice.
The Hurricanes franchise had not won in regulation at Dallas since 1996, when the team was the Hartford Whalers.
Carolina snapped a three-game losing streak and improved to 2-6-2 on the road. The Stars lost their seventh consecutive home game (0-5-2) and fell to 1-5-4 in Dallas this season.
Jeff Skinner, Patrick Dwyer, Victor Rask and Jiri Tlusty scored in the second for the Hurricanes.
Staal's goals against backup Anders Lindback were needed because Cody Eakin scored short-handed and Tyler Seguin got his second of the game for Dallas in the third period against Cam Ward, who made 21 saves.
Seguin, who leads the NHL with 14 goals, tipped in two shots by John Klingberg. Jamie Benn also had a goal.
The Stars had only six shots in the first period, but two went in the net.
Benn scored his first goal in 12 games at 1:48. Jamie Oleksiak shot wide, and Ward turned the puck away behind the net. Vernon Fiddler retrieved it and passed in front to Benn.
The only penalties in the period were coincidental minors at 15:49, so the teams were skating 4-on-4 when Jason Spezza won a faceoff in the Hurricanes' end. The puck went to Klingberg at the top of the right circle, and his slap shot went in off Seguin.
Skinner scored at 2:43 of the second on a shot from the left circle past Lehtonen into the upper right corner.
The Hurricanes tied it 2-all at the 7-minute mark. Dwyer took a pass in full stride while crossing the blue line, put the puck on his backhand and slipped it between Lehtonen and the post.
Just 90 seconds later, Rask scored a power-play goal with a slap shot from the right circle. He took a pass from John-Michael Liles, who also assisted on Dwyer's goal. Tlusty's goal at 15:54 chased Lehtonen from the game.
NOTES: Benn has nine points (six goals, three assists) in eight career games against the Hurricanes. ... The Carolina franchise had been 0-10-1 in Dallas since the last win on Feb. 11, 1996. ... Lehtonen also allowed four goals in the third period of Dallas' previous game at Chicago on Sunday.
---