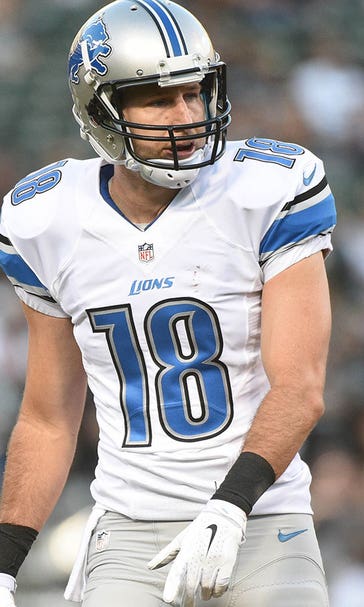 Durham, Leshoure among Lions' final cuts
August 30, 2014

Receiver Kris Durham and running back Mikel Leshoure were among the final cuts made Saturday by the Detroit Lions to reach the 53-man limit for the regular-season roster.
Durham, a college teammate of quarterback Matthew Stafford and one of Stafford's best friends, caught 38 passes last season, third-most among Lions' receivers.
Leshoure was a second-round pick three years ago, leaving defensive tackle Nick Fairley as the only player from that 2011 draft class still on the team.
The emergence of Corey Fuller, a sixth-round draft pick, led to Durham's departure. Leshoure became the odd-man out, in part, because the Lions have added a traditional fullback to their offense.
Kellen Moore, meanwhile, made the roster for the third straight year following a solid preseason performance as the Lions decided to keep three quarterbacks again.
Among the players on the bubble who made the cut were safety Jerome Couplin and offensive tackle Corelius Lucas, both undrafted rookies.
Other players waived Saturday included:
Running back George Winn; fullback Emil Igwenagu; receivers Patrick Edwards and Andrew Peacock; offensive linemen Rodney Austin, Michael Williams (seventh-round pick in 2013), Garrett Reynolds and Darren Keyton; tight ends Michael Egnew and Jordan Thompson; defensive linemen Darryl Tapp, Andre Fluellen, Jimmy Saddler-McQueen and Xavier Proctor; linebackers Brandon Hepburn (seventh-round pick in 2013), Julian Stanford and Shamari Benton; and defensive backs Chris Greenwood (fifth-round pick in 2012), Mohammed Seisay and Nate Ness.
Some of the players cut are expected to be added Sunday to the expanded 10-man practice squad.
---