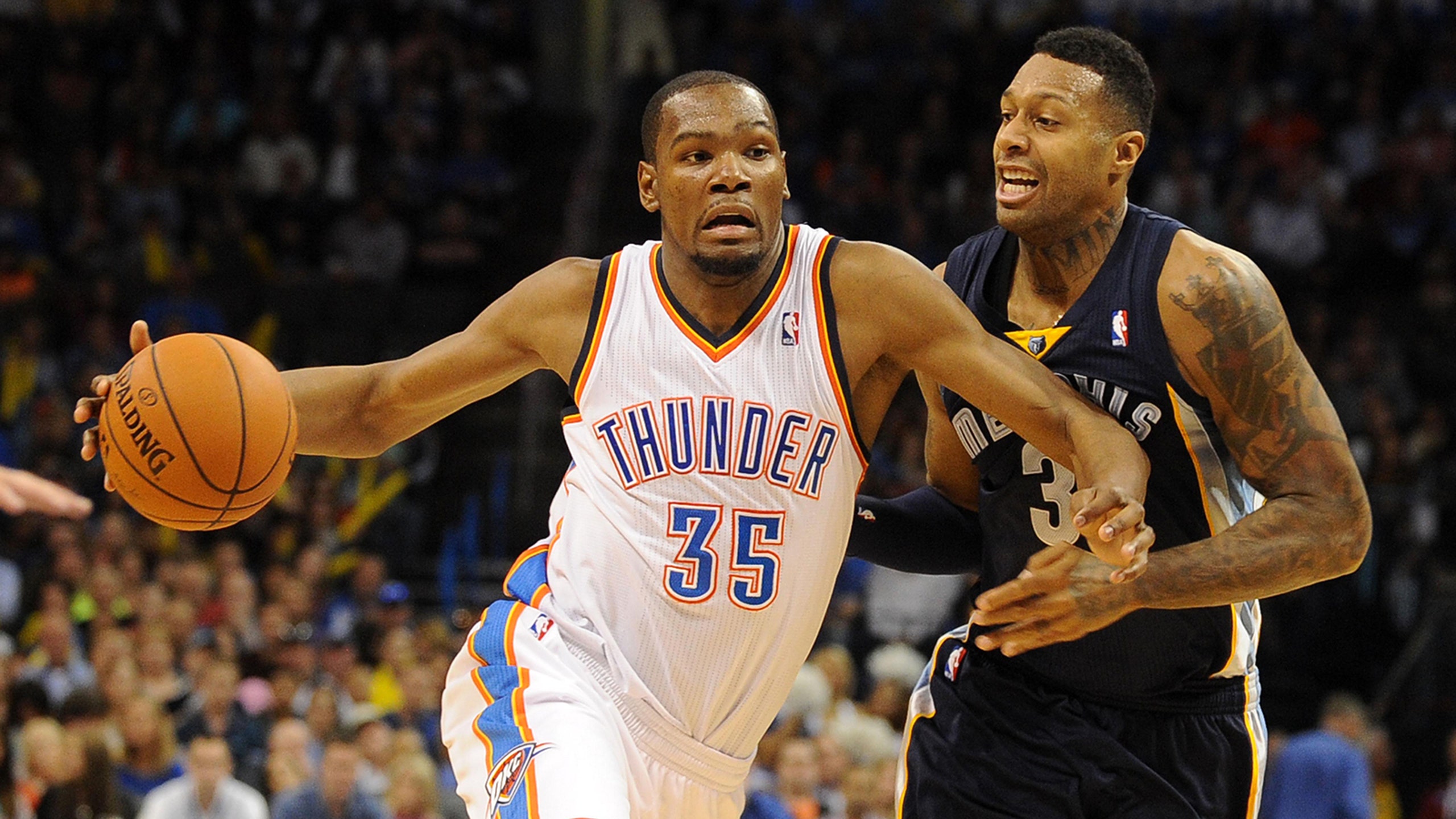 Durant scores 37 to help Thunder snap losing skid
BY foxsports • March 1, 2014
OKLAHOMA CITY -- Sometimes it just doesn't matter how bad the defense is or has been.
Not when you have Kevin Durant.
Durant scored 30 points in the second half and saved the Thunder from a real-life, it's-time-to-panic, kind of losing streak with a 113-107 victory over Memphis.
Durant finished with 37 and settled in late when it looked like the Thunder was falling apart.
"Things were going sideways," coach Scott Brooks said. "KD did a great job."
Sideways doesn't quite explain it. Things were going downhill. After what might have been the Thunder's best defensive half of the season Friday night, OKC looked familiar in the second half. Memphis shot 65 percent after the break, 71 percent in the fourth quarter and took apart a 19-point lead, getting as three points with 2:29 left.
But here's the deal: Kevin Durant conceals a lot of problems, and when Russell Westbrook plays like Russell Westbrook and Serge Ibaka complements the two, defensive lapses, woes or just plain defensive breakdowns don't seem to matter as much.
"I thought we went in the right direction tonight," Brooks said, mentioning defense first in his opening statement. And Brooks had a right to. After total defensive implosions against Miami, then the Clippers and then Cleveland, OKC showed a willingness to get in front of someone. The combination of Hasheem Thabeet, who played a season-high 16 minutes and had four rebounds, and a block and Steven Adams, seven points and five rebounds, were effective against the Memphis frontline of Marc Gasol and Zach Randolph. Ibaka had nine rebounds to go along with 16 points and three block. Memphis scored 22 points in the first quarter and just 20 points on 30 percent shooting in the second quarter. The Thunder led 57-42 at halftime.
"We relaxed in the fourth quarter," Brooks said. "It seemed like they didn't miss a shot."
But as long as Durant, Westbrook and someone – anyone else – shows up, defense doesn't have to be a talk-about-it-first requirement.
Durant was 12-of-24 and made all 10 of his free throws. Westbrook has now put together a pair of nice games in a row. He had 21 points on 7-of-12 shooting with six assists and only one turnover. Ibaka had 16 points and Reggie Jackson had 14. In addition to Durant and Westbrook, the Thunder got 3-pointers from Perry Jones, Jeremy Lamb, Jackson and Derek Fisher. All of which combines to make the Thunder the team to beat in the Western Conference.
Playing great defense, or even talking about it, for that matter, is just a bonus. This team is going to go as far as Durant and Westbrook go. The Thunder are talented enough to go outscore teams.
"I just told myself to be aggressive," Durant said. "That's all I can say for that. I think that's what my team needed. My teammates set me up and I just tried to finish."
So, while the Grizzlies and Mike Miller (19 points off the bench) caught up in the fourth quarter, scoring 36 points, it really came down to whether Durant was going to make a basket, not whether anyone in Thunder white and blue was going to make a stop. Luckily for OKC it got some of both. 
Starting at the 2:29 mark, Memphis missed four of its next five shots.
After Jackson missed badly on a 3-pointer with with 4:01 to play, Memphis got a layup off a missed 3-pointer and cut the lead to four points. Then the Thunder figured out how to get the ball to Durant. He turned it over with 3:23 left, but Memphis missed on the next possession and Durant didn't. 
His 11-foot jumper gave the Thunder a six point lead. His 17-foot jumper the next time the Thunder got the ball pushed the lead back to five. With 1:24 to go. Next possession: Another Durant jumper, followed by a pair of free throws with 22.5 seconds left.
It was the kind of performance that, doesn't save a season, but refocuses it.
"You guys seem to want all of us to press that panic button," Brooks said."That didn't come into our minds. We executed down the stretch. We got good looks."
And now there's a good feeling. The Thunder won for the first time since the All-Star break going with the same formula that got them to the NBA Finals two seasons ago. It worked then. It works now.
Follow Andrew Gilman on Twitter: @andrewgilmanOK
---