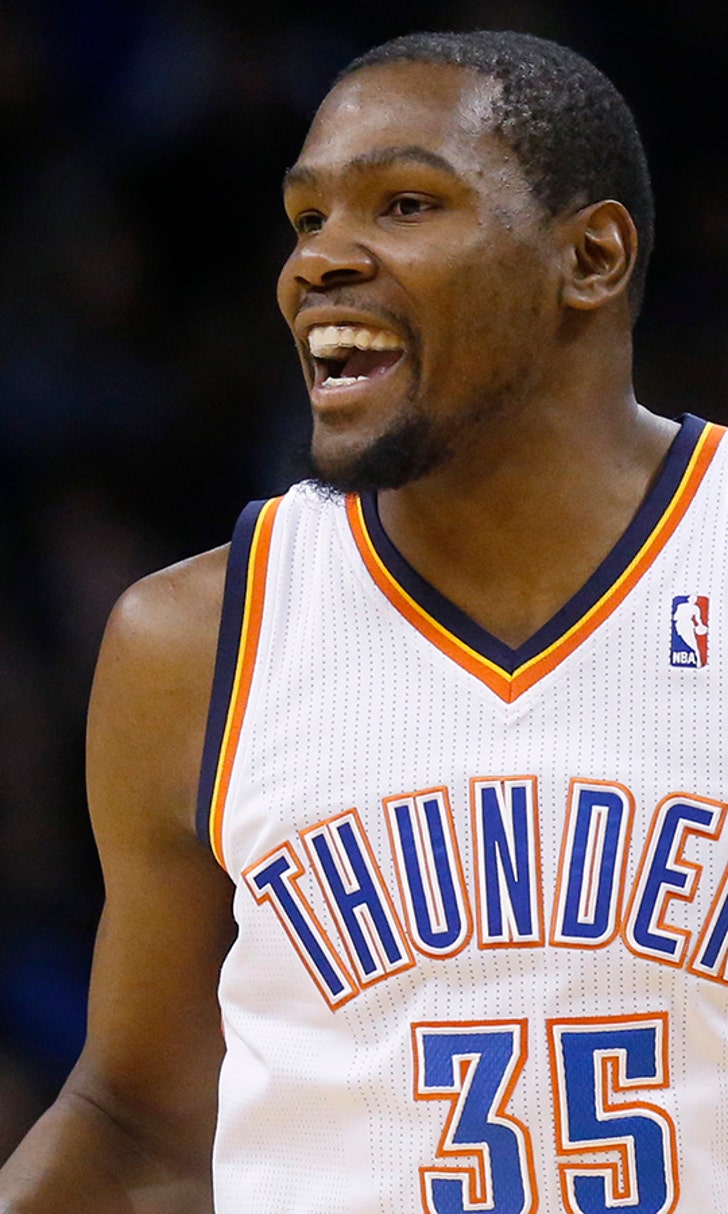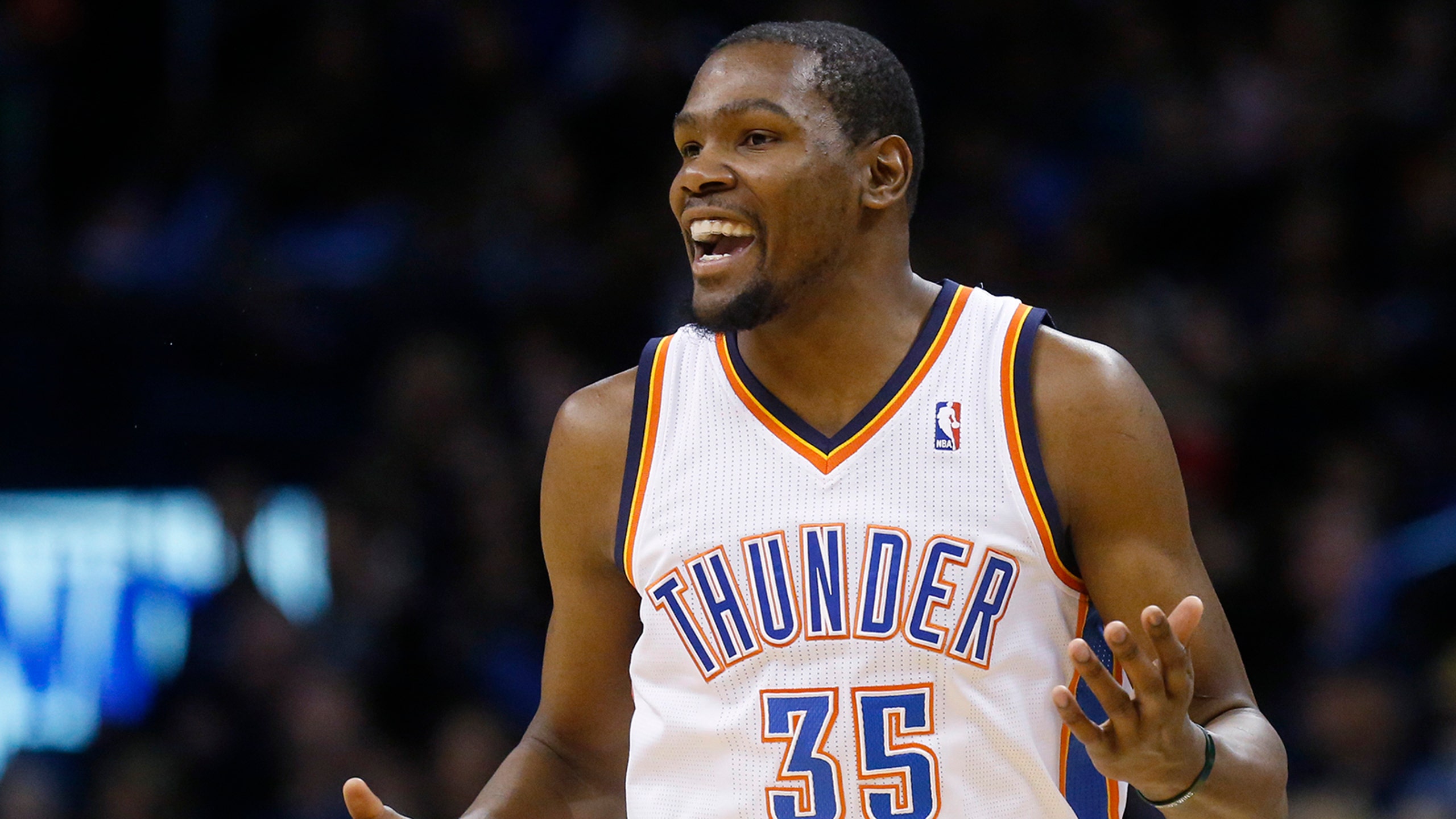 Durant goes off to lead Thunder past Trail Blazers
BY foxsports • January 21, 2014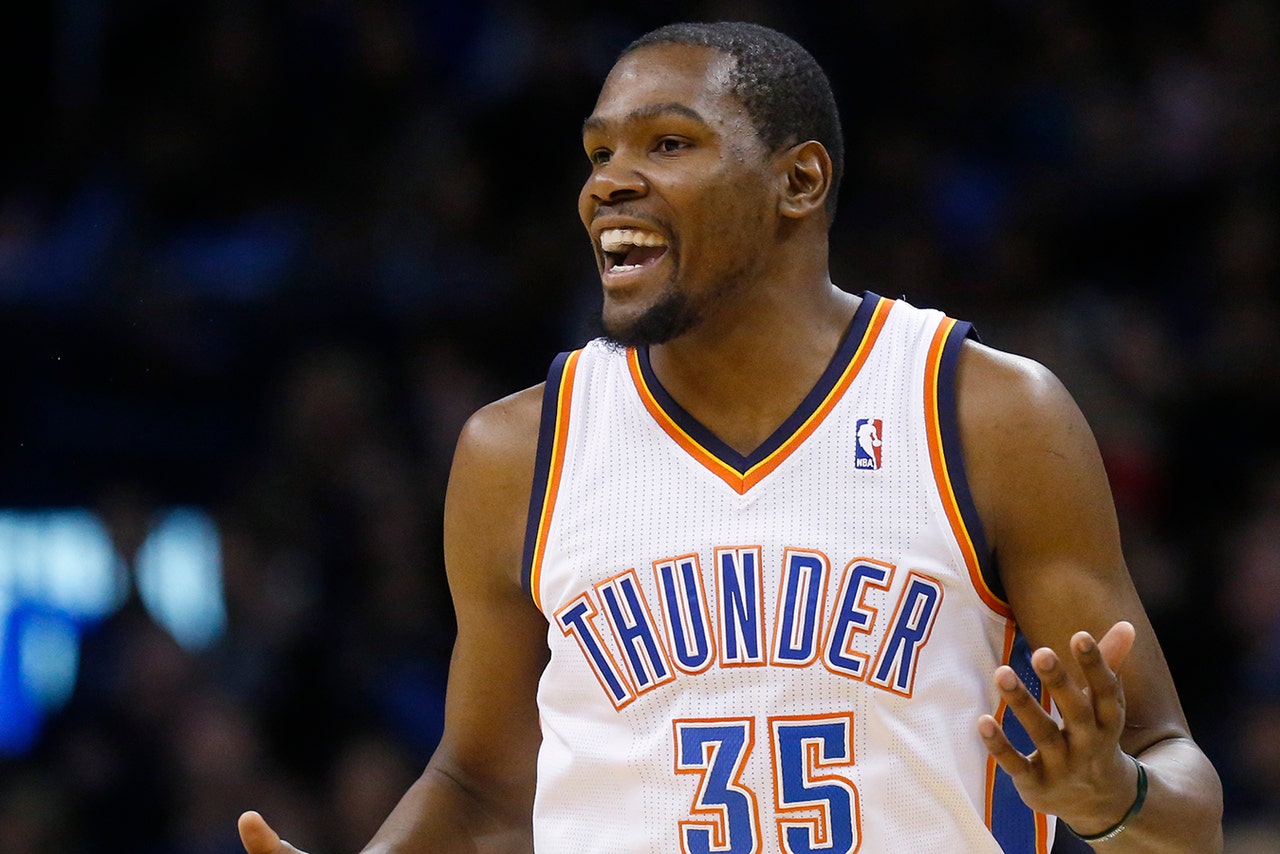 OKLAHOMA CITY – All of the compliments, Kevin Durant.
All of them to you in a game the Thunder didn't have to have, but it felt like they needed, you know, playoffs in January sorta stuff against a Portland team they hadn't beaten in two tries this season.
All of them to you, Kevin, for not just accepting the burden of carrying an Oklahoma City team as Russell Westbrook recovers yet again from another knee surgery, but embracing it. 
All of them your way because Tuesday Durant flared up when everyone knew he had to and exploded when it mattered most,.
He didn't just carry the Thunder to a 105-97 victory, he lifted the team to the top of the Western Conference, made himself the lead story to every evening highlight show and somehow enhanced  himself, his team and this town once again to status: Immeasurable.
Too much? Too sappy? Well, then you didn't see it.
Durant was 17-of-25 from the field. He made six-of-seven 3-pointers and scored 11 points, including three 3-pointers in the last 3:45 after he got a technical foul which nearly sunk the Thunder.
An eighth game in a row with 30-plus points, a fifth time this season where Durant has gone for 40 or more. A stunning 46 points against Portland where he turned fans into admirers, players into fans and spun the  internet to trend in his general direction.
"Incredible," said guard Thabo Sefolosha. "Sometimes you're on the floor, you look at him and you go, 'OK.' You catch yourself watching him just a little bit."
Yeah, something like that. We were all watching just a little bit. 
Only the MAPS project, an Oklahoma civic improvement plan passed by the taxpayers 20 years ago to revitalize OKC has done more goodwill for the city than Durant has. The Hornets played here, then owner Clay Bennett moved a team here, but Durant made it all so. He led the team from the worst in the league to the playoffs and then to The Finals. He donated $1 million to tornado relief, played flag football during the strike season and then laced up his shoes for a pick-up game at the YMCA on an off day. 
No, not all of that happened Tuesday against Portland, but it seemed like it. All of the stuff you love about Durant seen in a fourth quarter full of  improbable 3-pointers, huge smiles and high-5s to teammates who saw what we saw. 
This started six seasons ago in Oklahoma City, but Durant's recent showing began eight games ago when the Thunder were floundering around in the middle of a 5-5 stretch. Now they've won four in a row, but not just four games, a memorable rally against Houston where the Rockets scored just 19 in the second half, a 54-point-you'll-always-remember-where-you-were performance from Durant in a win over Golden State, a rout of Sacramento and then Tuesday night's masterpiece. 
"There's not much I can say," coach Scott Brooks said. "He's an amazing young man and how he plays and represents our city. He cares about doing the right things. Smart player. Great teammate. I love the guy and he represents us and he does it every night. That's not easy to do."
Especially when the other guy knows it's coming. Durant's the league MVP this year but unlike LeBron James who has teammates who have a track record of contribution and more, Durant is solo. Oh, there are good players on this team like Serge Ibaka and Reggie Jackson. Role players like Derek Fisher and Jeremy Lamb are helpful, but no one in Thunder blue and white has a history of consistency beyond Durant and the injured Westbrook.
He's doing all this solo, and that's what Brooks was saying without saying it. It isn't easy. 
"There's no question we are seeing an amazing player," Brooks said. "That's one of the big reason I started wearing my glasses." 
Anyone could have seen it Tuesday. Durant went five-of-six in the fourth quarter and made all three of his 3-pointers. OKC was down five points with 3:23 to go, but finished the game on a 15-2 run, getting 10 points from Durant and a smile to the bench after the final 3-pointer with 48 seconds left.
"I'm just having fun out there," Durant said. "I'm blessed to play this game. When you play this game and you see your teammates happy for you, all you can do is smile. It's a great feeling. A group of brothers supporting you."
It's not a group of brothers, Kevin. It's a city.
Follow Andrew Gilman on Twitter: @andrewgilmanOK
---