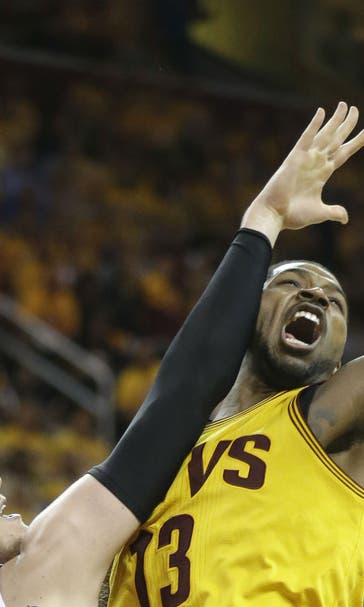 Dribbles: Cavs simply need more of same for sweep victory
May 25, 2015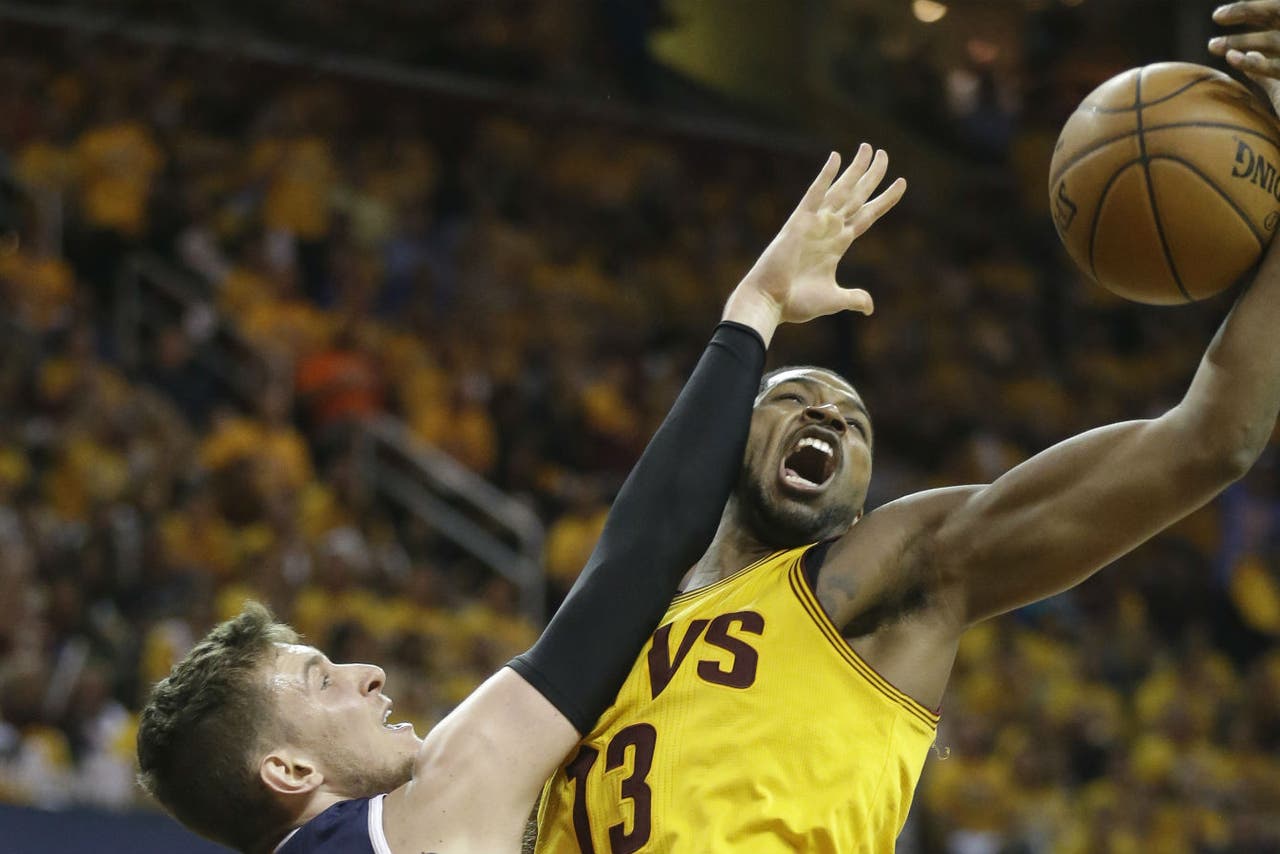 CLEVELAND -- Random dribbles on the Cavaliers, who can sweep the Atlanta Hawks and advance to the NBA Finals on Tuesday:
1.  LeBron James was horrid at the start and fantastic at the finish of Game 3. Overall, it was one of the most bizarre games I've ever covered. And I've been doing this since we filed stories on chisel and granite.
2. James started 0-of-10 from the field in the Cavs' 114-111 overtime win. Then he finished with 37 points, 18 rebounds and 13 assists. Of all of those, I'm probably most impressed with the 13 assists -- because no one else was really hitting their shots, either. The Cavs were just 41 percent from the floor, but LeBron found a way to find the open man and create baskets anyway.
3. Everyone talks about Matthew Dellavedova and the incident involving Al Horford (more in a minute), but Delly also scored 17 big points. He didn't have a great shooting night, but the shots he did make were important. With Kyrie Irving out, the Cavs need his scoring.
4. OK, on to the incident. First, I should say that Horford truly is one of the nicest people in the NBA. He even once complimented Cleveland fans on Twitter. That was back in 2012, when the Cavs were horrible and the Hawks came to The Q and kicked their butts. Horford tweeted: "Cleveland fans are great! Very impressed with the way they support their team!"
5. But that was three long years ago, and fans typically would rather hate than love. Some actually thrive on hate. So Horford got quite an earful for his elbow to the head of Dellavedova, and it's fair to say Horford had that earful coming.
6. Some people insist Delly can be a "dirty player," or that he's somehow at fault for the Bulls' Taj Gibson and now Horford being ejected. Well, guess what? Those people need to grow up. Delly is a scrappy player. He is an irritator. Yes, he does it on purpose. He takes you out of our game. Opponents hate how he hustles. Opponents hate how he won't give them an inch. Opponents hate how he doesn't care who you are or how big you are -- he won't be intimidated or show any respect. Nor should he.
7. As LeBron James said, "Delly is probably the toughest guy on the team."
8. After the game, Horford and Hawks forward DeMarre Carroll did everything they could to discredit Delly's effort. They whined and pointed fingers. That's OK. It was an emotional game and the Hawks' season is no more than a game or two from ending. It was a great season for the Hawks. They put a capital "T" in teamwork. They should be commended. But it's over. And they're frustrated.
9. More LeBron on Dellavedova: "This guy, he works his tail off every single day. He beats the odds, he comes to play as hard as he can every single night. If they're focused on Delly, then they're focused on the wrong thing. ... People are trying to give him a bad rap. He doesn't deserve it, and I don't like it."
10. Moving on, the Cavs truly did hang on by the hair of their chinny chin chin. I suspect Game 3 will be as close as the Hawks will come. They played out of their minds effort-wise and point guard Jeff Teague (30 points, seven assists) was fantastic. But overall, they miss the injured Kyle Korver, and mostly, the Cavs' defense is just too good.
11. Plus, the Cavs have Tristan Thompson and the Hawks don't. He set up LeBron's big 3-pointer in the corner in overtime, which all but broke the Hawks' spirit. Thompson also came up with a monster block near the end of regulation. He had an otherwise "quiet" night (10 points, seven boards), but is making big plays when they're needed most. That's what champions do, and you can tell LeBron has really rubbed off on younger players such as Kyrie Irving, Dellavedova and Thompson.
12. And man, J.R. Smith (17 points) and Iman Shumpert (15) just keep contributing in so many ways, too. I especially love watching James Jones in there, burying 3-pointers and deflating the other team's spirit. And big center Timofey Mozgov is always active, always jumping, always protecting the basket. I just wish he'd play a little more, especially near the end of games.
13. But as I always say, David Blatt knows way more than me and his team keeps winning. The Cavs are 11-2 in the playoffs with just one road loss. With no Kevin Love and a hurting Irving (who has missed the previous two games), you can have nothing but respect for Blatt and the decisions he makes.
14. I actually had a Twitter follower/Cavs fan complain about the coach after Game 3. Clearly, the follower has never heard of this word: "Scoreboard." Sorry, but in this business, that's all that matters. No one cares how you get the job done. Just get it done. Just win. Blatt's team is doing that and doing it a lot. He deserves a ton of respect. End of discussion.
15. Back to Kyrie. May as well sit him again. No way do the Hawks win four straight. They just don't have the firepower right now.
---