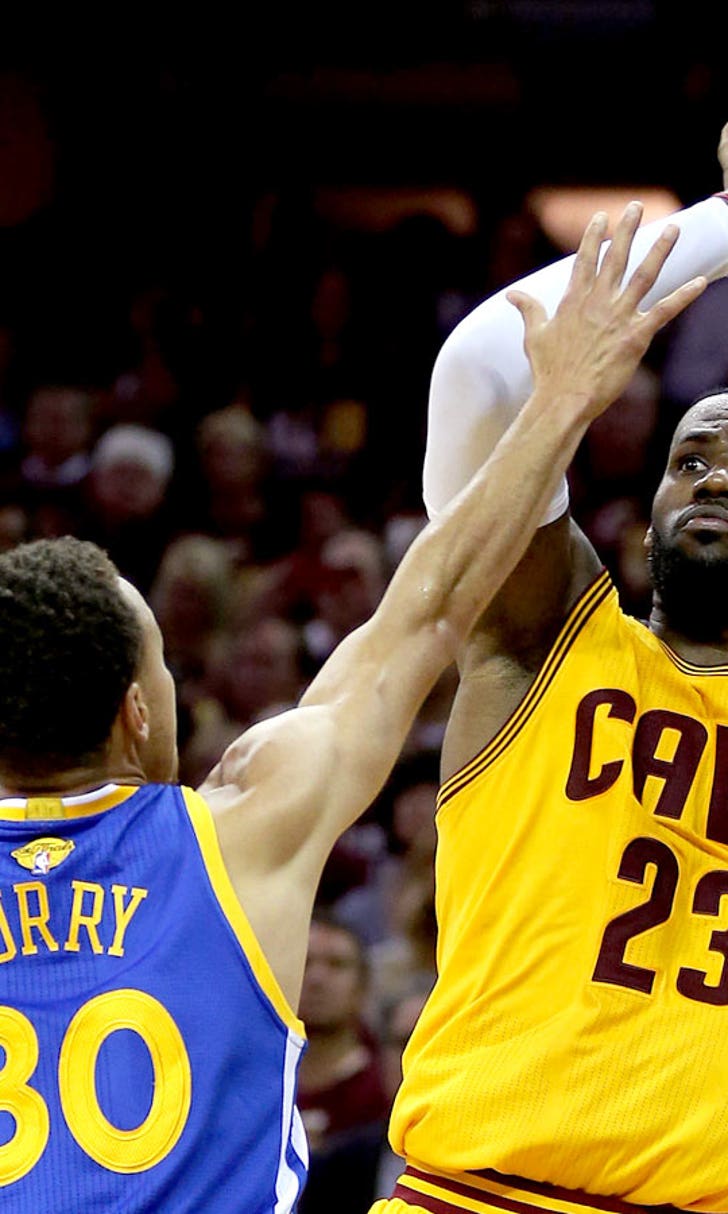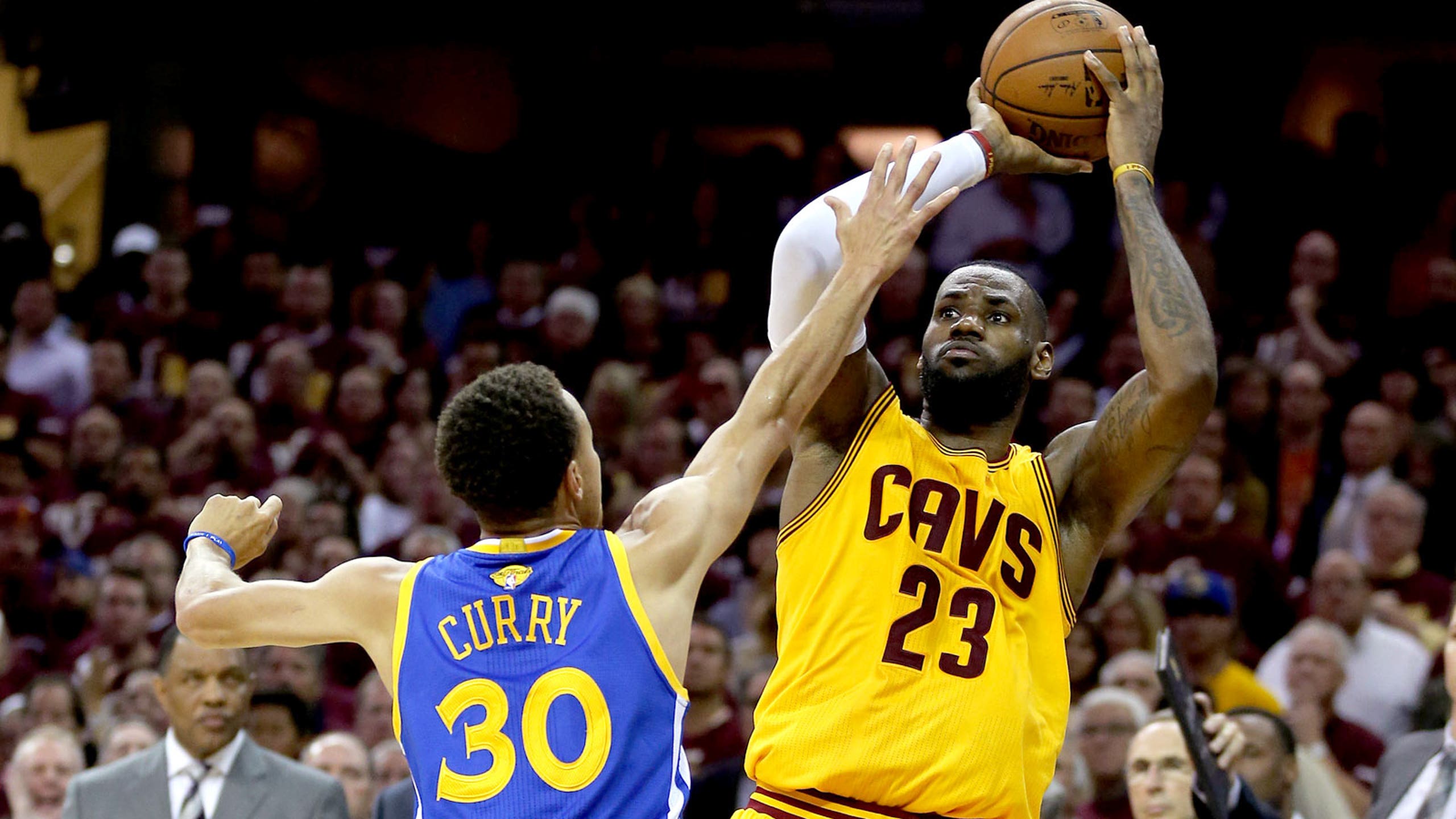 Dribbles: Cavs may need MJ-like showing from LeBron
BY foxsports • June 14, 2015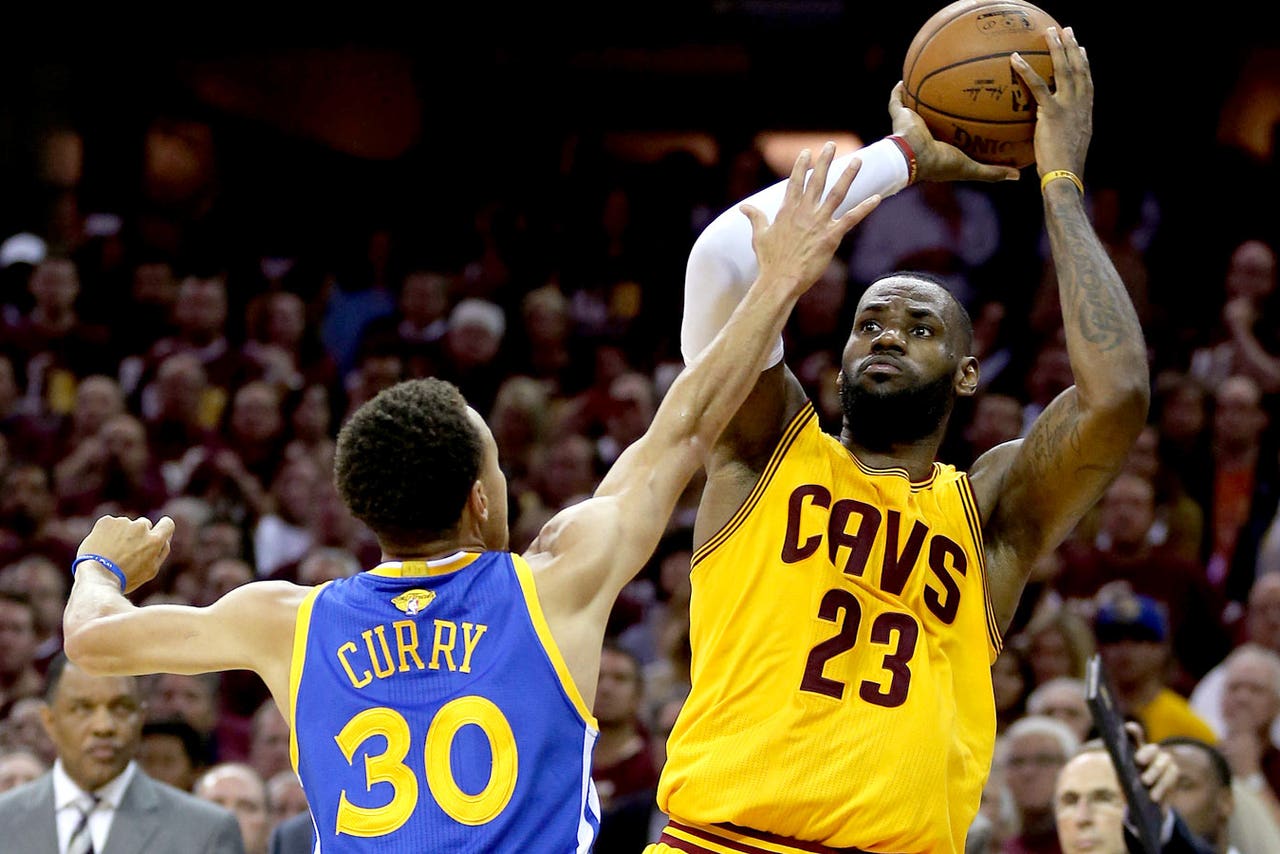 Random dribbles before Game 5 of the NBA Finals between the Cavaliers and host Warriors on Sunday:
1. On June 11, 1997, Michael Jordan had no business being on the court. It was Game 5 of the Finals, with Jordan's Bulls playing the Jazz. The series was tied at 2-all and the game was taking place in Utah. Jordan was nauseous and sported a temperature of 103.
2. The previous night, Jordan's sleep was interrupted by sweating, aching and shaking. Better still is this descriiption from NBA.com's Steve Aschburner, who covered the game: "What I recall from my vantage point in the auxiliary media seating -- at the top of the Delta Center's lower bowl -- was that Jordan appeared loose, jangly, weak. His whole demeanor seemed a little fuzzy around the edges, his cuts not sharp and, even from that distance, a vacant sort of expression on his face. Only in close-ups, though, and mostly in replays could I see how glazed over his eyes were and how profusely he was sweating."
3. To put it mildly, Jordan was sick. But Jordan was also the game's best player. And this was his team's biggest game. Things were tied at 2-all. It was Game 5. It was on the road. Michael Jordan delivered.
4. It was truly an amazing game, a groundbreaking performance -- as Jordan finished with 38 points on 13-of-27 shooting, as well as seven rebounds and five assists. Jordan and the Bulls also overcame a 13-point deficit in the first quarter, muscling their way to an 88-85 win. Again, it all happened in Game 5 on the road.
5. Now, LeBron James isn't sick (as far as I know). But he is the Jordan of this era. And James' Cavs are in a similar predicament. The Finals are tied 2-all with LeBron's team on the road. And for the Cavs to have a real chance, LeBron will likely need to give another MJ-like performance. A performance such as the one MJ gave with the flu.
6. Of course, it doesn't take a basketball genius to see that. James scored 44, 39 and 40 points, respectively, in the first three games. The Cavs probably should've won the first and did win the next two. But an exhausted James went for just 20 points in Game 4 -- and the Cavs lost by 21. Feel free to do the math on that.
7. OK, I'll do it for you: For the Cavs to have a real chance, James probably needs to score 40. Or at least something close.
8. This isn't intended to criticize LeBron for failing to hit 35 or more in Game 4. Heck, Andre Igoudala's best game was about the same as LeBron's worst, and now the national media is ready to hand the Warriors swingman the Finals MVP trophy. But Iguodala was indeed good. For Iguodala.
9. The point is this: Without Kyrie Irving, without Kevin Love, the Cavs haven't been getting the consistent help they need from guys outside of James. Yes, it would be nice if J.R. Smith or Iman Shumpert or Matthew Dellavedova (again) got going from the perimeter. It would be nice if someone would help carry the scoring load. But the Cavs can't rely on that. They have to try to do what got them here -- defend like crazy, and keep the ball in LeBron's hands.
10. By the way, I wonder how the Warriors would fare if they had to play the Cavs without Klay Thompson and Draymond Green. I mean, imagine if the roles were reversed. Imagine the Warriors without Thompson and Green, their top two scorers behind Steph Curry. Imagine those Warriors having to play the Cavs with all the Cavs' best players healthy.
11. In that situation, I bet the Warriors would be a lot worse off than the Cavs are right now. It would likely be over.
12. I'm sure someone will have something to say about that. "Sam, why are you making me depressed?" Or maybe, "Sam, that sounds like sour grapes." Why people feel inclined to tweet that stuff is beyond me. I never want my readers to feel anything but happiness, joy and that this Amico guy is trying to make the world a better place. Or something like that.
13. Anyway, I'm rambling. Back to the game. Everyone seems to be saying Cavs coach David Blatt needs to use the bench more. I'm in agreement with that -- to a point. I don't see the harm in playing Shawn Marion or Mike Miller or Kendrick Perkins for three minutes or so. But I can also admit there's a reason I write about this game and don't coach it. Blatt knows more than me.
14. So while I wouldn't mind seeing Blatt go deeper in the rotation, I also am a firm believer in not panicking after one bad game. I believe in sticking with what's worked. Warriors coach Steve Kerr made a panic move in starting Iguodala and going small for Game 4. Yes, the Warriors won. But I believe it had way more to do with the fact the Cavs couldn't shoot straight.
15. It's true, as the Warriors afforded the Cavs a whopping 29 uncontested shots. And by "uncontested," I mean no defender within 3½ feet of the shooter. That stat comes straight from the NBA, and that is a LOT of wide open looks. But the Cavs failed to capitalize, making just six of those 29. But as LeBron said, "We'll take those looks again."
---