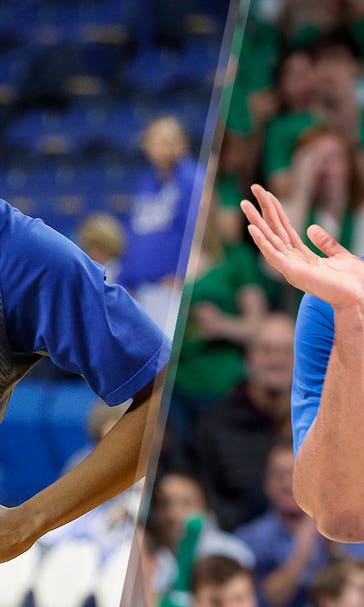 Drafting Towns or Okafor provides Wolves frontcourt flexibility, intrigue
June 16, 2015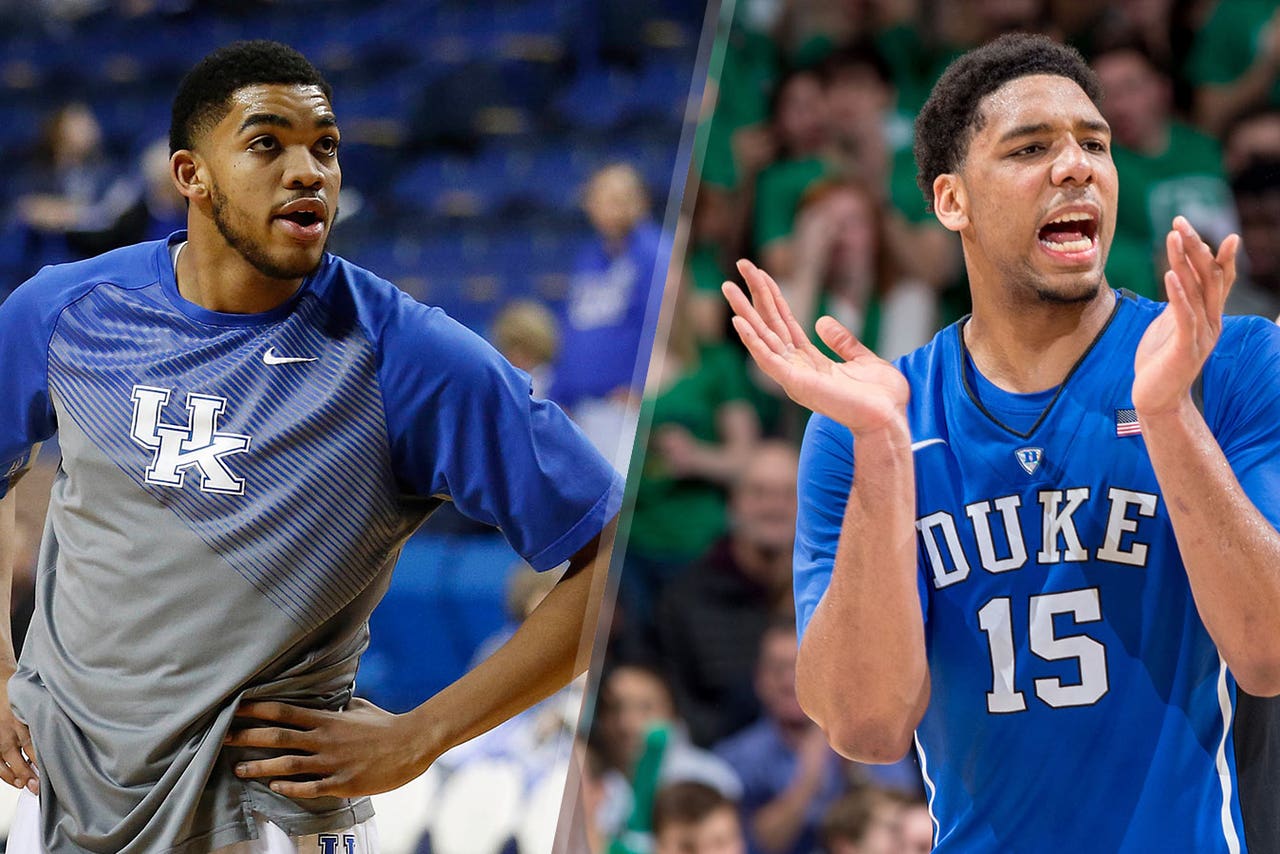 Consensus, conventional wisdom and just about every mock draft out there say the same thing: The Timberwolves will select either Karl Anthony-Towns or Jahlil Okafor first overall because such advanced centers come at a premium in 21st-century hoops. Both are 19 years old and extremely skilled for their relative youth, inexperience and sheer size. Okafor is 6-foot-11, 272 pounds, Towns 7-0, 248, and not since 1997 (Tim Duncan, Keith Van Horn) has the NBA seen a draft of this big-man magnitude.
Centers, in short, are hard to find. But none of this means versatility isn't valuable.
Assuming Minnesota doesn't buck the status quo and end up with either 2015 national champion Duke's Chicago-bred five man or Kentucky's do-it-all big from New Jersey, the Wolves will have six players on their roster that can play center, power forward or both. That's based upon a couple other contingencies: first, Kevin Garnett coming back for another season as the team assumes he will, and second, president Flip Saunders doesn't deal any assets to shake up the roster, which of course he could at any time.
Barring all hypotheticals, though, Minnesota's frontcourt rotation will look something like this next season (this is a non-prioritized list, not a depth chart).
-- Center: Nikola Pekovic, Gorgui Dieng and Towns or Okafor
-- Power forward: Garnett, Anthony Bennett, Adreian Payne and Towns/Okafor
Both top draft prospects are capable of playing the four and the five -- Towns because of his length, athleticism, outside shooting and ability to switch and guard different positions; Okafor because of his uncanny footwork and knack for attracting double-teams and, often, fighting through them to score anyway.
And that's where it gets tantalizing for Flip the Coach.
Towns could play a modern-day, stretch-four type role next to either Pekovic or Dieng. Dieng himself can play some power forward, too, giving the Wolves an array of options on each block.
Okafor would provide something similar, albeit with a different skill set. His throwback, back-to-the-basket identity conjures images of Tim Duncan, who lined up alongside center David Robinson during the Spurs dynasty's early days.
Going that big in a smaller-skewed, guard-oriented NBA could be a matchup nightmare, particularly at the offensive end.
But as Saunders has said, drafting first requires much more insight than mere positional fit. In addition to evaluating a player's upside and personality, it's incumbent upon the Wolves to determine who best belongs on the floor with long-term cornerstone Andrew Wiggins.
Without making ancillary moves, Minnesota faces a logjam at center and power forward if it indeed goes with Okafor or Towns. With a team option for 2016-17 on his rookie contract, Bennett's around for at least one more season. Payne and Dieng are in the same boat. Pekovic is productive when healthy but hasn't been able to stay on the floor throughout his career. Of those four, only Dieng and perhaps Pekovic have much trade value at this point.
But with such position depth and a No. 1 overall pick come flexibility. Any number of draft-day or other trades could include one or more of the above names, and some have speculated Minnesota will do some maneuvering and end up with guard D'Angelo Russell or Emmanuel Mudiay on June 25.
But that's little more than rumor at this point. And if the projections attached to Okafor and Towns are true, Saunders stands to be working with a dynamically useful frontcourt when training camp rolls around this fall.
Follow Phil Ervin on Twitter
---