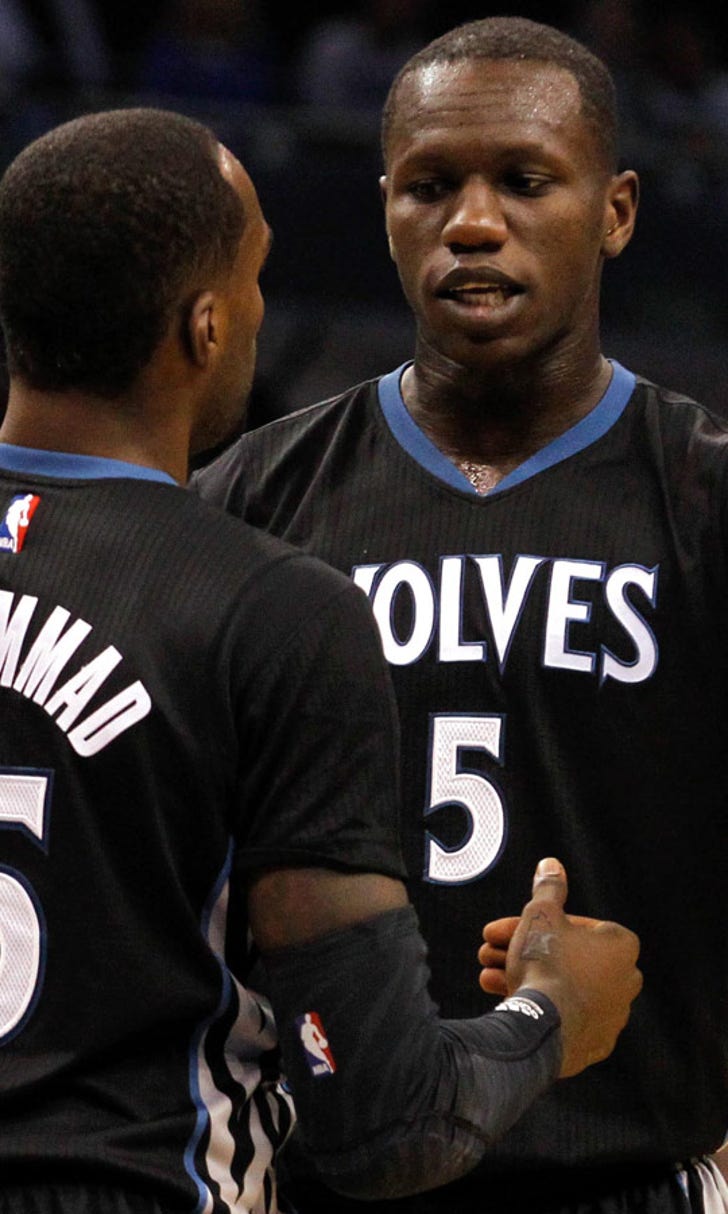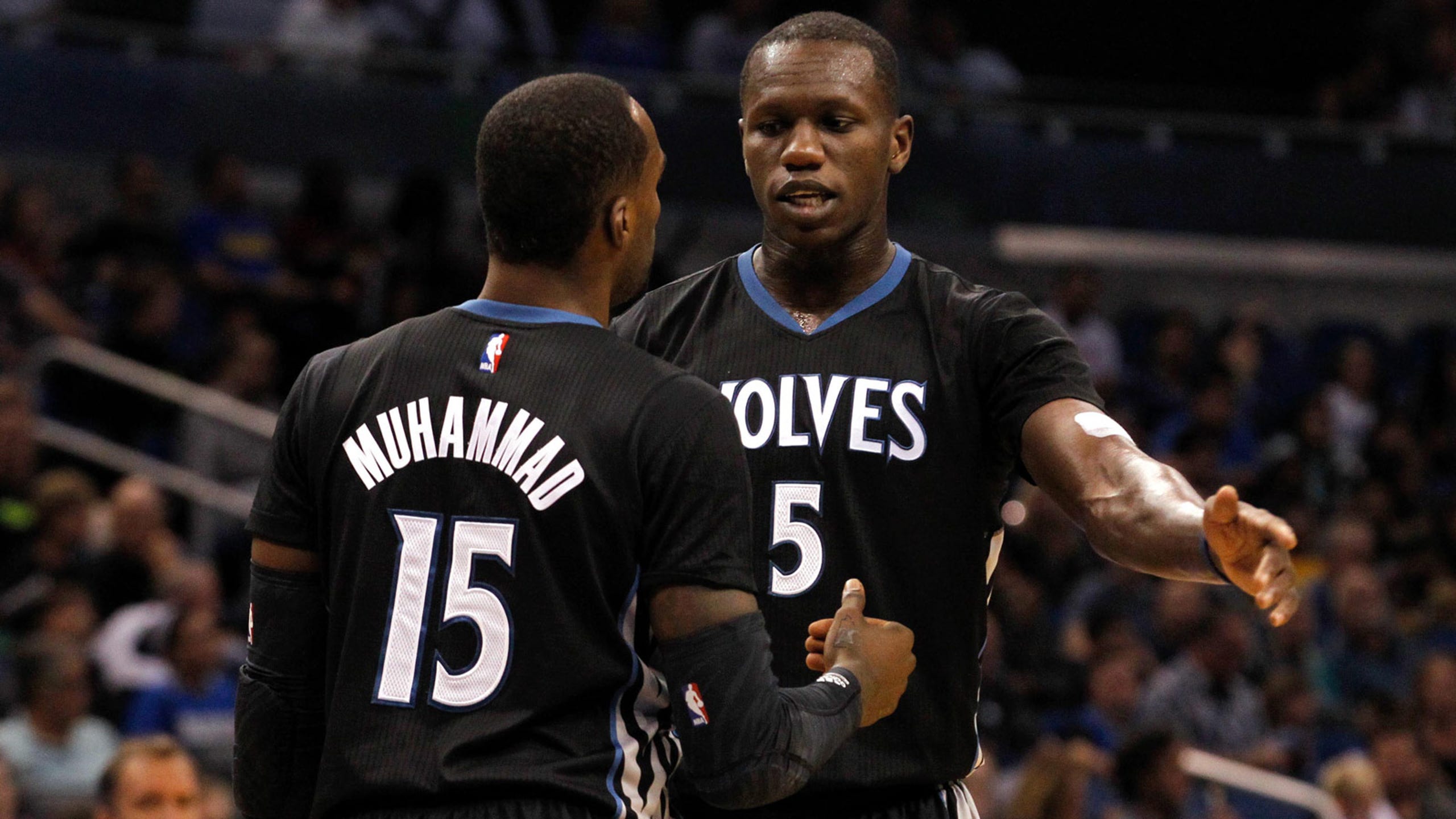 Drafting Muhammad, Dieng looking better one year later
BY foxsports • December 19, 2014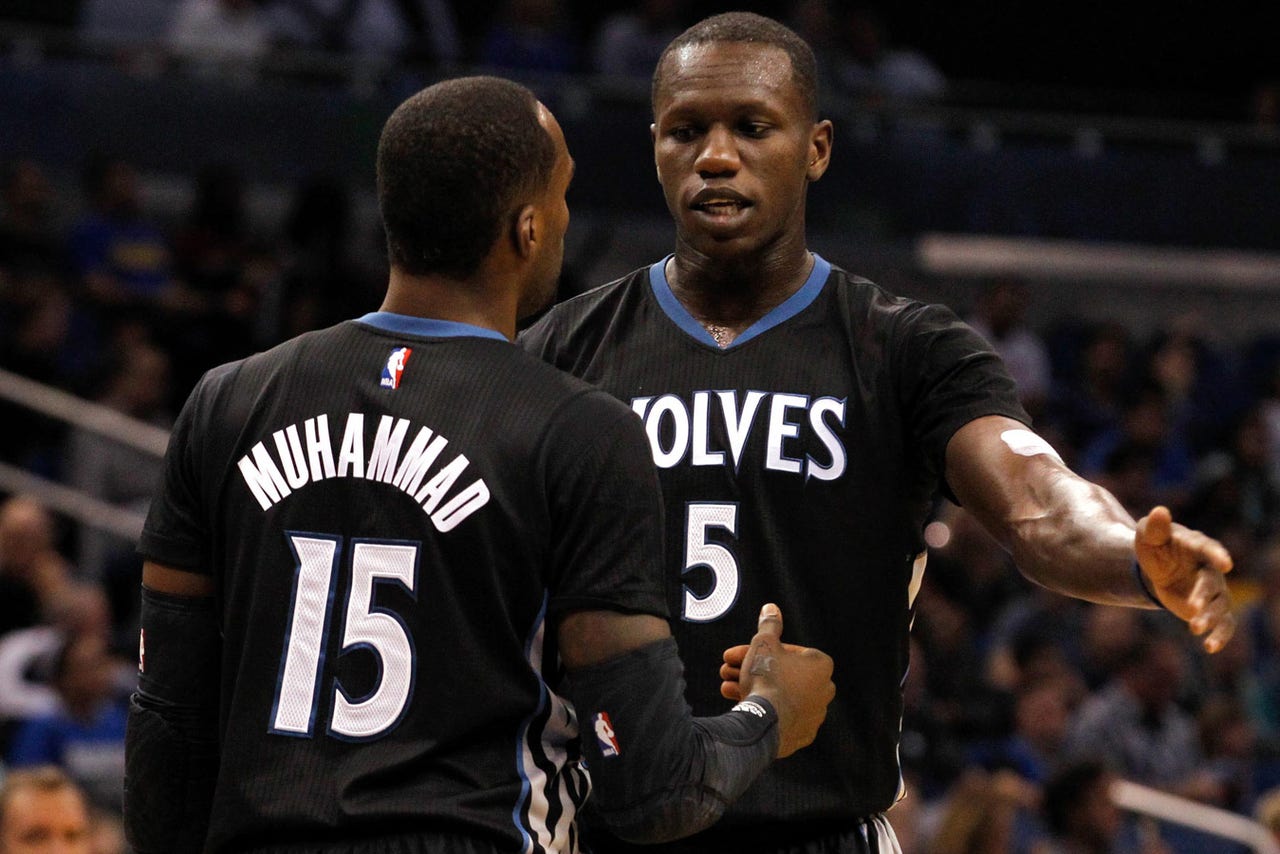 At one end, Gorgui Dieng rose and blocked Rasual Butler's point-blank shot, tore the ball out of the air and instigated the Timberwolves' break with a quick outlet pass.
At the other, Shabazz Muhammad took a nifty dish from rookie point guard Zach LaVine and threw down a ferocious dunk.
His team would go on to lose 109-95 on Tuesday night at Washington, Minnesota's third straight loss and ninth in its past 10 games. But somewhere in the recesses of his executive mind, Flip Saunders had to feel vindicated.
The coach and president of basketball operations' decision to deal the 2013 NBA Draft's ninth overall pick -- point guard Trey Burke -- to Utah in exchange for the 14th (Muhammad) and 21st (Dieng) selections was met with considerable scorn two summers ago. Neither player was toward the top of Saunders' wish list.
But more than a fourth of the way through the pair's sophomore season, at least, Saunders' spur-of-the-moment choice the night of Thursday, June 27 appears to be paying off.
"The uncertainty of the draft, we were criticized a lot for taking Gorgui, taking (Shabazz)," Saunders said. "Now all of a sudden, a year later, you talk around the league and I think probably 29 other teams in the league would love to have those two players on their team."
In a season characterized by development following the Kevin Love trade and hampered further by injury, Muhammad and Dieng have been Minnesota's two steadiest hands. Muhammad continues to assert himself as a fierce scoring threat, and Dieng is filling box scores with his post scoring, rebounding and ability to alter in the paint.
Coming off the bench and averaging just 19.1 minutes per game, Muhammad is scoring 12.4 points per game (third among players drafted in 2013) on 50.4 percent shooting. In the past seven games, he's averaging 18.9 points and four rebounds.
All while receiving acupuncture in his leg for a sore ankle and, more recently, dealing with back spasms.
"I think that shows a lot of toughness," Muhammad said. "Right now, I'm just trying to show that I can play despite injury. That takes a great mindset to do."
He's exhibited it, Saunders says, from Day 1. Even last year, coach Rick Adelman -- who barely played Muhammad -- noted his exemplary effort in practice. Muhammad also dropped 20 pounds and came back chiseled after five weeks of "chameleon training" in California this summer. The lighter frame has him jumping higher and able to stay on the court for longer stretches.
Two small NBA forwards have a better Hollinger player efficiency rating than Muhammad (21.82). Their names are Kevin Durant (28.41) and LeBron James (25.81).
"He probably plays as hard or is as aggressive as anybody in the league," Saunders said of Muhammad.
Dieng isn't all that far behind.
After coming on late last season and earning second-team all-rookie honors, the Senegalese center has picked up where he left off. His 8.1 rebounds per game are tops among 2013 draftees, and his 1.4 blocks per game tie him for second.
Dieng, too, had a busy offseason, staying in Minneapolis and working out at the University of Minnesota in between a trip home to Senegal and the FIBA World Cup in Spain. Whereas Muhammad lost weight, Dieng added some muscle to better contend with NBA centers.
Like last year, his opportunities have come with Nikola Pekovic out. Dieng has started the Wolves' past 15 contests, averaging 9.1 points, 8.9 rebounds and 1.4 blocks during that stretch.
"I think I've played OK," Dieng said. "I've been there, trying to play my game -- score the ball, rebound when I can and try and be a good passer."
Had Cleveland not won the first of two straight draft lotteries and gone with project power forward Anthony Bennett in 2013, Dieng might have never had the chance.
Saunders originally coveted a wing sharpshooter, particularly Georgia's Kentavious Caldwell-Pope. But with the surprise selection of Bennett turning over draft boards around the league, Detroit snagged Caldwell-Pope one pick before Minnesota. Scrambling, Saunders traded down, went with whom he deemed the best available talent in Muhammad, then picked up Dieng as a much-needed rim protector.
Strangely enough, Bennett is now their teammate in the Twin Cities.
As for Muhammad and Dieng, Saunders says they're both close to becoming everyday NBA starters. That, whether by fortune, foresight or some combination of the two, means they fit in with the long-term youth movement the Wolves entered into when Love was traded this summer and Bennett, Andrew Wiggins and Thaddeus Young came back in return.
Follow Phil Ervin on Twitter
---