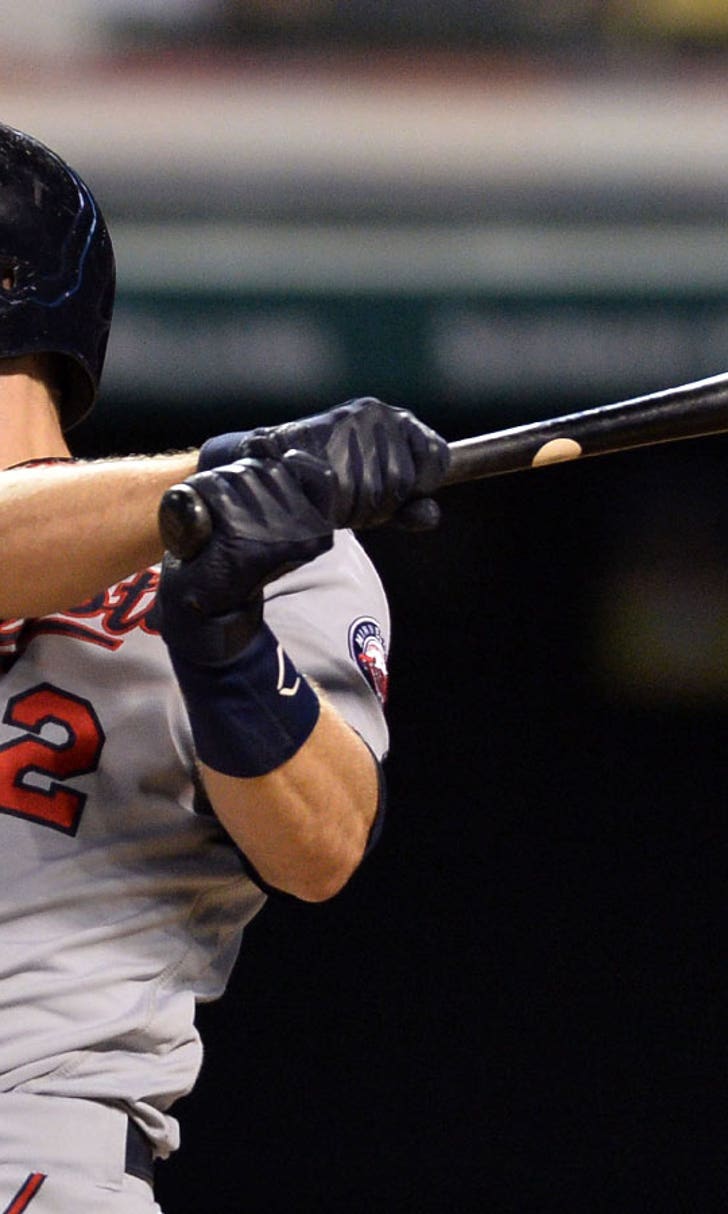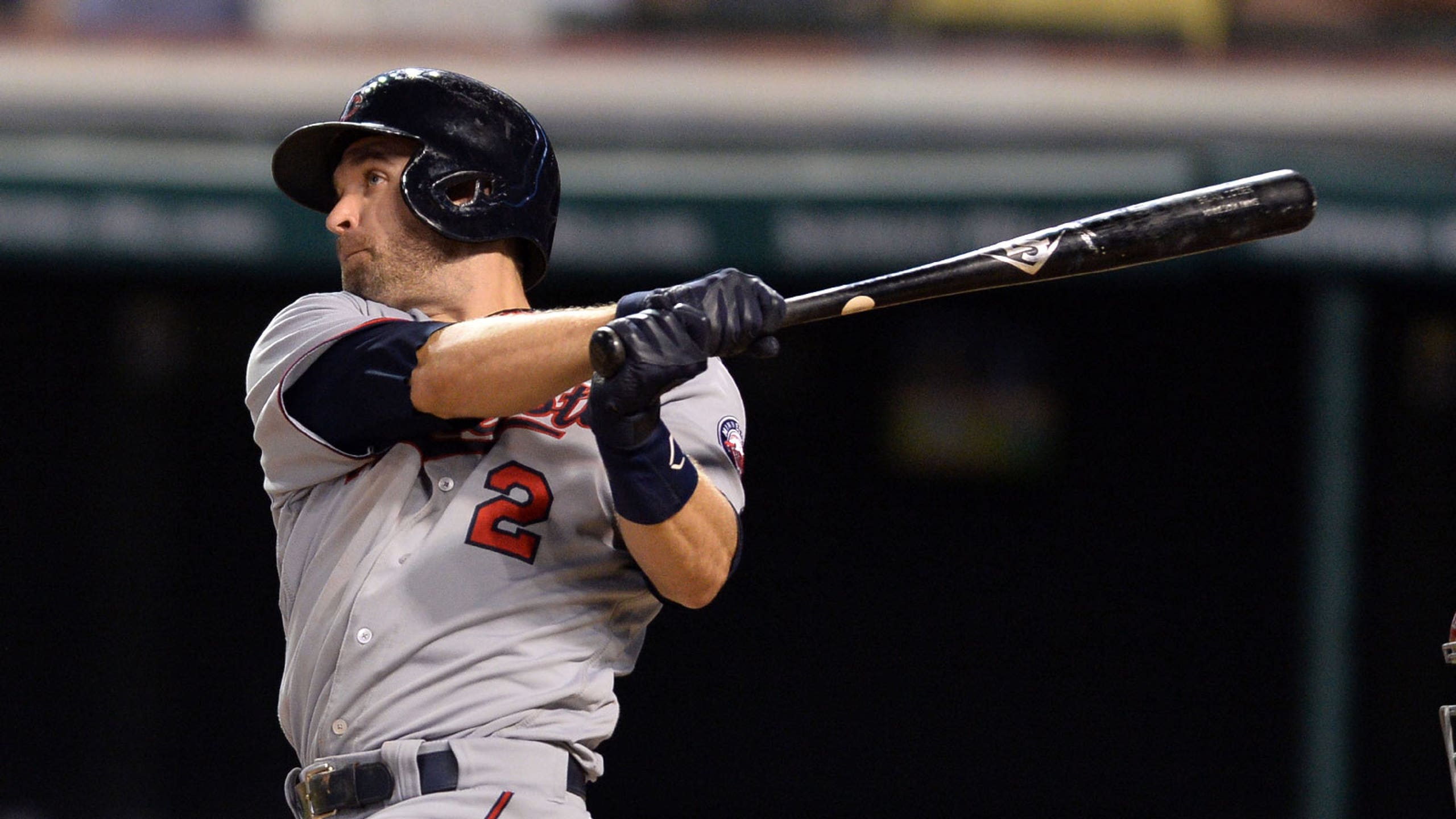 Dozier hits 13th homer of August in Twins loss
BY foxsports • August 31, 2016
CLEVELAND -- As the losses pile up, the pressure builds.
The Minnesota Twins haven't won in two weeks and manager Paul Molitor senses his team is close to breaking.
"It's been a long week," Molitor said after Minnesota dropped its 13th straight, 8-4 to the Cleveland Indians on Wednesday night. "We need to try to find a way to win a game at some point to just lighten the load. It's getting heavy. Guys are getting on the edge a little bit.
"You can feel it. It's building."
Corey Kluber struck out a season-high 11 and notched his seventh straight win for the Indians, who pushed the Twins within one loss of tying the club record.
Unbeaten since July 3, Kluber (15-8) allowed three runs and six hits in eight solid innings to tame the Twins, winless since Aug. 17. The right-hander is 7-0 with a 1.94 ERA in his last 10 starts.
The Twins' skid is the lengthiest in the majors this season, and also the second-longest in team history. They also lost 13 in a row in 1961 and 1982, when they dropped 14 in a row.
Molitor has been on both sides of streaks. The Hall of Famer was with Milwaukee in 1987, when the Brewers opened the season with 13 consecutive wins.
"We got to 20-3 and then we lost 12 in row so we gave them all back," he said. "We won 13 at the start, which was pretty cool, but you don't want to go from 20-3 to 20-15. It was tough."
So is this stretch for the Twins, who dropped to 49-84 -- the worst record in either league.
Brian Dozier hit his 32nd homer and Max Kepler connected for his 16th for the Twins, who rallied in the ninth by loading the bases with two outs against rookie Perci Garner, making his major league debut. Cleveland's Bryan Shaw came on and threw a wild pitch to score a run before striking out Dozier for his first save.
The Twins packed up afterward and headed home to begin a four-game series against the Chicago White Sox.
"I think I'll be relieved once we get a win, not because one guy hit a home run," Kepler said. "I just want to win right now. It's tough. This is the first time I've experienced it. It's not easy mentally or physically on any of the pitchers or the hitters."
Carlos Santana and Roberto Perez homered off Pat Dean (1-5), and Jose Ramirez hit a two-run double during a five-run fifth as the AL Central-leading Indians swept the three-game series.
For seven-plus innings, Kluber had little trouble against the AL's worst team. The 2014 Cy Young Award winner, who followed up an 18-win season by losing 16 last year, struck out four of the first six batters and carried a 7-1 lead into the eighth, when Dozier tagged him for a two-run homer.
The Indians chased Dean in the fifth, when Perez homered, Santana hit an RBI single, Ramirez doubled home a pair and pinch-hitter Lonnie Chisenhall delivered a sacrifice fly off reliever J.T. Chargois.
Kepler's 418-foot shot to straightaway center tied it 1-1 in the third. It was Kepler's 11th hit -- and sixth homer -- against Cleveland this season. He homered three times at Progressive Field on Aug. 1.
The Indians took a 1-0 lead in the second when Abraham Almonte pulled a two-out RBI double inside the bag at third.
DOZIER'S AUGUST
Dozier finished the month with 13 homers, one shy of the team record for homers in any month. Harmon Killebrew hit 14 homers in June 1964. Dozier batted .302 in August and had 24 extra-base hits.
TRAINER'S ROOM
Twins: OF Danny Santana will likely miss the remainder of the season with a sprained left shoulder. Santana got hurt last weekend when he collided with teammate Robbie Grossman in Toronto. Molitor said Santana needs more than a month to recover and the team intends to shut him down rather than rush him back.
UP NEXT
Twins: Ervin Santana, the subject of trade rumors in recent days, will open a four-game series at home against the Chicago White Sox.
---
---