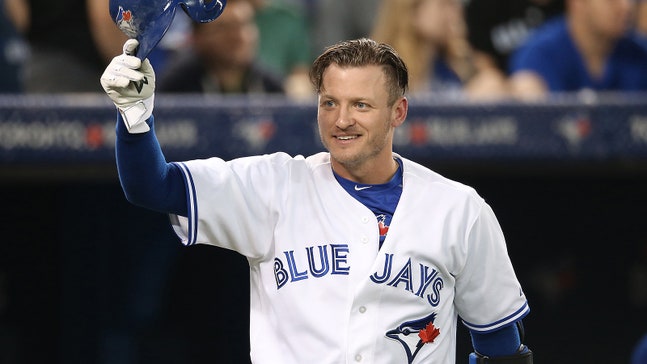 Donaldson is crushing it in Canada
Updated
Mar. 5, 2020 12:44 a.m. ET

For the past two years, there's been a dark horse in the MVP race. Though he never had a shot at winning the award with the likes of Miguel Cabrera and Mike Trout putting up the types of seasons they did, Josh Donaldson has nonetheless been one of the best players in baseball since the start of 2013. This year, we're witnessing an interesting development: a plate approach adjustment to take advantage of the offense-friendly Rogers Centre.
We've gotten accustomed to seeing a high level of production out of Donaldson since August of 2012: above average walks, a lot of power and elite defense. His offensive output was tempered in 2013 and 2014 by the fact that he had to play his home games in pitcher-friendly Oakland; the prevailing thought was that moving to the Rogers Centre in 2015 could possibly vault him into an even higher echelon among power hitters.
At the midpoint of this season, that's exactly what has happened. Take a look at Donaldson's yearly stats since the start of 2013, the first year he was the productive hitter we see today:
| Season | BB% | K% | AVG | OBP | SLG | ISO | BABIP | wRC+ |
| --- | --- | --- | --- | --- | --- | --- | --- | --- |
| 2013 | 11.4% | 16.5% | .301 | .384 | .499 | .199 | .333 | 147 |
| 2014 | 10.9% | 18.7% | .255 | .342 | .456 | .201 | .278 | 129 |
| 2015 | 7.7% | 19.7% | .295 | .352 | .529 | .234 | .322 | 142 |
A few things of note this season: Donaldson's strikeouts are up, his walks are down a fair amount and his power is more substantial. We tend to see walk rates improve as players age, so this is a little strange. What could be causing his drop in free passes? Let's look at Donaldson's stats away from Rogers Centre this year:
| Season | Home / Away | BB% | K% | AVG | OBP | SLG | ISO | BABIP | wRC+ |
| --- | --- | --- | --- | --- | --- | --- | --- | --- | --- |
| 2015 | Away | 11.0% | 19.2% | .227 | .316 | .360 | .133 | .257 | 92 |
His rate stats look in line with his career norms since 2013, but everything else has been pulled down in some part by bad batted-ball luck. How about his stats this year at Rogers Centre?
| Season | Home / Away | BB% | K% | AVG | OBP | SLG | ISO | BABIP | wRC+ |
| --- | --- | --- | --- | --- | --- | --- | --- | --- | --- |
| 2015 | Home | 4.7% | 20.2% | .352 | .383 | .670 | .318 | .380 | 186 |
There we have it. Compared to his overall stats the past two years, he's basically not walking, he's striking out more and he's hitting for much more power when he's playing at home. What we seem to be seeing is a different approach when Donaldson is in Toronto -- one that allows him to take advantage of his home park's natural power-boosting tendencies. Let's go into the reasons for the numbers.
First of all, Donaldson is hitting more balls in the air at Rogers Centre than when he's on the road. Take a look at a chart of his fly ball rates between his home at-bats vs. road ABs since 2013:
His home and road fly ball rates are fairly similar in 2014, but they are sharply different for both 2013 and 2015. He's hitting more fly balls at home than ever before, trying to use the park to his advantage. That's part of what has boosted his percentage of fly balls that go for home runs to a whopping 23.7% in Toronto this year. Given his strength (Donaldson has been top 50 in fly ball/home run distance the past two years), an increased fly-ball rate is one of the reasons for his increased power production.
He's also pulling the ball more at home than on the road. We can see this in his overall percentage of balls in play that have been pulled at home vs. the road -- 36.4% vs. 31.9% -- but we can especially see it in his fly balls and line drives that have been pulled. At Rogers Centre, he's pulled 41.4% of his fly balls and line drives, compared to just 25.5% on the road.
All of these tendencies might not be the sole result of Donaldson intentionally changing his plate approach; they could also be a reaction to the pitches he's seen when he's home. Take a look at the locations of the pitches Donaldson has seen at Rogers Centre versus away from home in 2015, courtesy of Baseball Savant:
That's a significant area of pitches on the inside-low part of the plate he's seen at home that he hasn't on the road. When coupled with the zones that Donaldson hits for power in, his Rogers Centre production starts to make a bit more sense:
Now we're getting a clearer picture of what's going on this year with Donaldson's home/road splits: He's seeing more pitches in the parts of the zone in which he likes to hit for power, and he's adjusted his plate approach to pull more of those balls in the air. That has resulted not only in a whopping 14 home runs at home -- tied for the second-most home runs hit in a player's home ballpark (Bryce Harper has 15) -- but also in an overall improvement in how often his hits go for extra bases.
In the end, this season for Josh Donaldson may represent just as much of a failure by pitchers to attack him in places where he won't hurt them as it does a successful home park approach at the plate. While he's punished the pitches he's seen at Rogers Centre, many of those pitches have been exactly where he wants them. Given his relative struggles on the road, we can probably expect a movement toward better numbers on his travels, and a slight power regression at home. The fact remains: Donaldson has quickly taken to his new home park on the back of an aggressive, power-centric approach that emphasizes pulling fly balls and line drives -- putting his overall offensive production into a very elite group of hitters.
---
---