Miami Dolphins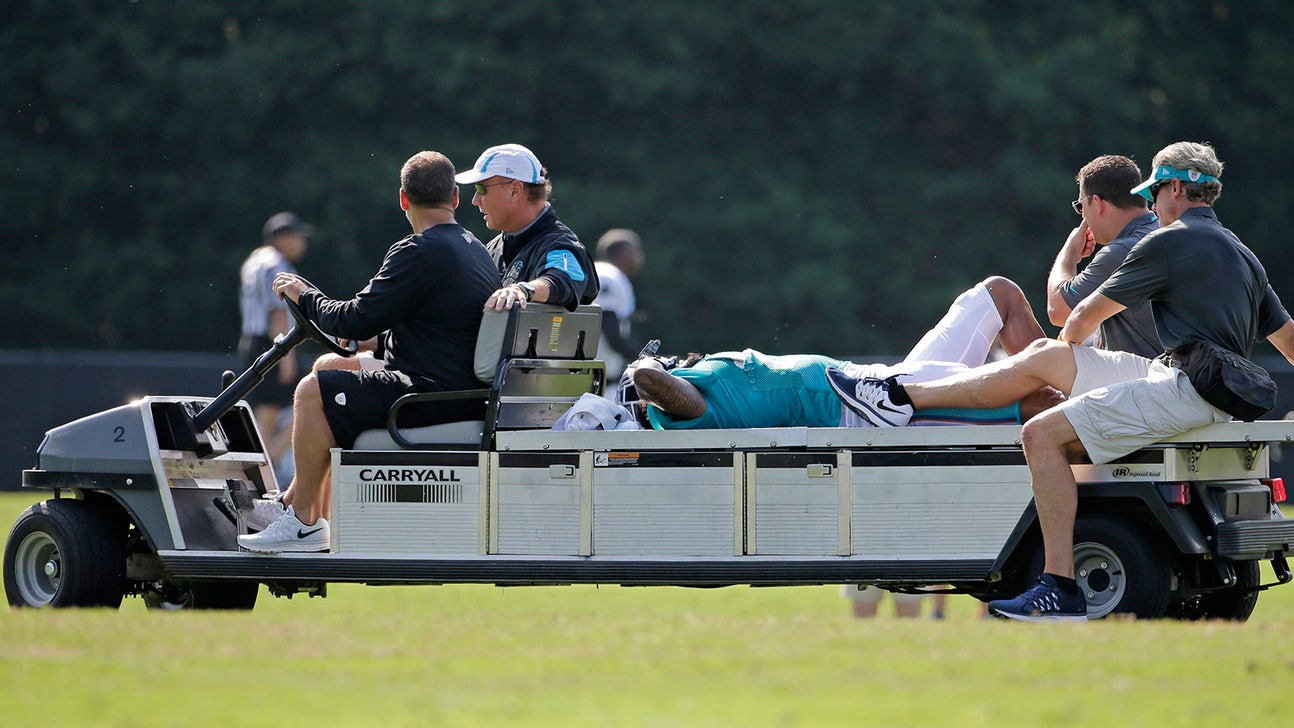 Miami Dolphins
Dolphins safety Louis Delmas out for season after tearing right ACL
Published
Aug. 19, 2015 2:21 p.m. ET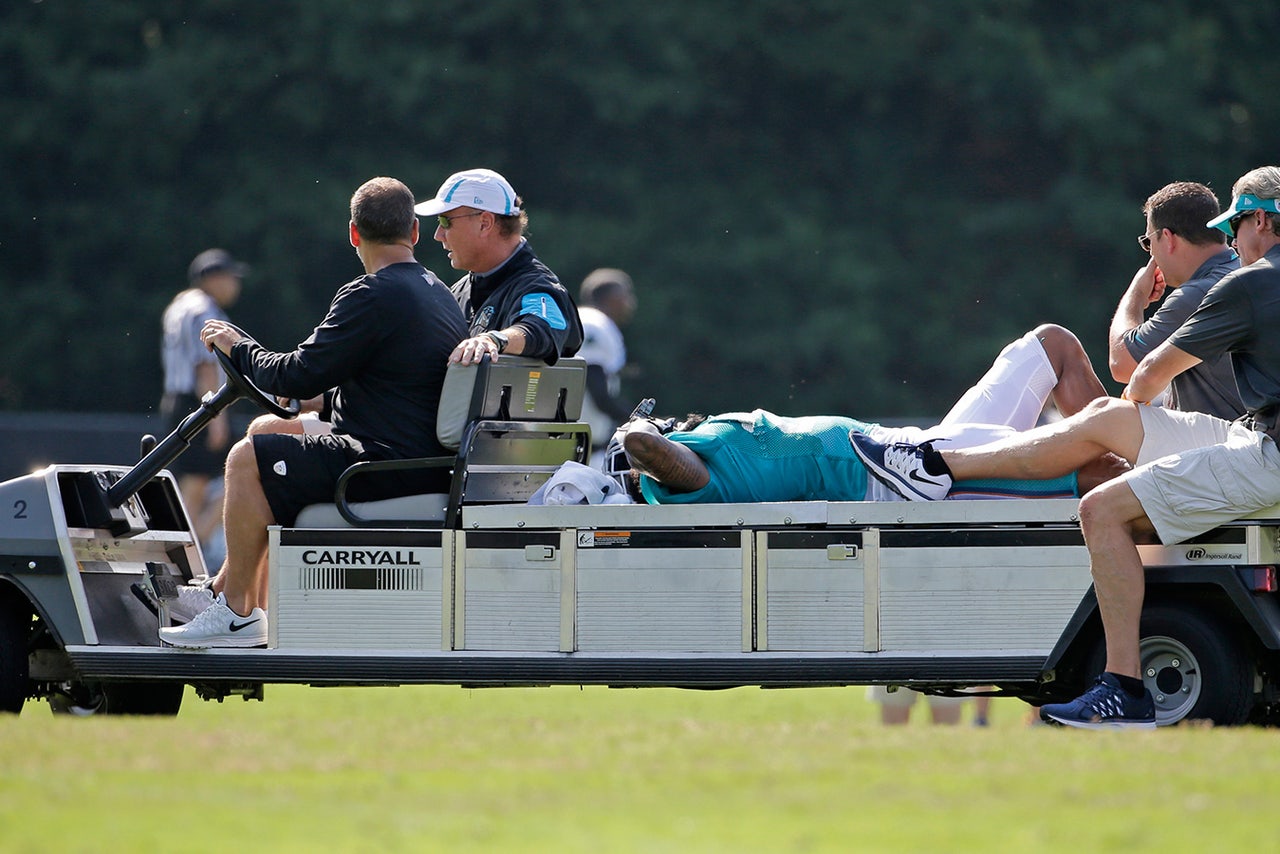 SPARTANBURG, S.C. (AP) -- Major injuries marred the first day of a joint practice between Miami Dolphins and Carolina Panthers on Wednesday.
Panthers wide receiver Kelvin Benjamin and Dolphins safety Louis Delmas both suffered torn ACLs, ending their seasons.
The Dolphins have not announced the extent of Delmas' injury, which occurred about 20 minutes after Benjamin went down. A person familiar with the situation told The Associated Press that for the second time in less than 10 months he has torn the ACL in his right knee.
The Panthers got the bad news on Benjamin later Wednesday.
"Obviously, we feel awful for Kelvin," general manager Dave Gettleman said in a press release. "He's worked tremendously hard to put himself in a position to have a strong year. We're confident he will attack his surgery and rehab with the same determination he has met all challenges before."
It's a tremendous loss for the Panthers, who are looking to win their third straight NFC South title and make a deep run in the playoffs. Benjamin had developed into Carolina's No. 1 receiver after setting franchise rookie records in 2014 with 73 receptions for 1,008 yards and nine touchdowns.
Panthers coach Ron Rivera was hopeful earlier in the day that that everything would be fine , saying Benjamin had a sprained knee. However, Benjamin was taken back to Charlotte, North Carolina where an MRI revealed the tear.
Benjamin was running a one-on-one route against Dolphins safety Reshad Jones when he made a cut toward the sideline and his knee buckled. He crashed to the ground and screamed in pain as he grabbed for the knee.
"He went to plant and make a swim move and without any contact just kind of went down," Rivera said. "It was unfortunate and it's one of those things that could have happened in any drill."
There didn't appear to be any contact with the Dolphins defender on the play.
Players from both teams gathered around Benjamin and took a knee.
Trainers attended to Benjamin for about two minutes before quarterback and close friend Cam Newton helped him onto the cart.
Carolina's offense struggled some after Benjamin left the practice.
Panthers wide receiver Ted Ginn Jr. said he talked to Benjamin after practice and told him he has the support of the players in the locker room.
"You've got to realize he's our No. 1 guy," Ginn said. "Not having your No. 1 guy on the practice field, it hurts you a little bit. I believe we have the guys behind him to step up and do whatever we need to do to fill the void right now."
Miami also will be once again looking for someone to replace Delmas, who first tore his ACL last December against Baltimore.
Panthers wide receiver Jerricho Cotchery was nearby when Delmas went down and saw him wincing in pain.
"I didn't see exactly what happened, but I saw him down on the ground," Cotchery said. "You saw the frustration from him and his teammates as well. I know he went down last year, too. That is a tough thing. This is what this game offers."
Other than the injuries, both coaches were pleased with the two-and-a-half hour practice.
"I thought we got a ton of great work against a really good football team, so I'm really pleased," Dolphins coach Joe Philbin said. "I thought our players handled themselves very well and I'm happy."
Philbin and Rivera called players together in a large group on the field before practice and warned them about fighting. Then the two coaches split up, each manning drills on adjacent fields. Rivera oversaw the Panthers offense against the Dolphins defense, while Philbin watched the Dolphins offense against the Panthers defense.
Both coaches had given one another authority to reprimand opposing players for fighting. The teams were able to hit -- and at times they hit pretty hard -- but there was no tackling allowed.
"Our players have to continue to be professional and handle themselves the way they did today and I'm sure everything is going to be fine," Philbin said. "... We came down here to compete and get better as a team, not to have barroom brawls.' I don't see it being an issue."
Dolphins quarterback Ryan Tannehill, who looked sharp most of the day, saw a lot his team can take away from the joint practice.
"They're a good defense, they play fast and challenge us offensively," Tannehill said. "We're going to be better from it today. They brought a bunch of pressures that we haven't seen in practice before, haven't prepared for. So it's going to be great for us to take a look at those on tape and be ready for it the next time."
---
---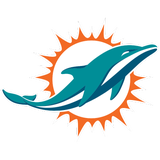 Get more from Miami Dolphins
Follow your favorites to get information about games, news and more
---