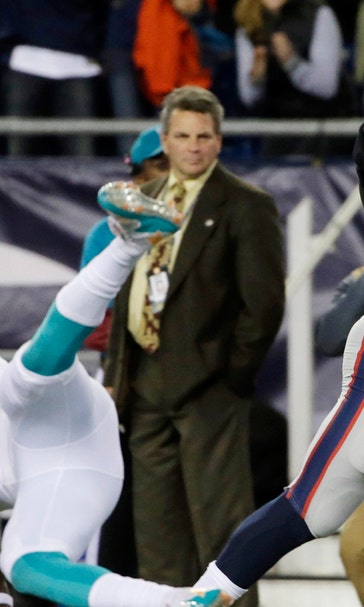 Dolphins' resurgence hits roadblock in blowout loss to Patriots
October 29, 2015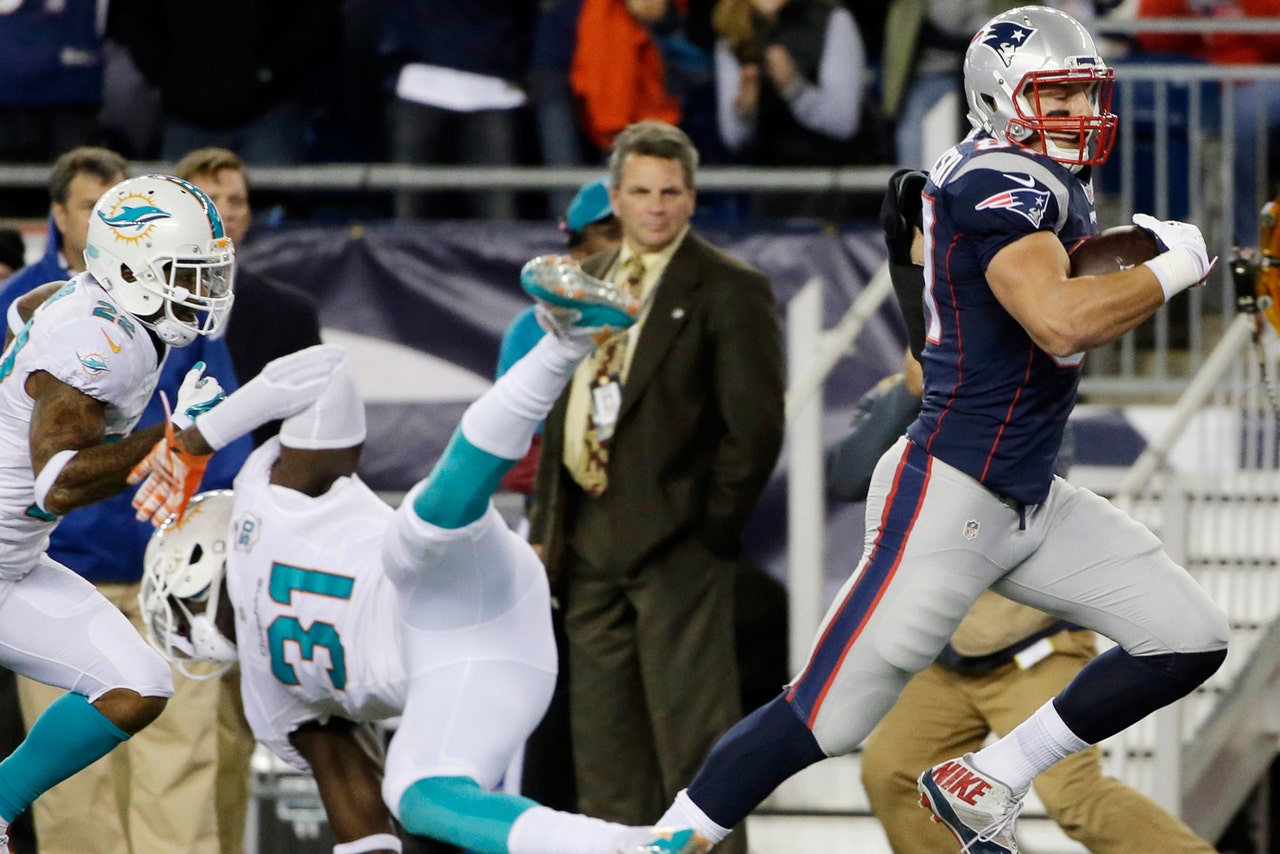 FOXBOROUGH, Mass. (AP) -- Dan Campbell's magic wore off against a winning team.
Tom Brady threw for 356 yards and four touchdowns -- two to Julian Edelman -- and the New England Patriots beat the Miami Dolphins 36-7 on Thursday night to become the first of the NFL's five unbeaten teams to reach seven wins.
It was Campbell's first loss since replacing Joe Philbin, who was fired after Miami (3-4) started 1-3. The Dolphins scored 82 points in wins over the lowly Titans and Texans in Campbell's first two games. But they were completely overmatched against the defending Super Bowl champions.
"Not one bit do I believe that's really who we are, and I told them that I don't want to forget that feeling right there," Campbell said. "Don't forget it. I hope it eats away at them, just like it's eating away at me, and I hope it drives them to not want to have that taste in their mouths ever again."
It could be an even bigger loss for the Dolphins because four-time Pro Bowl defensive end Cameron Wake was carted off the field with an Achilles tendon injury. Campbell didn't have an update on the extent of the injury.
"If you lost a guy like Cam, it would hurt," Campbell said. "Not only is he a leader, but he's a very productive player."
Wake had one sack on Brady and seven in the past three games after being shut out in the first four.
A week after setting an NFL record with 25 straight completions, Ryan Tannehill had a rough night against New England. He threw two interceptions and no TDs.
"We just couldn't get going," Tannehill said.
The Dolphins stay on the road the next two weeks for games at Buffalo and Philadelphia. Their schedule doesn't get easier the rest of the way.
"We've got to get better," linebacker Koa Misi said.
The Patriots are 7-0 for the second time in franchise history and first time since going 16-0 in 2007. They've scored at least 28 points in every game and 30 or more in six straight.
Brady connected with Gronkowski for a 47-yard scoring pass on the opening drive, but the Patriots managed a total of 65 yards on their next five possessions.
They went up 9-0 on a safety after center Mike Pouncey snapped the ball before Tannehill was ready on a third down from the 9.
Then Brady got going in the 2-minute offense. He completed all four of his passes for 59 yards on a scoring drive that was capped by a 16-yard toss to Lewis for a 19-0 lead.
Tannehill led the Dolphins into the end zone to start the second half with Lamar Miller scoring on a 1-yard run.
But the Patriots took control in the fourth quarter. Brady threw TD passes of 10 and 16 yards to Edelman.
NOTES: Brady set an NFL record with his 19th game with four TDs and no picks. Drew Brees and Peyton Manning have 18. ... Brady is 9-0 on Thursdays. ... Gronkowski had his 19th career 100-yard game, tying Hall of Famer Shannon Sharpe for sixth-most among NFL tight ends. ... Dolphins K Andrew Franks was short and wide on a 63-yard FG attempt at the end of the first half. ... Gostkowski extended his NFL-record consecutive extra points streak to 439. ... Dolphins RT Ja'Wuan James left in the first quarter with a toe injury and didn't return.
---
---