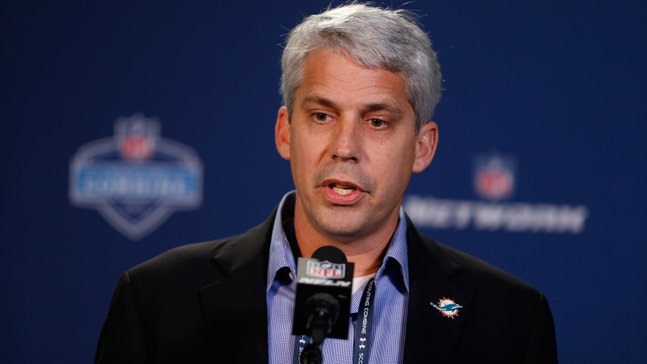 Dolphins looking to build competitive environment through draft
Updated
Mar. 4, 2020 3:40 p.m. ET

Miami Dolphins general manager Dennis Hickey stood before the media Friday afternoon to discuss next week's NFL draft.
Hickey chose not to address specific positions or potential draftees, preferring to speak in general (manager) terms.
"We're a process-driven scouting department," Hickey said at the team's Nova Southeastern University facility in Davie, Florida. "It's all about evaluating each player independently, not only evaluating the player's talent but also the player's makeup.
"Adding into that the medical evaluation and with that we come up with a 'Dolphins value,' and we rank according to that Dolphins value, and that's how we'll pick players."
Hickey, the former Tampa Bay Buccaneers director of player personnel, will be overseeing his first draft since replacing Jeff Ireland in January. Miami presently owns seven draft picks -- one per round, including the 19th overall selection.
"We want talented players to help us win on the field, but we want good teammates, guys that will contribute to our community and all the things we stand for," Hickey said. "Tough, smart, disciplined ... and it can be summed up by being a good teammate."
Hickey said analytics added to the process but weren't the only factors in figuring a player's Dolphins value.
"There is a lot of data out there that we have access to that we are just looking at different ways to extrapolate that out and help us in a decision whether it is separating two closely ranked players," he said. "It's a tool. Still the most important part is going back to the tape, what these players have done on the field versus the 11-on-11 with the scoreboard running. That's the important part for me, going back to the tape."
As one who said he preferred quantity over quality in terms of draft picks, Hickey added he would "explore all avenues" before Thursday night's first round.
"Obviously, we're in contact with other GMs just to see where they stand, what there are ideas and thoughts are going into the draft," Hickey said.
"I'm a big believer in pro-active decision-making and making decisions leading up to the draft. The draft day should be calm. The only variable should be the trade element. That's what we try to make decisions and work through players leading up to it."
While the offensive line ranked highest among the Dolphins needs heading into the draft, Hickey warned against expecting drafted players to start immediately.
"We want to get good players and the starting element, that plays itself out," he said. "We want to build a competitive environments, bring guys in, but again that plays itself out. We just want to get good players in here that fit the criteria that we are looking for."
Hickey got more specific when asked about a few current Dolphins:
-- On if he felt the roster's four quarterbacks (Ryan Tannehill, Matt Moore, Pat Deviln, Jordan Rodgers) offered enough competition at the position
"Yeah, I do think it is competitive. Those guys are working hard. The last couple of weeks are big now that they get an opportunity to start learning the new offense. They do a great job, and we are excited about that group."
-- On if he expected center Mike Pouncey, implicated in the independent investigator's bullying report, to be available Week 1
"That is something we always will work in conjunction with the Commissioners' Office and with Mike and his representation. Mike is having a great offseason. He's real excited about the future of this team and the 2014 season."
-- On if outside linebacker Koa Misi had been asked to move to middle linebacker
"The offseason is a time where you experiment with a lot of different things. This is no different. We are just experimenting with different things. The linebacker room has been great under (assistant coaches) Dave Corrao and Mark Duffner, who is our new head linebackers coach. It is a great room. They are working really hard. We are really excited about them."
Hickey also was asked if he had seen the movie "Draft Day."
"I have not. I've been a little busy. That's probably more an offseason, maybe I'll watch that. I haven't had much time for that."
You can follow Charlie McCarthy on Twitter @mccarthy_chas or email him at mac1763@bellsouth.net.
---