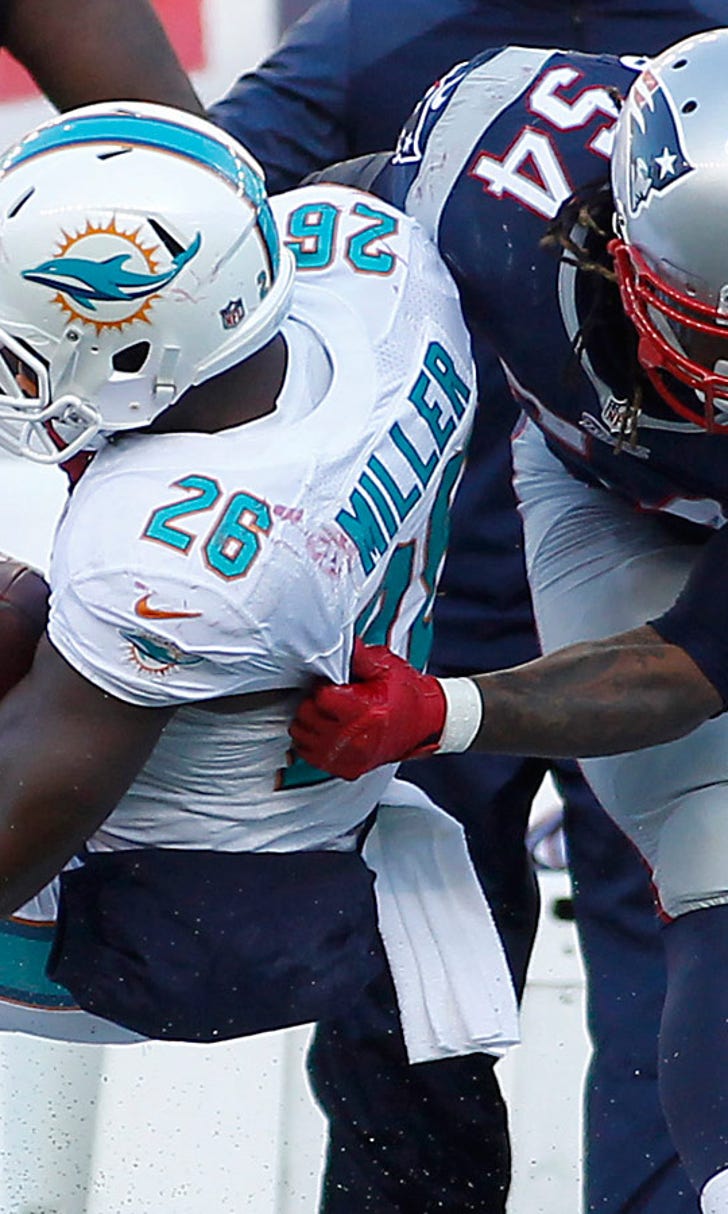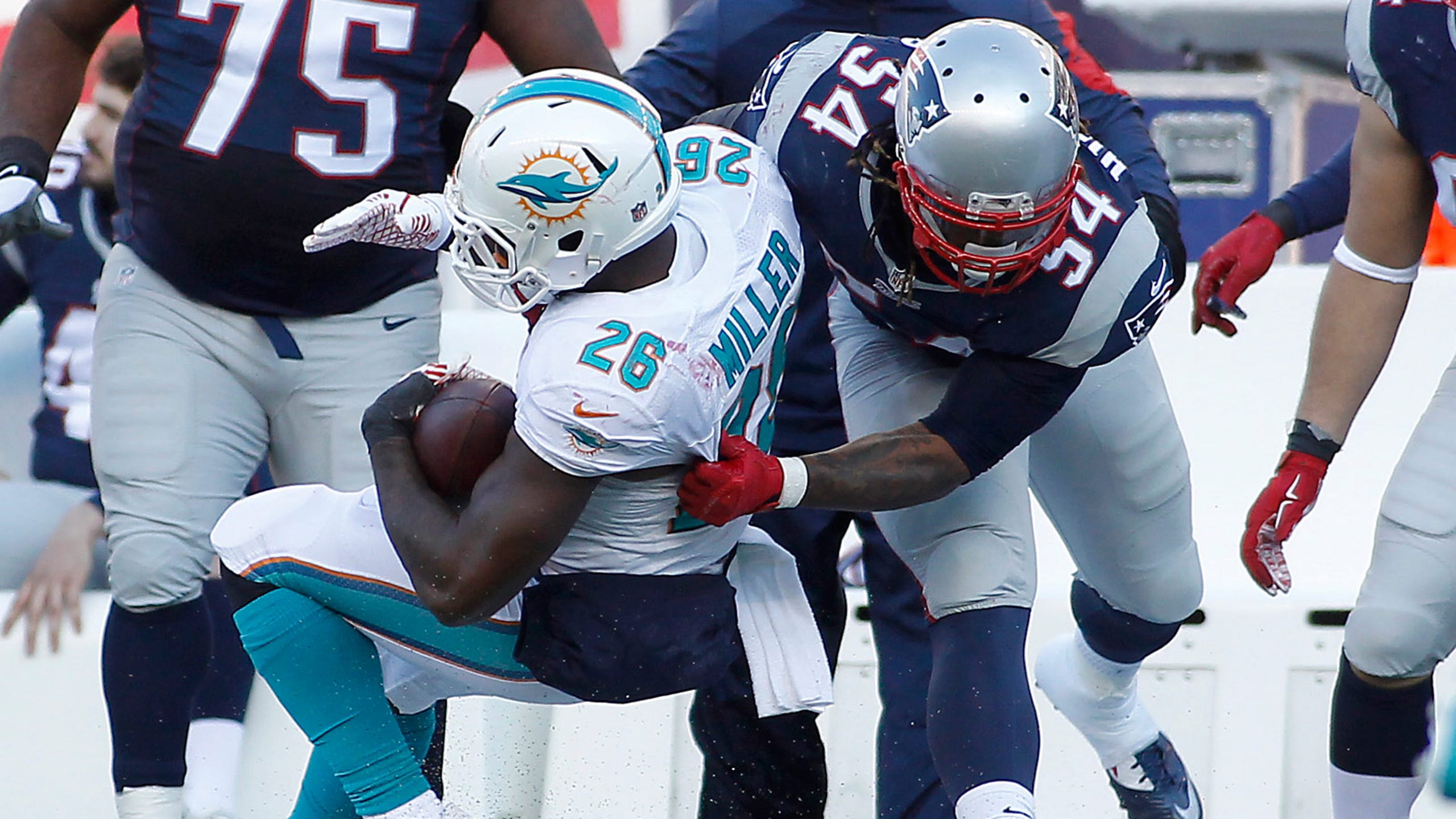 Dolphins fall apart in 2nd half, playoff hopes take shot with loss to Patriots
BY foxsports • December 14, 2014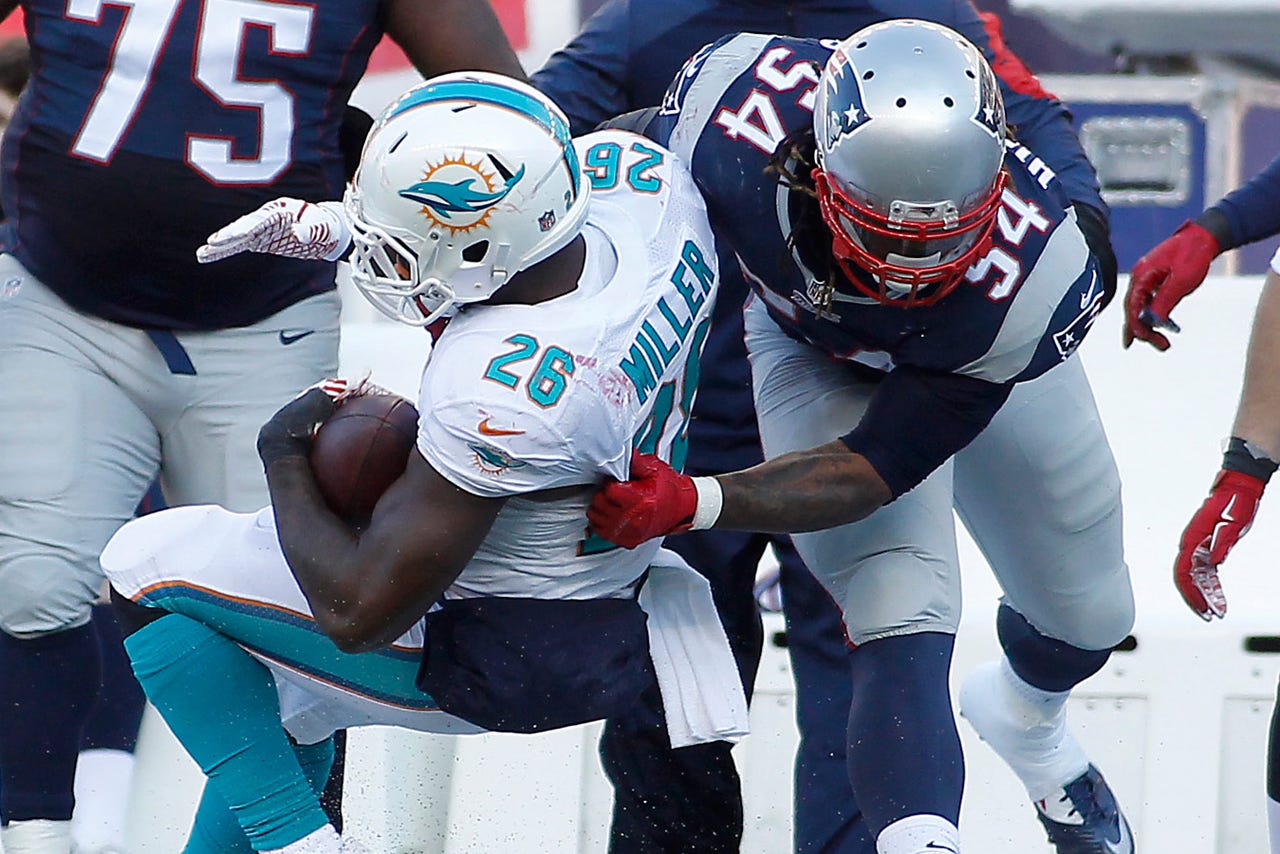 FOXBOROUGH, Mass. (AP) -- The Miami Dolphins beat New England in the season opener and went into halftime on Sunday feeling good about their chances for a sweep.
Then the Patriots rattled off a franchise-record 24 third-quarter points on their way to their 11th AFC East title in 12 seasons.
"They beat us up in the second half," Miami offensive lineman Mike Pouncey said after New England beat the Dolphins 41-13. "It's just not acceptable."
The Patriots opened a 14-3 lead with little help from their offense, scoring on a 62-yard blocked field goal and another TD after Duron Harmon's interception set them up at the Miami 8 yard-line.
But the Dolphins responded with a field goal and, after Jarvis Landry's 32-yard punt return, Mike Wallace made a one-handed grab on a 32-yard pass from Ryan Tannehill to make it a one-point game just before the end of the second quarter.
In the second half, though, New England scored on every possession except the final one, when Jimmy Garoppolo came in for Tom Brady to run out the clock.
"We felt like we had so much momentum going into halftime," Pouncey said. "Our attitude was great. Guys were pumped up. The other team just came out and outplayed us."
After a lackluster first half, Brady was 13 for 20 for 205 yards and two touchdowns in the second to lead the Patriots to their sixth straight division title. He even scrambled 17 yards for a first down -- the third-longest run of his career -- while leading New England (11-3) to scores on all five second-half drives he was in the game for.
The 24 points are a Patriots franchise record for the third quarter. Brady improved to 44-7 in December.
"We knew they were going to be ready," Wallace said. "It was no surprise they came out and did what they did and dominated the football game."
New England can secure home-field advantage throughout the AFC playoffs by beating the New York Jets and Buffalo Bills in their remaining games. Despite beating the Patriots 33-20 on Sept. 7, Miami (7-7) saw its slim postseason hopes dwindle further.
"It will probably take a miracle to get into the playoffs because of the position we put ourselves in," said Wallace, whose catch with 5 seconds left in the first half was first ruled incomplete before being overturned by the replay official.
That was the last highlight for the Dolphins.
On the first play of the second half, Brady hit Rob Gronkowski for a 34-yard gain down the middle. Brady converted a third down with his legs, and one play later LeGarrette Blount scored from 3 yards out to make it 21-13.
The next two New England scores came just 13 seconds apart.
Stephen Gostkowski kicked a 35-yard field goal with 4:43 left in the third. On Miami's next play, Tannehill was picked off by Patrick Chung; on New England's next play, Brady hit Gronkowski for a 27-yard touchdown.
Miami went three-and-out, and Brady needed three plays, including a 35-yard pass to Gronkowski and a 6-yard touchdown pass to Julian Edelman.
"Oh, my god," Wallace said. "It was like it just happened in 3 or 4 minutes they scored like 21 points."
To be exact, it was 17 points in just 3 minutes, 14 seconds. Gostkowski made it five straight scoring possessions with a 36-yard field goal in the fourth.
---