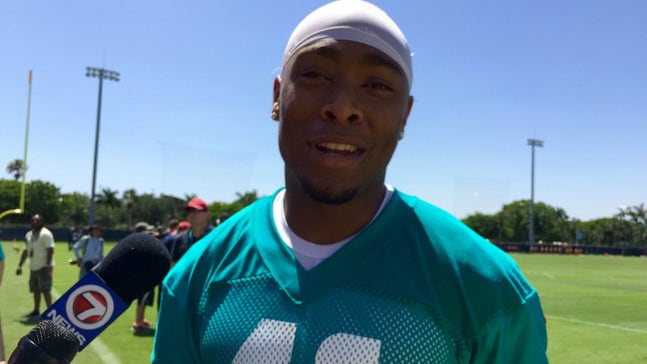 Dolphins' Cedric Thompson applying discipline and focus learned as teenager
Published
May. 9, 2015 5:00 p.m. ET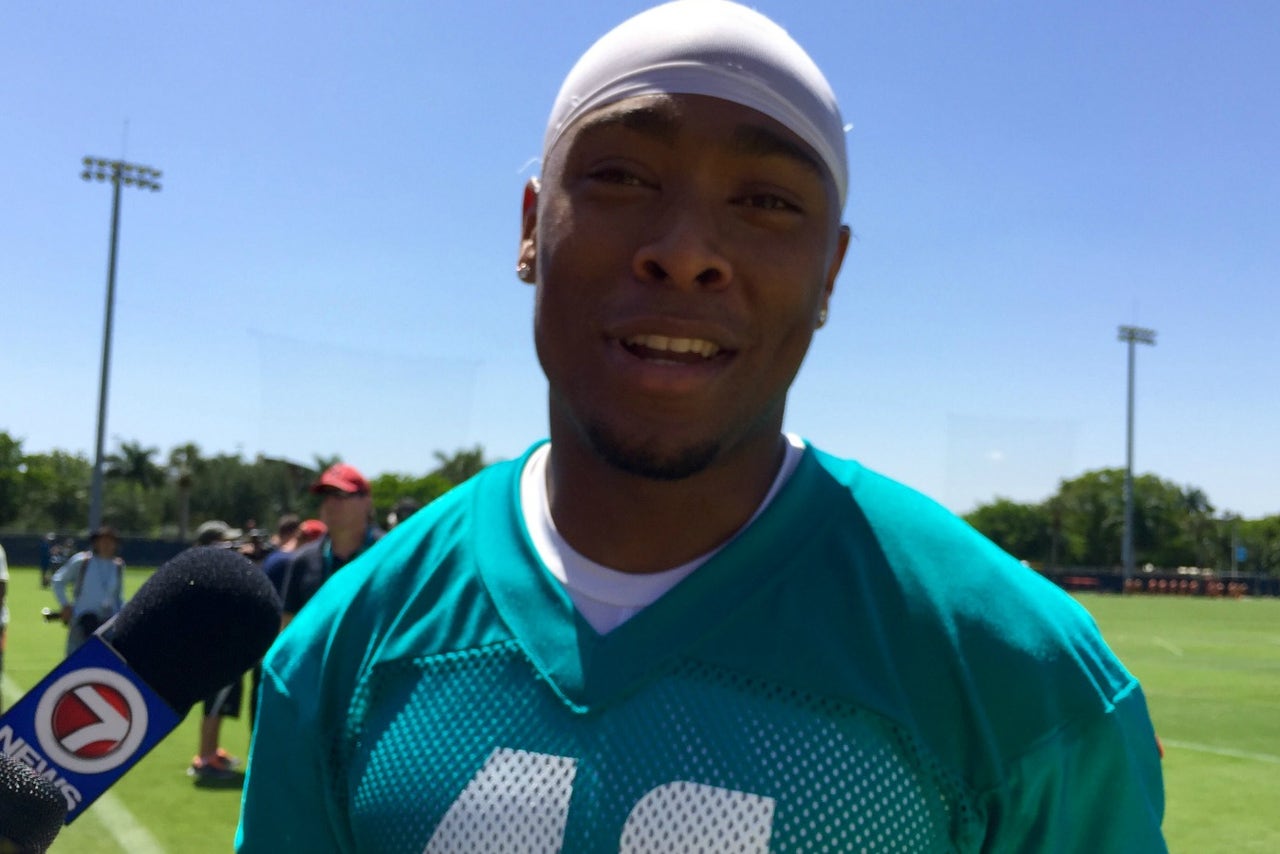 DAVIE, Fla. -- Miami Dolphins rookie safety Cedric Thompson understood at an early age the benefits of sticking to a routine while learning to stay disciplined and focused.
At the conclusion of the morning practice session in the second and final day of Dolphins rookie mini camp, Thompson described his daily routine as a teenager commuting to an out-of-town high school. 
In order to avoid the gang violence that plagued his old neighborhood in South Central Los Angeles, he moved with his father almost 200 miles away to a coastal town called Bombay Beach at the age of 15. Each day, he would wake up at four in the morning and take a nearly two-hour bus ride both ways to school, where he worked on his blossoming football skills that led to a scholarship at the University of Minnesota. 
"I worked out," Thompson said of his life in a ghost town with a population of roughly 300 and just 10 other high school students, by his count. "Not really because I was bored, but because I was determined to get up out of there and really make a change from the -- I like to call it the L.A. curse of what everybody grows up to do. So I did what I had to do to get up out of there."
Thompson was projected to be an undrafted rookie after four years with the Gophers where he finished second on the team with 83 tackles as a defensive captain in 2014. Though he was not invited to the NFL combine, he dazzled scouts and coaches at his Pro Day in Minnesota by running the 40-yard dash below 4.5 seconds and displaying an impressive 40.5 inch vertical leap, a 10-feet-2 broad jump and benching 225 pounds 21 times.
Miami selected Thompson with their third fifth-round pick to provide key depth at a position where Louis Delmas is recuperating from an ACL injury that cut his season short last year. 
"We like him on tape, on film," said head coach Joe Philbin. "We liked him when he came in for his 30 visit. It's very early, but his professionalism, the way he goes about his business. He's a guy that finishes drills, listens well, follows directions, wants to do things the way you coach it. Obviously there are a lot of things to correct, but I think he's shown those attributes that we thought he had, but you never quite know until you get him."
Even with Delmas uncertain to begin the season healthy, Thompson will likely see sporadic playing time on defense in his rookie season behind Reshad Jones and Michael Thomas but will be given a chance to have a meaningful role on special teams.
"The depth chart is nothing I'm really worried about because if I go out here and do my job, that's all I can really ask for," he said. "Doing my job and give 100 percent effort every day and then whatever my role may be will take care of itself. I'm out here to contribute to the team, give everything that I have and let the chips fell where they may."
Along the way, his leadership and self-discipline will serve him well as he gets accustomed to his new life as an NFL player in Miami, far away from his old stomping grounds in Southern California.
"I've been a leader all my life," he said. "I'm the oldest of three kids and ever since I was in Pop Warner and when I was in high school, I was always the leader. I never say I was born a leader, because I truly don't believe that's true. I feel like the things you go through in your life make you a leader and so I took that conscious decision to be a leader in college and help turn my program around."
SHULA CHALLENGES ROOKIES
Don Shula made an appearance during practice ahead of his participation in a Dolphins press conference celebrating the 50th season of the franchise.
"Yeah, it was great," Philbin said. "As you know, he's got a great message, outstanding sense of humor. As I said to them, he's a former National Football League player himself. I don't know if there's anybody that's put more blood, sweat and tears into the Miami Dolphins than Coach Shula. It was great to have him here."
Sitting in a cart placed in the middle of the practice field, players and coaches alike passed by to chat with the legendary coach. Shula also delivered a short speech at the conclusion of the morning practice session.
After the team's press conference, he shared to reporters his message to the rookies.
"When you get an opportunity to do something and to be some place, you want to make sure you take full advantage of that opportunity and not someday go back and say, 'I wish I would have worked a little bit harder to get ready to compete,'" Shula said. "You don't ever want that. When you have the opportunity, it's important that you just do everything that you can to make sure that you can give it your best shot. You give it your best shot and good things happen? That's fine. You give it your best shot and it doesn't work out? You at least have that peace of mind to know that you've given it your best shot."
Shula's presence certainly made an impact on the young players eager to carve out a name for themselves in the NFL.
"It was really great," said Thompson. "I've never met anybody from the Hall of Fame. It was just cool to see where they came from, knowing that when they first got here it was a really bad program and he turned it around and made it a winning program. I think it really hit home to some things that we can do out here for this program."
You can follow Surya Fernandez on Twitter @SuryaHeatNBA or email him at SuryaFoxSports@gmail.com.
---
---