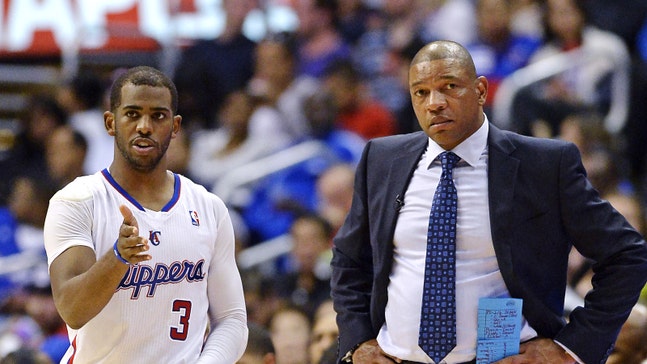 Doc Rivers understands NBA's swift move to appoint Clippers CEO
Updated
Mar. 4, 2020 5:59 p.m. ET

LOS ANGELES -- The timing isn't very good, but Clippers coach Doc Rivers says he understands the NBA's announcement that it will "move quickly" to appoint a chief executive officer following the lifetime ban of owner Donald Sterling.
Rivers is currently preoccupied with Game 7 against the Golden State Warriors starting at 7 p.m. on Prime Ticket, but as the Clippers senior vice president of basketball operations, he has a stake in whoever is chosen to run the team.
"I've had to talk about everything else. Let's just talk about that too," Rivers said Saturday afternoon at Staples Center. "The NBA has to do their job. They have a lot on their plate as well, and I don't think it's something they can wait on, so they're going to do their job."
In making the announcement, Mike Bass, the league's executive vice president of communications, said in a statement, "The best way to ensure the stability of the team during this difficult situation is to move quickly and install a CEO to oversee the Clippers organization. The process of identifying that individual is underway."
This week, commissioner Adam Silver banned Sterling, and a league advisory committee voted to pursue the termination of his ownership of the team.
Asked if he had spoken with anyone from the NBA on the matter, Rivers said, "I've talked to Adam and the deputy commissioner, but just that they're going to do the search right now, and that's about it."
Sterling: 'I wish I had just paid her off'
Of more immediate importance to the Clippers is trying to close out the best-of-seven series with the Warriors. Point guard Chris Paul is dealing with a sore right hamstring and a sprained left thumb, and Rivers conceded Paul is limited in what he can do.
"He just can't get away from anybody offensively," he said. "I think defensively he's been terrific. What he's decided is that he's going to focus on that. He's still trying to be aggressive offensively, and we want him to be, but when you watch him on film he really struggles."
---
---