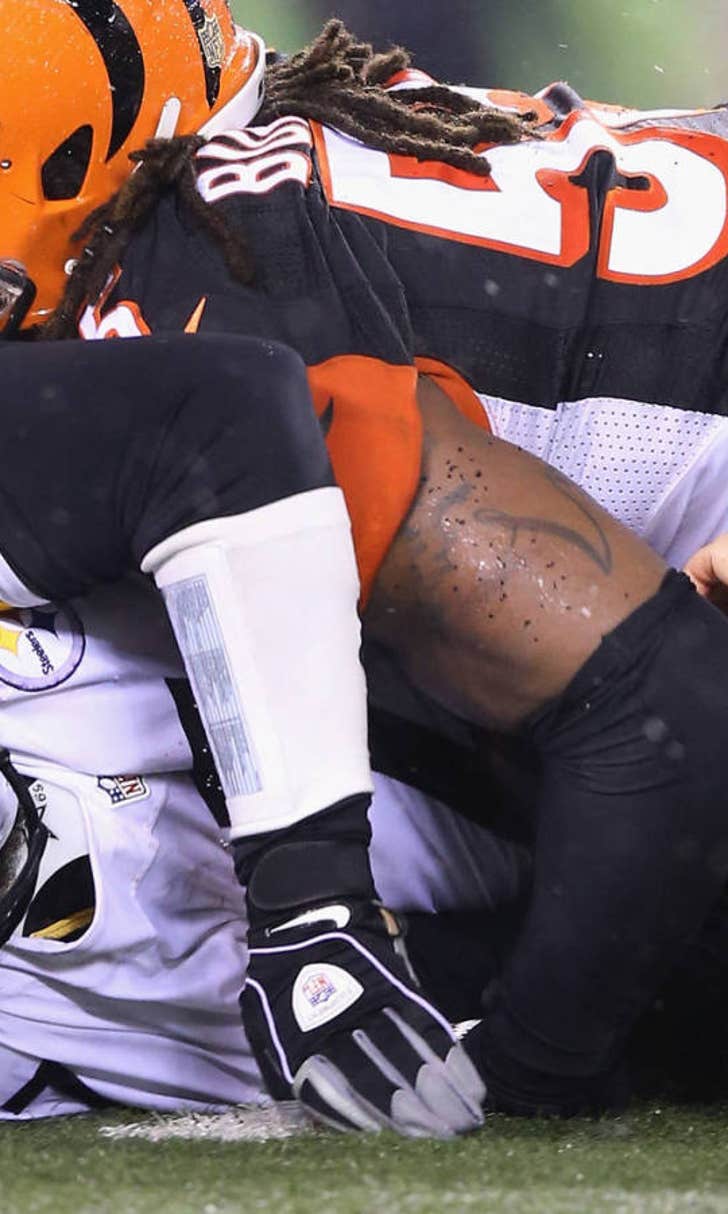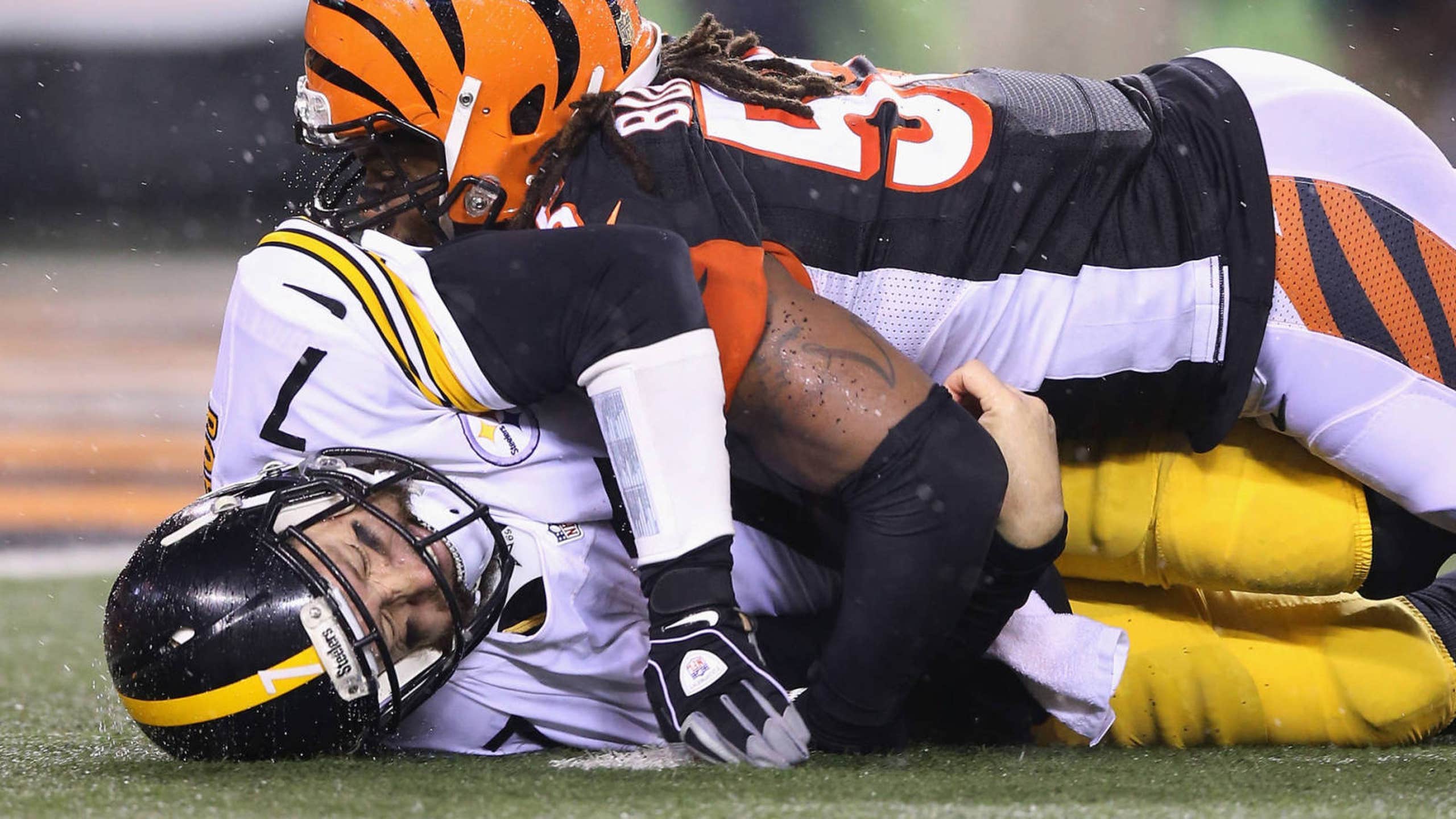 Divisional NFL Playoffs injury report analysis Roethlisberger, Antonio Brown, Maclin
BY foxsports • January 12, 2016
Ben Roethlisberger and Antonio Brown
The Steelers' quarterback has done his best Steve McNair impression this season, playing through countless injuries that would have ended the season for most individuals. Big Ben suffered an MCL sprain and bone bruise in his knee in Week 3, a significant midfoot sprain in Week 9, and a late season concussion. Despite these injuries, Roethlisberger appeared in 12 games and still managed to throw for nearly 4,000 yards and 21 touchdowns. Now the Pittsburgh signal caller will once again be forced to make a quick recovery after he suffered a "separated right shoulder" in his team's come from behind win over Cincinnati.
The term separated is used to describe an injury to the acromioclavicular (AC) joint of the shoulder where the collarbone meets the shoulder blade, not the ball and socket joint of the shoulder. AC sprains have been a popular injury among NFL quarterbacks this season with players like Sam Bradford, Tyrod Taylor, and Matt Hasselbeck suffering the injury. The fact that the injury occurred to Roethlisberger's throwing shoulder does complicate the issue and he could be facing a functional limitation and a decent amount of pain and discomfort. Pittsburgh remains confident he will be under center against Denver but don't be surprised if Roethlisberger's accuracy and power, particularly on deep throws, are impacted by the injury.
To make things worse, Roethlisberger could be without his favorite target as Brown continues to work his way through the NFL concussion protocol. The AFC's leading receiver during the regular season suffered the injury late in the game following the now infamous late hit from Bengals linebacker Vontaze Burfict. Brown appeared to display signs of abnormal posturing, an indicator of head trauma, following the impact and was immediately tended to by the Steelers' medical team. Early reports are not encouraging, and the window for Brown to complete the necessary steps in the program closes a bit with each passing day. As a result, it could be up to Martavis Bryant and Markus Wheaton to lead the Steelers' aerial assault into the AFC Championship Game.
Jeremy Maclin
Having previously torn the anterior cruciate ligament (ACL) in his right knee twice, there was plenty of cause for concern when Maclin hit the turf with a lower leg injury Saturday. Those fears were amplified when the wideout was ruled out with a knee injury shortly after cameras caught a Kansas City team physician performing a Lachman test on Maclin's right knee. A Lachman test is a special test designed to test the integrity of the ACL. A positive test is indicated by increased translation of the tibia on the femur. Fortunately, speculation that the test was positive proved to be incorrect as a MRI revealed the ACL graft is still intact. The fact that Maclin's ACL was a graft may have contributed to the false positive.
While his ACL remained undamaged, Maclin did not completely avoid injury. The Pro Bowl receiver was diagnosed with a high ankle sprain and his availability for the Divisional Round matchup with New England remains in doubt. The Chiefs consider Maclin day-to-day but high ankle sprains are more problematic than the "normal" inversion ankle sprain. In a high ankle sprain the tissue that connects the two lower leg bones is disrupted, creating instability in the area that worsens with weight-bearing activities like running and jumping. Tom Brady suffered a similar injury in Week 17 and is expected to play, though the demands of his position are considerably different than what is expected of a wide receiver. It is possible Maclin guts this one out but he will likely be limited for the remainder of the postseason.
Turf Burns
Davante Adams: The Packers wide receiver avoided a significant knee injury in the team's win over the Redskins. Adams reported lingering soreness but is hopeful for Saturday's divisional game at Arizona. The short week will be working against Adams but the early signs are encouraging.
Julian Edelman: Edelman will be available Sunday against the Chiefs but will wear a steel-plated cleat in his return. Out since fracturing his fifth metatarsal in Week 10, the Patriots receiver has been an active participant in practice and was recently cleared to return. The altered footwear will limit the amount of motion in the area, protecting the surgically repaired region. Earlier this year, Cowboys wide receiver Dez Bryant adopted a similar approach, working with Nike to modify his cleat to protect his broken and repaired foot. Edelman admitted there's risk in playing but said he plans on playing at full speed. The Patriots' bye bought him an extra week of rest and recovery, though simulating the conditions of game day is nearly impossible. His presence alone helps the New England passing game though he remains a high-risk, high-reward player moving forward.
Marshawn Lynch: Lynch was a late week scratch after it appeared he would return in time for the opening week of the postseason. The former Pro Bowl running back has not played since undergoing surgery for an abdominal injury. He was an active participant in last week's practice but did not make the trip to Minnesota for the game against the Vikings. With his teammates surviving a late rally, Lynch will have another opportunity to return to action. Head coach Pete Carroll admitted Lynch will likely be a true game-time decision and he's a risky play in all formats.
DeAngelo Williams: If playing without your lead receiver and relying on an injured quarterback wasn't tough enough, the Steelers have real concerns about the availability of their top running back. Williams did not play against the Bengals after suffering ankle and foot injuries in Week 17 and he visited with Dr. Robert Anderson, a noted foot specialist, on Monday. More information should trickle out over the next few days, but it looks like he is facing an uphill battle to return to the field. Fitzgerald Toussaint and Jordan Todman would continue to man the Pittsburgh backfield should Williams remain in street clothes.
Stotts works as a Certified Athletic Trainer (MAT, ATC, PES, CES) and is a former winner of the Best Fantasy Football Article from the Fantasy Sports Trade Association.
Follow @RotowireATC on Twitter.
Get a FREE RotoWire 10-day trial (no credit card required) at RotoWire.com
---
---