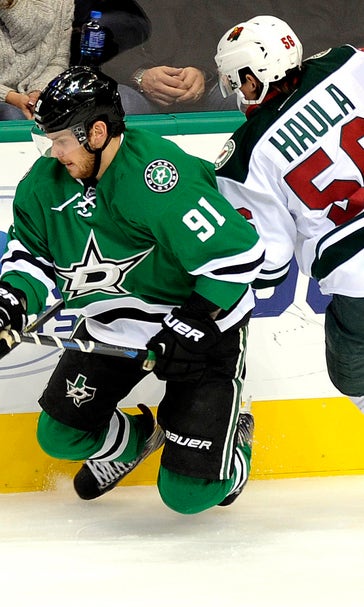 Different opponent, same outcome for home-deficient Stars
November 15, 2014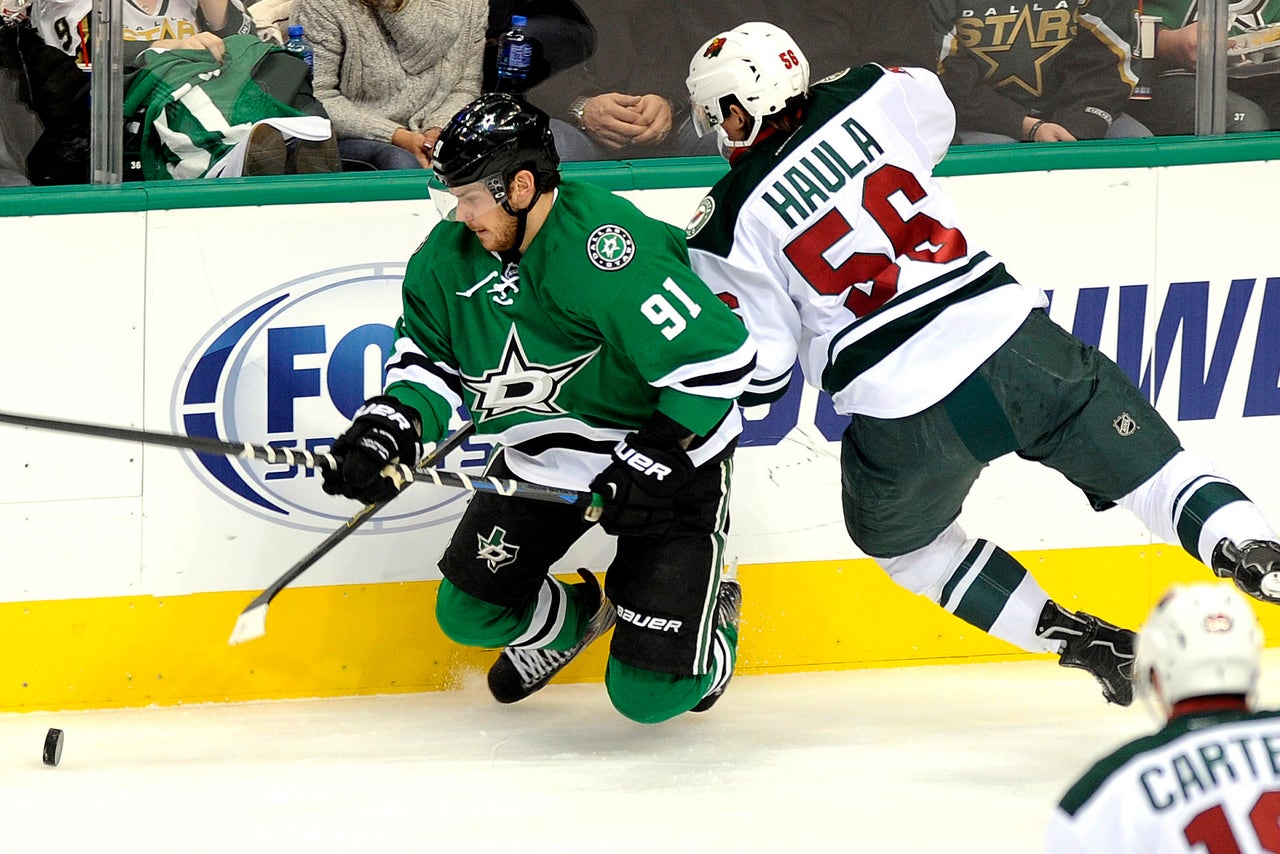 DALLAS---OK, stop if you've heard this one before. The Dallas Stars are either tied or have a lead over an opponent at American Airlines Center after two periods this season only to blow said lead and lose.
Well, on Saturday afternoon, Dallas did exactly that, losing 2-1 to the Minnesota Wild, snapping a two-game winning streak and putting the Stars' home record at a paltry 1-4-4. Dallas also falls to 1-3-1 when tied after two periods.
Naturally, that's a mark that longtime defenseman Trevor Daley, currently Dallas' longest-tenured player, views as nothing short of a complete abomination.
In fact, Daley feels that he and his teammates just might be pressing a bit too much at the AAC so far this season.
"It definitely looks that way. It's not our mentality. We came into the game tonight like it's a road game. We just got off of a good trip," Daley said. "I thought we carried most of the play and we didn't find a way to capitalize on opportunities. We had a power play and you don't get in the zone, that's a huge downer."
After a scoreless opening period where the Wild and Stars combined for 14 shots, Dallas took their first and only lead of the day early in the second when Antoine Roussel roofed a pass from Vernon Fiddler into the top of the Minnesota net at 5:34 of the middle frame.
However, late in the second, the Wild tied it when Erik Haula finished for his second goal of the season after a nice 2-on-1 with Ryan Carter.
The chance resulted from a wayward if not lazy backhand pass from Stars defenseman Brenden Dillon near the Wild blue line. Dillon's halfhearted flick was picked off by Carter, igniting the rush and Carter's pass to Haula was dead-on and he finished with a wrister from the left circle.
Dillon's miscue was a definite turning point in the game for the home team and obviously not in a good way.
"We were dominating the game. It's tough," Stars head coach Lindy Ruff said. "You probably want to slide that one across and let your partner shoot it. It seems like we've been getting hurt. It's better than a lot of bad plays. To that point, we hadn't given up anything."
Minnesota then delivered the eventual game-winner just 40 seconds into the third period when Mikael Granlund split Stars defensemen Jordie Benn and Trevor Daley to tap in a rebound. Dallas goaltender Kari Lehtonen had stopped the initial shot, a rather shot wrister by Charlie Coyle from the right point.
But Lehtonen was unable to cover the ensuing rebound and the opportunistic Granlund capitalized, scoring his second of the year.
The latest home setback for the Stars puts their record against the Central Division at 0-4-2 and 3-6-3 against the Western Conference.
But the good news is that Dallas will get a chance to quickly atone for this loss as they face the Chicago Blackhawks at United Center on Sunday night to complete the back-to-back.
"There's obviously little parts in the game that mean so much that we're not winning enough of those battles. Once we start winning those battles, we're going to start winning games," Daley said.
After the Chicago game, Dallas returns to the Metroplex and the Stars will begin a five-game homestand on Tuesday against the Carolina Hurricanes.
MORE FROM FOX SPORTS SOUTHWEST: 
- Ranking NFL quarterback salaries
- Best college football traditions
- Greatest NBA players without a championship ring
---