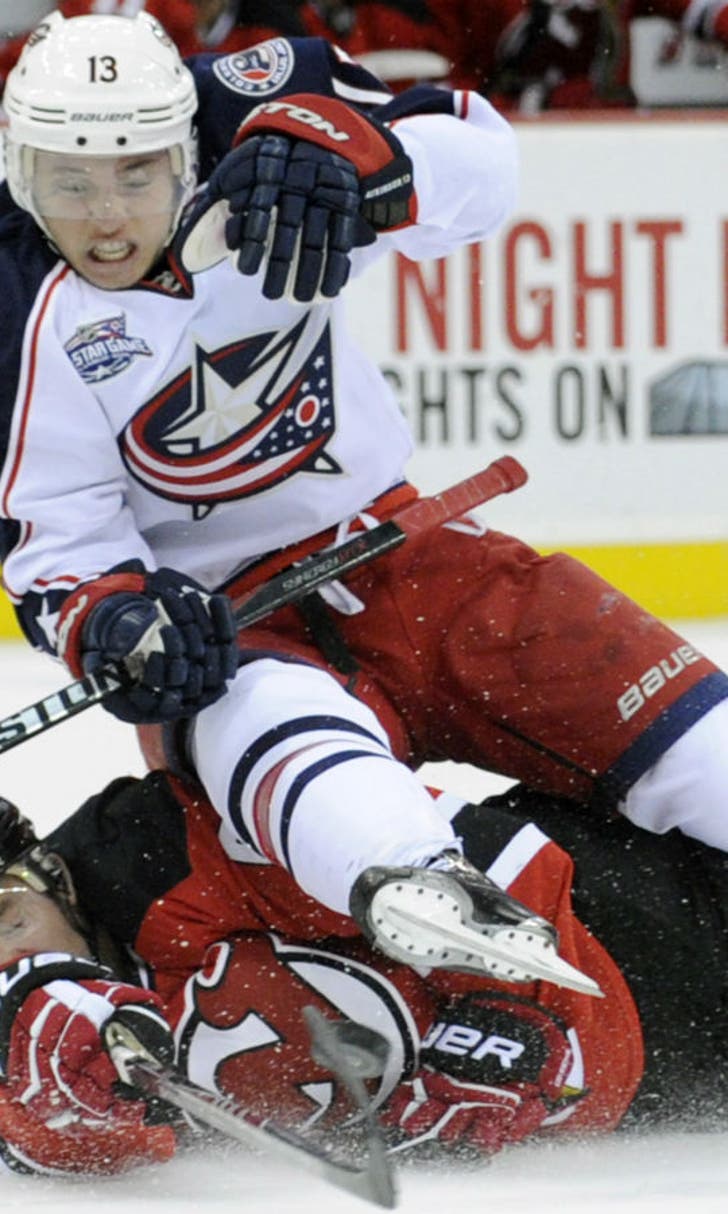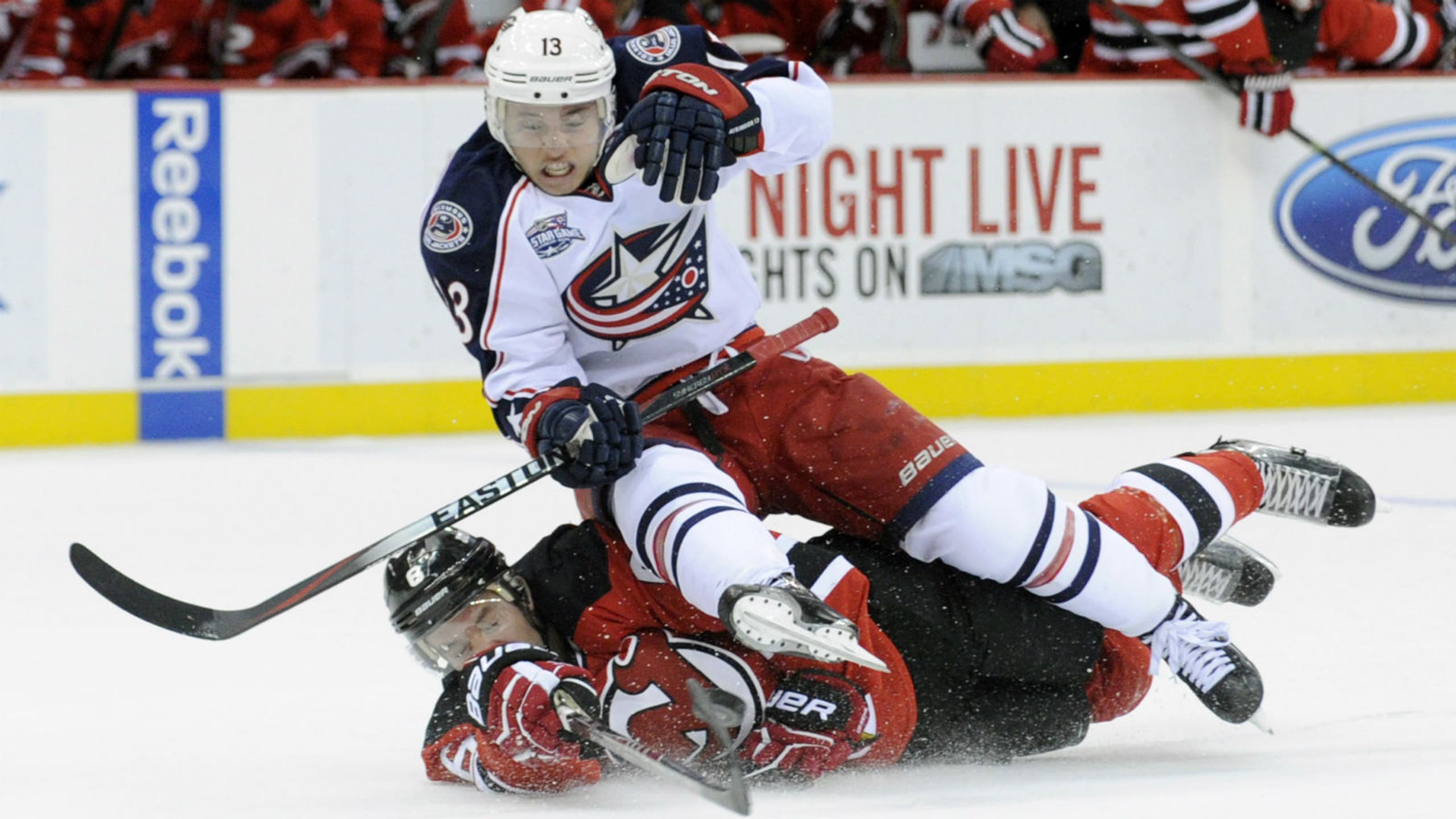 Dia de Muertos was not kind to the Blue Jackets
BY foxsports • November 2, 2014
At this point, the Blue Jackets might be willing to try just about anything to keep the players on their roster healthy. They've moved beyond this being a case of simple adversity. It now seems that they've entered the affliction stage.
On a weekend where they saw their losing streak extend to five games, Dia de Muertos took on new meaning as they lost to the New Jersey Devils 3-2 on Saturday night. "Catching a break" is anathema to this club, it would seem.
Defenseman Cody Goloubef is the latest to join the injured list, bringing the total to 10. After a collision in front of goalie Anton Forsberg in the third period, he needed help to get off the ice. Going straight down the tunnel, he did not return to the game. After the game, head coach Todd Richards said "it's never good" seeing a player have to get helped off the ice.
On the one hand, they got back to playing to their identity. While this is a positive step in the right direction, it doesn't make the loss any easier to swallow. "It definitely leaves a sour taste in your mouth," said Richards.
The depth of the organization is being severely tested, perhaps more so than it should be this early in the season.
After 11 games, Columbus sits at 4-7-0. Are they at a crossroads at this early stage? The answer to that is not so clear. No team wins every game over the course of an 82 game season. What makes this loss sting more so than other recent losses is the fact that they were in this game by playing "Blue Jackets hockey."
Going into the game, Richards tweaked the lineup in the hope of creating a spark with which to jump-start the team. With Forsberg making his first NHL start in net, Brian Gibbons and Cody Goloubef drew in.
Brian Gibbons had an immediate impact in his first game for Columbus, setting up Jack Skille for the games' first goal on his first shift. He had another assist on Nick Foligno's goal in the second period. Gibbons finished the night with 0-2-2 (+1) in 14:49 of ice-time.
Seven days ago, collective breaths were held as Nick Foligno was stretchered of the Staples Center ice in Los Angeles. After missing one game on Tuesday, he has become the "little engine that could", driving the team with his tenacity and leading by example. In 18:07 TOI, he went 1-1-2 (+1) against the Devils.
Foligno was on the receiving end of a Jack Johnson slap shot in the second, catching the puck on his shoulder after being cross-checked to the ice in front of Forsberg. He left the game but did return, bruised and battered.
"We worked hard," said Ryan Johansen. "But, you've got to do more than work hard to win hockey games."
The dejection in Johansen's voice post-game was evident. Despite the loss, the continuing maturation of the young center is clearly evident. He had praise for his teammates, especially the guys that may have been struggling or playing their first game.
"Starting with (Anton) Forsberg, he played a very solid game for us," he said. "I definitely tip my hat to him. I thought (Alex) Wennberg had one of his best games. I thought (Brian) Gibbons stepping in for his first game was great. Foligno, going hard to the net, made a big play for our team."
"Yeah," Johansen said of the loss, "this one doesn't feel good."
Johansen was held without a point for the first time all season, going 0-0-0 (-1) in 22:33 of ice-time.
Yes, a five game losing streak is not good; it never is. And yes, there are many players out of the lineup presently. But, and this shouldn't be understated, if they play more games the way that they played against the Devils, they will give themselves a fighting chance of treading water in the standings.
And really, at the end of the day, that is all they can ask of themselves. Play each game to their identity and they will break even, if not come out slightly ahead.
The past is the past and that cannot be changed. They control what becomes of their future. It's time to exorcise the demons. With 71 games left, there is still much hockey to be played.
Jack Kerouac said it best.  "Nothing behind me, everything ahead of me... as is ever so on the road."
---