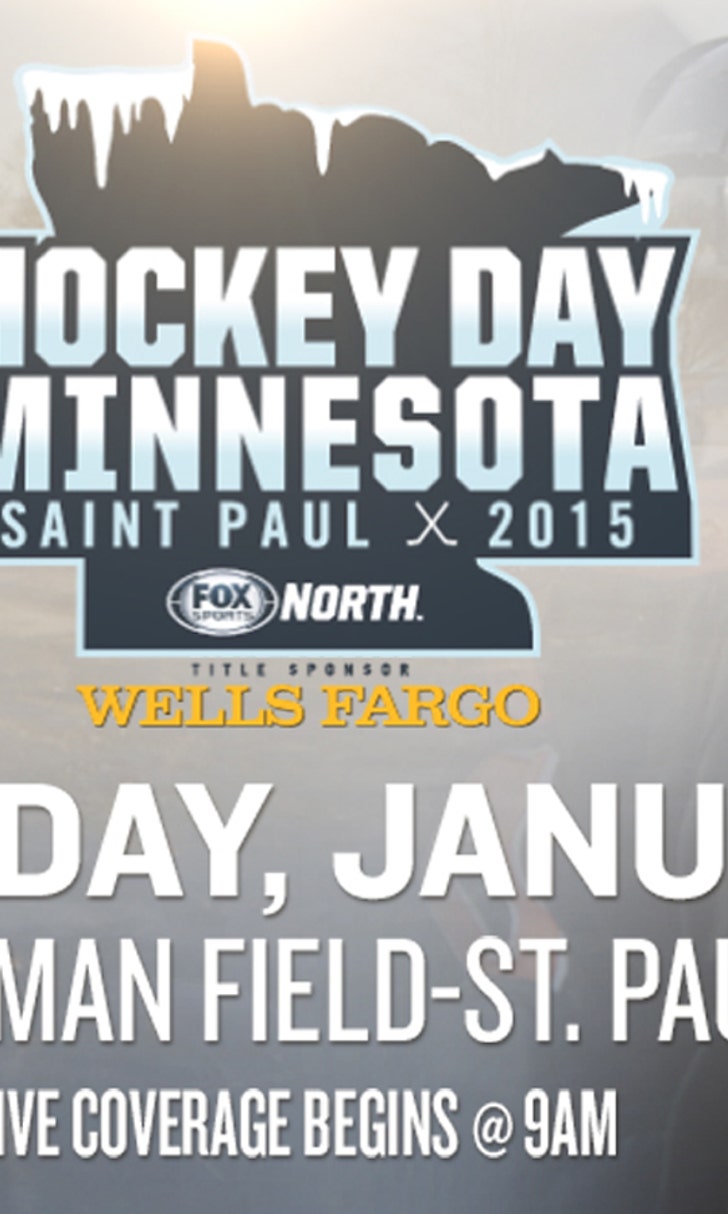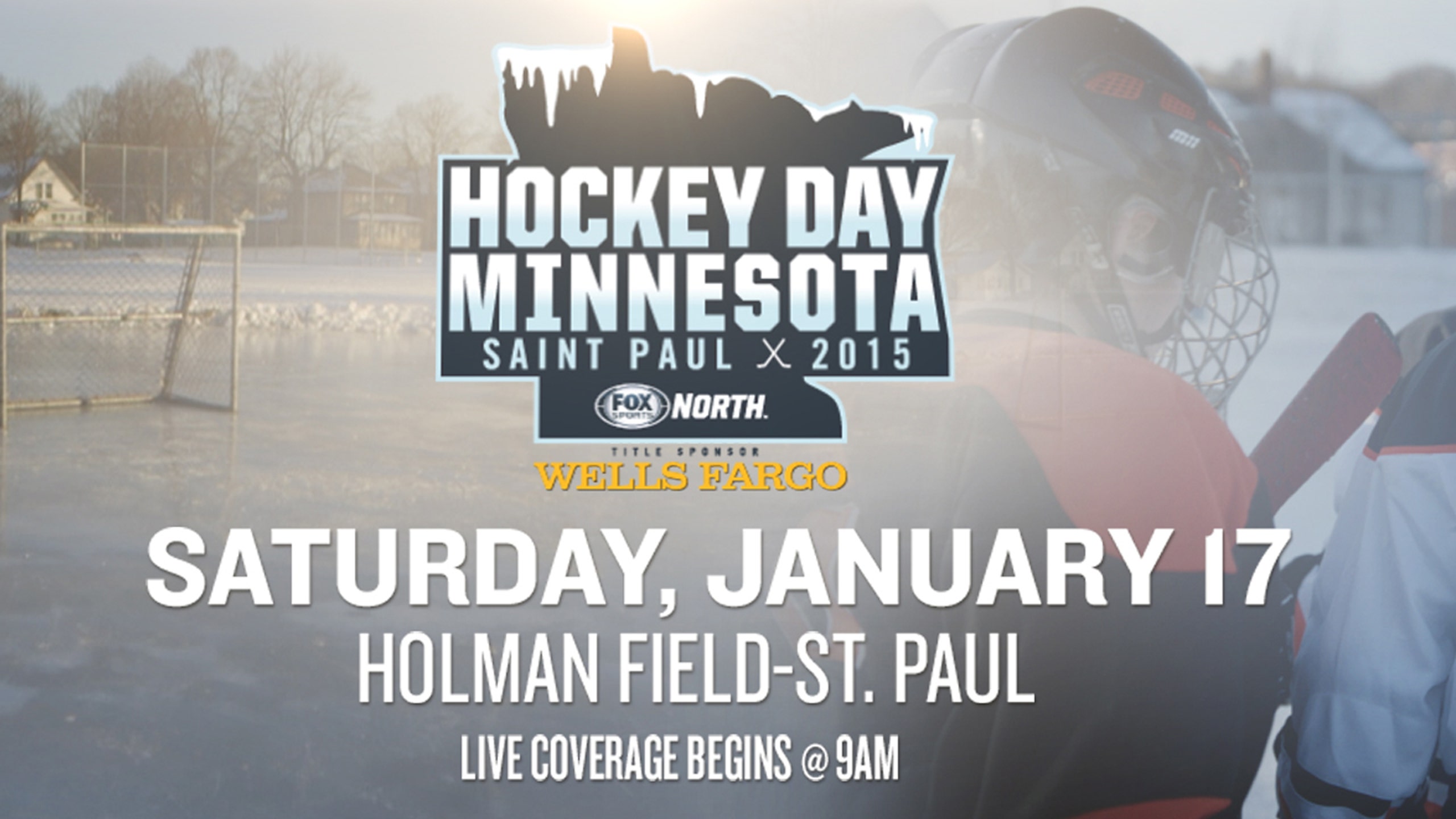 Details finalized for Saturday's Hockey Day Minnesota
BY foxsports • January 15, 2015
FOX Sports North, in conjunction with the National Hockey League's Minnesota Wild, and host committee Serving Our Troops today finalized new details for the Ninth Annual Wells Fargo Hockey Day Minnesota (HDM) taking place Sat., Jan. 17.
In addition to regional television coverage on FOX Sports North and FOX Sports North PLUS, FOX Sports will televise the event nationally on FOX Sports 2 and through FOX Sports GO, the app that provides live streaming video of FOX Sports content. Plus, the 1:30pm outdoor game will also be simulcast on KFAN 100.3 and the Minnesota Wild game will be televised across the world on Armed Forces Network.
*delayed broadcast
Thousands are expected to attend the event on Saturday at Holman Field, the site of the outdoor games. Tickets are still available at:  hockeydaymn2015.com. The first time hockey has ever been played on an active airport tarmac, spectators will notice a strong military presence with two VH-60 Blackhawks, a CH-47 Chinook and a C1-30 aircraft surrounding the refrigerated rink. 
Fans onsite at Holman Field are encouraged to visit the FOX Sports North Fan Express bus, a fully wrapped 55-seat luxury charter bus, where representatives will be "selling" Dairy Queen Dilly® Bars to benefit Serving Our Troops. The concept was developed by FOX Sports University participants at the University of Minnesota.
A number of VIPs and dignitaries are scheduled to be in attendance at Holman Field, including: Major General Neal Loidolt (9 a.m.), Minnesota Governor Mark Dayton (9:30 a.m.), U.S. Senator Amy Klobuchar (1 p.m.), Brig. General Jon Jensen (1 p.m.) and Mayor Chris Coleman (3:30 p.m.). A number of hockey legends will also be on site at Camp Beuhring in Kuwait, along with the FOX Sports North production crew, including Lou Nanne, Bill Butters, Dave Brooks, Tom Reid, Dan Barreiro and Shjon Podein.
The military theme will extend to the Xcel Energy Center, as SGT Jason Brubaker, along with the Saint Paul police and fire department hockey teams announce "Let's Play Hockey" before the Minnesota Wild game. There will be a special ceremonial puck drop coordinated between Lt. Colonel Jeff Merricks from Kuwait and his family in St. Paul. All fans in attendance will receive a Hockey Day Minnesota thermal mug, presented by Wells Fargo.
HDM 2015 TV schedule
| | | |
| --- | --- | --- |
| TIME | EVENT | LOCATION |
| 9 a.m. | Hockey Day Minnesota |   |
| 10 a.m. | Luverne vs. St. Paul Johnson | At Holman Field, St. Paul |
| Noon | Hockey Day Minnesota coverage |   |
| 1:30 p.m. | Hill Murray vs. St. Thomas Academy | At Holman Field, St. Paul |
| 3:30 p.m. | Hockey Day Minnesota coverage |   |
| 5 p.m. | Minnesota vs. Wisconsin | At Mariucci Arena |
| 7:30 p.m. | Wild Live presented by CenturyLink |   |
| 8 p.m. | Minnesota Wild vs. Arizona Coyotes | At Xcel Energy Center |
| 10:30 p.m. | Wild Live Postgame presented by CenturyLink |   |
| 11 p.m. | Cretin-Derham Hall vs. Duluth Northern Stars (Girls; tape delayed) | At Holman Field, St. Paul |
In addition to showing tweets and photos (submitted via #HDM2015) on FOX Sports North PLUS, the network just announced that they will incorporate viewer submitted videos into the broadcast. Fans can upload footage of their Hockey Day Minnesota celebrations at foxsportsnorth.com/hdmvideos.
Local media are invited to cover the day's action at Holman Field (check in at VIP tent) and Xcel Energy Center. FOX Sports North has exclusive rights to all live hockey game footage. Please contact FOX Sports North's Becky Ross Mielke to coordinate courtesy usage.
Hockey Day Minnesota 2015 (#HDM2015) on FOX Sports North will be the ninth annual celebration of hockey from peewees to pros. Previous sites for outdoor games include Baudette Bay (2007-08), St. Paul (2009), Hermantown (2010), Moorhead (2011), Lake Minnetonka/Excelsior (2012), Grand Rapids (2013) and Elk River (2014).
FOX Sports North reaches more than 2 million homes throughout Minnesota, Wisconsin, Iowa and North and South Dakota and telecasts nearly 2,600 hours of locally produced programming per year. For more information on the Emmy Award-winning regional sports network, visit www.foxsports.north.com
FOX Sports 2: As an extension of America's fasting growing television network – FOX Sports 1, FOX Sports 2 capitalizes on the strength of the big and bold FOX Sports brand.  FOX Sports 2 delivers thrill-seeking sports like UFC and motocross, and expands its breadth of programming to cover other top sports properties such as soccer as well as NASCAR practices and qualifying and overflow college basketball games. For more information, visit www.foxsports2.com.
FOX Sports GO: Subscribers of participating video providers can enjoy access to live games and events in FOX Sports GO year-round.  FOX Sports GO is currently available for iOS, Android, Fire Tablets and Fire Phones, Amazon Fire TV and Fire TV Stick, select Windows devices, and on desktops through FOXSportsGO.com.  Fans can download the mobile app for free from the iTunes App Store, Google Play, Amazon App Store and Windows Store.  
The Minnesota Wild is a thriving National Hockey League (NHL) franchise that began play in 2000. Its parent company, Minnesota Sports & Entertainment (MSE), is a premier sports and entertainment provider with several different avenues of business operations headquartered in downtown Saint Paul, Minn. Its subsidiary, the Saint Paul Arena Company, manages the state-of-the art Xcel Energy Center, home ice of the Wild, and the Saint Paul RiverCentre complex, which includes the RiverCentre Convention Center and the Legendary Roy Wilkins Auditorium.
Wells Fargo in Minnesota provides financial services from 209 locations and employs approximately 20,000 team members throughout the state. For information on banking, insurance, investments, mortgage, and consumer and commercial finance, visit wellsfargo.com or any Wells Fargo store in your community.
Serving Our Troops is a nationally recognized Minnesota-based volunteer group that has been organizing special events for Minnesota National Guard soldiers and their families since 2004.  Each event brings active-duty troops and their families together to share a meal, despite the distance between them.  Serving Our Troops has shipped and served more than 80,000 steak dinners to Minnesota National Guard soldiers and their families at events in Kosovo, Kuwait, Iraq, Mississippi, Oklahoma, and Saint Paul and Rochester, Minnesota.  To learn more please visit servingourtroops.com.
---