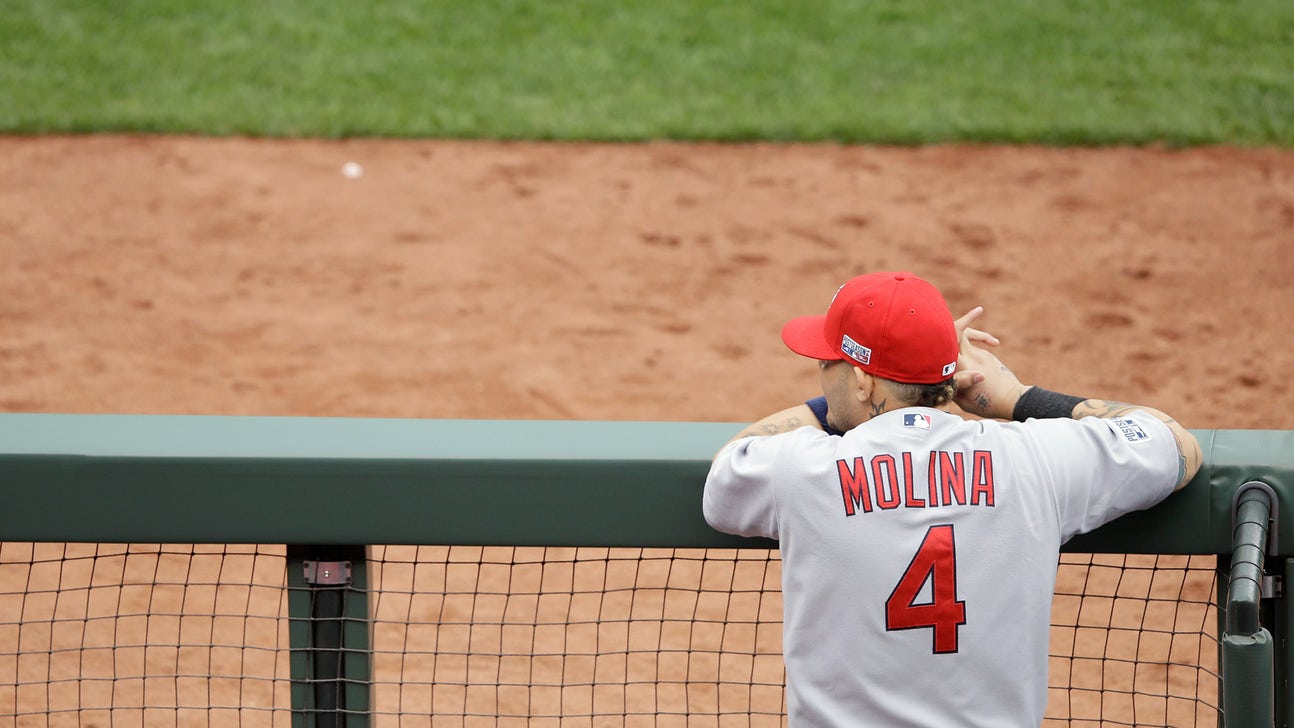 Despite roster-rattling injuries, Cardinals exceeded expectations in 2014
Published
Oct. 22, 2014 2:16 p.m. ET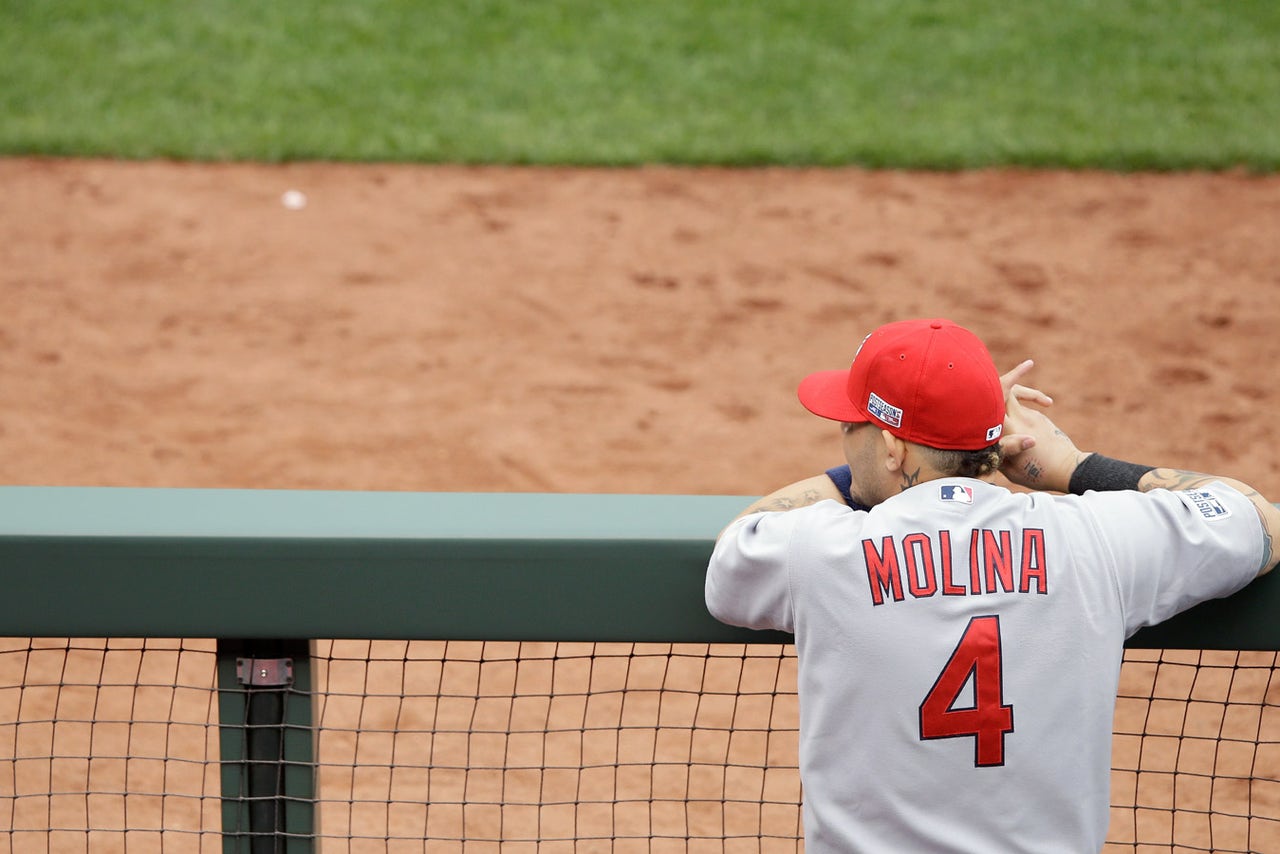 ST. LOUIS -- In so many ways, this wasn't the kind of season the Cardinals were supposed to have. They scored 164 fewer runs this season than last. Their batting average with runners in scoring position dropped from a historic .330 to .254. They finished last in the National League with 95 homers. 
Injuries also threatened to derail them. On the same day in June, they lost Michael Wacha and Jaime Garcia to shoulder injuries. Two weeks later, Yadier Molina tore a ligament in his right thumb and missed 40 games. While their pitching carried them, they still finished with a higher ERA -- 3.50 -- than last year's -- 3.42. 
It's little wonder they won eight fewer games than a year ago.
Still, the Cardinals managed to meet their lofty expectations. They won the NL Central for the second straight season and they reached the NLCS for a fourth straight season. That makes for a successful season in just about anyone's book.
But what about the players? How many of them exceeded, met or fell below expectations? If you're interested, you've come to the right place.
EXCEEDED EXPECTATIONS 
-- Pat Neshek. He faded down the stretch and served up two costly homers in the postseason, but before that he saved the bullpen by taking the eighth-inning job and dominating. Forty-eight times he worked at least one inning without allowing a run. He made his first All-Star team and finished with a 0.79 WHIP that was best among NL relievers with at least 55 appearances. Not bad for a guy signed to a minor-league contract last January. Neshek said in San Francisco that he would "love" to return next season, but he will have no shortage of suitors. 
-- Jon Jay. His .303 batting average led regulars and his .372 OBP was second to Matt Carpenter. Jay also played a much-improved center field and was the team's most valuable player for a stretch in the second half. He had such a strong year, in fact, that he is unlikely to get a call this winter telling him the club has acquired someone else to play center field. 
-- Lance Lynn. By turning in a 2.74 ERA and working 203 2/3 innings, both career bests, he took a big step toward becoming an elite starter. Just as impressive was his consistency from late June on. Lynn came within one out of making his final 16 starts all count as quality starts. By the end of the season, you no longer were wondering if Lynn might have a blow-up inning.
-- Jhonny Peralta. His .263 batting average was about what was expected and his team-leading 21 homers were perhaps a half-dozen more than most would have predicted. But Peralta's defense was far stronger than advertised and he played in 157 games, a career high.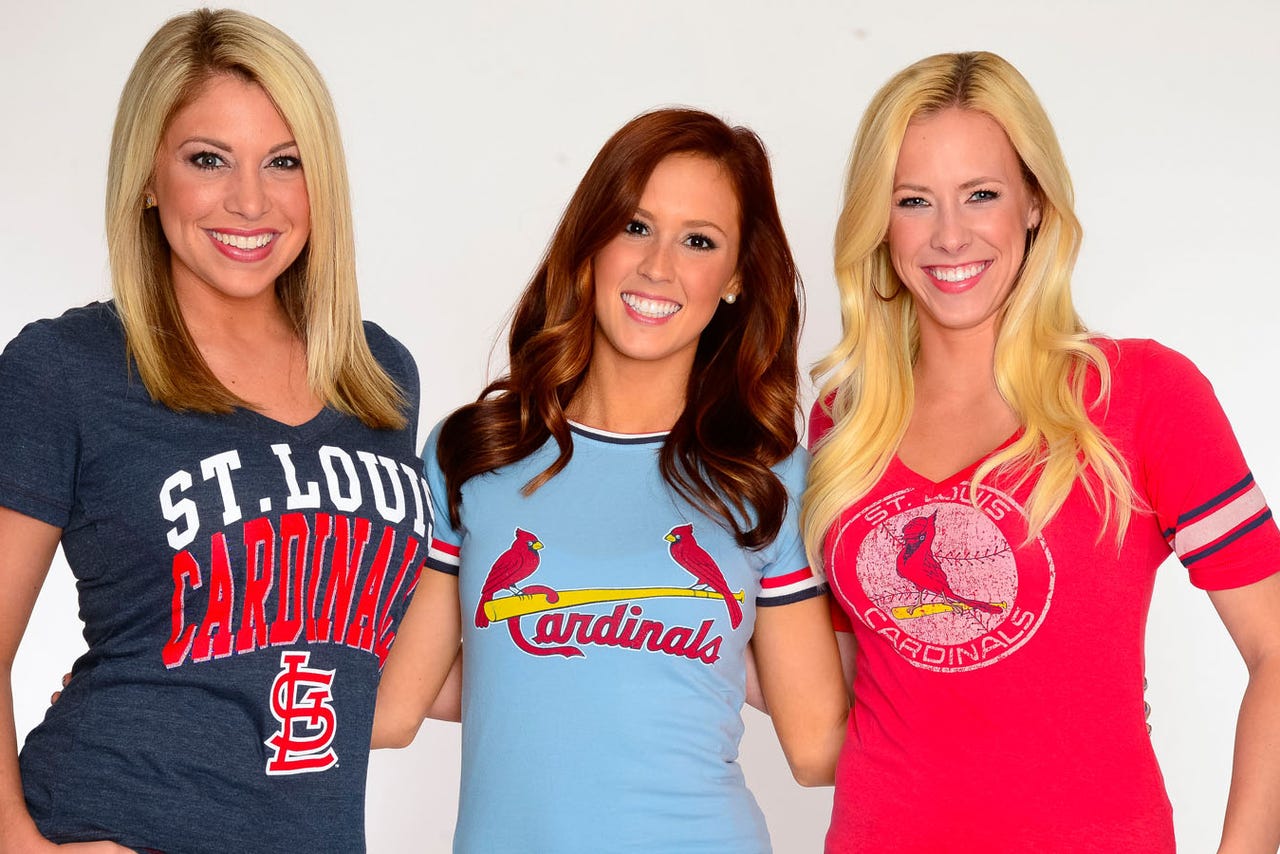 FOX SPORTS MIDWEST GIRLS: Read their bios, check out their upcoming appearances and view their photo galleries and videos.
-- Marco Gonzales. Making his debut just more than a year after being drafted, he was just OK in his first call-up. But when he returned in late August, Gonzales steadily worked his way into an important relief role and ended up with two wins in the postseason. He more than makes up for the lack of a 95-mph fastball with an excellent changeup, strong command and a veteran's cool. Gonzales' late-season success puts him in line to make the bullpen out of spring training. 
-- Randal Grichuk. No one in the organization made a faster climb than the other outfielder acquired in the David Freese deal. He didn't do much in the postseason after his homer off Clayton Kershaw in his first at-bat, but he did what Oscar Taveras and Peter Bourjos didn't. Grichuk started every game in October. 
-- Sam Freeman. The lithe lefty softened the loss of Kevin Siegrist when he arrived in late May and never returned to Triple-A Memphis. Freeman appeared in 44 games with a 2.61 ERA and allowed only one of eight inherited runners to score. After entering last spring with little chance of making the club out of spring training, Freeman should get a long look next March.
-- Nick Greenwood. Considering that I had no expectations for the left-hander coming into the season, he certainly surpassed them. He spent more than half the season in the majors, arriving for the second time to bail out the bullpen in early August and did such a good job that he stayed the rest of the season. 
MET LOFTY EXPECTATIONS
-- Adam Wainwright. You must be special when you don't exceed expectations after you win 20 games, post a career-best 2.38 ERA and make 12 scoreless starts of at least seven innings. But as Wainwright says, he sets a very high bar for himself. Just following his lead here.
-- Matt Carpenter. He didn't lead the world in hits, runs and doubles as he did in 2013, but the Cardinals would not object to another season in 2015 like he had in 2014: 99 runs, NL-most 95 walks, .376 OBP and 158 games played. Oh yeah, there also was that four-homer postseason. 
-- Trevor Rosenthal. As impressive as were his 45 saves, a walk rate of 5.4 per nine innings made many of his outings an adventure. "He gave me an ulcer," general manager John Mozeliak joked Monday. He appeared to be joking, anyway. Considering Rosenthal is only 24 and this was his first full season as a closer, Rosenthal's season was a good one. 
MET EXPECTATIONS
-- Matt Holliday. Although he enjoyed another strong second half with 14 homers and 45 RBI, both top five in the NL, Holliday still fell shy of offensive expectations. His .272 batting average and .372 slugging percentage both were career lows. But his play in left field was improved and, nearing 35, he still has plenty of game.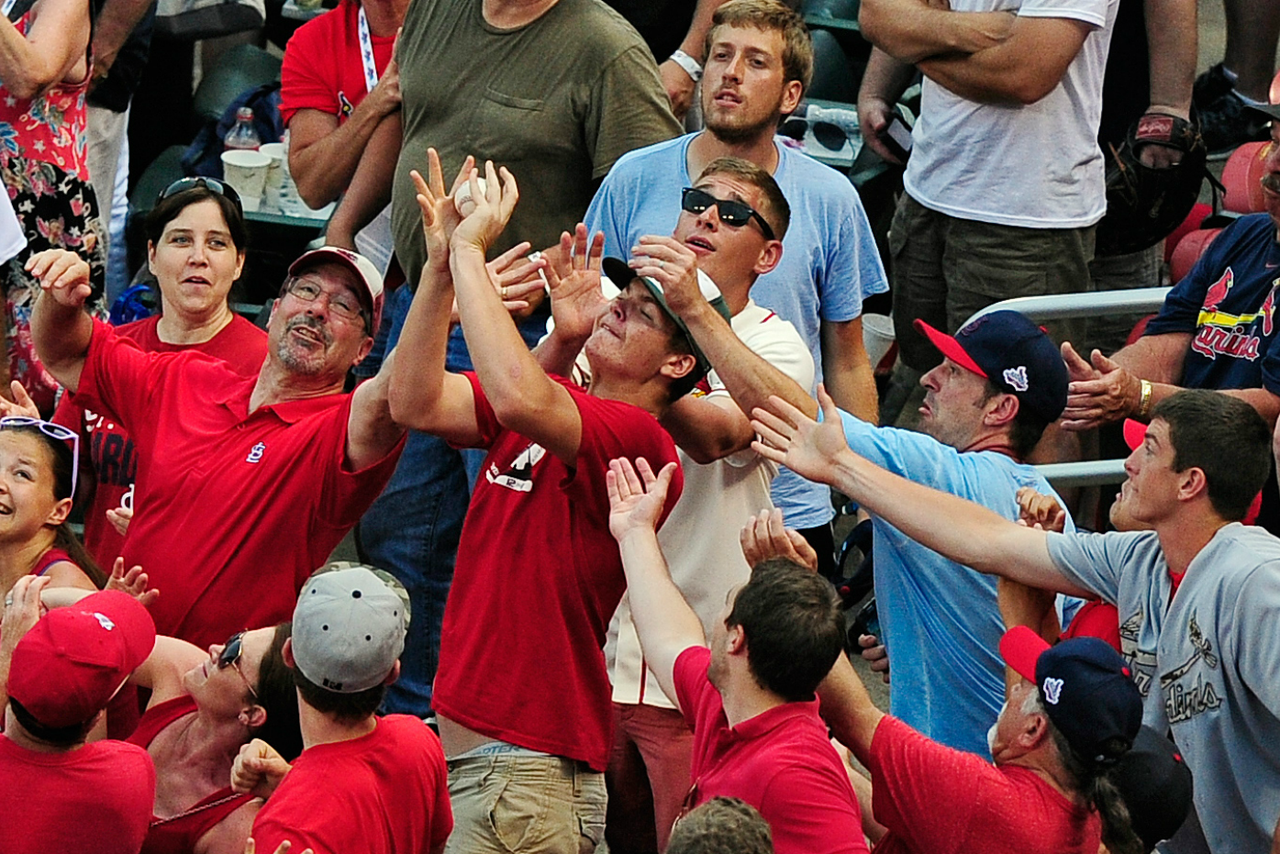 LET'S GO CARDINALS: Check out these photos of fans and the excitement around Cardinals baseball.
-- Seth Maness. He scuffled early but by the end of the season had become even more reliable than in his 2013 rookie season. He's a strike thrower who doesn't give up many homers, ideal qualities for a guy whose main role is troubleshooter.
-- Shelby Miller. He finally appeared to learn just how good he can be if he doesn't rely too much on his four-seam fastball. Too bad that took him 'til September, though. Miller recorded a 1.48 ERA in five September starts and a 4.19 in his other 26. 
-- Matt Adams. He went from averaging a homer every 17.4 at-bats in 2013 to one every 35.1, but he doubled more often and he kept his batting average above .300 until late August. The Cardinals will expect better than 15 homers next season and a .190 batting average against left-handers, but all things considered, Adams' first season as a regular was encouraging. Three homers in the postseason did nothing to hurt his standing.
-- Kolten Wong. A .249 average with 12 homers, 20 stolen bases and 52 runs in 113 games made for a solid rookie season. But a .292 OBP shows there's room for improvement. Seven extra-base hits in the postseason, including three homers, bode well for Wong's future. 
-- John Lackey. He came with a reputation for pitching well in big games and for not hiding his emotions on the mound. Check and check. If Lackey pitches for the minimum next year, as his contract calls for and he says he will, move him into the "exceeds expectations" category.
-- Randy Choate. The Cardinals tried to make him more than a lefty specialist. but it didn't work. Choate did what he was supposed to, though, holding left-handed hitters to a .093 batting average. Right-handers, however, hit .385 against the 39-year-old. Mozeliak talked Monday like Choate's "one-dimensional" style might not play another year in St. Louis. He is due $3 million in the final year of a three-year contract.
-- Tony Cruz. The Cardinals did not plummet as some thought when Molina was injured and Cruz initially assumed primary catching responsibilities. But the club wasted little time bringing in reinforcements to ensure Cruz would not be overexposed. Cruz played in 51 games, one fewer than in 2013, and hit .200 with one homer. 
-- Tyler Lyons. Called up in late April, he made two quality starts but then was rocked by the Cubs and landed on the disabled list the next day. When he came off the DL in July, Lyons split his time between relieving in St. Louis and starting in Memphis. He pitched five times out of the Cardinals' bullpen, working a total of 11 2/3 innings and allowing only one earned run.
-- A.J. Pierzynski. Signed in late July, he brought exactly what the club figured: Professional at-bats and a loud personality. He was fun to be around.
FELL SHORT OF EXPECTATIONS
-- Justin Masterson. As deep as the Cardinals are in young outfielders, they'd still like to have gotten more than one quality start in exchange for one of them. But after being traded for James Ramsey, that's all Masterson gave the Cardinals in six starts before being sent to the bullpen. Combined with the prorated portion of his $9.7 million salary the Cardinals had to pay (about $3 million), Masterson topped the list of disappointments. 
-- Oscar Taveras. The club's youngest player hit .239 with three homers in 248 plate appearances and ended the season playing behind Grichuk in right field. Taveras also was criticized by Matheny and Mozeliak for deficiencies in his conditioning and defense.
-- Peter Bourjos. Perhaps he was just trying to oblige the media when he said at the winter warmup that 40 stolen bases would be his goal. He fell short by 31, in part because of a slow start that led to inconsistent playing time the rest of the season. Bourjos didn't have many games when he was able to show off his speed but when he did, he was fun to watch. 
-- Daniel Descalso. After playing 143 games in 2012, he was down to 104 this season. That's not all on him, of course, but better production -- he had no homers and only 10 RBI in 184 plate appearances -- would have warranted more at-bats. After making $1.29 million last season in his first chance at arbitration, Descalso looks to be a trade candidate this offseason. Greg Garcia could move into the backup-infielder role at well less than half the price it will take to re-sign Descalso.
-- Carlos Martinez. He pitched well enough during spring training to win a spot in the rotation, but the club said it needed him in the bullpen. He later was given a chance to start but did nothing exceptional and never seemed to find a groove in any role. Martinez baffled his share of hitters with his 100-mph fastball and assortment of secondary pitches, but his numbers did not match his stuff: 4.03 ERA and 84 strikeouts and 36 walks in 89 1/3 innings. 
-- Jason Motte. He returned in May after missing all of 2013 because of Tommy John surgery, but his 98-mph fastball did not come with him. A free agent, Motte probably will have to sign a one-year deal to re-establish his value. Knowing that pitchers typically are better in their second season after Tommy John, the Cardinals have not ruled out a return.  
-- Mark Ellis. Hitting .180 and playing in just 73 games certainly wasn't what the veteran infielder or the Cardinals had in mind when they signed him to a one-year, $5.25 million deal. Ellis was limited by injuries as well as ineffectiveness.
INCOMPLETES
-- Yadier Molina. When he was healthy, he played the stellar defense that has earned him the label as the game's best catcher and he produced on offense. But Molina was limited to a career-low 110 games and wasn't close to 100 percent after returning from thumb surgery.  
-- Michael Wacha. He had a 2.79 ERA after 15 starts but then a shoulder issue sidelined him for 2 1/2 months and he never regained top form. But the Cardinals received good news on Wacha the day after he gave up a season-ending homer in San Francisco. His shoulder looked strong in an MRI and he is expected to be a full go for spring training. 
-- Kevin Siegrist. After giving up just two earned runs in 41 outings his rookie season, Siegrist allowed that many before he completed one inning in 2014. He didn't come close to duplicating his 2013 success the rest of the season, either. A forearm issue put him on the disabled list from late May through late July, and when the problem flared up again in September he was shut down for the postseason.
-- Jaime Garcia. His season ended with another left shoulder surgery, this time after seven starts. He pitched well in five of them, though.  
You can follow Stan McNeal on Twitter @StanMcNeal or email him at stanmcneal@gmail.com.
---